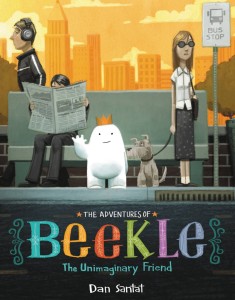 Earlier this month, on February 2nd, the 2015 Caldecott Awards were announced. Every children's book illustrator can count a Caldecott Medal as one of their dreams, and I feel lucky to know this year's winner,  Dan Santat, as a local Los Angeles illustrator, for his picture-book "The Adventures of Beekle, The Unimaginary Friend". The book is about an imaginary friend who goes on a quest to find his 'soul-mate' child.
I was able to celebrate Dan's book last year with friends by attending his book launch party at Gallery Nucleus in Alhambra, California. After looking at it for the first time there, I said to my husband Adam, "This is going to win the Caldecott this year." And, how cool that it did!
It can be hard to put one's finger on what exactly makes a book's artwork feel worthy of the award for "the most distinguished American picture book for children" — but I'll try to describe some of the element's I saw in BEEKLE that gave it away.
Color palette:
One of the strong skills I see in Dan's work is in the use of colors that match each story's 'temperature'. In BEEKLE, retro bright colors are used in association with the child's world, and are paired with muted neutral tones in the real world settings. The overall color palette conveys the feeling of nostalgia that so many of us have about our own childhoods.
Textures and layers:
Something that felt new or more emphasized in Dan's work for BEEKLE was a refined use of texture. He works primarily digitally, but incorporates a lot of watercolor washes and textured line-work that make soft shapes and edges. There is also a wonderful 'collage' effect in the shadowed, layered artwork that adds depth to the textures.
Expansive and Intimate:
Each spread of BEEKLE uses great attention to detail. There's a wide range of views and angles — close-ups and wide shots — each one lush with washes and detailed line-work and patterning. The compositions do a wonderful job of mirroring the emotional quality of the story, which is about the wide real world and the world from the point of view of a child (which has attention to detail AND expansiveness of the imagination).

The week after BEEKLE'S win, I joined with LA illustrators to celebrate with Dan. Also present was this year's Caldecott honor illustrator, Lauren Castillo (for her book NANA IN THE CITY). It was fun to gather and make a ruckus over our favorite art-form, the beautifully illustrated picture book. Congrats, Dan Santat!
If you missed these, here are some fun news links about BEEKLE'S win:
Publisher's Weekly news release: 2015 Caldecott Medalist Dan Santat
10 mn Radio Interview on SCPR.org: Son inspires Caldecott winner Dan Santat's book, 'Beekle'
Shelf Awareness article: Caldecott Winner Dan Santat: Beekle as Metaphor