I've enjoyed Margie Palatini's books for years. And when I crack one open, I've come to expect certain things: a distinctive voice, great humor, and lively, rhythmic language packed with repetition, puns, and clever wordplay.
What I don't usually expect? Brevity.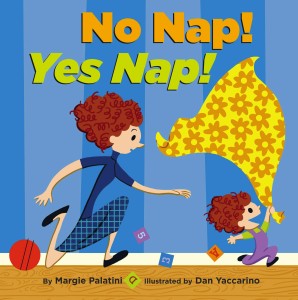 But No Nap! Yes Nap! (Little, Brown, 2014) IS brief. How brief? About 120 words brief. But more interesting is the number of different words.
Remember how, years ago, Theodore Geisel's editor challenged him to write a book using just 50 different words? The result was Green Eggs and Ham. Well, Margie has slimmed things down even further, using only about 20 different words.
The story, illustrated by Dan Yaccarino, conveys the age-old struggle between a weary parent (in this case, Mom) desperate for her child to nap and an energetic toddler eager to do anything BUT nap.
It's told entirely through dialogue, mostly without attribution. To clarify who's speaking, Mom's speech is italicized; Baby's is not. Here's the first page (click to enlarge):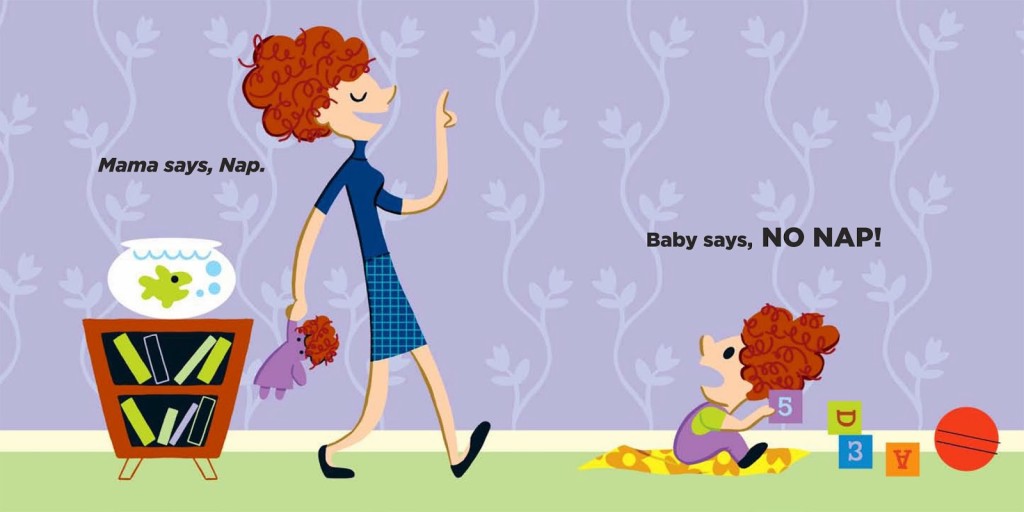 Baby stalls—first clapping, then singing . . .
then drinking.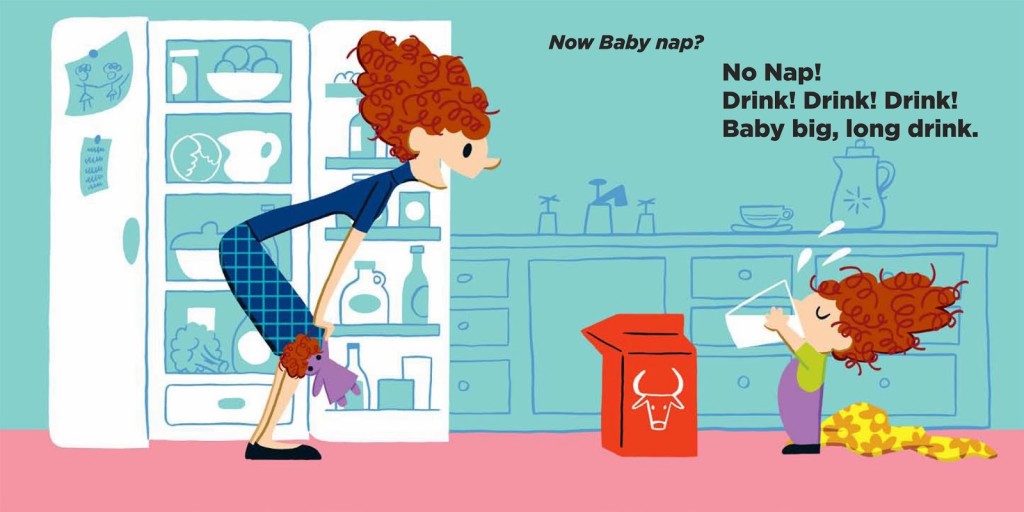 Meanwhile, her increasingly harried (yet remarkably patient and oh-so-stylish) mom pleads and chases. Finally Mom resorts to the sure-fire sleep-inducer: a book (in my house, it was a car ride—not nearly as charming or visually appealing). In a classic "Aww" ending, we see Mom and Baby snuggled up in a chair on the last page, peacefully snoozing (as is the pet fish nearby).
Dan offers some wonderful behind-the-scenes glimpses of the art on his blog. For example, he's got some polished sketches like the sample below in this post.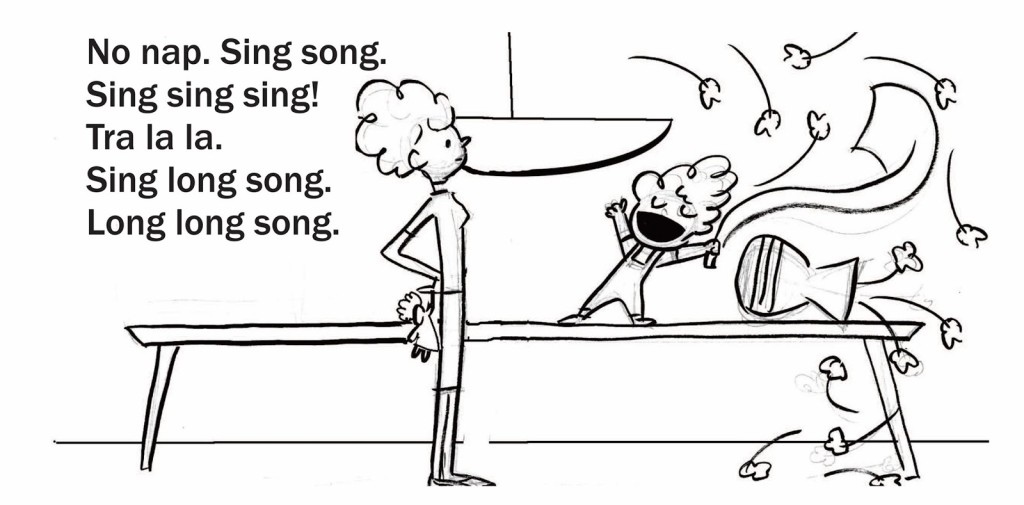 And he's got early sketches —including this sample of his thumbnail dummy—in this post. (Don't you love seeing early sketches?)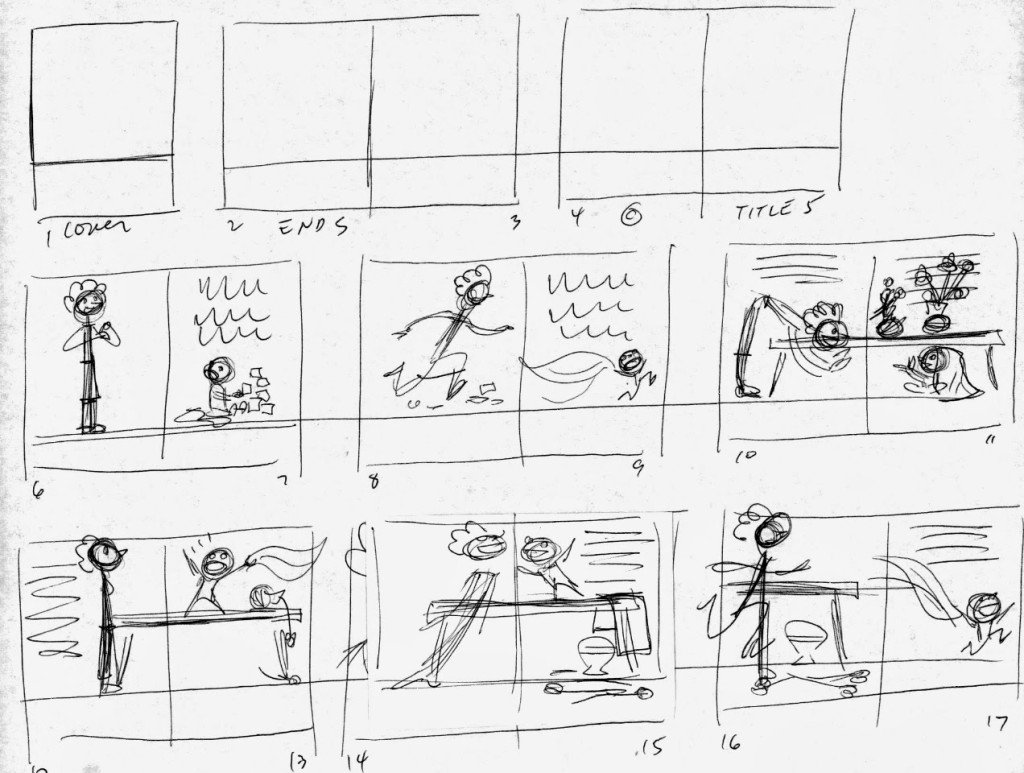 Given the trend toward shorter picture book texts, this is a great example to check out. Not that we all need to write 120-word manuscripts, of course, but we do need to be fairly merciless with the paring knife (or axe, as the case might be) and cut out anything extraneous that doesn't move the story forward.
While we're talking about Dan Yaccarino, two quick notes: In case you missed it, Jill wrote about another dialogue-only book, also illustrated by Dan, in this post. And if—as Eliza expressed so beautifully in her last post—you're looking for ways to tell your ancestors' stories, be sure to check out Dan's book All the Way to America: The Story of a Big Italian Family and a Little Shovel. That little shovel provides a lovely way to connect the generations.
Written any short manuscripts lately? What do you find hardest to leave out?