A few weeks ago I was invited to be part of the 35th Annual Children's Literature Conference at Northern Illinois University. This year's conference topic was "A Celebration of Picture Books For All Ages."One of the main speakers, Melissa Sweet, shared how she wrote and illustrated her award-winning picture book, BALLOONS OVER BROADWAY.
Seeing photos of her gorgeous art studio and hearing about her creative process was interesting. Yet I found her journey of writing the story even more fascinating. During Melissa's research of Tony Sarg, the artist/puppeteer who designed the first helium-filled balloons for Macy's Thanksgiving parade in 1928, she discovered many compelling details about Tony's life. As the revision process progressed, she had to decide which details worked best in the story and which nuggets she would have to leave out to create a focused, effective picture book. Oh, how I felt her pain and angst. That may be the most challenging part of writing nonfiction for me–after discovering an incredibly interesting, little-known fact that took me months of research to find, I must end up cutting that juicy detail because it doesn't serve my story as a whole.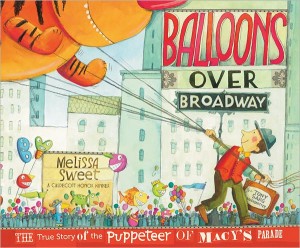 One captivating fact Melissa learned about Tony Sarg during her research was that he made silhouette animation films using pieces of cut paper. If I'm understanding his technique correctly, Tony moved pieces of paper, took a picture, then continued moving the paper pieces and photographing until he had hundreds of photos to create a short animated movie. Although Tony's films were incredible, she decided information about his movie making career didn't work in her picture book about his famous balloons.
But Melissa did give an ingenious nod to his silhouette craft by incorporating a silhouette illustration in one of the book's spreads. How cool is that?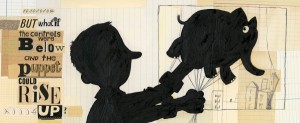 Now authors don't usually have the option of putting interesting side facts in their book through illustrations (although in my picture book, THE INVENTOR'S SECRET, the text had explained how a car's four-stroke cylinder works, then my clever illustrator created a fun cylinder diagram so I was able to omit that text.)
But never fear, authors often have back matter pages–Author's Notes, Timelines, and so on are perfect for sharing those precious nuggets you must cut from your text for the sake of story. So the next time your critique group suggests removing beloved facts that aren't directly related to your main story thread, you might try moving them into your Author's Note for safe keeping. Funny thing is, if you're like me, the next time you trim your Author's Note you may decide some of the "darling facts" you've hung onto don't seem that crucial any longer. In fact, you may end up cutting them from your book entirely!