Last week as I was perusing the "New Releases" section in my library, an eye-catching book cover grabbed my attention. I was immediately drawn to the large illustration of a colorful stamp on the front, and because the stamp looked realistic from afar, I assumed it was nonfiction. I immediately sat down and read Special Delivery, written by Philip Stead and illustrated Matthew Cordell. It wasn't nonfiction, but it was a great find. The text was hilarious and the illustrations had me smiling from ear to ear.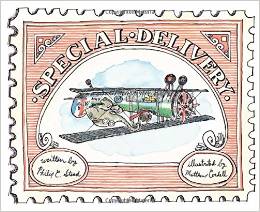 So while I usually comment about nonfiction picture books in my posts, I'm taking a break this week to chat a bit about Special Delivery. As someone who doesn't write humor, I thought it might be interesting to analyze what exactly I liked so much about the book.
One unique aspect of this title that I haven't seen in other picture books was that it had three pages of text (albeit, they only contained four words) before the CIP and title pages. Those first three pages felt like a "mini foreword," and I liked how this arrangement put me into the story right away. Then the title spread was like a short pause, before resuming the story. (I also love discovering something completely new in picture books!)
After the title spread, the author did an excellent job of hooking me with the main character's outrageous dilemma–how would Sadie transport an elephant to her great aunt who "lives almost completely alone and could really use the company."
As the story continued, the endearing silliness of the main character, Sadie, drew me in, and a string of surprises (and unique characters she meets along the way) kept me laughing. To top it all off, the story had a very satisfying ending when Sadie finally figured out a way to deliver the elephant, and readers discovered the interesting truth about her aunt who "lives almost completely alone and could really use the company."
I guess the over-the-top silliness and unexpected surprises made this story shine for me. Isn't it great there are many different kinds of picture books and no shortage clever, innovative authors and illustrators who create them? When it comes to picture books, there's something for everyone!
PS The back cover design is terrific with its heartwarming illustration which incorporates the barcode (Tammi Sauer discussed barcode art in her earlier post.)