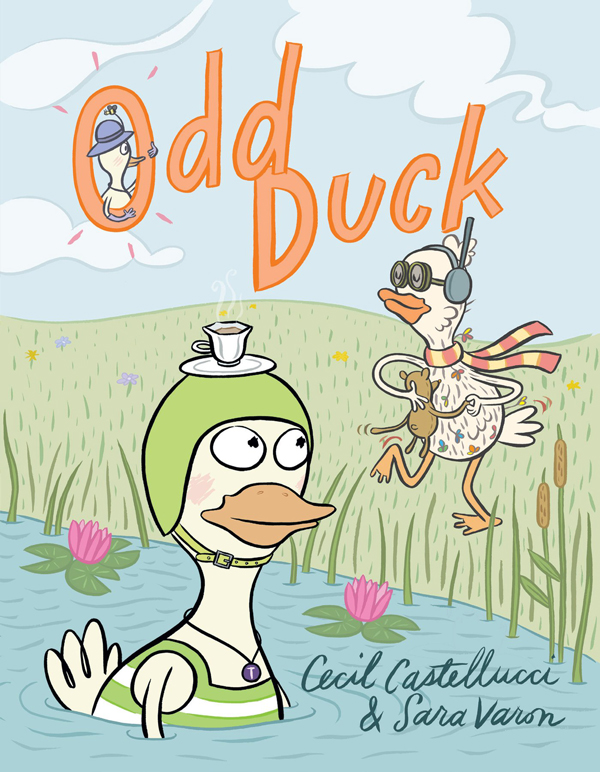 Can a picture book be 96 pages long? ODD DUCK by Cecil Castellucci and illustrated by Sara Varon may be just that; a 96 page picture book. It is published by First Second Books, publisher of  graphic novels. I guess it could be a graphic novel for the picture book set. It reads like a picture book with several pages of panels that could give it that graphic novel feel. No matter, call it what you will, it is a wonderful, engaging read—with pictures.
Theodora is a duck living a content life in her home next to a pond. Her days are filled with things she enjoys, from her morning exercises, her daily swim in the pond, running errands in town, and finally after a fine supper, gazing at the constellations. Life could not be better. The day Chad moves into the empty house next to hers everything changes
Chad is many things Theodora is not. Unkempt, wild and maybe a little bit too engaging.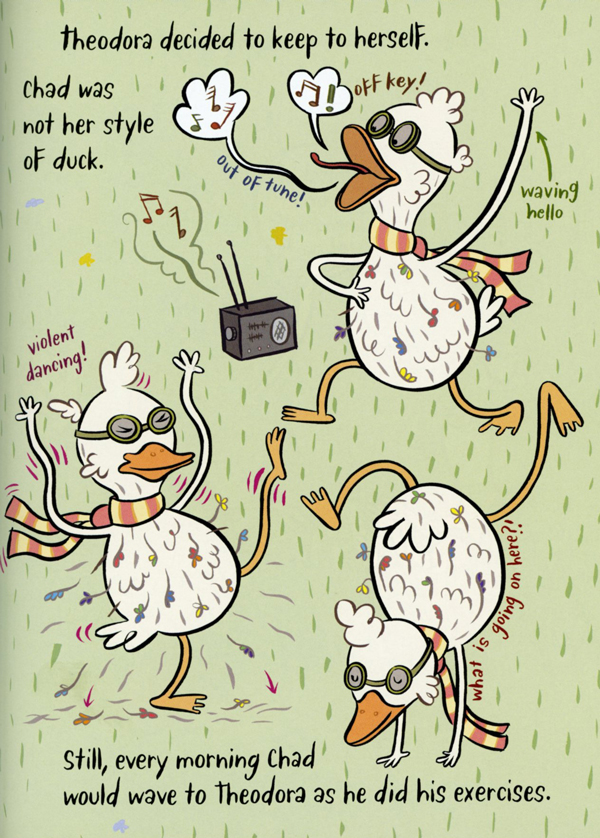 Theodora, being the polite duck she is, welcomes Chad to the neighborhood, relieved to know he'll be flying south for the winter like all the other ducks and she can enjoy 'the calm quiet of the pond in winter." Only he doesn't.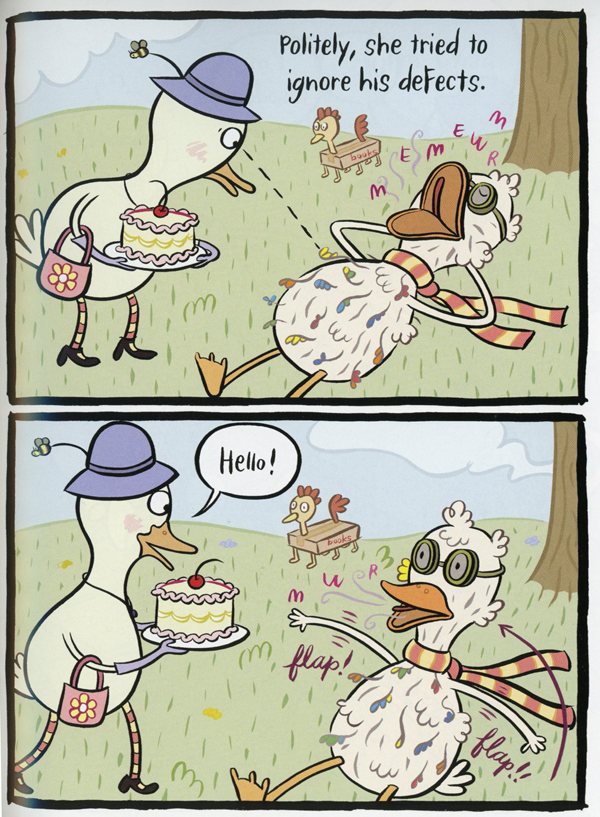 As different as they are, they also share many interests. As they discover these, slowly a friendship forms and becomes stronger and stronger. They become inseparable till they both overhear some other ducks in town make a not-so-nice comment directed at one of them.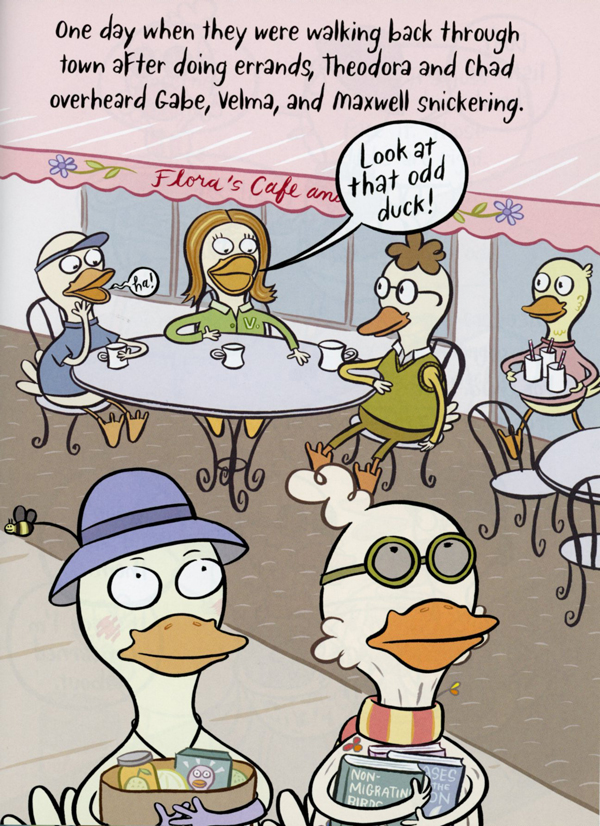 Each thinks it was directed at the other and quickly their friendship falls apart. Theodora and Chad have some reflecting to do…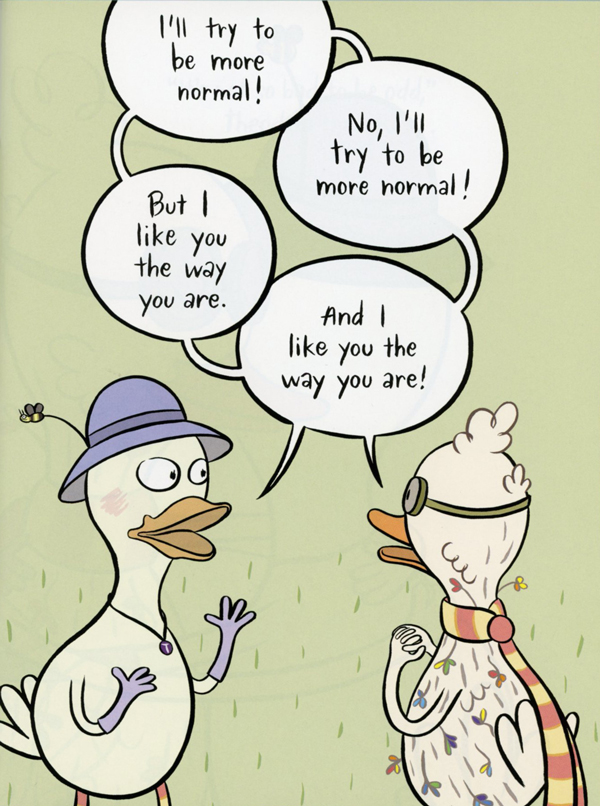 This is a charming story of friendship found, friendship trials and friendship saved. It is also a lesson in how odd is good. Castellucci's writing sets each changing mood in the book simply but completely. Theodora and Chad are immediately endearing and believable as two unique individuals. Varon's illustrations are wonderful. A limited, desaturated palette under  loose brush lines, hand drawn patterns, and few textures feel so familiar and comfortable. I'm not sure whether to credit Castellucci or Varon for the little scribbled descriptives in the illustrations (general malaise, dirty dishes, heavy heart) but they are scattered throughout and chuckle-worthy. Her illustrations make me want to visit Theodora and Chad's world. I originally fell in love with Varon's work in Robot Dreams, a graphic novel she wrote and illustrated from 2007. I have admired her art immensely since then.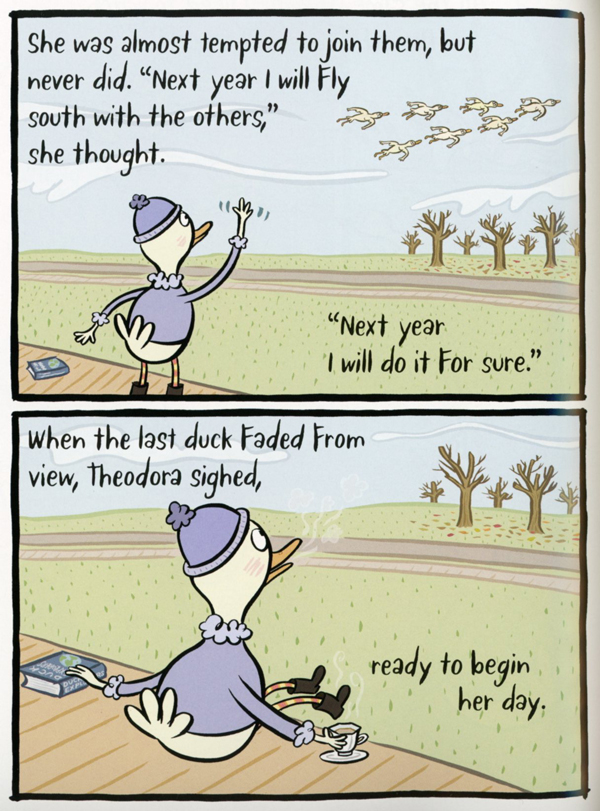 Again, at 96 pages it may or may not be a picture book—it's going to take you a little longer to read. But I'm not sure if I should call it a graphic novel either. I'll just call it a most enjoyable indulgence, suggest you pick it up, settle in, and treat your self to a lovely little escape.
Embrace your odd!
-kevan atteberry