"Always make the audience suffer as much as possible."
–Alfred Hitchcock
Can you remember a book from your childhood in which the main character suffered so much that it, in turn, made you wriggle in your seat with agony?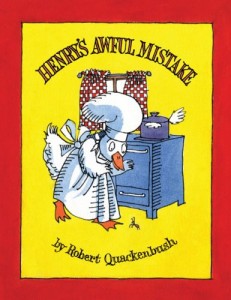 For me, this book was HENRY'S AWFUL MISTAKE, by Robert Quackenbush. [You can find a reading of it on YouTube]  I must have been a masochist even as a kid, because, while this reading experience was an agonizing one, it was still one of my favorites. Henry is making dinner for his friend Clara's visit, when he sees an ant in the kitchen. He doesn't want Clara to see the ant and decides it "has to go". What begins as a simple task becomes mayhem; a shifting of the stove, a small crack in the wall, a gaping hole, a damaged pipe, a FLOOD . . . an entire house sunk.
"Don't draw on the walls" is one of the first lessons I can remember learning (I'm guessing this is true of many), so as a kid, seeing the first crack in the wall made me squirm, the gaping hole made me wriggle, and then absolute horror set in as the entire house is gradually destroyed. Poor Henry! To an adult this might not be quite as painful to read, because, well, we understand the fact that it isn't real. But kids are sensitive and take things very seriously. It's good to remember this as picture book builders, so we can use awful things in our stories with intention.
At an SCBWI conference in 2011, I remember hearing author Donna Jo Napoli speak about the importance of writing books for kids in which terrible things happen. Why? For those kids who are growing up experiencing awful things, it makes them see that they're not alone (Gary Paulsen's life story is a great example of this). And for those kids who grow up well-cared for and protected, it builds awareness and empathy without forcing them to experience those awful things first-hand.

Books like HENRY'S AWFUL MISTAKE reflect back some of our own crazy tendencies in ways that are exaggerated and humorous. Sometimes we obsess and get carried away over small things (making them worse). Sometimes we care too much about what others think and go through great pains to try to control the uncontrollable. We recognize ourselves in these situations and hopefully don't have to experience them first-hand in order to learn from them.
Luckily, Henry does learn from his mistake. He ends the book in a beautiful new house, with his friend Clara arriving for dinner, when he sees another ant . . .
(I'll leave the last line for you to experience for yourself).
Many picture books don't NEED awful things to happen in them. Do you really want such emotional ups and downs for a bedtime story? Some of our books exist to simply foster comfort and joy.  But for the right story, a little awful can have good impact. And if you are writing one of those 'everything goes wrong' books, a little 4-year old Eliza implores you: please make that awful story pay off with a satisfying ending!