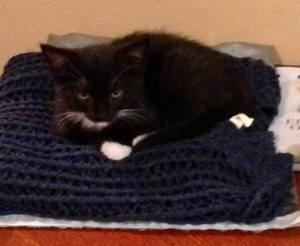 A few posts ago,  Kevan Atteberry mentioned that cats didn't — how did he put it? — gun his scooter.
But, yet, he found himself really liking Ballet Cat: The Totally Secret Secret.
Cats do gun my scooter. A lot.
Check out Exhibit A (Ollie) and Exhibit B (Sunny) to the left.  (That kid with Sunny? She guns my scooter, too!)
But, loving cats doesn't mean I love all cat books. I've read many that made me react with indifference.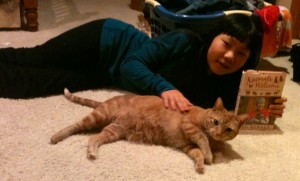 But, because I love cats so much, it's always exciting to find a cat book that I also love.
And, recently, I did.
Meet MISS HAZELTINE'S HOME FOR SHY AND FEARFUL CATS written by Alicia Potter and illustrated by Birgitta Sif. (And artfully published by Alfred A. Knopf earlier this year.)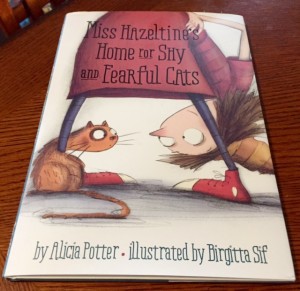 It's the story of a woman who opens up her home to shy and fearful cats. She teaches them how to be brave only to find they can  rescue her from the things she fears most.
Told like that, it might sound like a rather basic story. The magic in this book is in the details.
There's not one detail here that doesn't serve a purpose.
Take the broom. At first, it appears as a joke. Miss Hazeltine teaches her charges important skills. (Pouncing. Purring. Climbing up. Climbing down.) And the last task to master is How Not to Fear the Broom. As a cat owner, I laughed and thought it was a nice touch. But that's not the last we hear of that broom.
When Miss Hazeltine goes missing — egad! — the shy and fearful cats set out to find her. And, what do they take as a weapon? The broom, of course. And when they find Miss Hazeltine and get her out of the ditch with a sore ankle, what makes a most excellent crutch? That scary broom.
Similar things happen with mushrooms and owls. Those are two things the brave Miss Hazeltine is scared of. She shares that information with the most fearful of her cats. And, when Miss Hazeltine falls into the ditch, what is she surrounded by? Owls and mushrooms. And, when her cavalcade of kittens, led by the most fearful, comes to rescue her, what do its members do? Stare down the mushrooms and purr to drown out the owls, what else?
This book also uses details well in word choice. When Miss Hazeltine instructs her cats, they lap up every word, even though milk is not involved on that page. And the skills Miss Hazeltine teaches — hold your tail high, arch your back, think good thoughts — are echoed when Miss Hazeltine is scared and when the cats form their rescue posse.
This book is a work of art. There's not a wrong word in it.
Get it.
Read it out loud.
Read it silently.
Notice how tightly it's paced, how sly bits of humor are laced in seamlessly and how every single phrase and plot point sets itself up to be mentioned again as part of the most-satisfying resolution.
Well done, Miss Hazeltine and team. Well done. (Oh, and thanks for the really cute cats.)