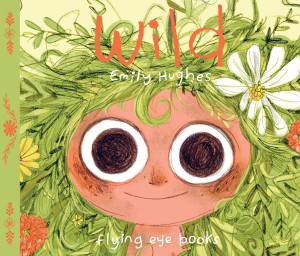 'Wild' by author/illustrator Emily Hughes (Flying Eye Books), is about a girl raised by animals in the wild. She's discovered and removed by some hunters, who attempt to tame her into human society. Their attempts fail, and she escapes joyfully back to her native habitat.
I'm wild about this book because:
The style of the illustrations perfectly reflect the idea behind the book. The marks are crude, childlike, and a bit explosive, yet sophisticated and gorgeous –a balance most illustrators would kill to achieve. The style feels classic and retro, but new and fresh all at once.
The idea is relatable to kids in a literal way – the concept of some animals being wild while others are tame is something kids have to be taught. I remember especially loving the idea of having a pet squirrel, and not understanding why this would be any different than having a cat or dog. By swapping the role of a wild animal with a child, this concept is shown in a playful and relatable way.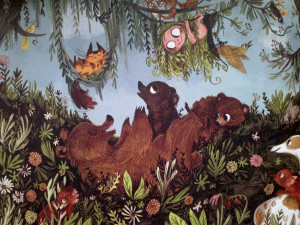 The idea speaks to a larger truth about ourselves – it shows that, just as there is a non-negotiable wildness in nature, there is also variety to be honored within humanity; in lifestyles, creative pursuits, sexual orientation, and for those with conditions, such as autism, that we perceive to be handicaps. Some of us come into this life with non-negotiable natures that don't fit the mold that society has built, which creates opportunities for the system to find new ways to evolve and grow. I love that this book doesn't show us a child that learns to fit in to please the world around her. Instead it celebrates a misfit who cannot help but inspire us to move through our own lives as strong, and joyful, and true. "Because you cannot tame something so happily wild."