At a bookstore this week I stumbled across the rerelease of a book I remember as a child, TIME FOR SPRING, by Crockett Johnson.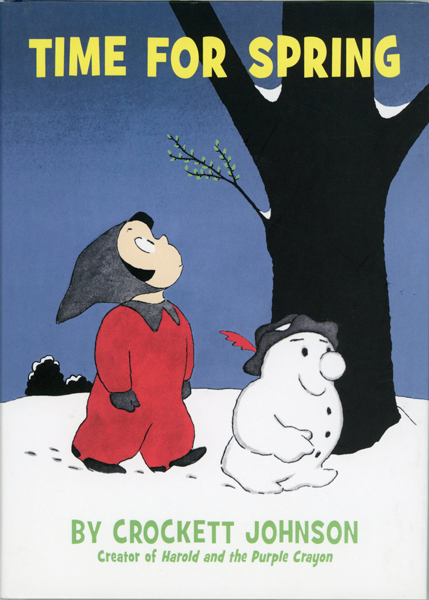 A title that is particularly fitting for this time of year, and Johnson is a particular favorite of mine. Most everyone loves his books like HAROLD'S PURPLE CRAYON, but I am awed with and reference his wonderful comic, BARNABY from the 1940s even more. This book reminds me of the same kind of magic I found in Barnaby.

I remember liking TIME FOR SPRING, and I also remember it kind of haunted me, but I couldn't remember in what sense. I bought the book because of 1) that vague but compelling memory, and 2) Crockett Johnson.
I'm not sure if it really qualifies as a picture book; it is 32 pages and illustrated at every open spread, but it is text-heavy. Oh what the hell, I'm going to call it a text-heavy picture book.
After I reread it a couple of times I am a little puzzled about what could have been haunting to me. The story revolves around Irene, a girl who has tired of winter and wants spring to arrive so she can ride her bike. And even though it is time for spring, there is another snowfall.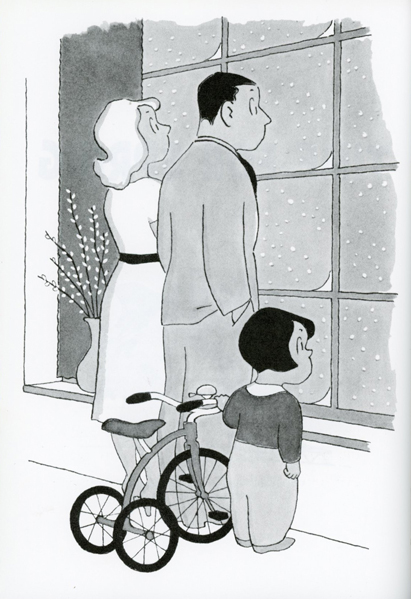 Reluctantly she dons her snow suit and goes out to play in the snow. She builds  a snowman who—like snowmen do—comes to life. The snowman seems a little self-centered, maybe manipulative (reminds me of Mr. O'Malley, Barnaby's cigar-chomping fairy godfather.) He let's Irene pull the sled up the hill and then he rides it down.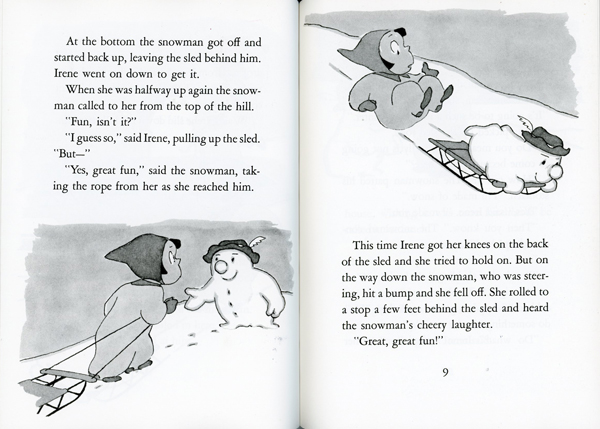 He directs Irene in building a snow fort that he occupies for a snowball fight with her. And he tells her, "while I'm here spring won't come." Maybe this is what haunted me a little about this as a kid; a snowman with that kind of power and disregard for Irene's wishes.
Irene is so tired of winter and the idea that it will be extended—even to the fourth of July—weighs on her. When she sees the snowman the next day she tells him that she thinks "it's time for you to go away." She suggests maybe the North Pole. It's cold there and he wouldn't melt, she says. He waves her off assuring her that as long as he is there, it will be winter.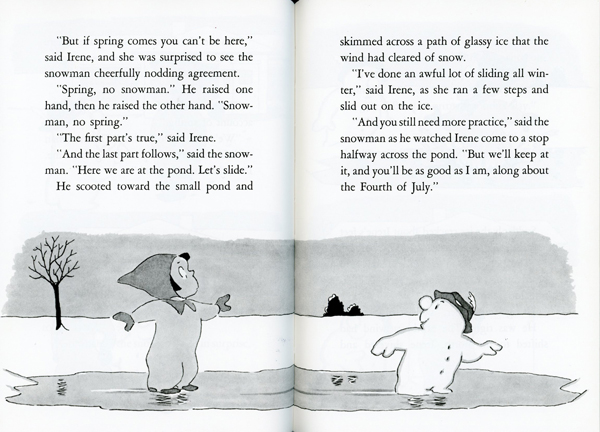 After another disappointing incident the next day, Irene, cold and frustrated, and tells the snowman that she has had enough of winter and she wants it to be spring. This baffles the snowman who can't believe somebody doesn't like winter, let alone likes spring. He turns his head skyward and does some thinking.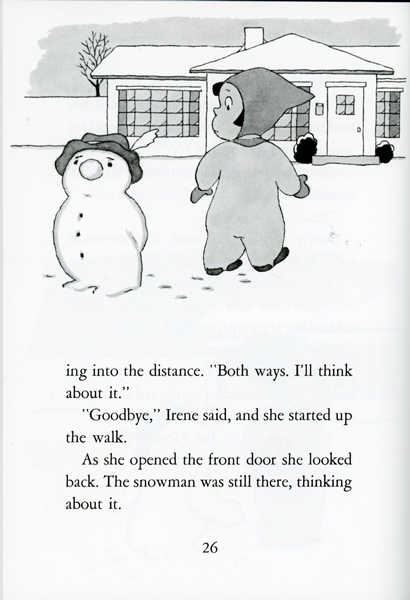 I'm still not sure why I remembered this book as haunting. It has, I'm sure, been 50 years since I've seen it. Maybe it was the ultimate power over winter the snowman seemed to have. Maybe it was his self-centered disregard for Irene's needs and wishes. Or maybe it was the wintery monotone of the illustrations. I just don't know. And it doesn't really matter.
After rereading TIME FOR SPRING a few times, I think it holds up. I understand why I was drawn to it as a child. And I'm still a big fan of this book. But I miss the spell it held over me when I first read it decades ago. I'm going to see what I can do to get that back.