So, to follow up on Eliza's last post about appealing anthropomorphic characters, have y'all met Little Jumbo?
If not, get your hands on a copy of How to Cheer Up Dad by Fred Koehler (Dial, 2014).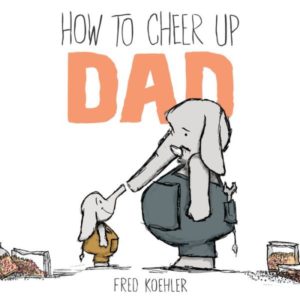 What's so appealing about the little guy?
For starters, he's a bit naughty. Personally, I like that in a character.
Here's how the book begins:
Little Jumbo's dad was having a bad day.
The cause of that bad day? Well, it might have something to do with the fact that Little Jumbo has dumped out  several cereal boxes, albeit for creative purposes. (Click on images to enlarge.)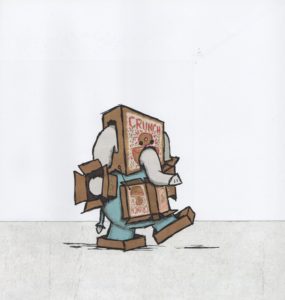 Then Dad unwisely puts raisins in Little Jumbo's oatmeal. Well, what's a little elephant to do but shoot those raisins to the ceiling? And, of course, Dad should have known better than to tell Little Jumbo he needed a bath, or try to dress him in those dreaded brown overalls.
With all those bad choices, Dad's mood worsens—leading Little Jumbo to suggest he needs a time-out.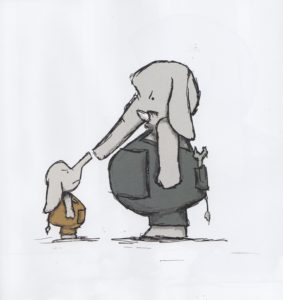 Little Jumbo gets one instead. This gives him time to think of ways to cheer up his grump of a dad. Oddly enough, it turns out that the things that improve Dad's mood just so happen to be some of Little Jumbo's favorite activities—like playing catch, sharing an ice cream cone, and snuggling up with a book at bedtime.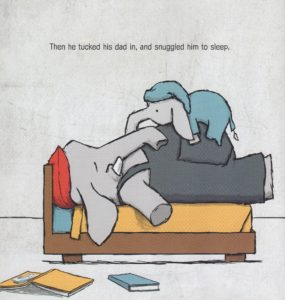 Well, Fred could have wrapped it up right there with a sweet "Awww" ending, but he went for the "Ha!" instead. When Dad's sound asleep, Little Jumbo slips out of bed to take on another creative project involving yellow curtains and a pair of scissors . . .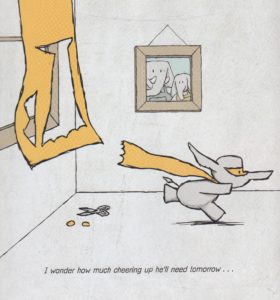 . . . offering the perfect segue to the next installment, Super Jumbo, which recently arrived in bookstores. Be sure to check that one out too.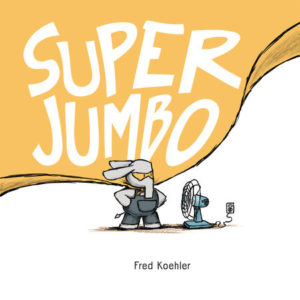 So what makes an anthropomorphic character appealing? How about:
a little naughtiness
a touch of well-intentioned cluelessness
a heap of adorableness, and
a Jumbo-sized dose of big-heartedness
What do you think?
* * * * * BOOK GIVEAWAY ANNOUNCEMENT!!! * * * * *
The winner of the All We Know Giveaway is Darlene Koppel. Thanks so much for all the nice comments!