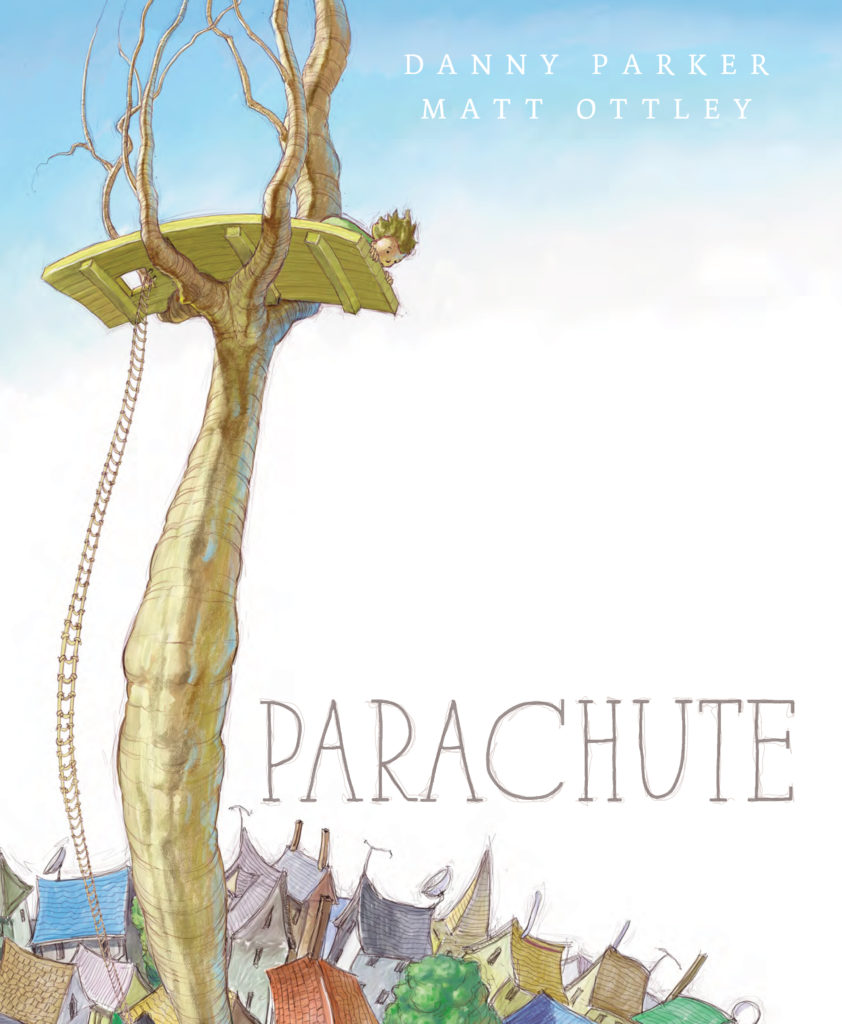 When we're little, there's an awful lot of stuff that's bigger than we are. And it makes for a very scary world for a little boy named Toby.  Toby is quite afraid of heights,
and carries a parachute which "was most useful for getting out of bed in the morning, for when he finished breakfast, and after he brushed his teeth."
It's the illustrator's brilliant use of exaggerated foreshortening and perspective that shows that each of these events is terrifying for Toby, and why. The view from his bunkbed to the floor below is like a trip downward through clouded heavens and alighting the kitchen stool akin to repelling from a rooftop.

The story takes us along Toby's daily journey. I love Matt Ottley's brilliant use of cropping the character off the pages. When Toby's cat needs to be rescued, Toby bravely climbs up, up into the treehouse and heroically uses his parachute to lower Henry safely to the ground. But now, a very scared Toby is left up high without his safety net. The illustrator amps up the visual tension even more by exaggerating the vastness of the universe in absolutely unbelievable proportions. Slowly, Toby overcomes his fear and realizes that he doesn't need his parachute after all.
When we're older it seems silly and absurd to be scared of climbing down from a stool, or standing next to an enormous elephant. But Matt Ottley's magnificent illustrations show us that fear from the child's perspective and  reminds that big or small, we all have our own fears and challenges to overcome.