As August comes to an close, I thought it would be fun to celebrate the last days of summer with a wonderful picture book, GIANT DANCE PARTY by Betsy Bird, illustrated by Brandon Dorman (Greenwillow Books, 2013.) This lovely title is filled with exciting elements children will enjoy such as furry blue giants, great dance moves, and an adorable main character named Lexy. So guess what? Author Betsy Bird kindly agreed to join Picture Book Builders today and answer a few questions about her fabulous book.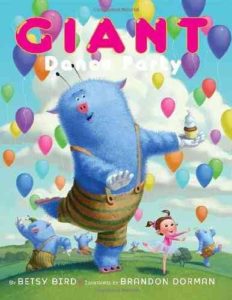 GIANT DANCE PARTY is fun and entertaining, yet it also addresses an important childhood (and adult) fear — stage fright. How did you get the idea to discuss this topic?
It's strange to say but I'm not actually someone who suffers from much stage fright myself.  Even as a kid I did better with large audiences than small ones (theaters vs. classrooms).  Initially the book came about because my illustrator (the inestimable Brandon Dorman) suggested that we do a book where he'd get to draw "giants leaping".  That led to the idea of dancing giants, but why would any kid want to teach them?  In my experience, if you're too frightened to do something yourself you can always teach someone else to do so.  So Lexy was born as a stage fright sufferer.
Can you share a bit about your writing process? Is the current text how you originally envisioned the story, or did you try other ideas/revisions before coming up with it?
Oh, there were LOTS of revisions.  I suspect the initial text was unreadable.  The book actually went through two different editors, and each editor had their own distinct vision for the book.  I toyed with the notion of making it rhyme at first, but that idea got scrapped early on.  It was important to me to make it the kind of book you could read to a big crowd, though.  Not every picture book can do that, so I inserted lots of interactive elements (dance moves, specifically).  I should probably note that the giants also weren't furry and blue at the start.  That was my second editor's idea and while at first I was resistant (would they still be "giants" if they looked more like monsters?) Brandon's art sold it for me.  Now, of course, I wear fuzzy blue legwarmers when I read the book so I'm happy with the change.
You've worn many interesting "hats" in the children's book world such as youth collection specialist at the New York Public Library, Newbery Medal Committee member, blogger of "A Fuse #8 Production" (hosted by School Library Journal), and of course, children's author. How do you think your experiences in your various roles helped you create GIANT DANCE PARTY?
 Of all those jobs you've mentioned, my job as a children's librarian has been the most important.  Talk about stage fright!  When you have to do a storytime for small children you lose any and all fears you might have of performing.  I found out early on that small kids are not going to humor you.  If they are bored they will tell you straight out.  So in writing this book it was important to me that it be something that did NOT bore them.  At this point in time I've never had a kid fall asleep during a reading.  I consider that a win.
Brandon Dorman's illustrations in this book are wonderfully inviting and engaging. Are there any special aspects of the artwork you particularly enjoy?
Oh, I love the whole darn thing.  I had the peculiar experience of knowing who my illustrator would be right from the start (generally speaking you are not supposed to walk in with an artist).  With that in mind, I couldn't wait to see what he did with the text.  Brandon's one of those guys who can do cute without becoming saccharine, and I was very keen on how well he did blue fur.  Plus, that scene where the giants are standing like big furry blue ice pops on the stage?  That's classic.  My favorite image in the book, bar none.  They're so petrified!
You named Lexy's toys Anne, Carroll, and Moore. Can you tell us why those names (or name, rather) is significant to you?
Ah, you caught that!  I should probably say that when I put it into the text my editor gave me a significant look that said, "I know exactly what you're doing here and I'm going to allow it but don't think you snuck it past me or anything."  That's an ode to Anne Carroll Moore, the great original children's librarian of New York Public Library.  There was a killer Slate article about her lately that I highly recommend you seek out.  She get a bad rap for not liking Stuart Little, but she was the one who convinced libraries to have children's rooms in the first place AND she was all about international children's literature.  My kind of gal. The least I could do was to give her a little subtle shout out.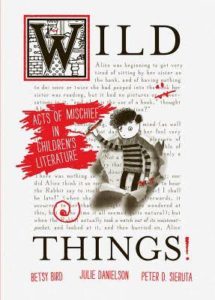 You also co-authored WILD THINGS! ACTS OF MISCHIEF IN CHILDREN'S LITERATURE with Julie Danielson and Peter Sieruta (Candlewick, 2014.) Would you mind sharing a bit about this unique, behind-the-scenes project? How did you decide to co-author this book and do you have any favorite author tidbits from the book you'd like to share?
 Sure!  That book was a labor of love.  I was a huge fan of Peter and Julie's blogs, so I proposed to them that we write a book together.  We put our heads together and came up with the premise of WILD THINGS.  Basically, we wanted a book that did away with the notion that children's authors are all sweet little innocents that sit on clouds and talk to bunnies.  Children's authors and illustrators are interesting precisely because their lives have been so complicated, strange, and sometimes very adventuresome.  The book is a peek behind the curtain with plenty of wacky stories (I got to do the Sex & Death chapter, and I'm still very proud of it).  My favorite story is hard to choose though.  Should I mention how Curious George helped save his creators from the Nazis?  Or how cancans killed the great mind behind Goodnight Moon?  Or the most notorious illustrated tombstone in children's literature?  I think you may have to find the book yourself to decide. 
And last, do you have any new picture books or other books in the works?
I do!  In May I'm happy to announce that FUNNY GIRL: FUNNIEST. STORIES. EVER. is coming out.  It's a collection of hilarious stories, shorts, cartoons, quizzes, comics, you name it, and all by women.  I've also been kind of bugged by humor collections for kids where 99% of the contributors of men, so this is sort of a counterbalance.  It also features a ton of big names like Raina Telgemeier, Libba Bray, Shannon Hale, Cece Bell, Rita Williams-Garcia, etc. alongside some really cool new faces and LOTS of art.  Oh, it's a stitch.
I also sold a picture book last week but nothing's been announced so mum's the word there.