Okay, everybody, repeat after me:
She sells sea shells at the seashore.
Peter Piper picked a peck of pickled peppers.
How much wood would a woodchuck chuck if a woodchuck could chuck wood?
Tongue warmed up? Then you're ready for Emily Jenkins' newest book, A Greyhound, A Groundhog, illustrated by Chris Appelhaus (Schwartz & Wade Books).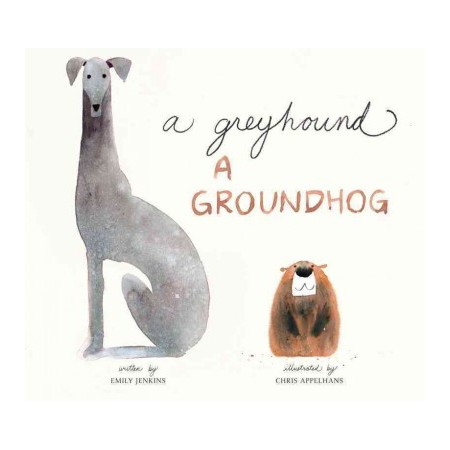 I haven't had this much fun reading trying to read a book aloud in a long time. But I'm getting ahead of myself. First, I should mention Jenkins' dedication, in which she gives credit to Ruth Krauss and her A Very Special House, for "inspiration and rhythm."
Note to self:  Watch for great old books at garage sales.
Here's the publisher's synopsis:
"When a greyhound meets a groundhog, wordplay and crazy antics ensue. The two animals, much like kids, work themselves into a frenzy as they whirl around and around one another. (Around, round hound. Around, groundhog!) The pace picks up (Around and around and astound and astound!), until they ultimately wear themselves out."
I was serious about warming up your tongue muscles. This story is a read aloud challenge! Oh, it doesn't start out that way. The beginning is easy:
A hound. A round hound. [He's curled up sleeping.]
A greyhound.
Then we meet the groundhog:
A hog. A round hog.
A groundhog.
The lines grow in complexity, but it's nothing you can't handle. So just when you're galloping along, getting all full of yourself – "What's so hard about this?" – you encounter the spread that turns you inside out and is nearly impossible to read right the first time. (I can hear you now, all "Pfft. Bet I could do it." Ha. I'd love to see/hear you try.)
In short, Jenkins reveals herself a master of wordplay in this one. What a blast it must have been to write! A headache, at times, but a blast nonetheless.
I savored every one of Chris Appelhaus' watercolor spreads, too. He keeps the focus on the two characters brilliantly, yet you're totally drawn into their flower-and-butterfly-strewn world. He manages to add a frenetic joy to the characters' mad around-and-around romp that makes you want to run right after them.
A Greyhound, A Groundhog is gathering starred reviews left and right. Well-deserved!
Let this one serve as a reminder to all of us who WORK to wrestle words into submission for kiddos:  Remember the importance of PLAY!
Jill