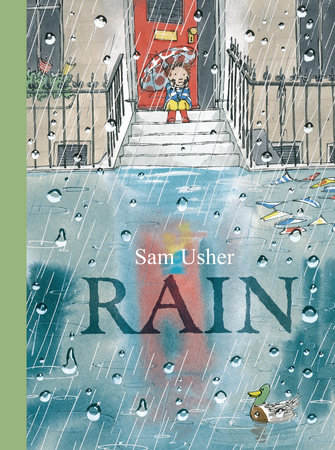 It's raining, it's pouring in Sam Usher's glorious new picture book appropriately titled "Rain".
I had it in the back of my mind for a while to post about it just because I'm dying to scream out to all of you,
"HOW DOES SOMEONE PAINT WATER LIKE THAT?????",
but I wasn't sure if all of you wanted to read me go on and on about the spectacular reflections and the incredible upside-down world that Sam Usher creates.
Or, perhaps it's the glossy shine on the cover water droplets that is genius?
Or could I talk about how I actually got out my magnifying glass to see if he painted white on top for highlights, and was it watercolor or guoache?
But then I had a conversation with a friend about picture books and how they are so deceptively simple, yet so incredibly difficult.
The more layers of subtle messages that a pb delivers the better. Will a child 'get' the same messages and draw the same conclusions that an adult reader will? No, probably not. Not one will notice all the word choices and artistic decisions that both the author and illustrator made.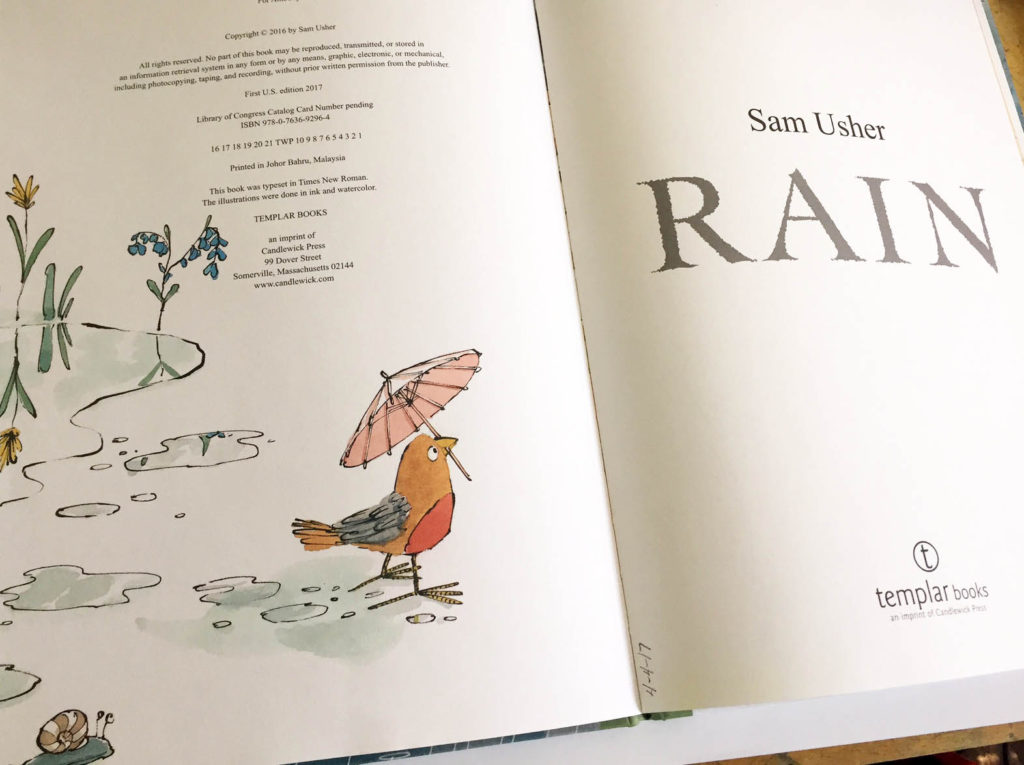 Rain is a lesson in very intelligent illustrating where the pictures tell lots more than the words. The premise is that the little boy loves to go outside in the rain and is anxious to do so with his Grandad. However, Grandad is distracted by a letter— illustrator cleverness shows two small hearts on the envelope. Hmmmm…. no wonder Grandad is preoccupied.
The little boy's impatience grows and grows as do the floodwaters outside. Finally, Grandad has settled on his romantic reply and now is in a big hurry to go mail "his important letter".
When the little boy opens the front door he and grandad float into a magical sea of exotic boats and gondolas. The toys in the little boy's room are brought to life— brimming with joyful patterns and whimsy.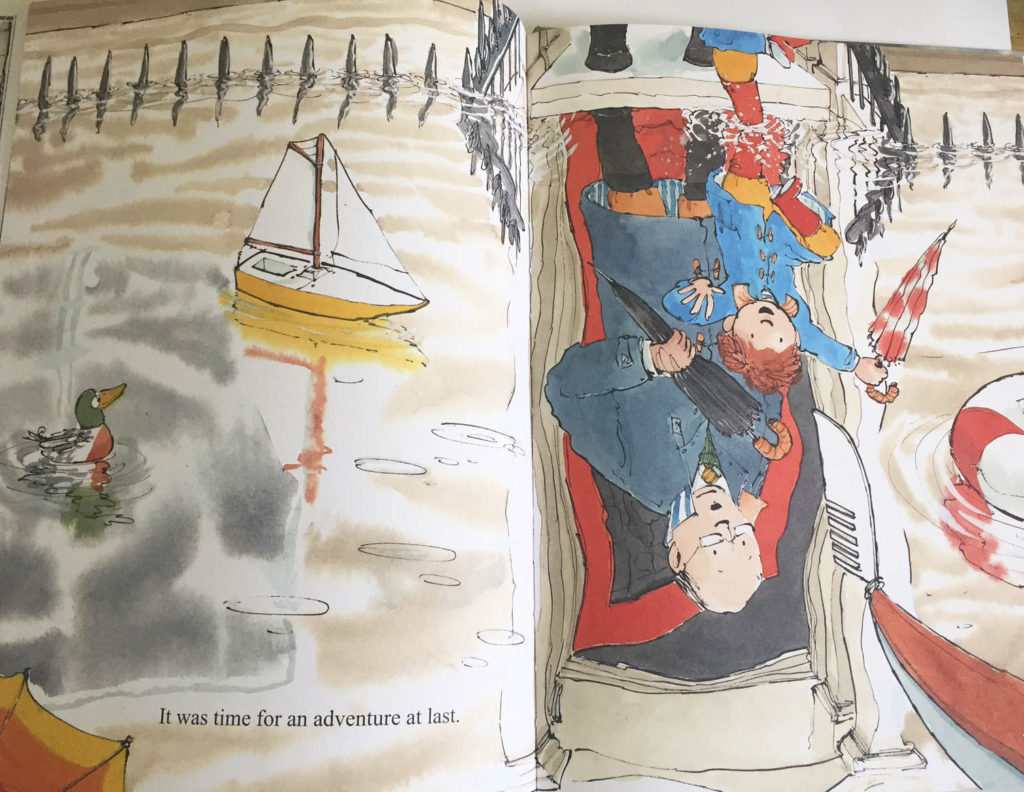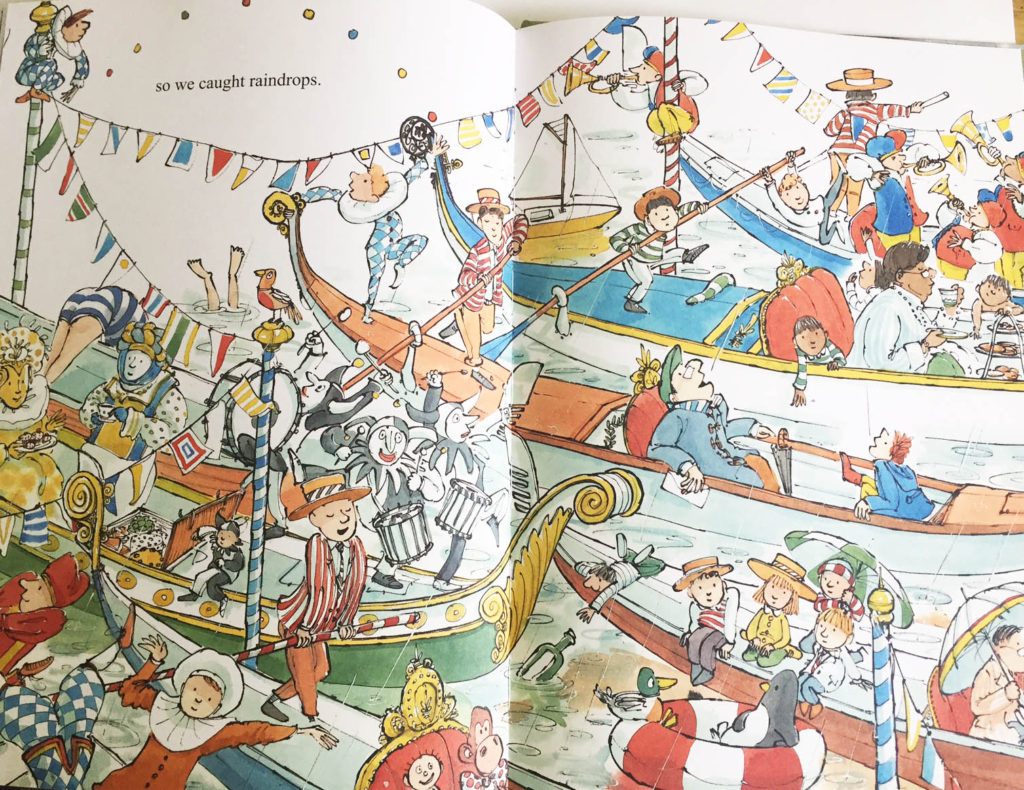 We all have varying likes and dislikes in picture books. And what we are trying to do here on PBB is point out what makes successful picture books and there are, of course, many components to this, some of which are quite subjective. But the basic winning formula is to have a story that can be enhanced and expanded by the illustrations. It makes me so happy when I look through a PB like Rain and see one brilliant illustrative addition after another. How can I not fall in love?
Graphically, there are some great choices such as not reversing the type on the dark spreads of rain. The type is fairly hard to see, but reversing it would have been too jarring. Doing it like this gives both the type and the picture equal attention.
"Rain" was preceded by "Snow", which I also thought was wonderful. I anxiously away the two more that are to come in this series.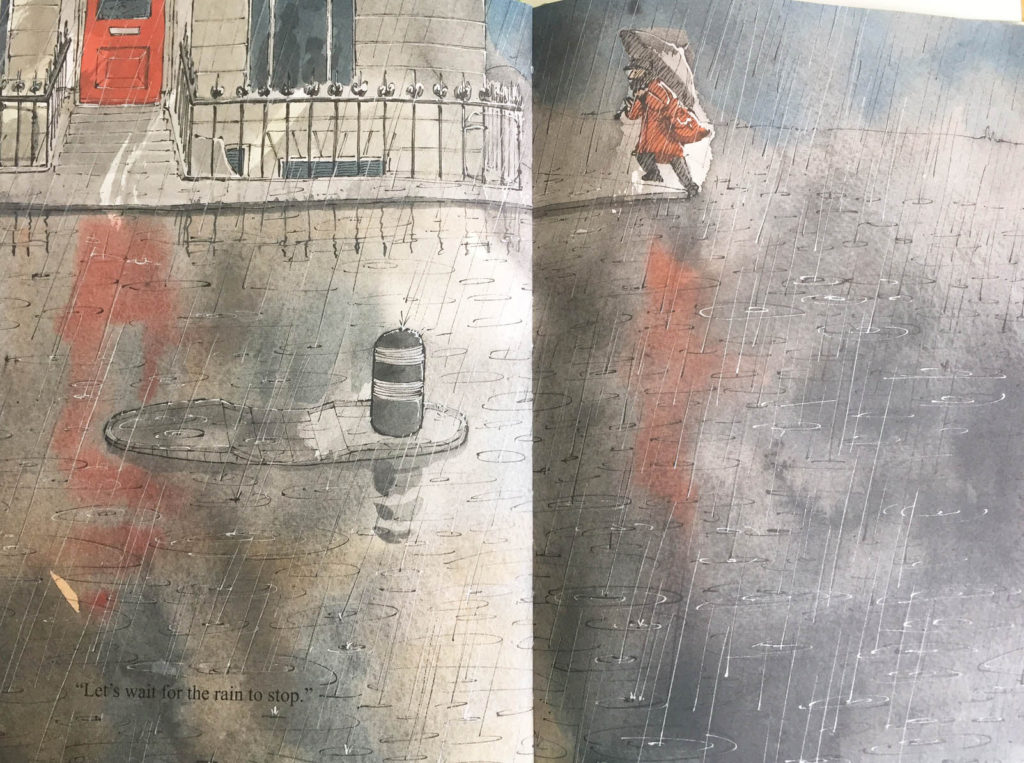 Look at that water cascading off the umbrella! For Pete's sake people,
HOW DOES HE DO THAT??????
~~~~~~~~~~~~~~~~~~~~~~~~~~~~~~~~~~~~~~~~~~~~~~~
And P.S. The winner for the Blue Ethel Book Giveaway was Kathleen Mazurowski!
Kathleen, please go my website and email me with your address so I can get your copy out to you!