What kiddo doesn't love a silly story once in awhile? Good thing they're so easy to write. Hahahaha! We wish. Silly stories are often the toughest to get right. But Jason Gallaher does exactly that in his quirky, exuberant debut, WHOBERT WHOVER, OWL DETECTIVE (Margaret K. McElderry Books)
I was fortunate to see this one in manuscript form a few years back, when Jason sent it to me for critique. As soon as I read it, I said to myself: "This guy's going to be published." I rarely feel impelled to make that prediction, but, from the get-go, I would've bet money on Jason.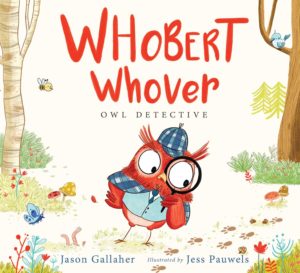 Description from the publisher:
Help Whobert Whover, Owl Detective, keep his woods safe in this hilarious who-who-dun-it.
What happened to Perry the Possum? Whobert Whover, Owl Detective, is on the case!
Did Debbie the Duck whack Perry with her wicked wings?
Or did Freddie the Frog soak Perry in his sickening slime?
And what if the culprit is closer to home than Whobert expects?
Jess Pauwels's cheerful, kooky illustrations are the exact-right touch for Jason's wacky story of misunderstood intentions. A page turn following the above spread reveals Perry the Possum "lying awfully still."
Whobert gets right to work, determined to catch the villain responsible for Perry's predicament. The owl detective is eager to pin the deed on SOMEbody, ANYbody, tossing around accusations that will have little listeners giggling, especially when the actual perpetrator is revealed.
Jason consented to an interview. Enjoy!
JE:  Do all of your stories feature animals in silly situations?
JG:  I do happen to tend to write picture books about animals in silly situations. Besides our dunce detective Whobert, I have a manuscript about a chipmunk who hates nuts, but needs to find something to gather for hibernation, resulting in a lot of physical hijinks; a story about a porcupine who fancies himself a matchmaker; one about a fashion forward panda who finds himself in a fashion predicament; as well as a tale about a clumsy unicorn whose horn continuously gets in the way. These are out on submission currently, so I'm keeping everything crossed that they make it into the world. I'm also starting to write a lot of zany holiday stories, because I'm just so totally enamored with holidays!
JE:  Any big changes between your originally submitted manuscript and its final form? If so, were those easy or hard for you to make?
JG:  One of the main changes I made thanks to the brilliant idea of my editor, Annie Nybo, was to add a refrain. This refrain is something that every woodland creature Whobert accuses of committing crimes says to deny the claim. It really helped add to the read-aloud factor of Whobert, especially when paired with Whobert's exclamations of "who, who" could have done in poor Perry the possum.
The concept of adding a refrain was relatively easy for me to grasp, but writing it took a few million tries. I wanted to make sure it was perfect before I sent it off in the revised manuscript. Once I had it narrowed down to two options, I sent those to Annie to get her input. Her input was so great, and it was a wonderful teaching moment about rhythm and meter. I am so in awe of authors who write in rhyme all the time! 
JE:  Did you get to see the illustrations from the sketch stage? Any surprises? Did the characters look the way you'd imagined them?
JG:  I actually didn't get to see Whobert until his look was fully fleshed out and final, but I'm so glad I didn't! When I first saw him, I was completely and totally in love. I realized in that moment that the way Whobert is illustrated is exactly how I pictured him in my mind, without even realizing that was exactly how I pictured him. Does that make sense? It was sort of like deja vu, or like seeing an old friend again after a long time. That experience was such a thrill, and I'm sure any input from me as to how Whobert should look would have derailed Jess Pauwels's process. She adds so much to the story, especially with her facial expressions. Whobert's suspicion just oozes off the pages, and I looooove that! It's such a hoot! 
JE:  Yes! Those faces are hilarious! What's been your favorite part of becoming a published author?
JG:  This is such a hard question! Everything is still so new that each time something happens in the publication process I'm like, "This is my favorite part!" As of right now, getting real printed copies of WHOBERT has been my favorite. It was so unreal to actually hold the finished product in my hands. I cried! I've also been so honored to be asked to teach or speak at conferences. I still feel inside like I'm that pre-published writer, looking up to all the authors and illustrators I've seen at various SCBWI gatherings or at writing workshops. When I was asked to teach at the Writing Barn in Austin, TX, I'm pretty sure I looked over my shoulder thinking that Bethany Hegedus (the owner of the Writing Barn) meant to ask somebody else! I'm so happy to be a part of the WB family, and spreading the love of writing picture books to students was such a fantastic experience.
Thanks so much for joining us, Jason! BEST of luck with WHOBERT!!!