Before moving to Chapel Hill six years ago, my family spent ten years in Denver. Although it was easy to leave the long winters behind, it wasn't so easy to leave good friends, including a wonderful community of writers.
One of those writers was Caroline Stutson, a picture book author and poet who passed away two years ago. Sleeping Bear Press just published her book Blue Corn Soup, a story Caroline had shared with me years ago. I know she'd be so pleased to see it in print, with Teri Weidner's warm and cozy illustrations, and to know it's being read aloud and shared. To encourage that sharing, I'm giving away a copy here (details below).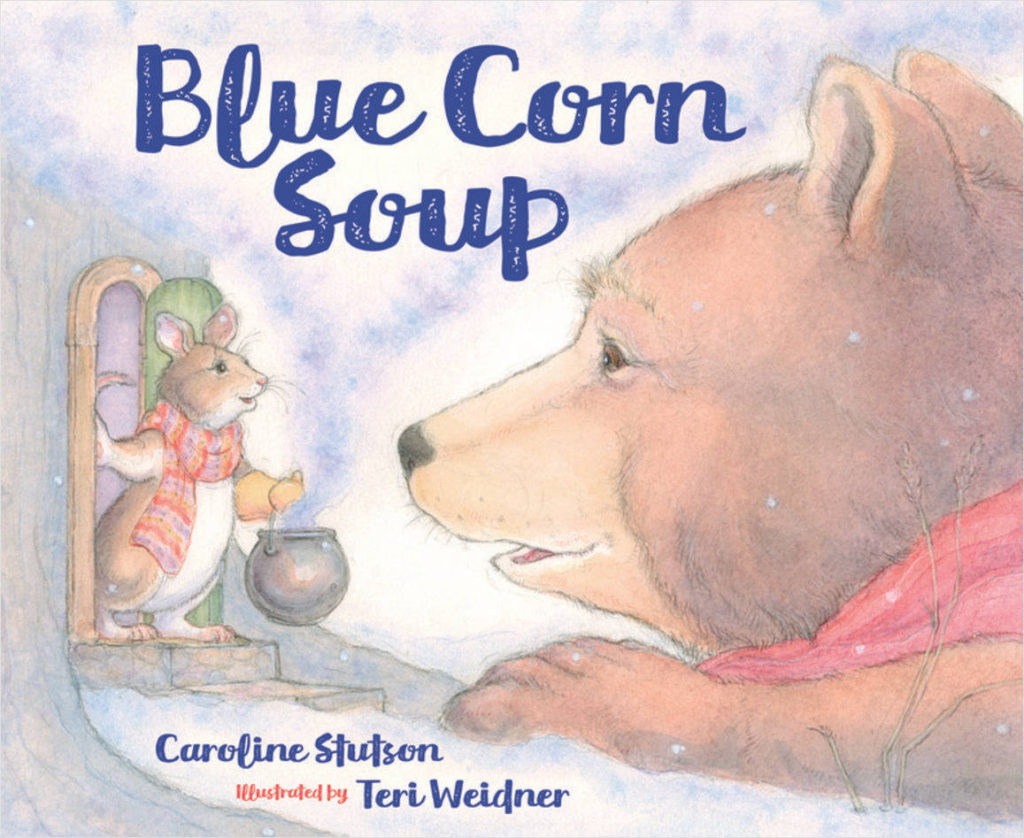 Caroline joked that she had rhymer's disease (an affliction many of us share), but that was a disservice to her talent. Caroline was a fine poet, with an exquisite ear for language and rhythm.
Reading the first stanza of the book, you'll notice the attention she paid to sounds—especially the assonance (repetition of vowel sounds) in the first few lines: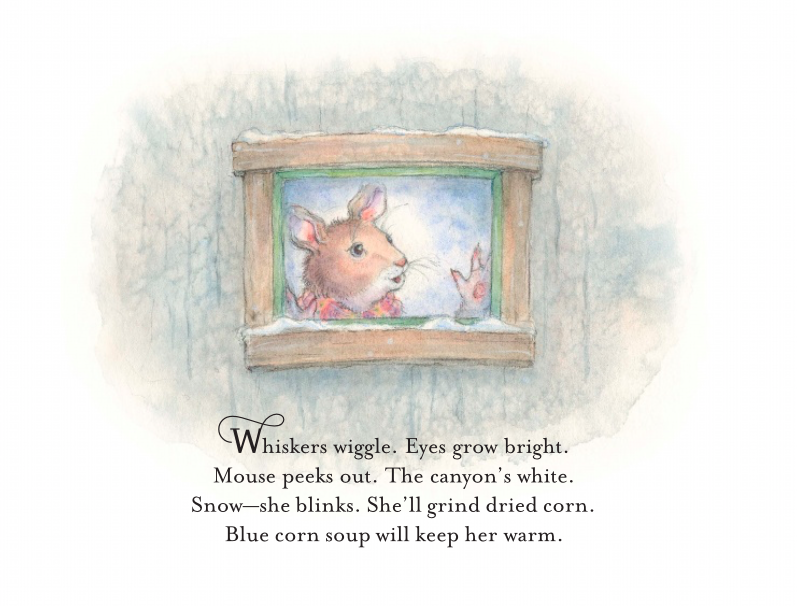 Caroline was an experienced storyteller and puppeteer, and she had a storyteller's gift for language, pacing and repetition. In Blue Corn Soup, she uses all three skillfully, repeating patterns and an important question ("Something's missing. What—is—it?") to move the story forward. She goes back and forth between indoor scenes of Mouse adding new ingredients to her soup . . .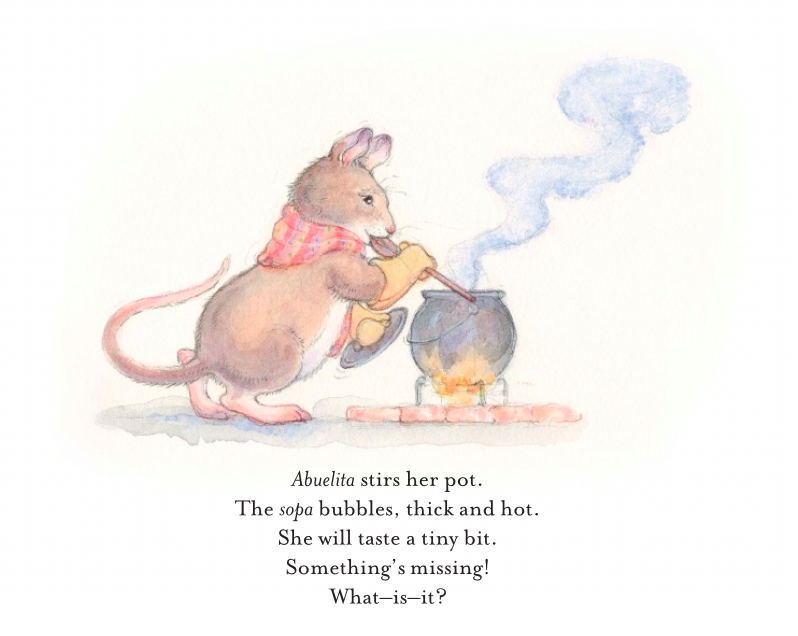 to outdoor scenes of the animals intrigued by the tasty aromas.
Pinon smoke drifts through the wood.
Someone's cooking something good.
Chipmunk chatters, sniffs about.
Is it sopa? He'll find out.
Caroline uses the same pattern to introduce us to Rabbit and Old Bear, and then again as the three follow their snouts to Abuelita's house.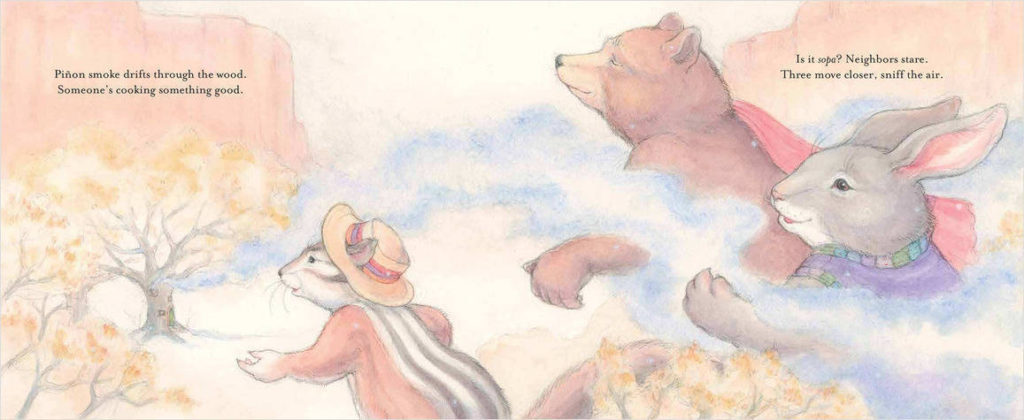 Well, not surprisingly, Abuelita's mouse-sized portion isn't enough for the four of them. The visitors turn away, disappointed—but then Mouse comes up with a Stone Soup-style solution:
"Wait!" Mouse follows. "We can share.
Bring some food to Old Bear's lair."
And so they do. And guess what? There's enough. But this new concoction isn't quite Blue Corn Soup anymore, so they christen it Friendship Stew. And now we get the answer to the repeated "Something's missing. What—is—it?" line:
Neighbors gather on the floor,
Sip their stew, and ask for more.
Nothing's missing; all can see:
Food tastes best with company.
It's a just-right ending to a warm and satisfying book, perfect for sharing on a blustery day.
So much of the reading we do these days feels ephemeral, scrolling by on screens one moment then disappearing into the ether the next. That's one reason I love books so much—they may not last forever, but they feel solid and enduring. Holding this book in my hands and reading Caroline's words feels a bit like visiting with an old friend.
And while I'm reminiscing, here's a photo from my Denver days with some of my writer pals: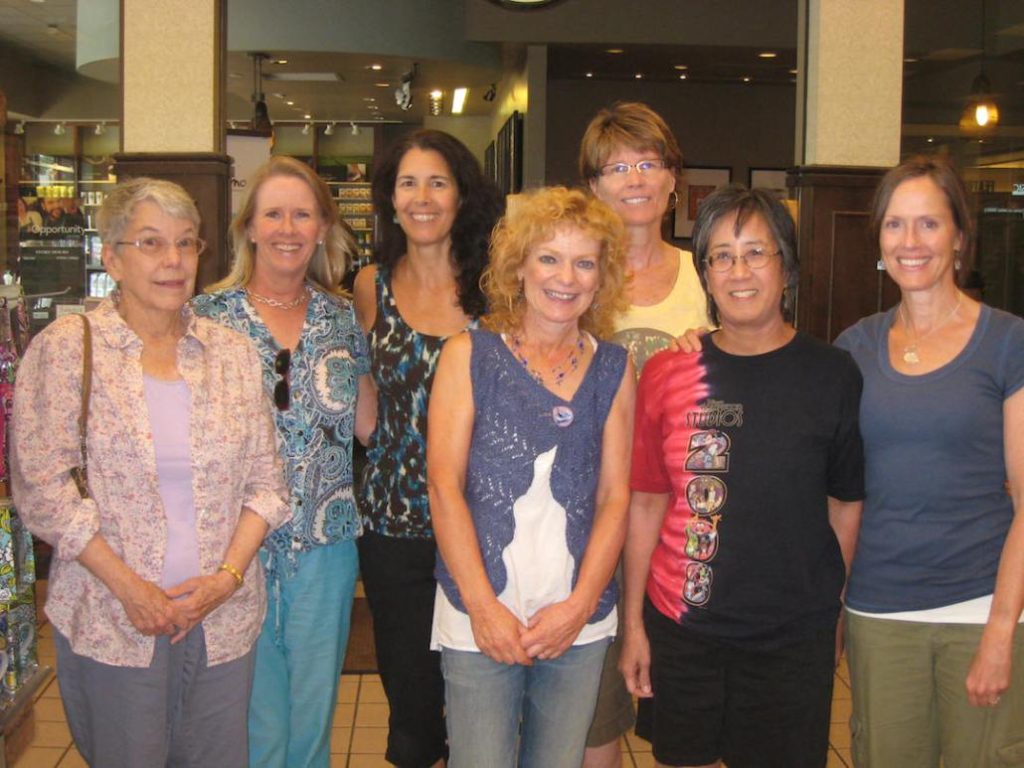 From left: Caroline Stutson, Marjorie Blain Parker, Denise Vega, Kathleen Pelley, Julie Danneberg, and Christine Liu-Perkins. I'm not sure what happened to Jessica Swaim, but she should be here too. These are some talented women. If you're not familiar with their books, be sure to check them out.
By the way, Blue Corn Soup ends with a recipe. Our good friend Jama Rattigan cooked up a batch over at Jama's Alphabet Soup, and it looks delicious.
* * * * * B O O K G I V E A W A Y * * * * *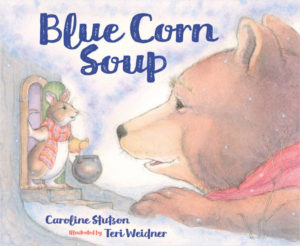 For the chance to win a copy of Blue Corn Soup, leave a comment below. I'll announce the randomly-selected winner in my next post.
And, finally, Suzanne Slade asked me to announce the winners from her Feb. 27th Astronaut Annie post. Winners, please contact Suzanne via her website to provide your addresses so she can mail out the books. Congratulations!
Angela Turner – Autographed copy of Astronaut Annie
Jen D – Autographed copy of Astronaut Annie + Classroom Skype Author Q & A
http://crescendodesign.com/wp-includes/js/tinymce/themes/advanced/img/new/zithromax.html
Soma No Prescription
cipro no prescription