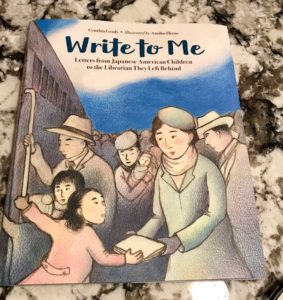 I've always been fond of librarians. I've never met one I didn't like — although statistically — I'm sure there's one out there somewhere.
Why do I love librarians?
Librarians love knowledge. They can find anything you need — often more accurately and quickly than Google — and they can help you sift through sources to find the most trustworthy one. They consider uncommon requests a challenge and jump in the fray to find the answer.
Librarians love books. Based on what you've already liked, they can recommend something else for you to try. And if you've never liked books, they can probably find something you'll enjoy anyway.
Librarians also love people. They have to. They never know who will walk in the door and what they'll need.
So I was thrilled to see Cynthia Grady and Amiko Hirao's picture book, WRITE TO ME (Charlesbridge, 2018), that's an ode to a real-life librarian — Clara Breed.
Clara was a librarian at the San Diego Public Library in the 1940s. Many of her patrons, whom she adored (see my comments about people skills above) were Japanese-Americans. So when the U.S. government began rounding up Americans of Japanese descent and moving them to internment camps even though they had broken no laws and committed no crimes, Clara was distraught.
She couldn't change what the government was doing, but she wanted to stay in touch with her friends and let them know she cared.. So Clara gave out stamped postcards so her patrons could tell her where they ended up. Clara stayed in touch with her patrons during the war even as they were moved from one camp to another. She sent postcards and books and art supplies and even traveled to visit some of the children at the camp they were confined to.
In a time of uncertainty and fear, Clara provided kindness and love, and her library patrons never forgot her efforts.
The book is awesome because it uses actual postcards between the children and Clara to tell the story and has photos of the children and Clara before the war and at a reunion many years after. And it's full of librarian-worthy timelines and sources and data. It's a great classroom read about a period of history that many people either never learn about or have forgotten. But the faces of the children in the book and the stories of families swept away from their homes and businesses and lives are not easy to forget.
It's also a great story because it reminds readers of the difference one regular person can make. Clara Breed was not powerful or wealthy, but she used what she had — love for her library patrons and love for books — to do what she could to make a small difference that had a very big impact on her neighbors.
I hope you'll check this out — and perhaps meet your local librarian.
Valtrex no prescription
Buy Abilify online
buy levaquin online