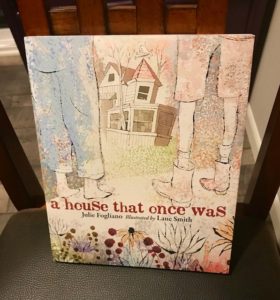 There are books I like.
There are books I love.
And, there are books that — let's be honest — I want to hug. Books that astound me. Books that I read. Then read again with wonder. Then try to convince everyone I've ever met to read as well.
All while wishing I could have written something so amazing.
It may not surprise you that I encountered one of those books recently. I was visiting Books of Wonder in New York City (which was a bucket list moment for me in itself).
That's when I saw A HOUSE THAT ONCE WAS — written by Julie Fogliano, illustrated by Lane Smith and published by Roaring Brook Press earlier this year.
I hadn't heard much about the book itself. But I was very familiar with Julie. In fact, one of her previous books — IF YOU WANT TO SEE A WHALE — falls into the category of huggable books that astound me and I think everyone should read.
So I had to see what she was up to next. I bought the book without reading it — which is a true testament to my respect for Julie and Lane. When I got back to my hotel room, I sat on the bed and read. And a few pages in, I knew. This was another book for the "astounding" category. And, yes, I did hug it, though I don't think anybody saw.
So. I obviously think you should read it. But now, I'm going to try and break down why I think it's so good. Which is a little hard to do, because who can adequately describe love?
But for you — for the sake of art itself — I will try.
The language
This book is a poem. And I don't mean it rhymes. Some rhyming books are not poems. They're just — books that rhyme. And, not all poems have to rhyme. But anyway, this book is a poem. It begs to be read out loud. And even though it's lovely read silently, I don't think you get the full impact until you read it out loud, which I've done several times and will do again. Here's how it begins:
Deep in the woods
is a house
just a house
that once was
but now isn't
a home.
At the top of a hill
sits the house
that is leaning.
A house that once wasn't
but now it is peeling.
A house that was once painted blue.
There's some near rhyme here, but what makes this book a poem is the rhythm and the lyricism of the language. There's no punctuation except the periods, but the way the lines break, you know exactly how you're supposed to read it.
And that, my friends, is the mark of a good picture book. Any reader should be able to pick it up and get the rhythm right. Which is why I often make my husband or daughter read my stuff out loud to see if they're seeing it the same way I am. It's very enlightening. If you find yourself saying: "No, that's not how to DO it," the fault is with you, not your reader.
Another trait worth emulating is the simple word choice. The first stanza has all one-syllable words except for "isn't." And they're all words many grade schoolers know and could read. The second stanza has a few more two-syllable words — "leaning," "wasn't," "peeling" and "painted." But again, the language is simple and spare.
The topic
There's a dreaminess to this story of children finding an abandoned house and wondering who used to live there, why they went away and where they might be now. The tone is classic and timeless. And, when you think about it, there are lots of books for older kids featuring abandoned houses. There's something about them that just sparks curiosity. This stanza sums up the appeal nicely:
Off to the side there's a window
that's watching.
A window that once opened wide.
A window that now has no window at all.
A window that says climb inside.
And, there are small bits of humor mixed in that keep the story from becoming too deep or a shade too sincere. As the children speculate about the house's former owners, they envision pirates and painters and royalty as well as beans, pineapple and cheese. (It works, trust me.)
The love
There's a lot of love in this book. For walks in the woods. For the past. For those who wonder. And for our neighbors — even those we haven't met. There's also a sense of security. Here's what happens at the end of a day of exploring.
So back through the window
we climb as we wonder.
Back down the path that is tangled with thorns.
Back to a house where our dinner is waiting.
Back to a home that is cozy and warm.
Because nothing gives you the courage to venture into the unknown like knowing you have somewhere safe to return.
So, please. Read this book. Buy this book. Share this book.
And give it a hug from me.