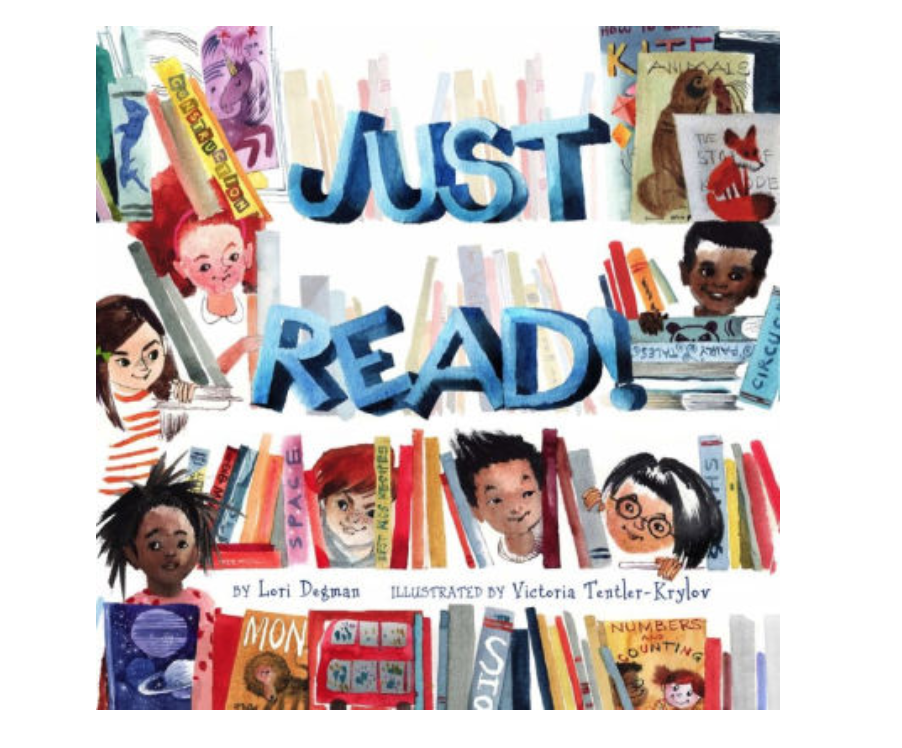 Today I have the pleasure of sharing a new book hot off the press (releases March 5) titled JUST READ! by Lori Degman, illustrated by Victoria Tentler-Krylov. It's a lovely story with a wonderful, universal theme of reading which probably makes other authors wonder, "Why didn't I think of that?"
The glorious illustrations are bright and inviting, and the text is just as delightful. So I invited rhymer extraordinaire, Lori Degman, to stop by Picture Book Builders and share her insights on the creation of this fantastic book.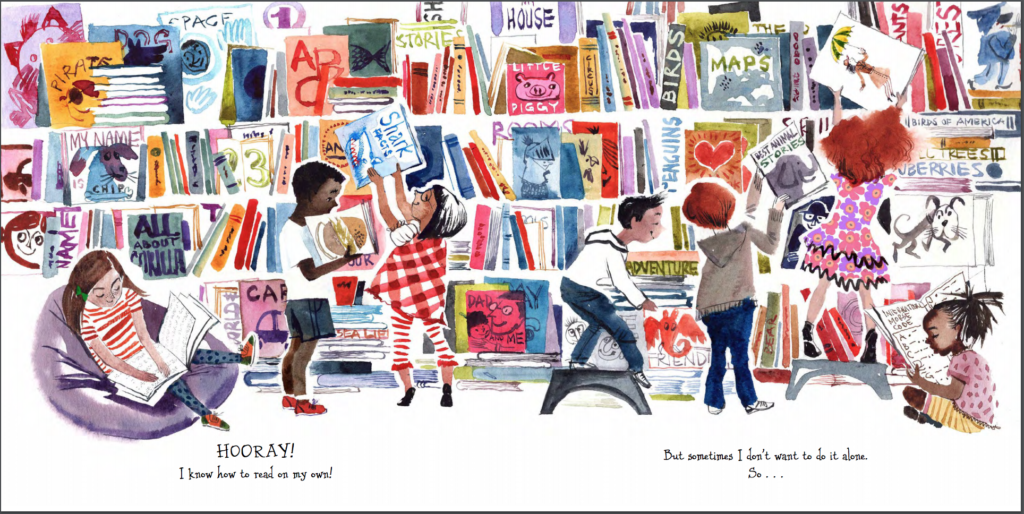 1. Thanks for joining us Lori! I LOVE the topic of your book — that children can read anywhere and with anyone. Or as your story says more eloquently, "Hooray! I know how to read on my own. But sometimes I don't want to do it alone." How did you think of such a great topic?
My original story was about a girl who is so excited she can read on her own, that she can't stop reading. She reads everything she sees – books, cereal boxes, washing directions on clothing tags – everything! As I was writing it, I thought it would be better to have a group of kids who love to read and make it all about them reading – no matter where, when, what, how or with whom they read. Because of this change, the book is more a series of vignettes, without a traditional story arc. About reading with anyone – I originally had the kids reading with people they know – parents, cousins, neighbors . . . One of my writer friends (can't remember who) suggested I have the kids read "with" characters in the book. I think that makes it more fun.
* Now that I've thought about my original story again, I think I'll find my first draft and finish it. DIBS!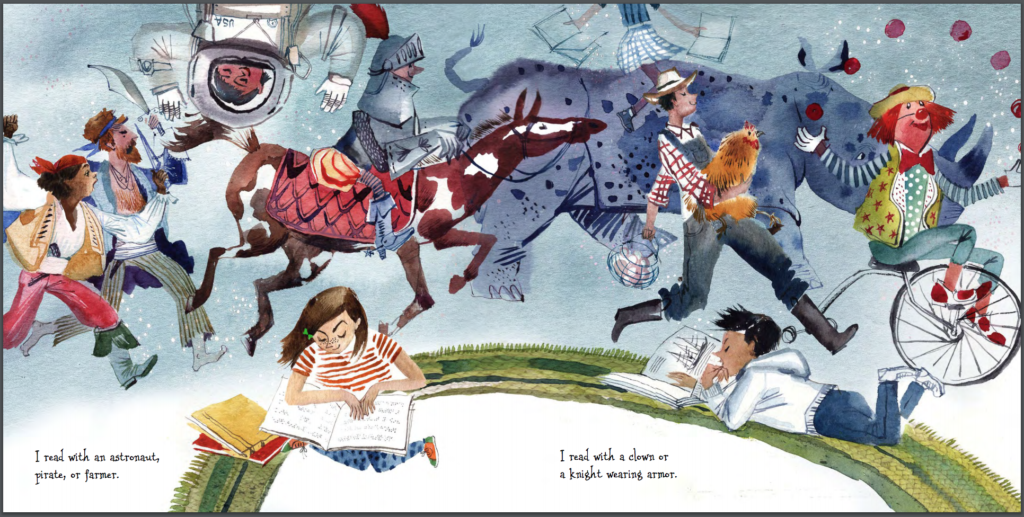 2. Your rhyming in the book is spot on. How do you craft such clever rhymes? Is it a long process filled with many revisions, or does it come easily to you?
Thanks! I work really hard at making my rhyme and meter as strong as it can be – actually I still make changes (in my head) to lines in my published books all the time! Luckily, I have a good ear for sounds and rhythms, so that makes it easier for me to write in rhyme. Most of the time, the rhyming words just pop in my head, but when they don't, Rhymezone.com really helps! When I can't find a rhyming word – or I want a more interesting or complex word, I use the "find rhymes" or "find synonyms" sections of the site.
When writing a book with a particular theme or setting, like JUST READ, 1 ZANY ZOO, or COCK-A-DOODLE OOPS, I'll make a list of words I can use as end rhymes or as part of a joke or pun. So, for JUST READ, I thought about different places kids might read – "I read in a bus, on a plane or a train/I read in a cave our outside in the rain."; or how they might read – "I read with my fingers across bumpy lines/ I read with my voice or my hands using signs."); or when they might read – "I read while I'm waiting to hear my name called/I read while we're driving and traffic has stalled.". The lists usually spark lots of ideas. Sometimes, the rhymes help me with plotting; they take me in directions I hadn't expected to go. But, you have to be careful not to let the rhymes take you off on a tangent that doesn't help move the story forward.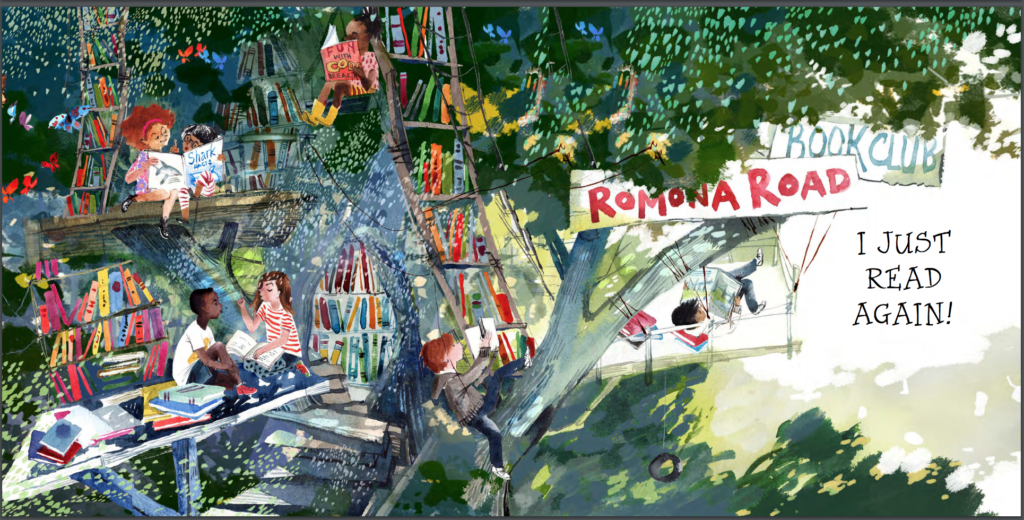 3. I noticed the phrase "Romona Road" in one of the illustrations, and also see you thanked a teacher from Romona School in the Dedication. How did your school name ended up in an illustration?
In the manuscript, I had an art note that said it was the Romona Road Book Club. As you know, lesser-known authors like me don't usually have much say about the illustrations. But, I asked if we could please keep the name and they said we could. In 3rd grade, I was going through some issues at home and Mrs. Hardy took me under her wing and helped me get through it. That's why I decided to be a teacher – so I could make a difference in kids' lives, just as she had!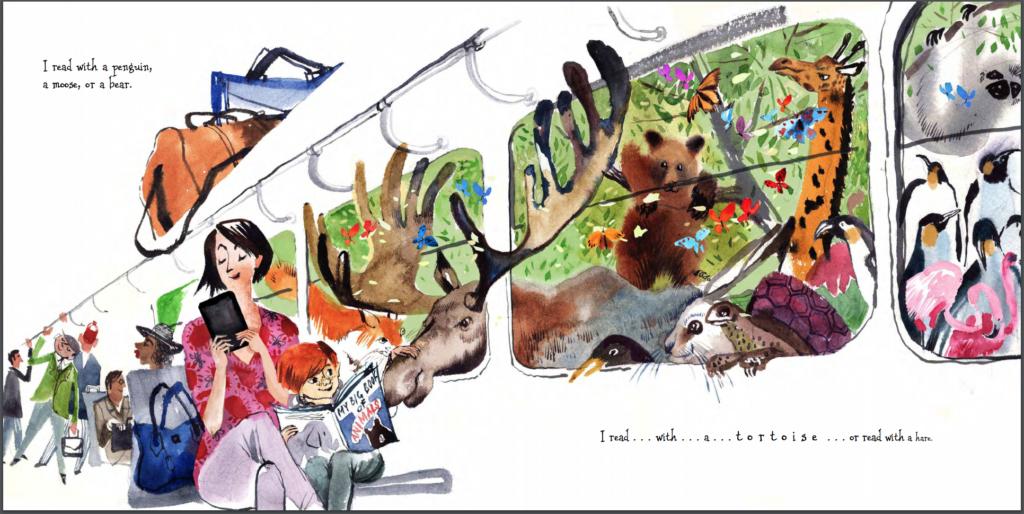 4. Anything surprising or unusual happen during the creation of this book that you'd like to share?
I was surprised how quickly the story came together. I think because I had a theme with a series of scenes, it made it so much easier – no plotting problems to slow me down! I was also amazed at Victoria Tentler-Krylov's illustrations! They turned out far better than I'd imagined!
* * * * GIVEAWAY! * * * *
Lori is giving away an autographed copy, and will randomly select the winner from those who leave a comment. Enjoy!
* * * * * * * * * * * * * * * *
"A chipper, colorful celebration of the limitless possibilities for what, where, and when one can read." — Publishers Weekly