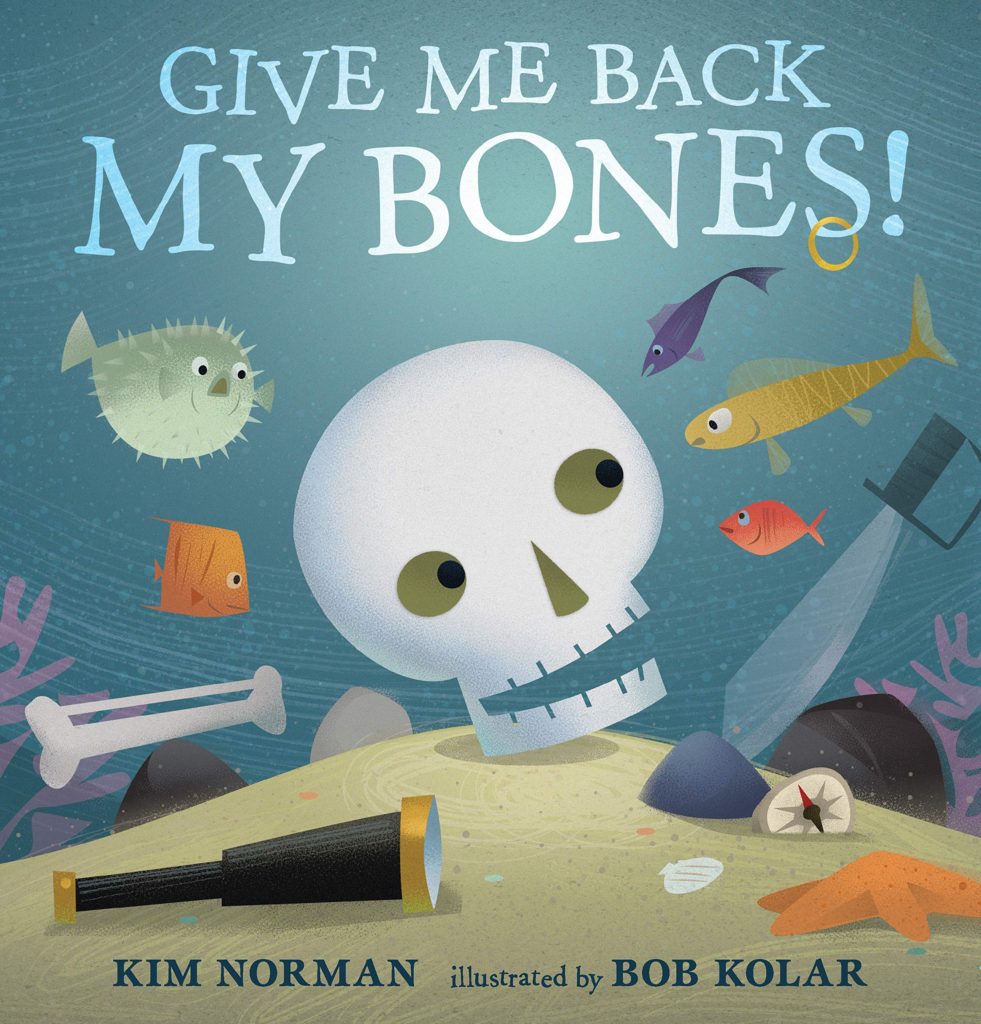 Ahoy, mateys!
Kim Norman has written a spook-tacular new picture book. Give Me Back My Bones!, illustrated by Bob Kolar, offers playful language, an unusual premise, and my very favorite endpapers of 2019.
I'm not the only one who thinks this book is a total treasure.
See?
"Budding biologists as well as general fans of pirates, poetry, and wordplay will agree—and it makes a fuller (and less freighted) alternative to Bob Barner's Dem Bones (1996) and other versions of the old teaching spiritual. Both macabre and cheery—a rare treat.'
—Kirkus Reviews (starred review)

"This clever, cumulative tale is enhanced by its endpapers, which feature scattered labeled bones at the front and a full skeleton at the back, and playful, dimly lit underwater digital illustrations populated by bug-eyed, curious fish. The rhyme keeps things moving despite the hefty vocabulary (Metacarpals! Phalanges!) and the illustrations make it clear what everything is. Somehow daffy and scholarly at once."
—Booklist Online
Kim was kind enough to pay us landlubbers a visit.
Welcome to Picture Book Builders, Kim!
Thanks, Tammi. Happy to be aboard!
What inspired you to write this book?
Somehow the phrase "Give me back my bones" started rolling around in my head, which – I know – is similar to "Give me back my bone," a book/fable with a different topic. But these triple rhymes that started stacking up in my head confused me: who was asking for its bones back? Where did the book take place? Took longer for me to figure that out. Once I did and the book had sold, I had fun ramping up the pirate language at the encouragement of my editor.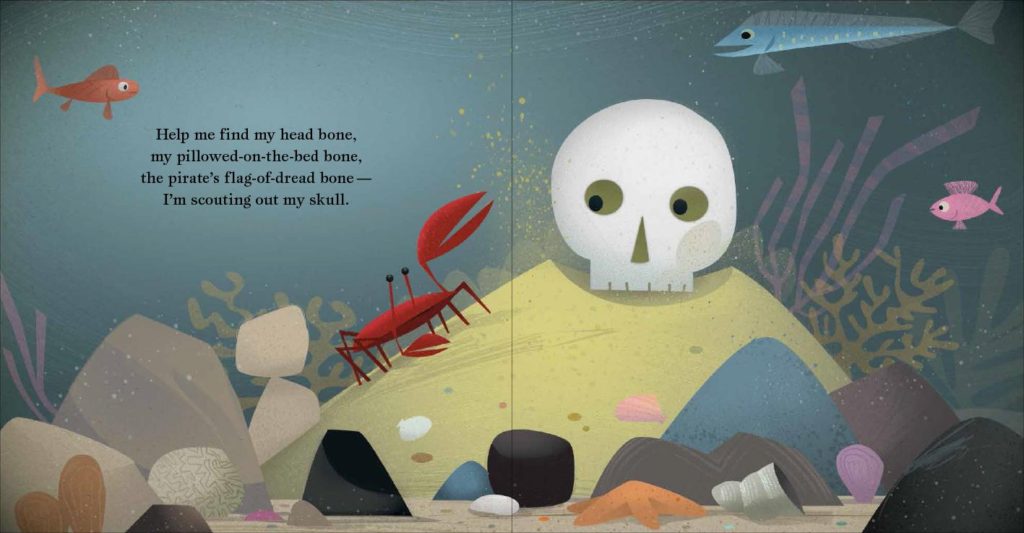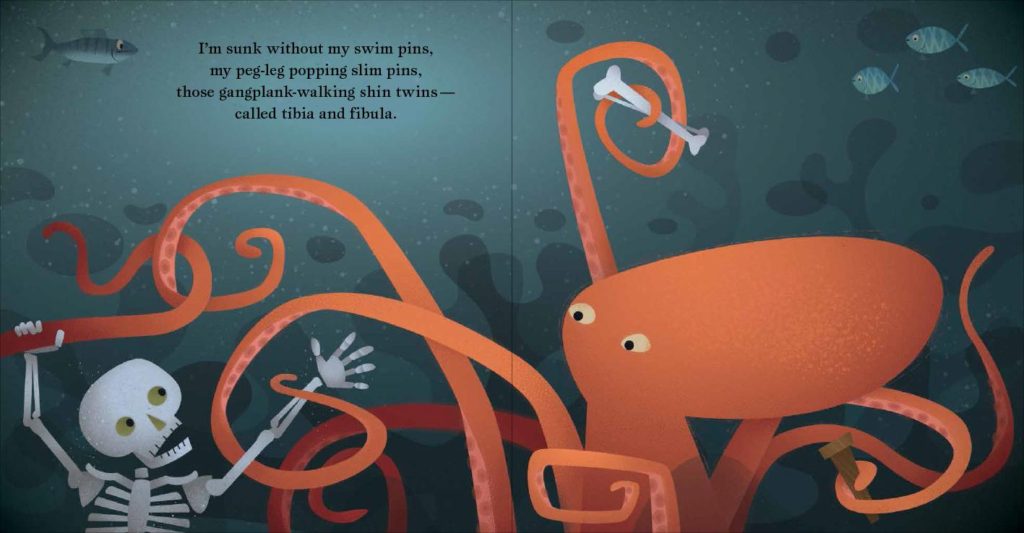 Please share your favorite stanza.
I think I'm most proud of the opening and closing stanzas, which didn't even exist when I sold the book. It just immediately launched into "Give me back my head bone…" but the editor wisely suggested I write a scene-setting stanza. While I was at it, I felt like it also needed a closing stanza. The funny thing is, the closing line, "I feel it in my bones" is such a perfect match for the theme, that you'd think I was writing towards that all along. But nope, wasn't in there until after the book had sold. Which, again, give me an appreciation of the faith editors have in us, that we'll be able to make a book even better with a few more revisions.
So the opening stanza is:
A stormy night has passed here,
and toppled every mast here.
The ocean, flowing fast here,
has scattered all my bones.
Closing stanza (after the skeleton-pirate, with the help of his aquatic friends, has reassembled himself) reads:
Now cast a spyglass 'round here
while breakers curl and pound here.
There's treasure to be found here–
I feel it in my bones!
While Give Me Back My Bones! stars a skeleton who has literally fallen to pieces, the book doesn't come across as scary in any way. I think Bob Kolar's genius art has a lot to do with that. What was your reaction when you first saw Bob Kolar's art?
Love love love! I totally agree. Amazing that he makes it humorous and charming without it being scary. And I admire the little details that improve the design and composition of each spread. For instance, on the page about the backbone, in the revised illustration, Bob had changed the shape of the jellyfish tentacles from wiggly to very straight up and down, including a sword that stands up straight nearby. I'm sure he (and perhaps with input from the art director) did that deliberately to build the theme of upright bones on that page. So subtle and clever!
You have a gift when it comes to creating stories that sing. Do you have any advice for writers who would like to pursue writing in rhyme?
Aw, thanks! Yes: Read read read. Then read some more! Read out loud, even if someone is looking. (Pretend you're on your phone.) I think it was reading books aloud to my kids all those years that tuned my ear to the cadence of picture book language. After you've read a couple hundred, pick out a few of your favorites and type up the text, then put away the images and look at the text alone. You'll learn a lot about leaving room for the illustrator to tell the story. (As I have learned entire OCEANS from you, Tammi.)
Specifically, when it comes to rhyme, pay even more attention to the rhythm than the rhyme. When editors say they don't like rhyme, usually they just mean they don't like clunky rhyme with poor rhythm. So ask your musically talented friends to read your manuscripts aloud to you. (Musicians tend to have pretty good rhythm.) Listen for where they stumble, mark those places, and go back and fix them.
Then go back again and look for places where you can make your words more surprising. If a reader encounters "run," he/she will be expecting "fun" to end the next line. To keep your readers on their toes, have rhymezone.com constantly open on your computer and look for more unusual rhymes. Don't forget it's also a thesaurus, which will help you search for words other than the most obvious. Obvious words are fine in your first draft, but don't settle for them in subsequent drafts. Also, look for ways to add word play. My favorite way is with alliteration. Also repetition. See if you can work in a few internal rhymes: where the rhyme doesn't fall at the end of the line, but words nearby rhyme or have similar vowel sounds.
For instance, in my book The Bot That Scott Built, one stanza reads:
This is the boa, escaped from its cage
that draped like a microphone cord from the stage.
Obviously, the end rhymes in that stanza are "cage" and "stage," but there's also internal rhyme: "escaped" and "draped."
All of those things will float your manuscript a little higher in the slush pile than the writer who never revised beyond "run" and "fun."
Thanks so much for stopping by, Kim!
Thank you, Tammi. It was my pleasure. Bone voyage!
Now readers, I have a bit of a bonus for you. If you haven't gotten enough of Kim Norman yet, you are in luck! Come Next Season, Kim's new book with Daniel Myares debuts in October. Find it at your favorite bookstore or your local library. You will be so glad you did!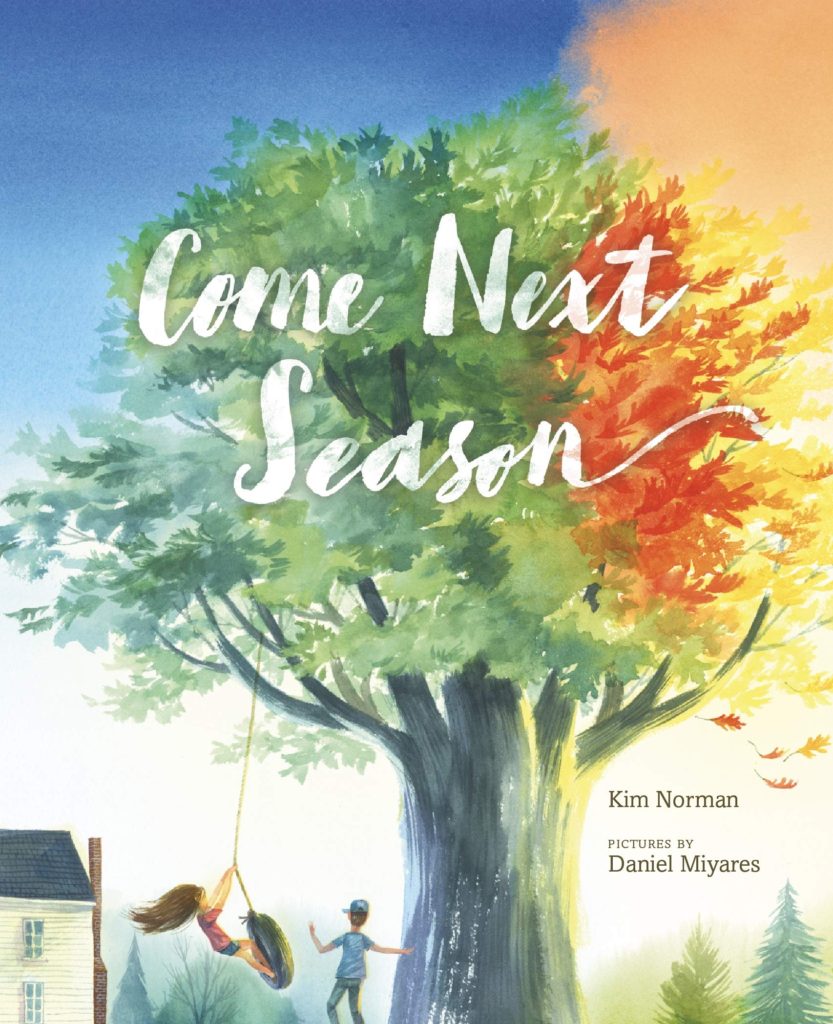 For even MORE Kim Norman, please check out Kim's previous interview at Picture Book Builders.
***************************************************
BIO:
Kim Norman is the author of more than twenty children's books, already or soon to be in print, published by Sterling; Scholastic; Penguin/Random House; and forthcoming from Farrar, Straus and Giroux; and Candlewick. Kim calls herself a "Bedtime reading evangelist." She has been invited to more than 250 schools around the US. She is also an artist, singer and actress whose favorite roles have included Roxie Hart in Chicago and Golde in Fiddler on the Roof. She and her husband, who have two grown sons, live in Virginia with two pug mix dogs in a little house shaded by giant pecan trees. Read more about Kim and her books at kimnorman.com. On Twitter @KimNormanAuthor and Instagram: authorkimnorman (Yes, she recognizes the irony of those very opposite handles.)
***************************************************
GIVEAWAY: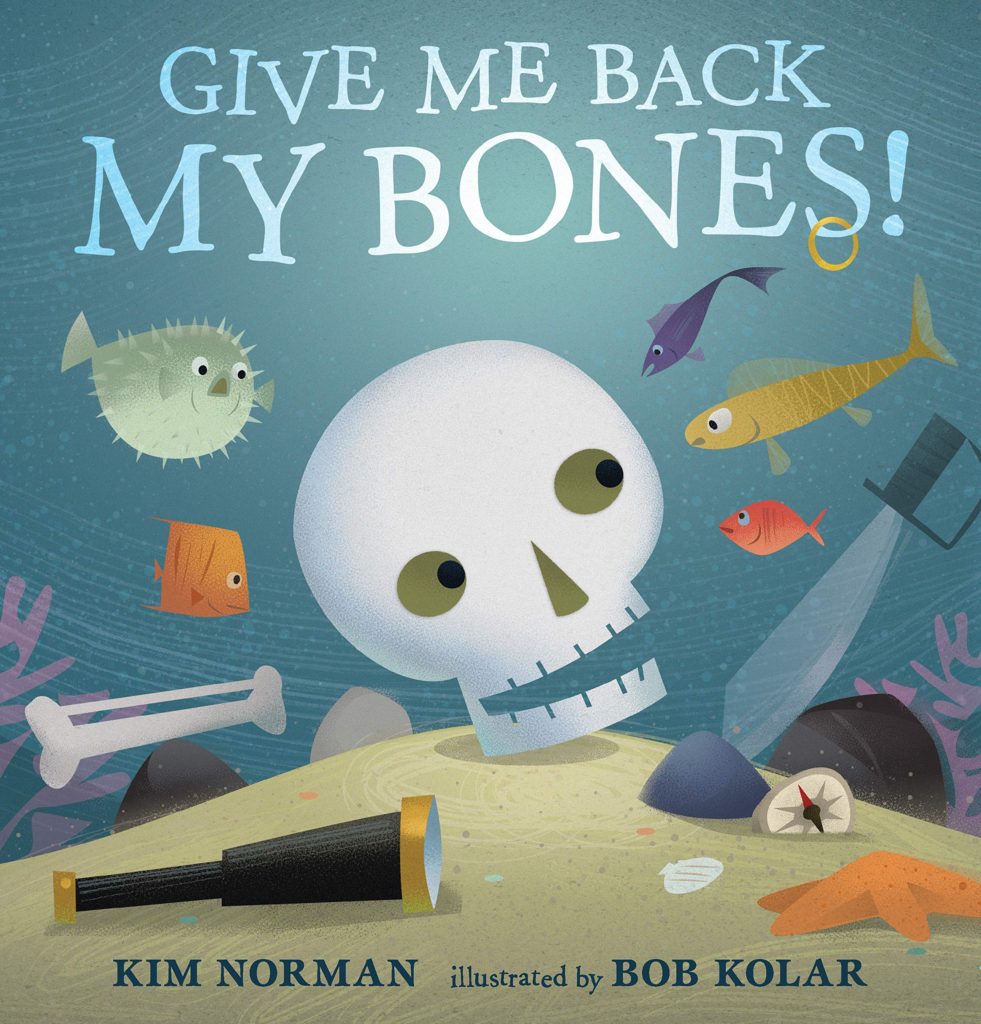 For a chance to win a copy of Give Me Back My Bones, leave a comment and/or share this post on Twitter. Please be sure to tag Kim @KimNormanAuthor and Tammi @SauerTammi. The book has been generously provided by Candlewick. Winner must live in the United States.
***************************************************
WINNER: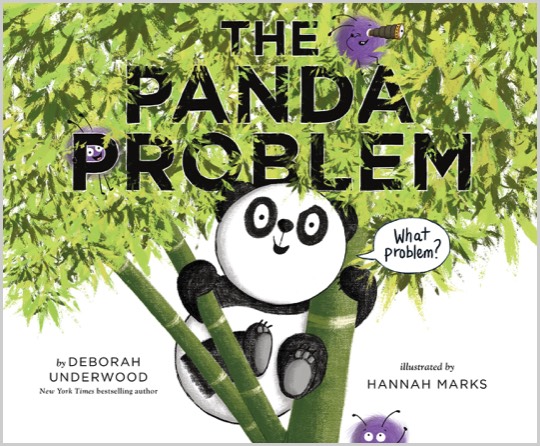 Congratulations, Lindsay H. Metcalf! You are the winner of Deborah Underwood's The Panda Problem.