My pal Janee Trasler is an author, illustrator, and esteemed member of PBJeebies, our critique group with Kim Norman and Jessica Young.
I asked Janee to stop by Picture Book Builders and give us a little insight into creating an early reader series. Lucky for us, she said YES!
The first book in Janee's series is called Frog Meets Dog.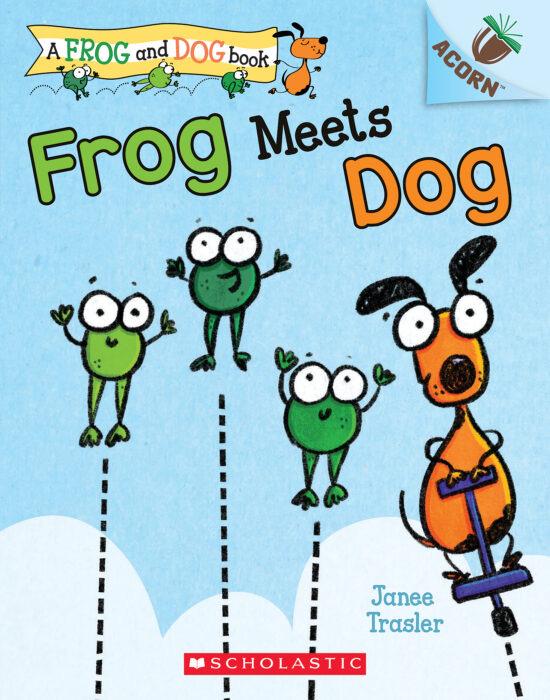 This is what Kirkus and Booklist had to say….
"An early reader for the earliest of readers. Trasler's cartoon illustrations heighten the humor of her spare text, which has ample rhymes and assonance to support new decoders… Reader, meet Frogs and Dog–you won't be sorry." — Kirkus
"Many elements combine to make this engaging for early readers: rhyming text, repetition, relatable themes of friendship and resourcefulness, and full-color illustrations filled with humorous details." — Booklist
Nice, huh?
Janee. Thanks for stopping by Picture Book Builders.
Thanks for inviting me.
Congratulations on your two latest books! They happen to be a part of Scholastic's new Acorn line. Tell us a little bit about Acorn.
Thank you! ACORN is the new younger-sibling of the Scholastic BRANCHES line — aimed at the brand new reader. I couldn't be happier to have Frog and Dog be a part of it.
What inspired you to write Frog Meets Dog?
In an email discussion in our PBJeebies critique group, one of our members, Kim Norman, said something that triggered an idea. I started jotting down notes and had a rough draft down that night and a sketch dummy ready to be critiqued by the next day.
I bet you're wondering what she said to inspire such an outburst of creative productivity, right?
Frog. She said the word "frog." Sometimes, it doesn't take much to fuel the fire.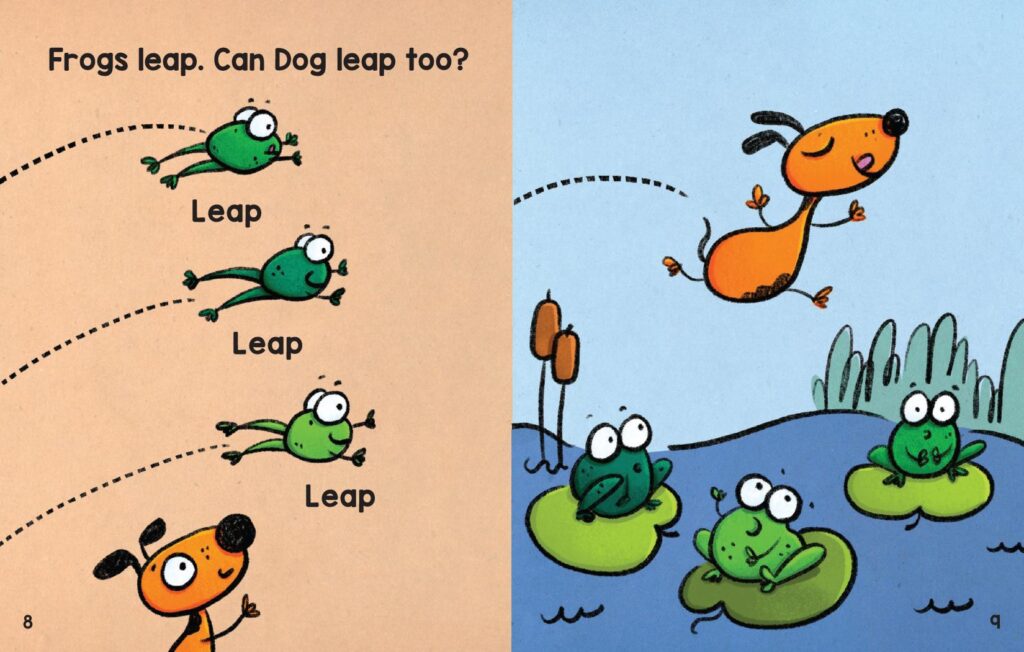 The second book in this series is Goat in a Boat. How did this book evolve? Did it begin with a sketch? Some word play? An encounter with a nautical goat?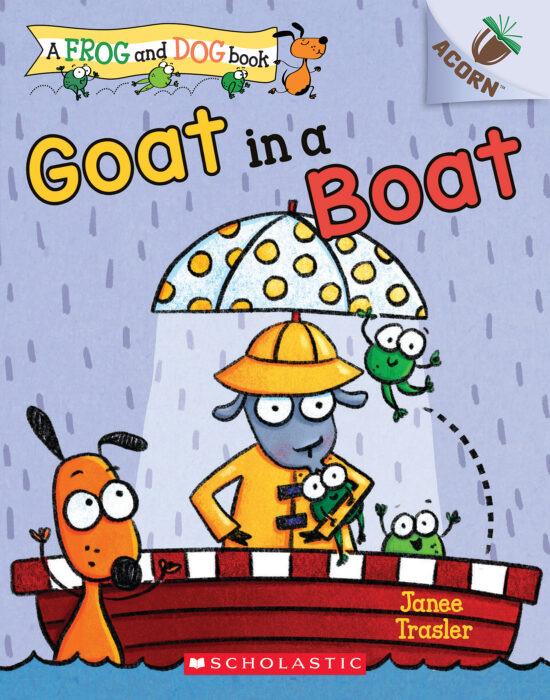 Word play was definitely the catalyst for books two and three. In fact, it was totally down to the titles. The Acorn editorial team and I went back and forth for a few weeks on possible rhyming titles before we settled on Goat in a Boat and Hog on a Log. I had the basic ideas down, but the titles had to be just right.
Truthfully, there was originally no log in book three. The title drove the plot of that one in a slightly different direction.
In your experience, how was writing books for young readers similar to writing picture books? How was it different?
Because the Frog and Dog series is for the emergent reader, the experience was very similar to my picture book and board book comfort zone.
I had a bit more freedom in that, I had more room to tell the story – 48 pages versus 32, and I could get a little more sophisticated with some of the humor as I knew my audience would be slightly older.
On the other hand, I had more restrictions because these books are meant for newly independent readers. My word choice was really important, an extra syllable is all it takes to bump the book up to a whole other reading level. No contractions, very simple sentences, and the illustrations are very important tools for the reader to decode what is going on in the text.
I loved the challenge, and I think it helped me gain confidence to try writing for an even older audience.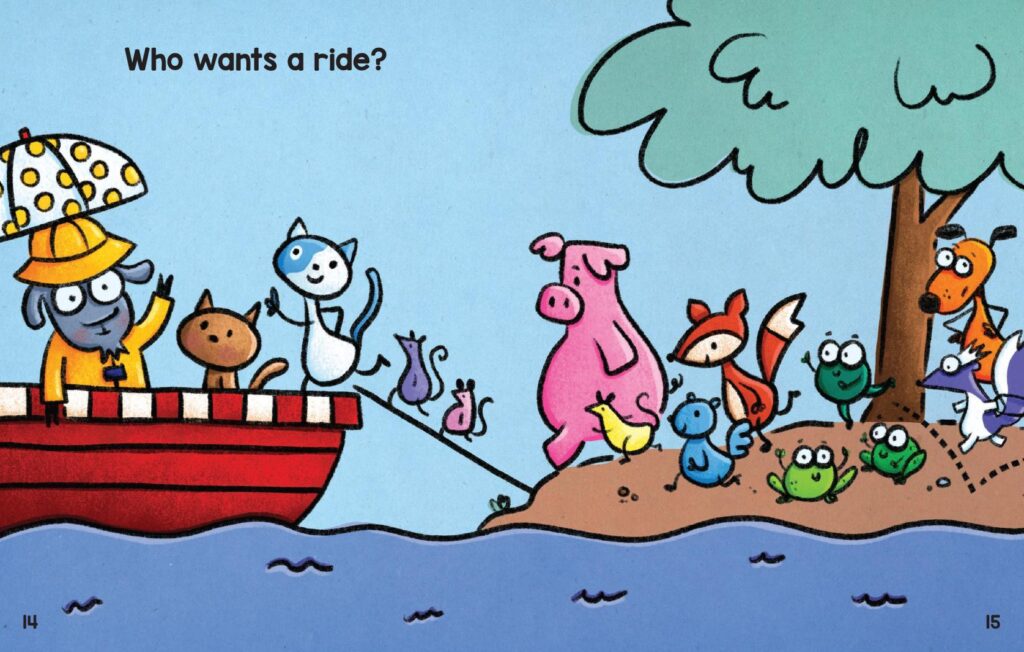 I loved the 5 mini countdown promos you shared online to celebrate the release of these books. They were filled with hoppiness! (See what I did there?) Which was your favorite?
Thank you! I loved the design of the first day — everything fit so nicely on the Twitter-sized announcement. But my favorite content is the Frog and Dog Song. That little song will come in handy for all kinds of promotion and book events. Look out, mandolin. We have a new playlist!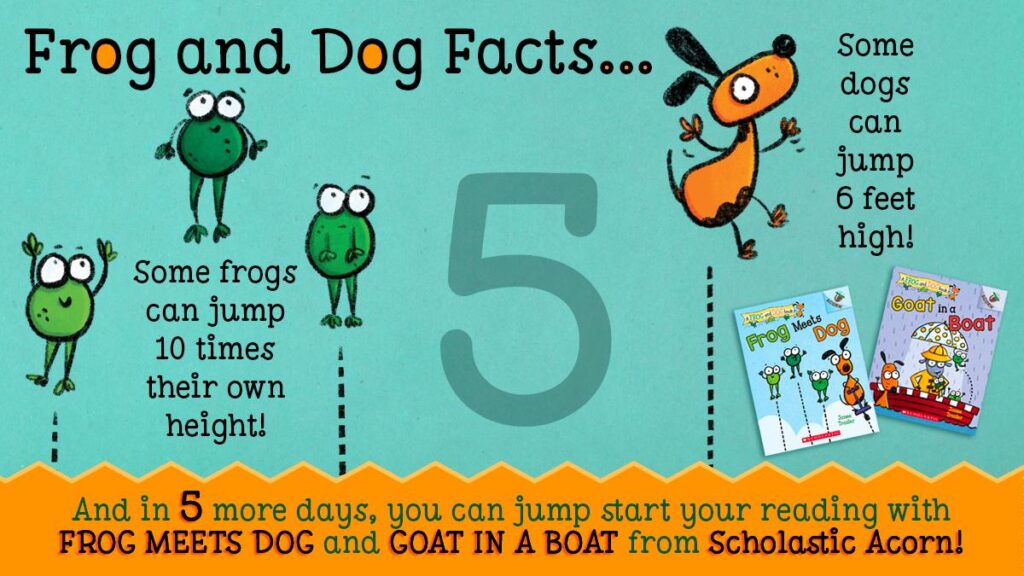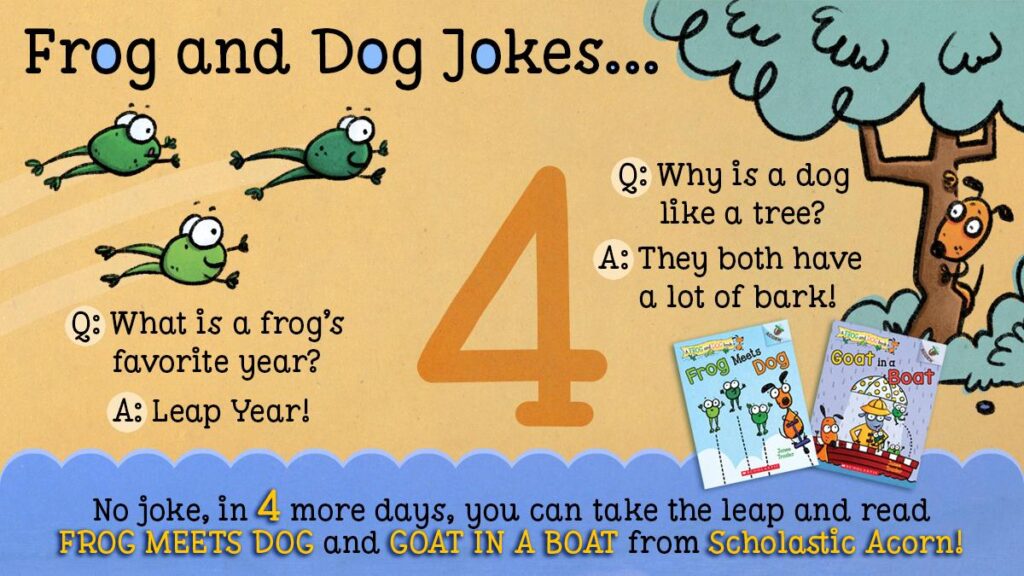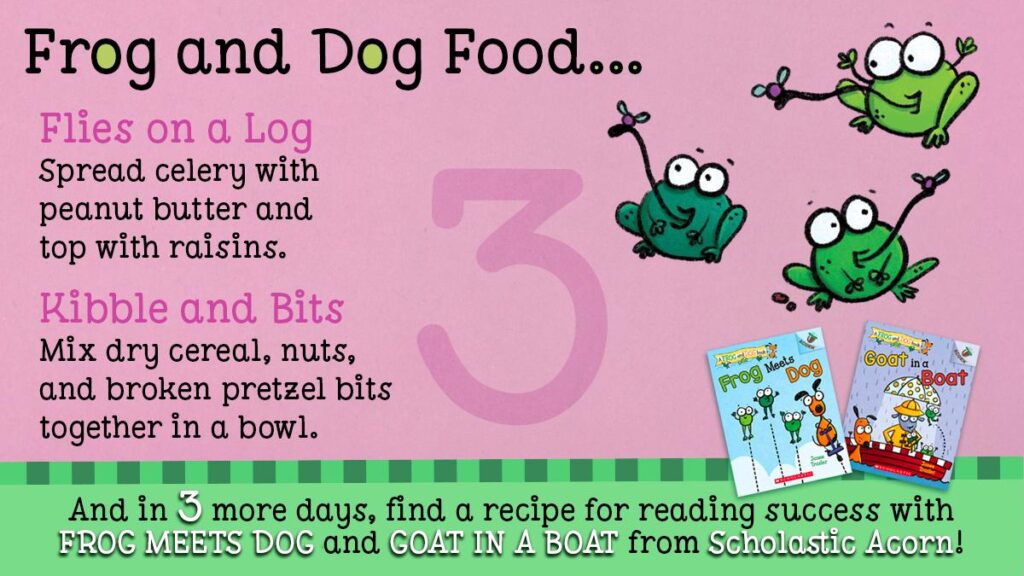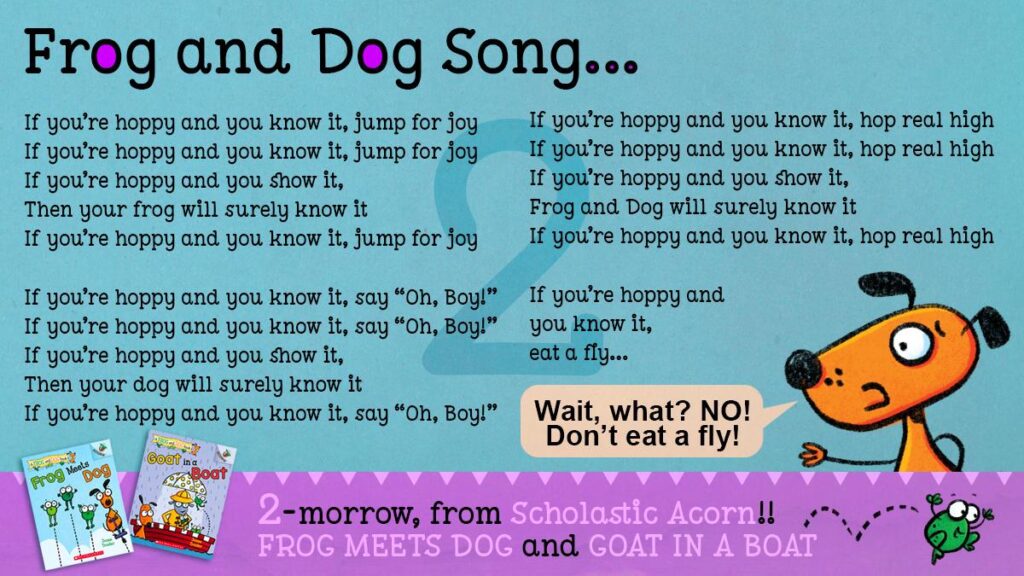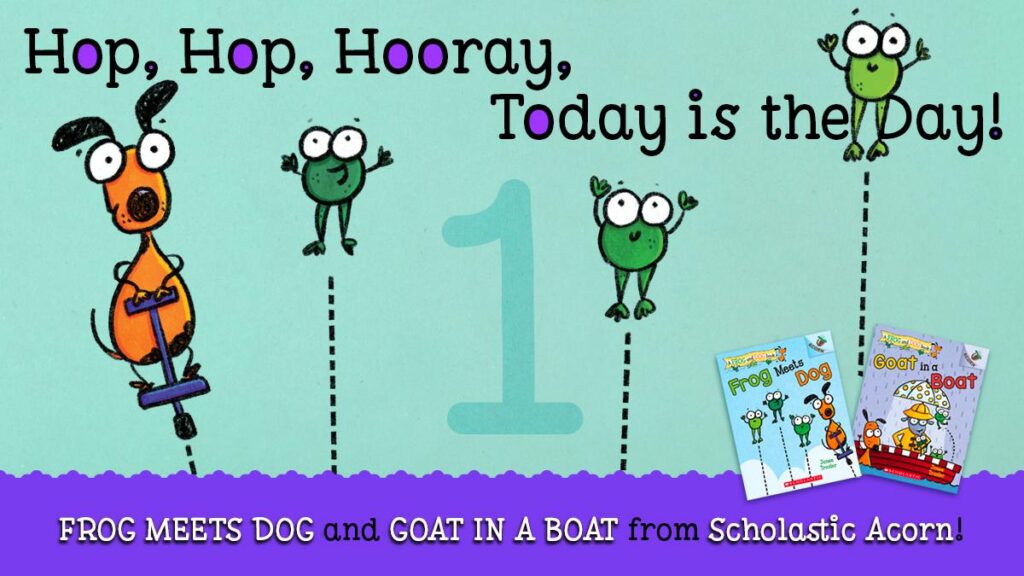 Please pass along your best piece of advice for someone who would like to write a series for young readers.
Keep your reader in mind. Everything about an emergent reader should be designed to help them successfully decode the story.
Scoop time! What can we look forward to next in the A Frog and Dog Book series?
October 2020, save the date! Hog on a Log hits the shelves. Our favorite frogs and dog meet up with a hog who hasn't really learned the fine of art of sharing yet.
The fine art of sharing sounds like a topic your target audience can really appreciate. Plus, who could possibly resist this cutie hog on a log?! Thanks so much, Janee!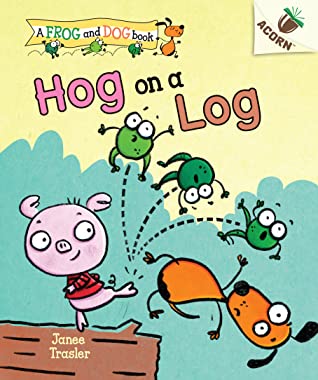 BIO: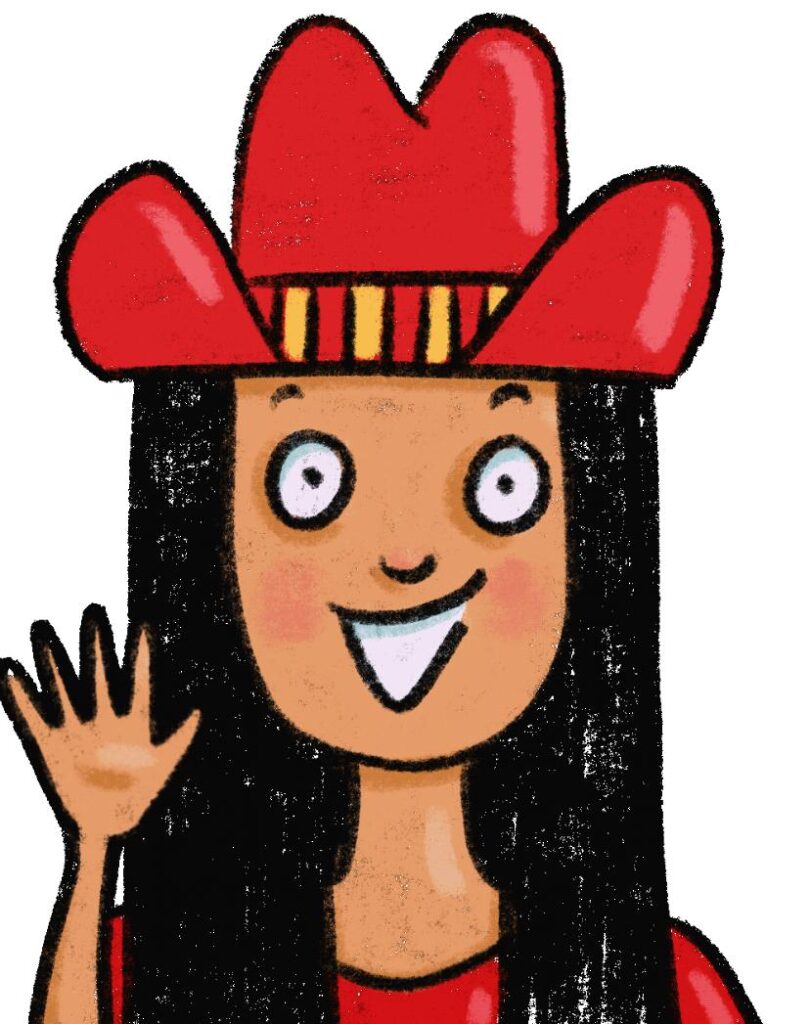 Janee Trasler is the author-illustrator of fifteen books for children, including the popular Chickies series from HarperCollins and the brand new Frog and Dog series from Scholastic/Acorn. She loves to make kids laugh. Even when she's not writing and illustrating books, Janee can be found telling stories through music and puppets.
GIVEAWAY: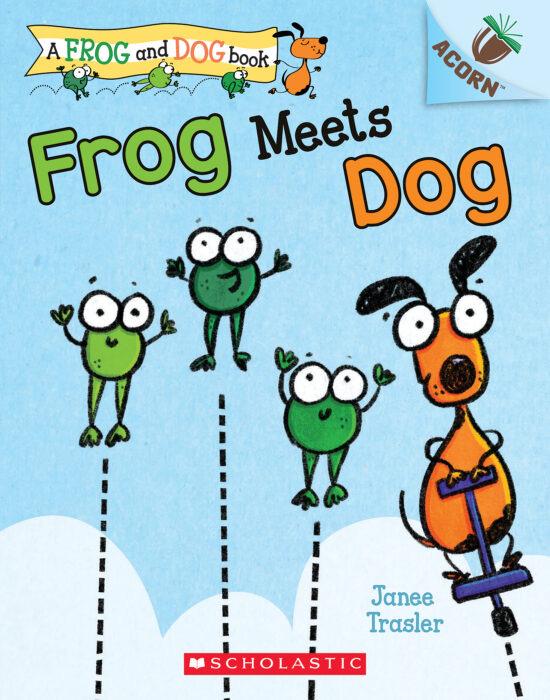 For a chance to win a copy of Frog Meets Dog, just comment on this post and/or share the link on Twitter. Please tag Janee at @janeetrasler and Tammi at @SauerTammi.
WINNER: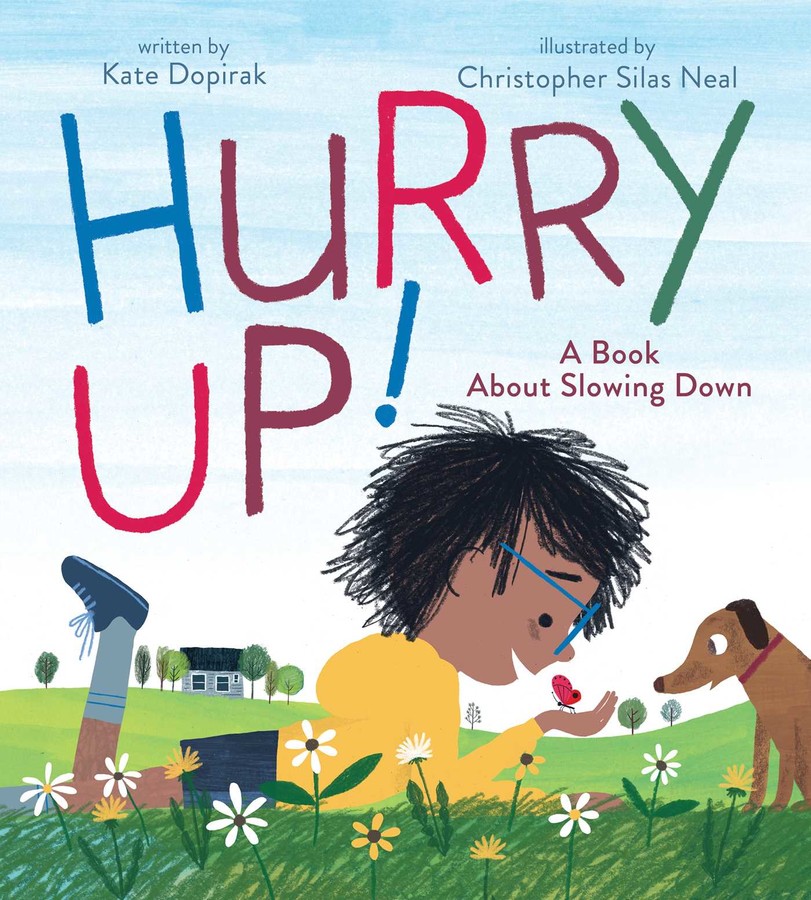 Congratulations, Mark Ceilley! You are the winner of Hurry Up: A Book About Slowing Down.