2020 has — unarguably — been a difficult year. We've been tossed and turned by a pandemic, a contentious presidential election, racial injustices and a variety of natural disasters.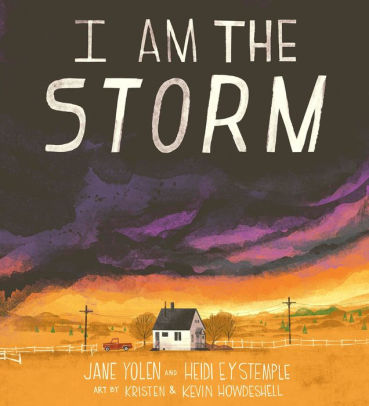 That makes I AM THE STORM, a picture book written by Jane Yolen and Heidi E.Y. Stemple and illustrated by Kristen and Kevin Howdeshell, the most timely of books for young and old readers.
This book — published this year by Rise, an imprint of Penguin Random House — offers a message of hope and overcoming no matter what the world throws at us.
In language that is, at once, simple, lyrical and true, this book shows how four fictional families respond to tornadoes, blizzards, wildfires and hurricanes by staying safe, finding small things to do to take their mind off the situation and cleaning up and helping others after the storms .
The book's heart and hope come from repeating phrases:
When the wind stopped whirling, as tornadoes always do.
When the snow stopped falling, as blizzards always do.
When the forests cooled, as wildfires always do.
When the wind and sea calmed, as hurricanes always do.
It's the perfect way to remind readers that even the most terribly scary things life throws at us are temporary. As the well-known saying goes, " This too, shall pass."
But the book also reminds readers that "It's okay to be scared" and that they have the strength to survive and thrive. (I do want to point out that I have a friend who has personally experienced three of the storms mentioned in the book, and she feels the characters look a lot happier than they really would in the midst of these situations.)
With the way publishing works, this book was written well before COVID-19 was on anyone's radar. But, it came out in the middle of the pandemic. And, it's impossible to read the book and not think of how its message also applies to everyone struggling with coronavirus issues right now from illness, to job loss to online school to quarantining.
There's backmatter that explains what tornadoes, blizzards, wildfires and hurricanes are, which gives the book a bit of educational heft, but its largest lesson is in the hope it can provide to anyone going through a hard time — whether it's nature-related, health-related or the one of the many other personal crises that periodically strike people's lives.
No matter what the worry, the book's message holds true:
Keep yourself safe.
Stay with those you love.
Find small things to do.
Clean up once the storm is done.
Help others.
And, know that you're strong enough to endure.
Personal update: Speaking of strength, the next book I have coming out is BE STRONG. It's the sequel to BE KIND, and it's illustrated by Jen Hill. It releases Aug. 10, 2021 from Roaring Brook Press and can be pre-ordered now. Here's a quick look at the cover.