I'm sure my fellow teachers know the feeling. You see a book announcement or a cover reveal and you immediately want to plan that title for tomorrow's read aloud. But you have to wait. And wait. And wait four more days to be exact, because that's when Abdul's Story by Jamilah Thompkins-Bigelow and Tiffany Rose is officially out in the world.
Abdul, an observant boy sporting red glasses, blue suspenders, and a flattop haircut, loves to tell stories, especially about the colorful characters in his Philadelphia neighborhood. But when it's time to write the stories down, trouble ensues. My students can relate. So can I. And probably so can you. For Abdul, the letters end up crooked or backwards and he's not always sure which ones to use because, "How could Abdul know there was an e if it never made a sound?" Abdul's paper fills with eraser smudges as he begins to doubt his stories are the kind that are in books anyway. After all, he never sees his life reflected in books.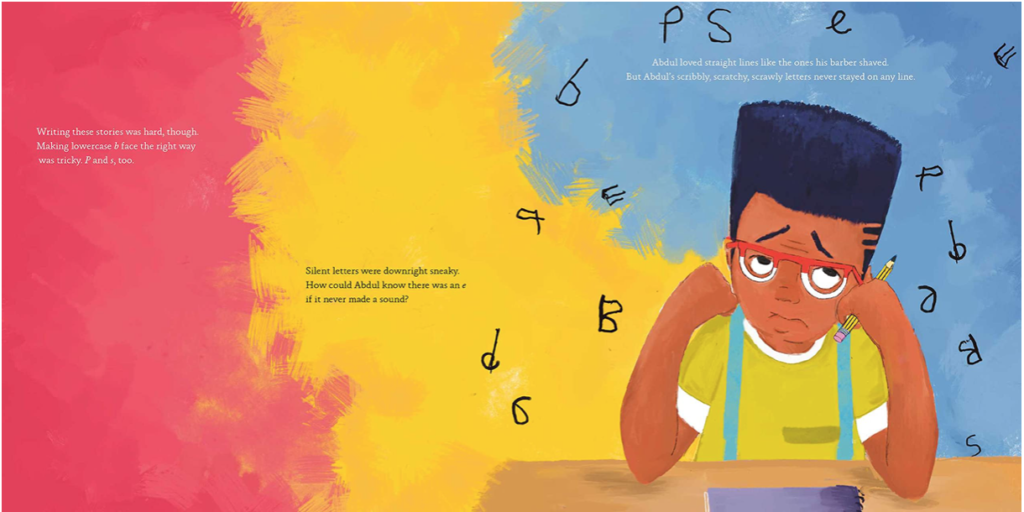 But one day Mr. Muhammad, a visiting author, begins spending time in Abdul's class. His frustrations continue to mount, but when Mr. Muhammad reveals his own messy notebook, Abdul sees that being a writer is not about being perfect, it's about having something to say. Abdul's Story is an affirming tale that will inspire children to believe, I am a writer.
The story of Abdul and Mr. Muhammad is based on the author's own experiences working with children. Jamilah says, "I was inspired to write this book by a six-year-old child whom I helped to write a story during a writing workshop. He didn't think he could write a story because of his struggles with handwriting and spelling, and I strived to let him know that his stories had value and were needed in spite of those struggles." The encouragement Jamilah gave that young child will soon be available to many more in the form of this book.
The relatable text of Abdul's Story strikes a gentle tone that normalizes mistakes as part of the writing process. The vivid illustrations burst with color and emotion. Nods to Muslim life in Abdul's community are subtly present, and have the ability to provide reassuring references to children who are familiar, and spark curiosity in children who are not.
If you want this delightful and uplifting book on your shelves as much as I do, please comment below by April 8th for a chance to win Abdul's Story. For an extra entry, you can share this post on Twitter and tag @jtbigelow and @sara_h_ackerman. U.S. addresses only please. Thank you, Jamilah, for this giveaway!