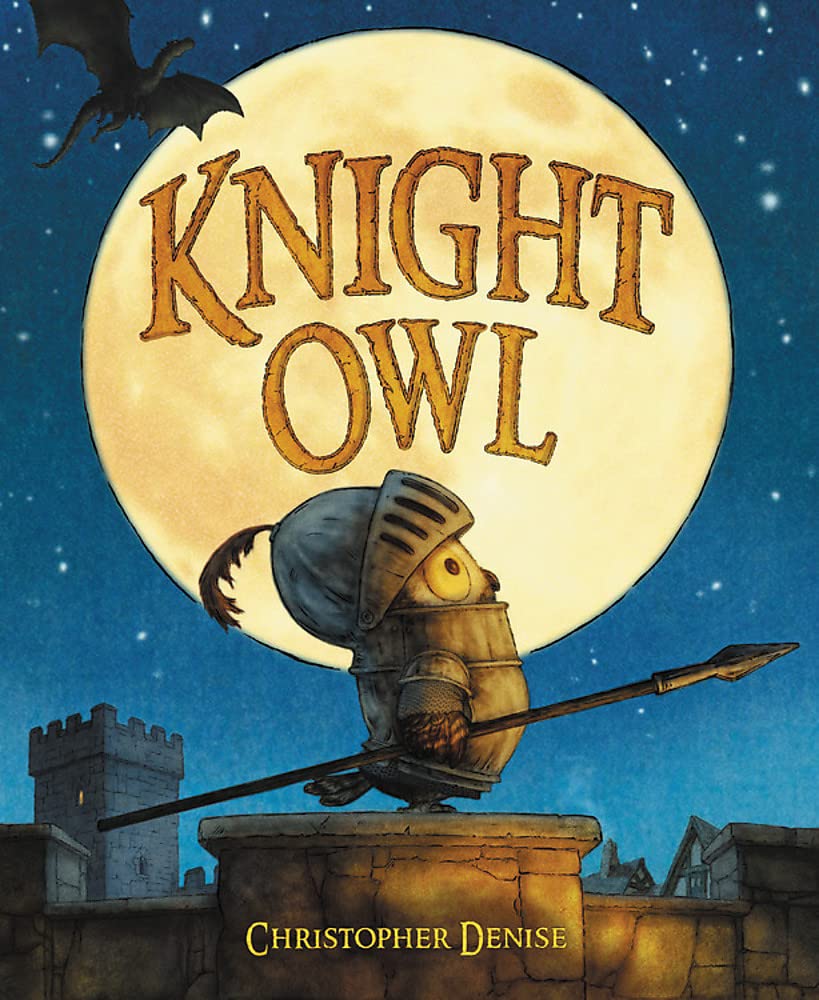 I keep seeking out character books because these days I find them few and far between. Here's one for everyone's bookshelf, Knight Owl, by Christopher Denise. We are all probably familiar with Christopher Denise's glorious artwork from the Redwall series, Bunny in the Middle, Firefly Hollow, just to name a handful. He imbues his animals with so much delightful character and personality and this darling little owl is no exception.
Owl's dream has always been to become a real knight. So, off to Knight School he goes, but he has to work extra hard to graduate because he's so much smaller than the other knights. Christopher Denise cleverly conceals the 'real', and 'large' knights. We glimpse them only partially and they are covered in armor. This makes the plump little owl with his enormous eyes, all the more lovable.
Owl, being an owl, is very good at staying awake at night. So when he is assigned to the Knight Night Watch he does a very good job. But when owl is confronted with a huge and terrifying dragon, he must use his cleverness to turn a terrifying situation into a happy one.
The wordplay in this story is so much fun! And the darling illustrations are so endearing and engaging. This is one that will be asked to be read over and over.
The ending proves that true bravery comes from being clever— not fighting. And in the case of our darling owl, his witty solution results in friendship (and a yummy snack).