If you're looking for a family Christmas book to read out loud, there's still time to find CHRISTMAS FAIRIES FOR OUMA, a new picture book by Lindsey McDivitt and Katarzyna Bukier that came out this year from Familius Books.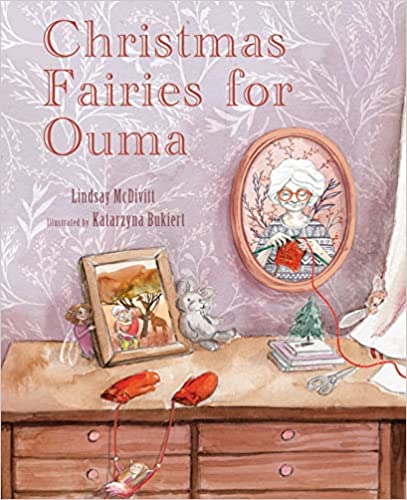 The book is about Tessa, who wants to show her far-away grandma a snowy American Christmas. So, she mails a card addressed only to "Ouma in Cape Town, South Africa." With no name, no street, and no stamps, how will Tessa's card ever get to Ouma?
But, against all odds, Tessa's card travels 10,000 miles across the world, from the hand of one stranger spreading cheer to another and another, all the way to Ouma. Is it kindness or Christmas magic?
Lindsey is the author of three biographies for children including A PLAN FOR THE PEOPLE: NELSON MANDELA'S HOPE FOR THIS NATION. And, she's graciously agreed to join Picture Book Builders to talk about her beautiful new book.
Authors are always asked: "Where do you get your ideas?" So … how did your idea for this book come about?
CHRISTMAS FAIRIES FOR OUMA is based on a true family story — our small Christmas miracle. We emigrated from South Africa to America when I was almost five — leaving all my grandparents behind.
As very young kids, my sister and I sent a picture in the mail from Minnesota across the world to our Ouma — with only Gold Bond Stamps and no address. By some miracle, it reached our grandmother! I added a dose of contagious kindness that helped Tessa's homemade card travel the world to South Africa with "No name, no street and no real stamps."
How did you turn that idea into a picture book? What was your writing process like? How long did it take before you had the final version that is being published?
For decades, I pondered how to turn the story into a book, but of course I had only a beginning and an ending. I didn't know how the card had reached my grandmother. Then, in 2014, I stumbled on two articles about the contagiousness of kindness.
When we experience an act of kindness, we are more likely to do something kind! Aha! I had my plot. Each person who handles the homemade card with fairy drawings recalls a kindness before passing it on. (Sometimes even retrieving it from the trash.)
Of course, it still took me years and numerous revisions before its publication by Familius Books this year — 2022. The manuscript went from first person to third person. I cut myself out and focused on my sister, Tessa.
And, the actual princess drawings became fairies. Our illustrator, Katarzyna Bukiert, hid fairies on almost every page of her whimsical art. They really highlight the Christmas magic!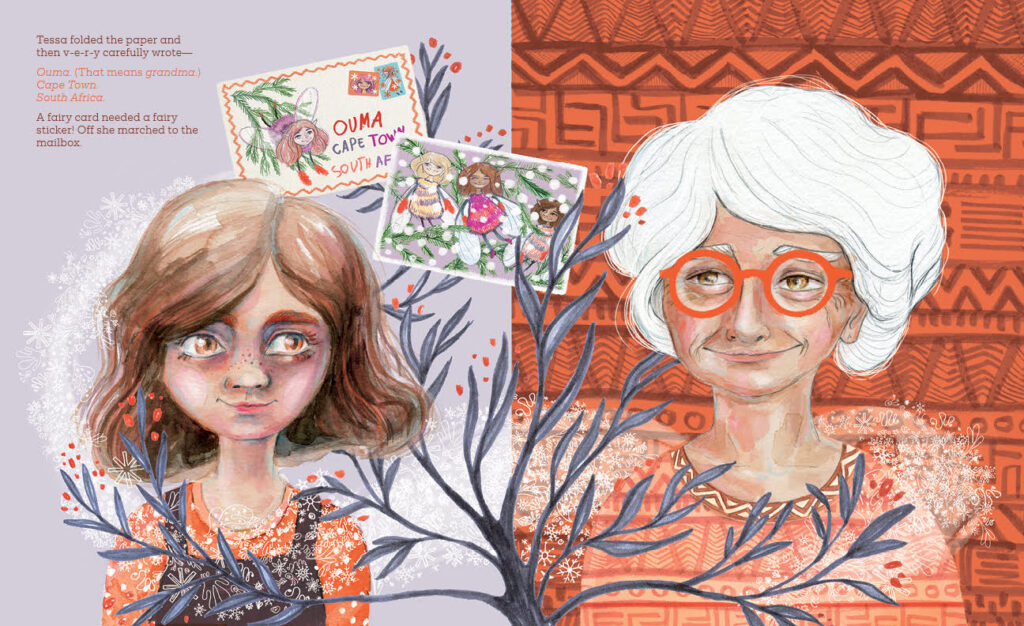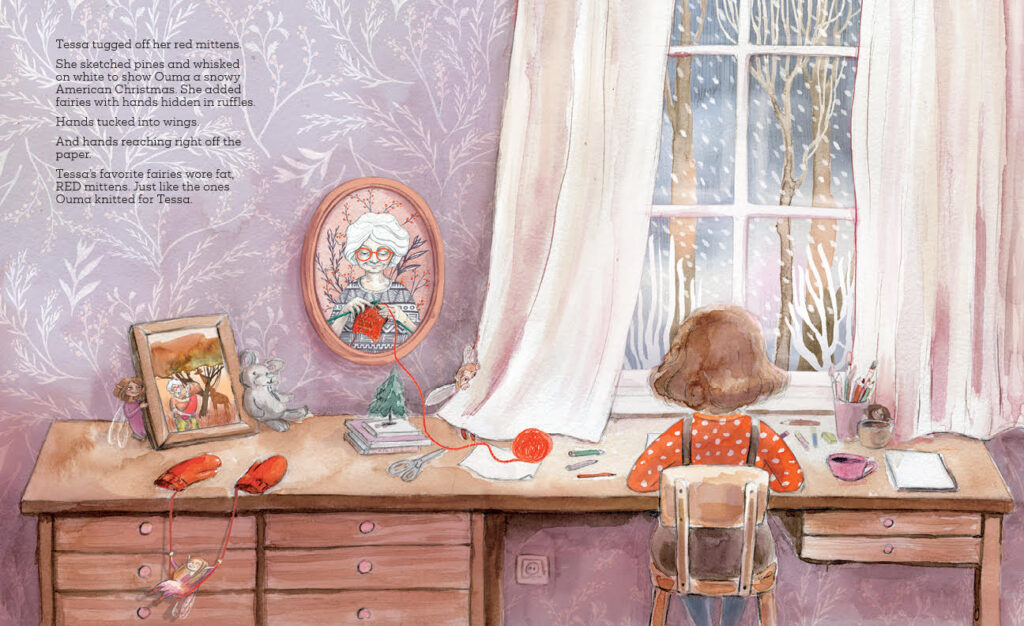 What did you learn as you worked on this book?
This was the book that taught me that, sometimes, we need to wait for the universe to share the right ingredient for our story! My first three books were picture book bios that came together a bit more easily. (Well, not easily!) They didn't require years and years. Despite beginning with a true tale and an engaging refrain — "No name, no street and no real stamps" — this one did!
Also, I learned that even fictional picture books still require considerations of culture, race, sexism and more. We need to always be thinking of big issues with regards to how impressionable child readers will perceive our work.
Who is the perfect reader for your book?
I believe it's a good picture book to read as a family at Christmas time with any child aged four to about ten years old. The theme of kindness lends itself to talking about what we might do to brighten the season for others.
A small act of kindness I suggest is creating homemade postcards with personal drawings and messages. Then mailing to family, friends, neighbors, or even strangers. So many people would treasure something sweet in the mail!
What other picture books pair well with your book?
Other books with a theme of kindness such as BE KIND by Pat Zietlow Miller and Jen Hill pair nicely with CHRISTMAS FAIRIES FOR OUMA. Also, the delightful, uplifting KINDNESS IS A KITE STRING by Michelle Schaub and Claire Laforte.
The new HOW TO SEND A HUG by Hayley and John Rocco is also about connecting with loved ones far away, and it encourages good old fashioned snail mail! Pat Zietlow Miller's and Suzy Lee's SEE YOU SOMEDAY SOON takes the grandchild-grandparent connection (powerful even over great distance) that my book has and distills it in such an amazing way. Plus, I love the image of the contemporary grandmother.
What are you working on next?
I'm passionate about challenging ageism. Ageism flies under the radar, yet it's incredibly damaging to our health and happiness. For years I've been trying to find the right picture book format to get the message across to children.
Our society begins bombarding us with negative age stereotypes in childhood. (Those impressionable young minds.) Right now, I'm working on a picture book manuscript with a four-generation family. It's no easy task, but I'm determined!
Want to know more? You can find Lindsey online at www.lindseymcdivitt.com where she reviews picture books with accurate images of aging and older adults on her blog "A is for Aging."
THANK YOU, Lindsey!
SOMETHING ELSE YOU SHOULD KNOW:
Evanston, Illinois librarian and children's book author Betsy Bird is posting a new Fuse 8 blog each day of December listing the Evanston Public Library's top picture book picks in various categories. Called "31 Days, 31 Lists," it's an awesome way to learn about picture books you might have missed during 2022.
The posts are set up very well so you can jump in and read the current day's post and then look at the bottom of the post to see what came before and what's still to come. Get started here.