Every Friday from March through November my daughter and I stop for a scoop of ice cream on our way home. I miss this weekly tradition now while our favorite spot is closed for the season. But Ice Cream Man: How Augustus Jackson Made a Sweet Treat Better by Glenda Armand, Kim Freeman, and Keith Mallett is the perfect thing to fill the void (along with a half gallon of mint chocolate chip from the grocery store because March is too long to wait).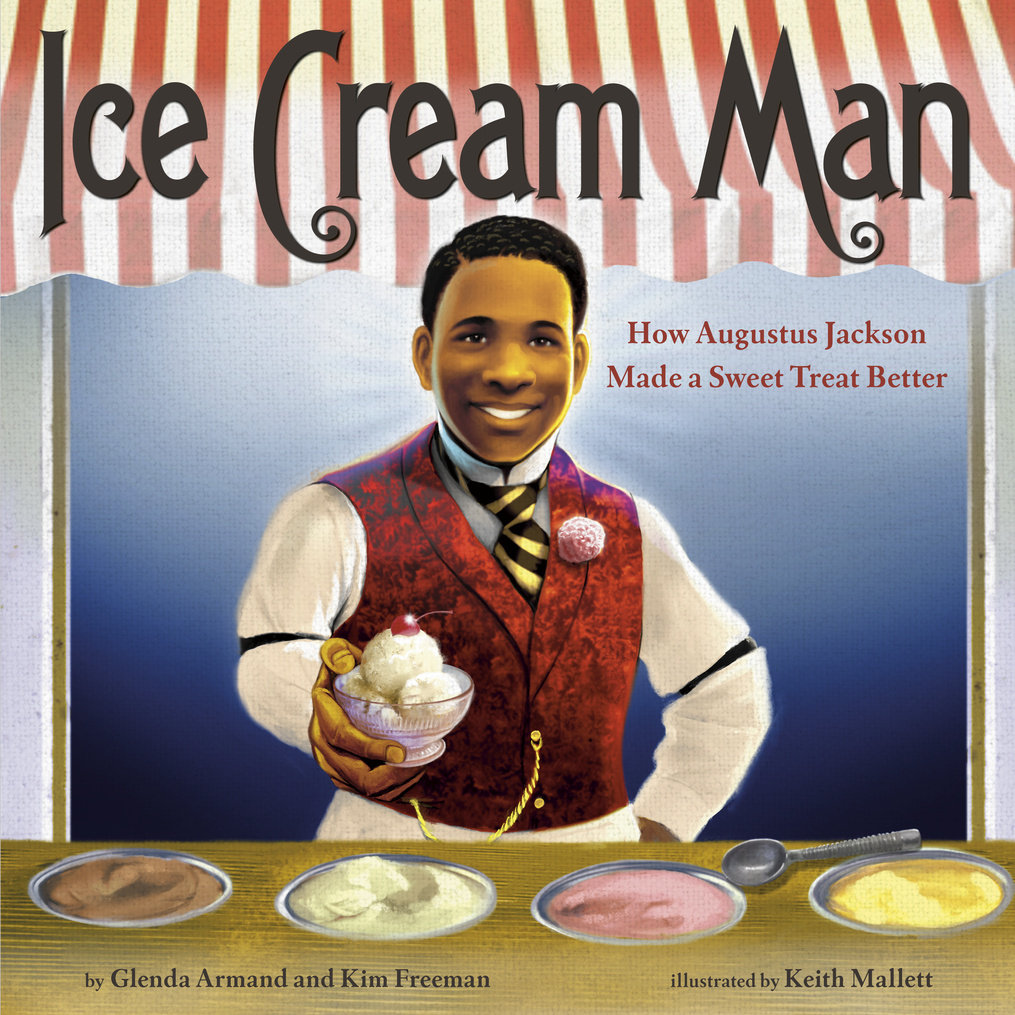 An author's note at the beginning of the book explains that some dialogue and scenes are "dramatic extensions of historically documented events and interactions." As a teacher, I always appreciate when this is disclosed up front.
The narrative begins with Augustus (Gus) Jackson pushing an ice cream cart down a Philadelphia street, singing a jingle while children dash to get a treat. Most of the remaining story takes place as a flashback as Gus recalls what led him to become the "Ice Cream Man."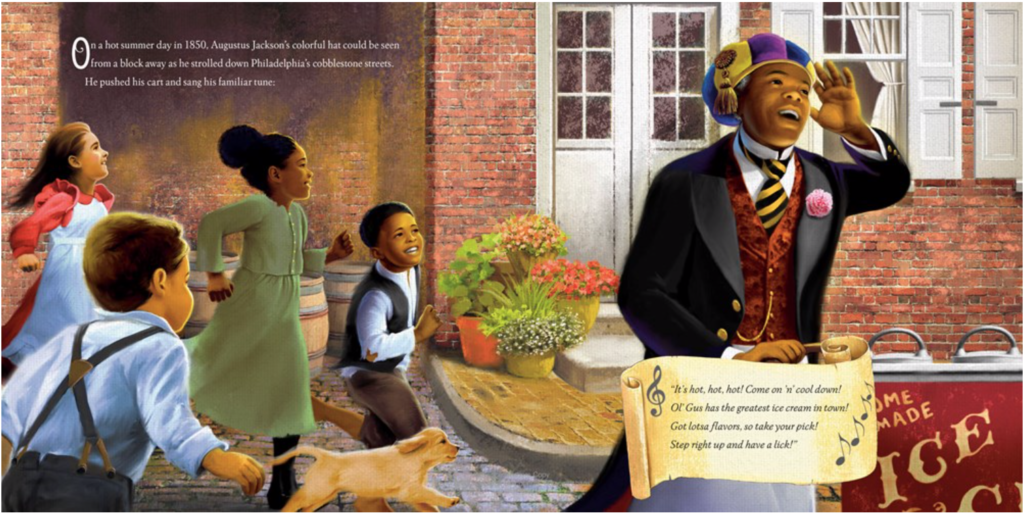 At the age of 12, Gus began working at the White House, performing a variety of jobs before becoming a cook at 17. The book describes how he worked alongside many enslaved people although Gus was born free himself. Ice cream became one of his specialities, and in the days before freezers, it was tricky to get right. While Gus enjoyed making the fancy White House residents and guests smile with this special delicacy, he thought it would be even better to bring the joy of ice cream to ordinary folks.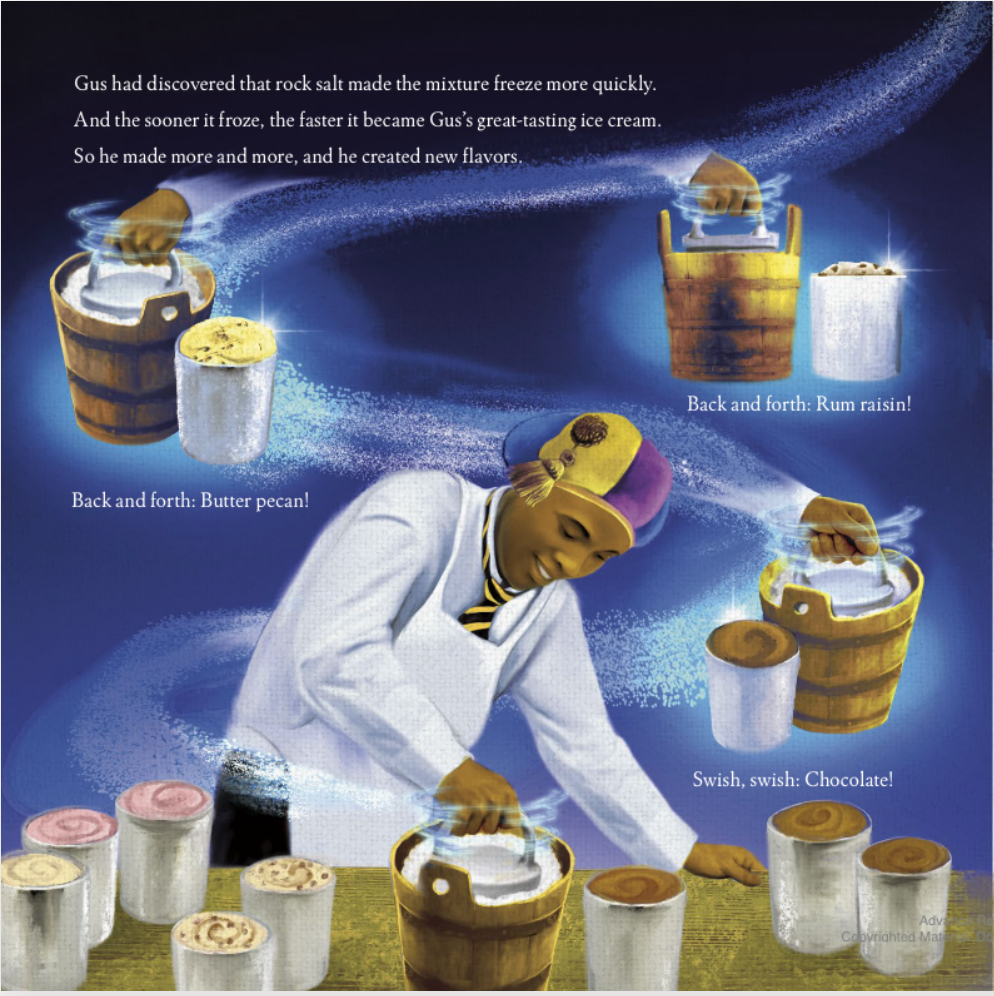 So Gus returned to his hometown of Philadelphia and opened an ice cream parlor. He had to tweak his methods with big blocks of ice and buckets of ice chips to make each batch stay cold longer. When Gus decided to sell his product to other shop owners, he knew he would have to produce his ice cream faster. He experimented with adding rock salt to the ice and found his ice cream was finished in half the time. He is credited with this innovation that became widely used in ice cream recipes. The book ends where it began, with the Ice Cream Man singing a jingle and making people smile with his sweet treats.
I love all the curricular connections I can make between Ice Cream Man and science and social studies. And I'm always looking for books that take something familiar and beloved by children and show that there's more to discover. Authors Glenda Armand and Kim Freeman have a knack for explaining the inventor's inspiration and process in a way that's simple for children to understand.
Kieth Mallett's digitally painted illustrations filled with historical details give the book a warm, old-timey feel. Bright, happy faces fill each scene, which only seems right given the subject matter.
The back matter includes an afterword which further explains the facts that are known about Augustus Jackson and the parts of his life that are not well-documented. Plus it divulges some of the more "interesting" nineteenth century ice cream flavors. There is also a source list, and best of all, a recipe!
Kim Freeman and Glenda Armand are kindly giving away a signed copy Ice Cream Man to one lucky Picture Book Builders reader! Please comment below to enter and tweet about this giveaway for an extra entry. A winner will be chosen on February 15th. Thank you Kim and Glenda for this generous giveaway!