"Peggy", subtitled, "A Brave Chicken on a Big Adventure"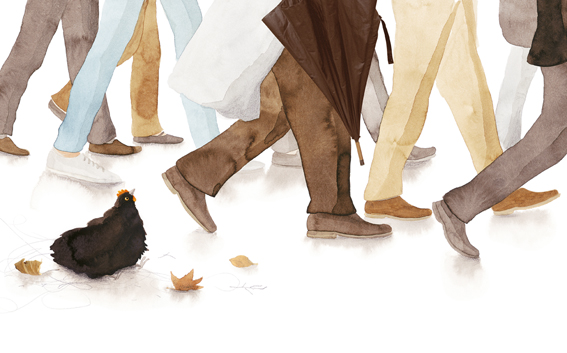 Sometimes you just fall in love… and I am smitten with a chicken. I'm speaking about the delightful picture book, Peggy, written and illustrated by Australian, Anna Walker, published by Clarion.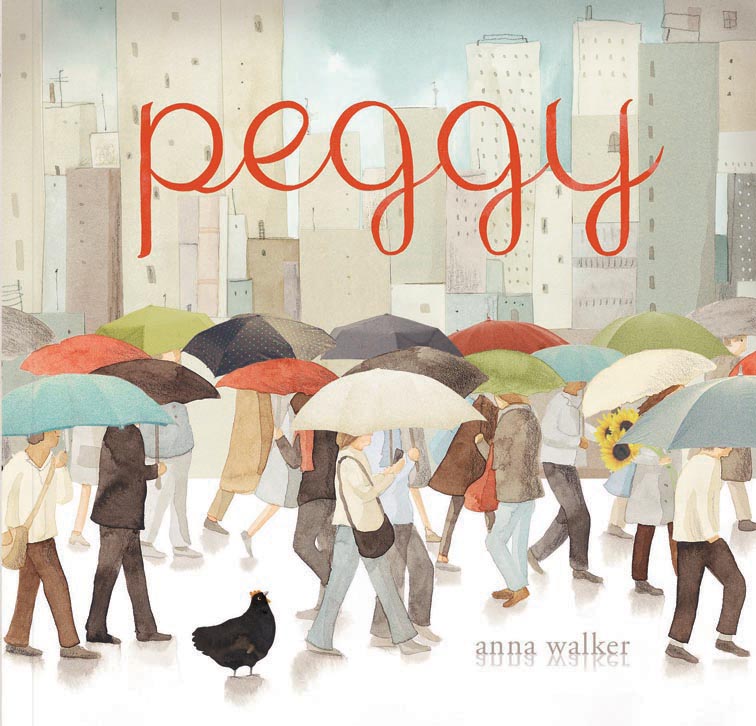 From the moment I gazed at the cover, Anna Walker had me hooked. Her colors are soft, rainy, wet. And what doesn't belong in this crowd of people? Off center is a small, dark, chicken. She doesn't belong there and I need to know why. It also makes me think of Pat's last post about the importance of names. "Peggy" would more likely be the name of one of the people in the crowd, and yet, we just know it belongs to the bird, how? So already Anna Walker has given us some real surprises, leaving us wanting more, more, more and we haven't even opened the book!
The action of the story begins when, "One blustery day, a big gust of wind swept down through the clouds, scooping up leaves, twigs, and… (great page turn here) Peggy!"
The beauty of this scene is that when Peggy is swept away she is bouncing on her trampoline (surprise!) and blown in to the big city.  Walker plays beautifully with scale in these city illustrations. Poor Peggy looks so small and out of place. Wonderful, clever, very selective use of collage shows that Peggy "saw things she had never seen before".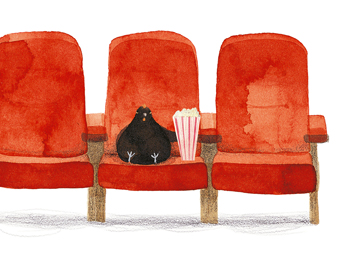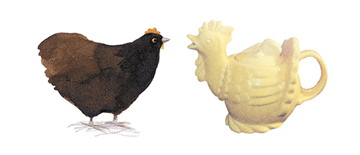 She curiously looks at a chicken shaped pitcher, eyes a cupcake, slightly gasps at a "fried chicken" cookbook to name a few. And Peggy is a trooper. She tries to find a place that reminds her of home and perches on a vintage-y floral pillow in a store window.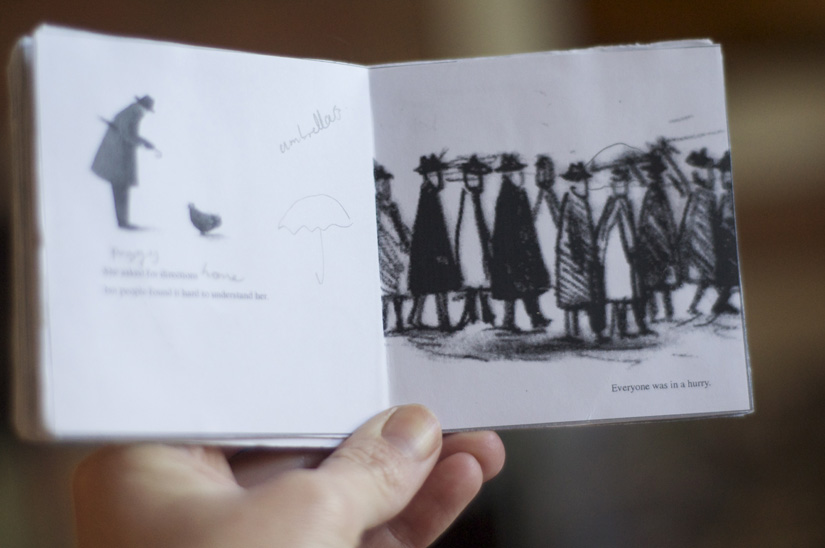 This sketch from Walker's website shows one of my favorite lines. The little drawing to the left has Peggy looking up at the dapper gentleman.
The copy reads,
"Peggy missed her home.
She tried asking for directions,
but people found it hard to understand her."
Oh Peggy, be still my heart! Visitors, I would love for you to read this book. And devour all Anna Walker's delicious little surprises and treats, so I don't want to say too much. Let me just tell you that it involves following some sunflowers and talking to pigeons.
Things that I loved most about this book:
1. There is not a big chicken face on the cover.
2. There is not a big chicken face anywhere in the book.
3. Anna Walker treats her stunning illustrations with the same delicate wit and design as she does her text.
4. Peggy is not overly animated or anthropomorphized, and yet we read her emotions effortlessly.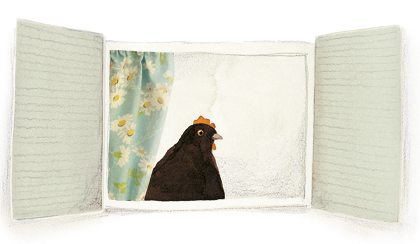 Please visit Anna Walker's website, http://www.annawalker.com.au where there's a great post about how she wrote and illustrated the story and the real Peggy.
All images and text copyrighted Anna Walker. Permission from the author/illustrator was granted for reproduction in this post. So, don't copy them unless you ask her!        
Okay, and lastly, the winner(s) of Rabbi Benjamin's Book Birthday are—
I decided that you were all so kind to be so responsive that I would give away 2 books. And the winners (from randomly drawn numbers) are,
Barbara Thompson, and Cindy S!
 If you would please go to my website (http://www.jbreinhardt.com) contact me via email and give me your shipping info that would be great. Also, if you would like the book to be signed, have a specific name in it, or no signature— please let me know! Thank you!