I wanted to start this post with:  I fell in love with Henry and Elliebelly the first time…
But I feel like I start too many posts that way. Which in no way reflects a sad truth: I rarely fall in love with ANY book. I'm more often disappointed/disenchanted. So when I do find one I can say I "love" like today's, I tend to rhapsodize like Romeo.
But, soft! what light through yonder bookshelf breaks?
In this case, it is not Juliet, but Carolyn Parkhurst's Cooking with Henry and Elliebelly (2010, Feiwel and Friends, illustrated by Dan Yaccarino).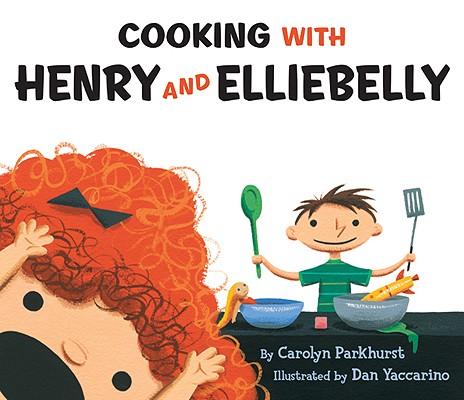 Do you know how HARD it is to convey an entire story in nothing but dialogue (no tags allowed)? Parkhurst does a brilliant job of it. Henry starts off with:
Hello! I'm Henry, and this is my little sister, Eleanor, but I like to call her Elliebelly. Welcome to our show, Cooking with Henry and Ellibelly.
Cooking!
Henry's dialogue, by the way, is shown in black print and Elliebelly's is larger, bold, and red.
So right here on page 1, the reader immediately gets the concept, knows the characters' personalities, and can approximate their ages. Boom. That taken care of, the fun can begin. Henry sings a little theme show song, Elliebelly pipes up with, "Cooking! I help!", and their collaboration is going along swimmingly. But CONFLICT arrives on the next page turn:
Now before we get started with our recipes, we need to put on our chef hats.
No chef hat. Pirate hat.
This first disagreement rapidly morphs into a spat, which escalates until Henry tattles that Elliebelly isn't cooperating. To this, we see a command from off-page: "Work it out, you two." Because he has no choice if the show is to go on, Henry becomes realistically accommodating, figuring out how to give in to Elliebelly's demands with only minor (but hilarious) tweaks to his own plans. And the story goes on from there deliciously. They are an irresistibly cute twosome. If you haven't seen this one, I urge you to check it out.
So. Story-in-dialogue. I gave it a shot, solely because this book made it look easy.
Me: C'mon, how hard can it be? It's just two people talking. I can do that.
Yeah. My attempt went awry…er, somewhere. It's on a back burner for now. But it won't be the last time I try writing an all-dialogue story. Does every single word carry enormous weight? Yes. Must every notion be imperative to plot? Yes. Does every word have to move the story forward or reveal character? Of course. But, wait. That's what we say about any picture book story, right? There's just an extra layer of challenge here, that's all. Which I can't resist. If nothing else, trying a new format stretches us, and that's always a good thing.
How about you? Have you tried a dialogue-only story? Can you think of other books that do this successfully? I'd love to hear about them.
P.S.  Our website host is still having trouble sending e-mails to our subscribers. We appreciate you hanging in there while this is resolved.