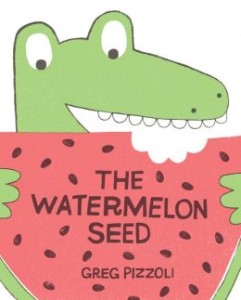 One of my favorite picture books is The Watermelon Seed by Greg Pizzoli.
Why do I love it more than a crocodile loves watermelon? Let me count the ways.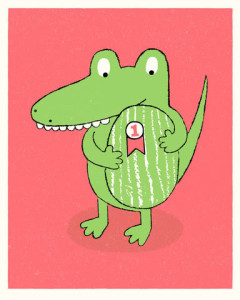 The main character is active, relatable, and flawed. I care about this toothy crocodile! The cover alone makes me want to be friends with him.
This is a wonderful example of a well-executed, first person, present tense book.
The palette is fresh and completely watermelon-y. Aside from white, the only colors used are pink, green, and black.
The "crisis" is something nearly every kid has faced at one time or another.
The use of onomatopoeia is strong:  "Chomp!" "Slurp!" "Gulp." "BUUUUUURRRRRRPPP!!!"
There is a perfect "uh-oh" realization moment:  "I just swallowed a seed."
This line is a 10 out of 10 on the funny/adorable/unexpected scale:  "I don't want to be in a fruit salad!"
The end papers look like yummy, seed-speckled watermelon. What is more, the very edges of the book resemble a watermelon rind. Genius!
The actual book cover is an unexpected surprise beneath the jacket.
This book makes me want to be a better writer.