How do you take something unwieldy, complex, and often painful to look at—like, say, the history of voting rights in America—and turn it into a picture book that is engaging, relatable, and understandable to kids?
Beats me.
But here's my guess:
(1) Make it personal;
(2) Tell it in a clear and distinctive voice;
(3) Focus on the major moments; and
(4) Illustrate it with vivid, powerful images.
Not that I know anything about it. I'm just looking at how Jonah Winter and Shane W. Evans pulled it off in Lillian's Right to Vote, a beautiful new book published to coincide with the 50th anniversary of the Voting Rights Act of 1965.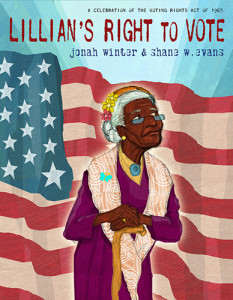 As Winter explains in the Author's Note, the story was inspired by Lillian Allen—the granddaughter of a slave—who was 100 years old in 2008 when she campaigned and voted for Barack Obama.
Here's how the book begins: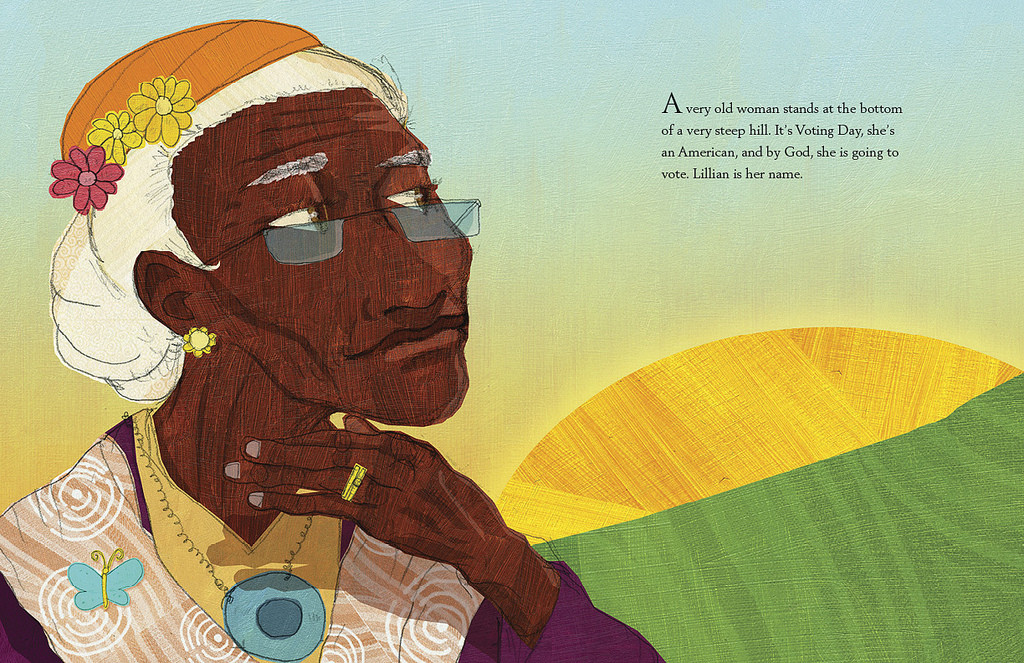 "A very old woman stands at the bottom of a very steep hill. It's Voting Day, she's an American, and by God, she is going to vote. Lillian is her name."
The steep hill is a nod to the neighborhood where the real Lillian walked door-to-door urging neighbors to vote. But her arduous climb also serves as an effective metaphor for the struggle for equal voting rights. As the fictional Lillian trudges uphill, she reflects on her ancestors and the long and difficult history that led to her ability to vote on this day.
"Lillian sees her great-great-grandparents Elijah and Sarah. They are standing side by side on an auction block. Sarah is holding their baby, Edmund. They are being sold as slaves in front of the very same Alabama courthouse where rich white men, and no one else, are allowed to vote."
A few steps later, Lillian sees that same baby—Edmund, her great-grandfather—as an adult voting for the first time, thanks to the passage of the Fifteenth Amendment in 1870. But since that amendment applied only to men, his wife can only stand by and watch.
As Lillian continues her climb, she recalls setbacks—things like poll taxes, voting "tests" ("How many bubbles are in a bar of soap?"), and incidents of violence and intimidation. But she also remembers great leaders and important achievements—like the Nineteenth Amendment, allowing women to vote, and, eventually, the Voting Rights Act of 1965.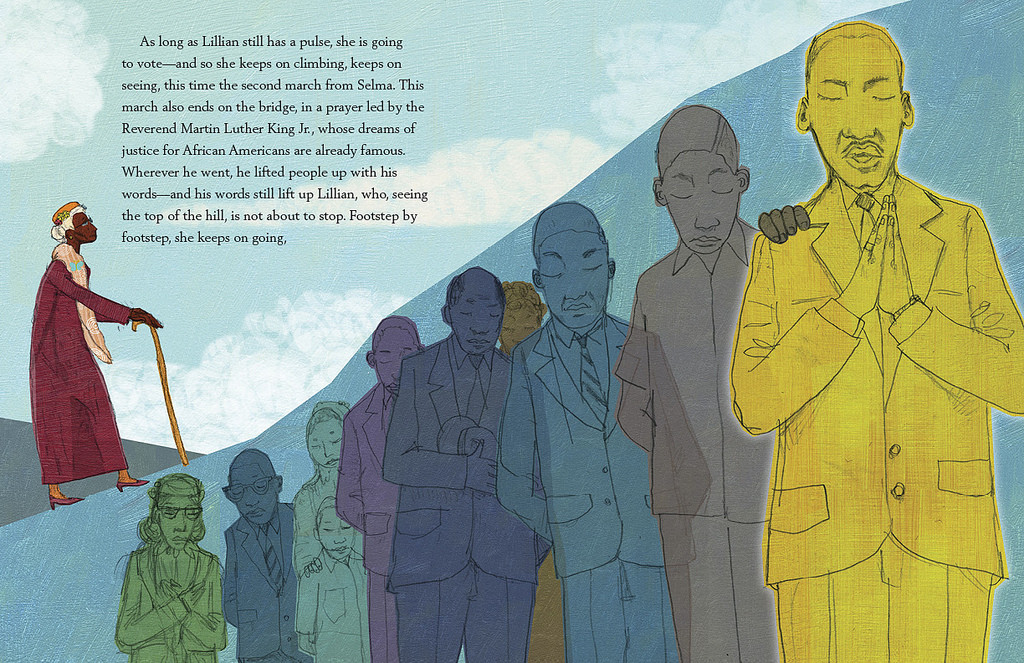 The book is written in present tense, giving it a "you are there" immediacy. We walk beside Lillian, seeing what she sees, as she climbs the hill, enters the building, and steps into the voting booth. Through Winter's solemn tone and Evans's powerful illustrations, we feel Lillian's struggle, her sense of weariness and strength, as she at last arrives at her destination.
"[S]he knows full well she would not be standing here today were it not for the people who marched . . . and the people who died . . . for her right to vote. Lillian touches her finger to the lever. And because she is a citizen of the United States of America, protected by the Voting Rights Act of 1965, Lillian pushes that lever. Lillian votes."
Although the book is intended as a celebration of the Act, the Author's Note includes a call to action as well. Winter writes: "The sad coda to this story is that in 2013, the Supreme Court struck down a key provision of the Voting Rights Act of 1965, eliminating federal oversight of states' election processes."
As a result, a number of states have proposed (and some have passed) voter ID laws making it harder for people—typically students, minorities, the elderly and poor—to vote. As Winter concludes, "The right to vote still needs protection. Will a new generation rise and continue this fight?"
My son is part of that generation and will be voting for the first time in the next presidential election. I'm going to hope that the answer is yes.