Hello again, it's Barb Rosenstock. PBB asked me to return to fill-in for Pat Zietlow Miller for a few months. I decided to develop a series of posts on picture book editors by interviewing the style-makers and award-winners—the folks who run their own imprints. I hope you learn as much as I did from these innovators in picture book publishing.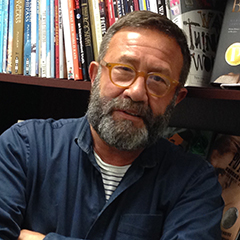 First up is the great Neal Porter. Officially, Neal is the founder of Neal Porter Books, an imprint of Roaring Brook (Macmillan). He's held editorial, marketing and administrative positions at St. Martin's Press, Avon, FSG, Atheneum, Scribners, Aladdin, Walker, Macmillan, Orchard Books and DK. He has impeccable editorial taste and the books he guides receive regular acclaim and awards, including the Caldecott Medal and Honors, Sibert Honors, Boston Globe-Horn Book Award, Pura Belpré Award, Theodore Geisel Honors, Coretta Scott King Award, Orbis Pictus Awards, and the Ezra Jack Keats Award. Last year he received a Carle Honor for mentorship, championing authors and illustrators throughout his 35-year career. Unofficially, he is warm, interesting, encouraging and had many wonderful insights…
Why picture books? Were they a part of your own childhood? Why are they important?
I'm told I was a precocious reader. My parents said I was reading labels at the supermarket when I was three. Ironically, considering what I do now, I don't remember that many picture books so I must have moved fairly swiftly toward books meant for older kids. I'll tell you a story though—I remember at a book fair when I was a little older, the book I desperately wanted, Danny and the Dinosaur by Syd Hoff—not a picture book but an I Can Read. I don't remember why…if it was the cover, the pictures or what. But I was told "that book's too young for you" and I was really disappointed. I think parents, teachers and other gatekeepers can make the mistake of over-guiding a child's reading. I did eventually get Danny and the Dinosaur though, and adored it. Still do.
I'm sure you've seen that article in the Times a few years ago about the death of the picture book. You know, because parents thought their kids should be reading Nietzsche or whatever. And it's turned out not be true. Picture books are incredibly important to the education of a child, but maybe more important to experience pleasure in relation to reading and being read to by a parent or a librarian. Picture books expose children to wonderful language and incredible art. It's never too early to start that.
What's the hardest thing about the picture book to get right?
From an editor's perspective? Getting the elements to work in sync. The words, yes, but making sure the illustrations also advance the story. I still see a lot of books where the illustrations are just restating what's in the text. I prefer the more adventurous path of having the illustrations contribute in a meaningful way and extend the story. I suppose it's easier if it's a book by one author/illustrator, but it certainly can be done if there's a separate author and illustrator involved.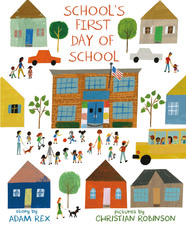 A good example of this is School's First Day of School by Adam Rex, illustrated by Christian Robinson. It's a familiar trope, the first day of school, but exciting because it tells the story from the school's perspective. He's newly built, nervous and has to come to terms with all the new kids he'll meet. It's a perfect approximation of what a kid experiences. In Adam's text (which is his first, I think, that he hasn't also illustrated) every beat is perfect. Christian Robinson's childlike (but not childish) art gives the school building emotions. I didn't want a big building with bug eyes or whatever. He subtly conveys feelings and thoughts in an inanimate object by an open door or window for example.
Your imprint's books have won every major award (most of them more than once.) When a book isn't reviewed well or doesn't get the readership or market attention you think it deserves, what do you tell yourself? What do you tell your authors and illustrators? How do you avoid taking that personally?
That's very hard. It's hard not to take it personally but the wonderful thing about this business is that it is so personal. There are real human beings at every level writing, illustrating, editing, producing and reviewing. I guess I've been at this so long I'm thick skinned. But there is a kind of sadness that creeps in when you feel that others just aren't seeing the book the way you did. What I tell my authors and illustrators is that I'm enormously proud and know they've made a lasting contribution to children's literature. And, well, to hell with what everyone else thinks! I know that no matter how much noise is out there, how many tongues wag, or what's on those "Mock Caldecott" lists, opinions are not all the same. And even if a book doesn't get six starred reviews, it can find an audience.
Which picture book trends do you like currently and which could you do without?
It's gratifying to see how lively and vital picture books are right now. It's a very interesting time for exciting, creative work. We were told the publishing world was going completely digital. That's happily NOT the case, not for children's books and not for adult books either. An e-picture book is the poorest facsimile of what we do. Picture books depend on the physical quality of turning pages. Swiping an Ipad screen is a terrible substitute. The physicality is important, the paper quality, the binding, the image on the case being different from the jacket. It's an interesting phenomenon, the physicality of books. And I don't think we should ever underestimate the ability of a child to understand complex emotions and complex subject matter. Sophisticated authors like Jon Klassen and Oliver Jeffers are popular and in their stories ambiguity plays a big role.
I could do without the "Celebrity Book." Not because they're by celebrities; but because they're so often not very good. They're just marketing exercises to leverage the fame of a person to sell things to kids (or parents.) But there are celebrities, like Jamie Lee Curtis, who write good books. She's found a readership because she has a talent for this.
And I don't like imitations of successful books. Press Here was a great idea perfectly executed by Hervé Tullet. But now we see a bunch of imitations that you can shake or turn or whatever. Also Mo and his Pigeon, those books are great, but now every book has to talk TO the reader. I get tired of that. Picture books built on conceits or one joke also leave me cold, they're not full-fledged stories. I need a sense of satisfaction, a full meal, not gimmicks.
What do you wish beginning picture book writers most understood about publishing?
Don't try to anticipate what publishers are looking for or write to trends. Picture books take so long to produce that by the time your book comes out the trend will have long passed. Focus instead on writing something that comes from the heart. Write something that pleases you, that's important to you, not what you think pleases others.
Which picture books in your upcoming list are you excited about?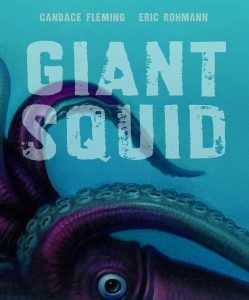 All of them, but Candace Fleming's Giant Squid, illustrated by Eric Rohmann, was just released. (September 27, 2016.) I'm proud of this book, it's an exciting, informational picture book with a surprisingly lyrical text in view of the subject matter. With a few extra surprises too.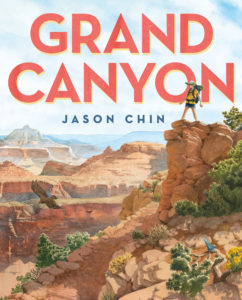 Jason Chin's Grand Canyon will be coming out next winter. He's one of our great informational picture book creators in terms of writing, research and art. I don't know if anyone remembers Cinerama, but this book works like a widescreen movie of the Grand Canyon with die-cuts that let us move back and forward in time and a double gatefold that gives an amazing panorama of the Canyon.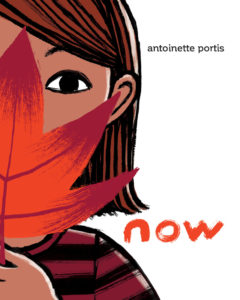 Antoinette Portis has a book coming out titled Now, which is a very simple and completely lovely book about experiencing life in the moment. It's relatable to children because the protagonist simply describes the things she loves at that particularly moment in time. "This is my favorite cloud. Because it's the one I am watching." "And this is my favorite song. Because it's the one I am singing."
OK all you Picture Book Builders, that's four terrific new picture books to look for! Thanks so much Neal for your time and thoughtful answers!