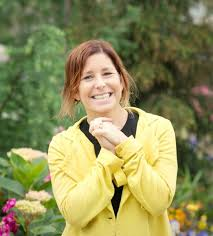 If you love picture books, you've probably read one or two from Amy Krouse Rosenthal. She's written a ton — well — more than 20.
And her books are universally lovely. Often funny. Always moving. Deceptively simple.
Amy has been in the news twice recently.
First, when an essay she wrote for the Modern Love feature in the New York Times went viral a few weeks ago. It was called "You May Want to Marry My Husband," and she wrote it when she was dying of ovarian cancer.
Then again, when she died on Monday at age 51.
When I read Amy's essay and learned of her diagnosis, I reserved all her books from the library and held a reading fest in her honor. I'd read most of the books before and happily revisited the wonders of LITTLE PEA, CHOPSTICKS, THAT'S ME LOVING YOU, and DUCK, RABBIT.
How good are Amy's books? When I read LITTLE PEA out loud to my 14-year-old daughter and my 54-year-old husband, we all laughed out loud.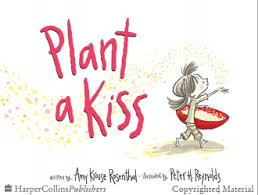 I also discovered a treasure that I had missed — PLANT A KISS, published by Harper in 2012 and illustrated by Peter Reynolds. It's classic Amy, and here's why:
The word play
Amy uses puns and double meanings a lot in her books. This title has two meanings. The usual one — to give someone a kiss — and the unexpected one — to actually plant a kiss in the ground, like a seed. That's what the character does in the story, with glorious results.
The simplicity
Amy tells her story in 86 words. All are one or two syllables. While some books this spare are unclear, this one isn't. Although the illustrations are incredible, and perfectly matched to the text,  you could read the words alone and know exactly what's going down.  Here's an example:
Sunshine.
Water.
Greet.
Repeat.
Wait and wait.
Getting late.
Doubt.
Pout.
Sprout!
The love
All Amy's books have a heartbeat of love than underlies everything else. In this book, the main character doesn't just plant a kiss, she believes wholeheartedly that it will grow. And when it does, she shares the resulting love at the risk of losing it. Only she finds that sharing the love increases it. Yup. All in 86 words. You try doing that. (And good luck if you do.)
The glitter
Amy's words didn't have anything to do with this, but there's glitter on the cover and throughout the book. And it's perfect. While I'm sure this was an illustrator / art director decision, it ties in with Amy's personality. I never met her, but from videos and TED Talks I've watched, she totally sparkled.
Join the party
If you're interested in having an Amy Krouse Rosenthal lovefest — and I absolutely think you should — I'd suggest reading all her picture books as well as her adult books. Her most recent adult offering is TEXTBOOK AMY KROUSE ROSENTHAL: NOT EXACTLY A MEMOIR. It's a delightful read that I liked so much I gave it to my mom. And then my sister read it. When you're done with all Amy's books, you can move on to Amy's short videos, which are almost performance art.
If you absorb all of Amy's work I can almost guarantee that you'll come away inspired to create more and better art yourself — which is probably the best way to honor Amy's memory.
Oh, and there's a winner!
And, hey! Remember back when Suzanne Slade offered an autographed copy of OUT OF SCHOOL AND INTO NATURE: THE ANNA COMSTOCK  STORY? Well, the winner is Hilary Sharrar.  Hilary — If you contact Suzanne through her website, she'll mail you the book.