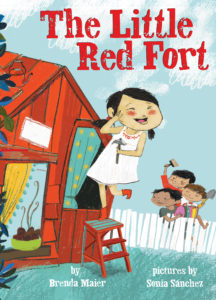 Hey, everyone. Make room on your bookshelf for The Little Red Fort written by author Brenda Maier and illustrated by Sonia Sánchez.
Brenda is a teacher, a writer, and a member of my Oklahoma SCBWI tribe. She was kind enough to stop by Picture Book Builders to share some details about her debut picture book.
The Little Red Fort is wonderful in about 432 different ways.

See for yourself.
This, by the way, is what Booklist, Kirkus, and SLJ had to say about the book:
"Maier judiciously adapts one of the best nursery stories, keeps it simple, and makes it her own. The upbeat mixed-media illustrations are nicely varied in composition and perspective. A lively picture book that's fun to read aloud." — Booklist
"[Sánchez's] textured illustrations and sense of humor add depth to each dynamic scene. Throughout the story, Maier's little Latina go-getter breaks gender and cultural stereotypes….empowering…." — Kirkus
"This delightful retelling of the old story of "The Little Red Hen" is perfect for storytime or one-on-one sharing. It also reminds girls that they can do whatever they set their minds to do." — School Library Journal
Nice, huh?
Brenda, congratulations on your debut picture book! Please tell us about The Little Red Fort.
Thank you, Tammi. I'm delighted to be here. I'm a huge fan of your books.
What sparked the idea for this book?
This idea was the result of two different things: the classic folktale The Little Red Hen and my own children's creativity. A few years ago, The Little Red Hen was the only story my youngest son wanted to hear; as a result, that hen was omnipresent in my mind. One day, I put my son down for his nap and went to check on my other four children in the backyard. They'd discovered some boards and lattice and collaborated to construct what they called their "fort." Later that day, I began to get the idea. "What if the hen were a girl who wanted to build a fort?"
Tell us about your path to publication and about the moment you received Your Very First Offer.
The Little Red Fort was in the first round of submissions that my agent ever sent out. It got immediate "interest," as they say. Even so, it took over a year of back-and-forth revisions with my editor before I was offered a contract. When it finally happened, I was elated!For my first book to be with Scholastic Press and be included in the book fairs? I would have worked my whole life toward that dream goal. Of course, it took a few more months to negotiate a contract and even longer to find the perfect illustrator for the story. My path to publication, from submission to publication, ended up being close to five years, but it was all worth it.
Sonia Sánchez did a beautiful job in creating art that feels like the perfect match for your text. The energy, the charm, those extra special details. What was your reaction when you saw the art for the first time?
I was thrilled when I saw Sonia's beautiful art.It was obvious she"got" the characters and their emotions, and that understanding made them relatable and engaging. Her vibrant and distinctive illustrations alone will make people want to pick up the book!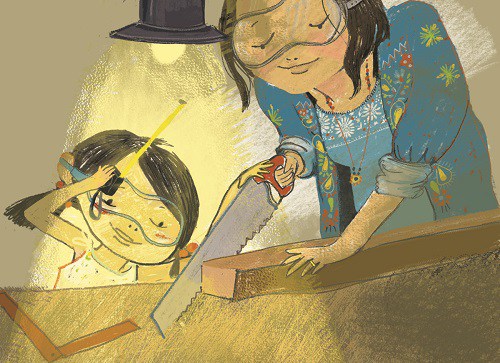 What is one key piece of advice in your picture book writing toolbox?
I am a firm believer in the "garbage in, garbage out" philosophy. If I want to write, I have to read. I especially enjoy reading books I wish I'd written, because I learn the most from them.
It's through reading other stories that I make critical judgments about what I like and don't like, what works and doesn't work, etc. Reading also helps me internalize specific elements of the picture book form such as rhythm, pacing, and page turns. The more I read, the more my brain has an opportunity to connect disparate ideas, characters, situations, and problems—just like how The Little Red Hen and my kids' fort-building converged to inspire The Little Red Fort.
Scoop time! What's next for you?
The Little Red Fort releases March 27. After that, Peeping Beauty (Aladdin/Simon & Schuster) hits the shelves February 5, 2019. Peeping Beauty is not really a retelling, but there is a subtle parallel to the fairy tale.
Thanks so much for visiting us at Picture Book Builders!
Bio:
Brenda Maier is a member of The Society of Children's Book Writers and Illustrators and a teacher in a large, suburban school district. When she isn't writing, she enjoys traveling with her family, baking peanut-free cookies, and watching her five children build amazing creations from found materials. She lives near Tulsa, Oklahoma, where she is surrounded by piles of laundry and even bigger piles of books. The Little Red Fort is her debut picture book.
Book Illustration Credits:
Illustrations from The Little Red Fort written by Brenda Maier. Art (c) 2018 by Sonia Sánchez. Used with permission from Scholastic Press.
____________________________________________________________________________
GIVEAWAY!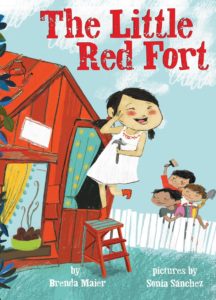 Brenda is giving away a signed copy of A Little Red Fort to one lucky duck commenter.
____________________________________________________________________________
WINNER: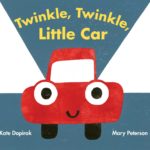 Congratulations to Suzy Leopold! She won a signed copy of Twinkle, Twinkle Little Car as well as a manuscript critique from Kate Dopirak!
ANOTHER WINNER:
Congratulations to Claire Noland! She won signed copies of Barb Rosenstock's The Secret Kingdom and Blue Grass Boy!
Buy Nexium online
Lexapro no prescription
http://theimagearchitect.com/media/editors/tinymce/templates/new/buy-donepezil.html