A few years back, I was given the happy opportunity to mentor Cindy Chambers Johnson through SCBWI-IA's mentorship program. She was hugely talented, but she was also witty and charming and soon felt like a friend. So I couldn't be more excited about her debut picture book, RUSSELL WRESTLES THE RELATIVES.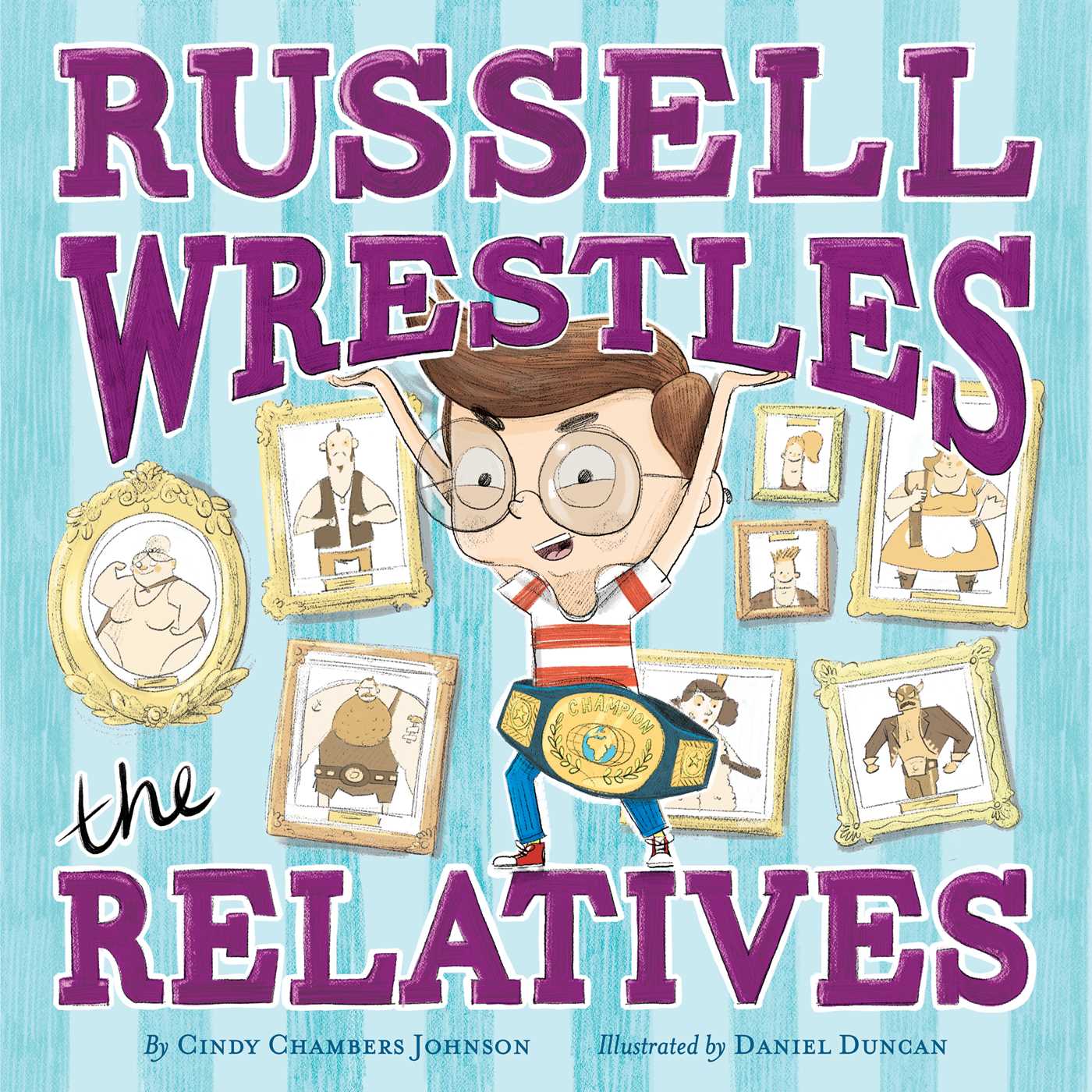 In the story, Russell is dreading his family's impending reunion, because his relatives are professional wrestlers, every last one of 'em. And they're a little more offbeat, a little more everything, than your typical family.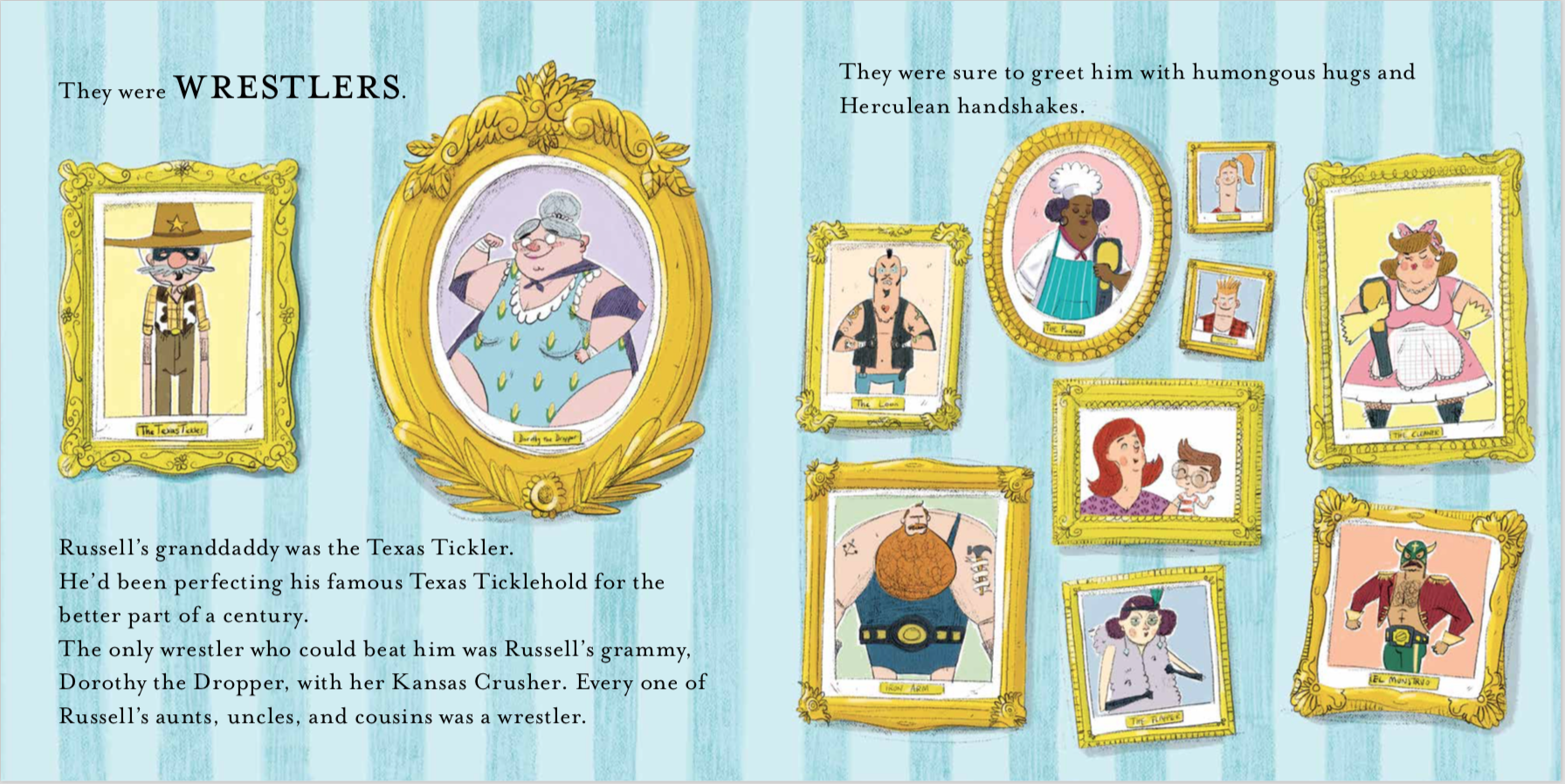 Russell is pummeled and pounded and slammed about as his boisterous relatives greet him with their own brands of hugs and back slaps and squeezes. Eventually, he discovers his own unique moves and evasive actions and is able to save his bacon. This story absolutely overflows with humor and heart … my favorite combination. And British illustrator Daniel Duncan's art perfectly reflects the wacky, exuberant story on every spread. See?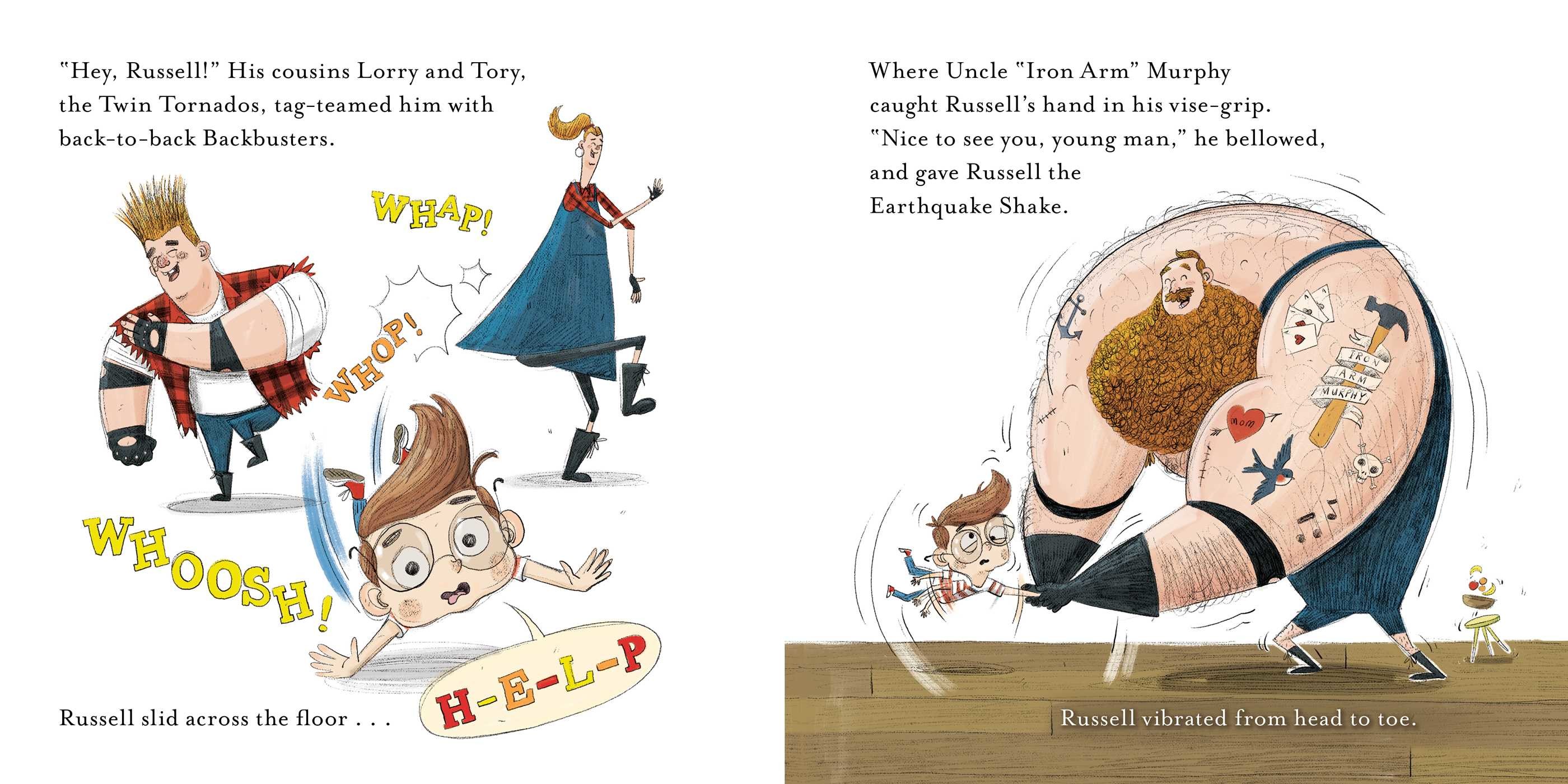 But what strikes me as this story's standout element is the spectacular language. I'm a sucker for a book with language that's Crafted. And on these pages, words sparkle and pop and pull giggles out of you faster than The Slippery Sidewinder.
I had a few questions for Cindy, who was kind enough to agree to an interview.
JE: Kids are going to love this story's playful language, and adults will love wrapping their tongues around kooky wrestling moves like the Texas Ticklehold, the Knuckle Knocker, and the Kansas Crusher. Must have been a blast to brainstorm those and the stage names of each relative…?
CCJ: Thanks, Jill! I hope kids and their families will have fun with it! I had a lot of fun coming up with the names of the different moves and characters. Some of them, like the Texas Ticklehold, the Kansas Crusher, the Washing Machine and the Spin Cycle came from "moves" that my husband and his father would put on my kids. The toughest one to come up with was the Smackdown Smooch, which my critique group finally named with after a lot of brainstorming. I tried to imagine normal ways that relatives greet the children in the family then exaggerated them into a wrestling move.
JE: Oh, I love that your family KNOWS these moves! And I can just imagine the laughs in those brainstorming sessions. There isn't a word wasted in this story, Cindy. So tell us about your writing process and the story's journey to publication. Quick and smooth, or slow and rocky?
CCJ: Definitely slow and rocky. This story went through more than 50 revisions before it got to the state that it is in the book. After I had written and revised it a few times, I showed it to my critique group, who had suggestions for more revisions. Once I thought it was ready to submit, I sent it to three agents and one ask for an exclusive, and another revision. She then signed me, asked for more revisions and finally sent it off to several editors. Each time an editor replied, we took another look and often revised again based on comments that made sense. Originally, the manuscript was titled SUPER GRAMMY SMACKDOWN. One of my critique partners suggested changing it, as it gave away the ending, but I resisted. Once it was being shopped around by my agent, I noticed that many editors showed interest, but made comments that it wasn't as boisterous as they hoped. When one editor said it wasn't for her and compared it to THE HUNGER GAMES, I finally realized that the title was setting up expectations that weren't fulfilled by the text. Once I changed the title, it sold fairly quickly. Just goes to show that I should always listen to my critique group!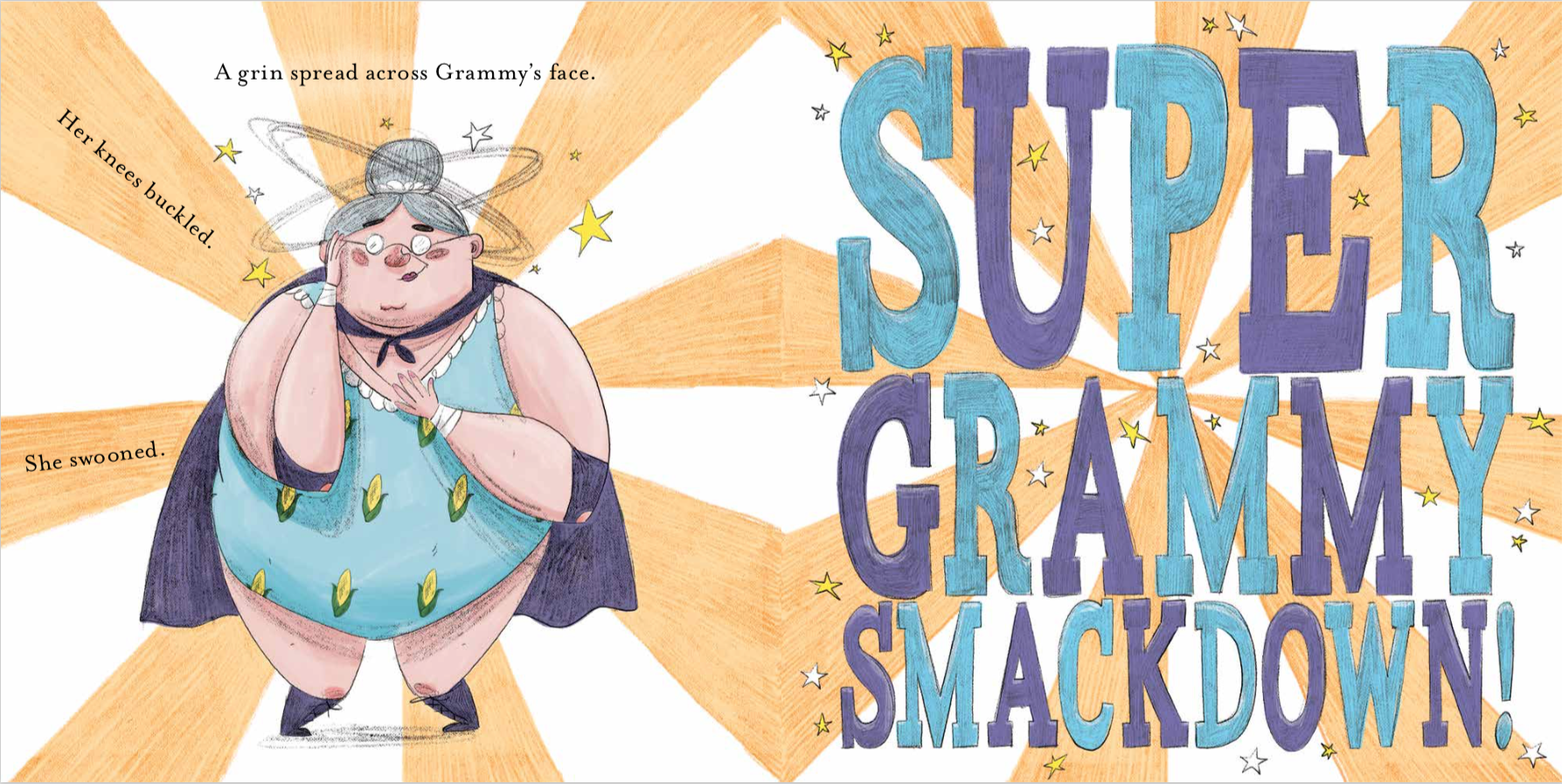 JE: True! In one of my favorite parts of the story, Russell the not-wrestler discovers his own specialty moves in a clever and natural way that I didn't see coming at all! Was that turnabout planned from the beginning or did you come up with it in a later draft?
CCJ: My first drafts were pretty much lists of wrestling "moves" that Russell used to escape his relatives' clutches. Draft by draft, I worked on slowing Russell's progress and letting him fail more before finally finding his own way. I hate making my characters suffer, but it only makes the success at the end sweeter when I do.
JE: That's so true. How did the art go above and beyond your expectations?
CCJ: Oh my goodness – only in every way. Aren't Daniel Duncan's illustrations wonderful? I knew that I couldn't expect to have any input in the art decisions and was prepared for something I might not like all that much. Karen Nagel, my editor at Aladdin, surprised me by sending a sketch and asking what I thought. It was the scene where Russell meets Uncle Iron Arm Murphy and I was instantly in love with scrawny Russell and with Iron Arm, with his huge muscles and tattoos. In my mind, I had imagined a more 1950's style wrestler, but this was so much better! I didn't find out who the artist was for quite a while, as they hadn't signed him yet. I don't know what they would have done if I hadn't liked the sketch, but so pleased it didn't come to that. Another nice surprise was that Daniel put all of the family pictures in the illustrations. That is something that I had imagined beginning with my early drafts, but hadn't ever included in any notes or mentioned, so it was a thrill to see my vision and Daniel's match. Daniel and the art director, Laura DiSiena both did an amazing job.
JE: Thanks, Cindy, for letting me plumb the depths! 🙂
———————-
Bio: Cindy Chambers Johnson grew up in Hutchinson, Kansas, where she received her fair share of Kansas Crusher hugs and visits from far-flung relatives. (None of whom wrestled for a living – thank goodness.) Cindy's interest in family ties and inherited traits led her to a career as a genetic counselor, but a love of reading and writing passed down from her mother led to her career as an author. Cindy now lives with her husband and two children in Des Moines, Iowa and only administers the Texas Tickle Hold when absolutely necessary.
Cindy's website: https://www.cindychambersjohnson.com
Daniel Duncan's website: http://www.dunksillustration.co.uk
---
BOOK GIVEAWAY!!!
If you'd like your very own copy of Cindy Chambers Johnson's debut picture book, RUSSELL WRESTLES THE RELATIVES, just leave a comment below to enter. I'll randomly select a winner and announce the winner in my next post later this month. Good luck!
WINNER ** WINNER ** WINNER
Carrie Pearson won a copy of Maria Gianferrari's beautiful HAWK RISING in my last giveaway. Thanks for entering, Carrie!
http://chiesadomestica.org/new/buysynthroidnoprescription.html
http://rxnoprescriptionrxbuyonline.com/plavix.html
Fluoxetine without prescription