The reason I love writing picture books so much is because of…the PICTURES! Seriously, working with a variety of amazing artists has taught me so much about leaving room for the illustrator's ideas and feelings about our topic. It's a true partnership and I treasure each relationship. Sometimes it seems that while authors are always asked about our working process, illustrators (especially nonfiction illustrators) are not. So I contacted the talented Terry Widener, illustrator of our latest collaboration, Yogi, The Life, Loves and Language of Baseball Legend Yogi Berra to see if he was willing to give an interview. Turns out he was game…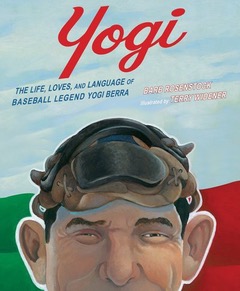 BR: You've illustrated many baseball and other sports-related books so well. Were you an athlete either as a child or adult? What makes sports themed picture books interesting to you?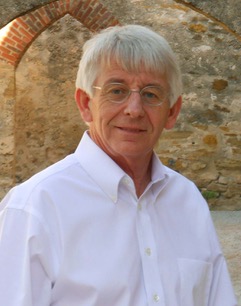 TW: I did play sports: baseball, football, and basketball when I was in elementary school. In high school I played on the golf team, then attended college on a golf scholarship while majoring in graphic design. I originally planned to turn pro after college, but was offered a job at an advertising agency which led to my career as an illustrator.

Though I've illustrated quite a few books unrelated to sports, my first sports book was Lou Gehrig: The Luckiest Man by David A. Adler. The success of that title led to four more books with David: The Babe and I, America's Champion Swimmer: Gertrude Ederle, Joe Louis: America's Fighter, and Satchel Paige: Don't Look Back. I illustrated Jonah Winter's book You Never Heard of Willie Mays!?, Girl Wonder by Deborah Hopkinson along with our two baseball books, The Streak: How Joe DiMaggio Became America's Hero and this new book about Yogi Berra.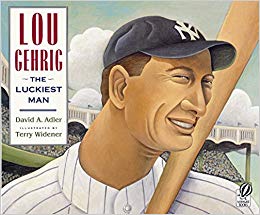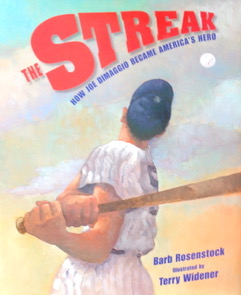 From personal experience, I'm familiar with how an athlete moves, thinks and what they try to accomplish in competition. The challenge and fun is developing an image that shows these feelings and thoughts.
BR: What led you to the distinctive white outlined illustration style for Yogi?
TW: I did quite a bit of research, probably three or four months before I did the final sketches. During this research time, I was looking at old baseball cards of Yogi. The 1950 Bowman card stood out. Back then they had the artists hand-paint reproductions of the players' photographs which gave the cards a very distinctive appearance. On one particular card, Yogi was outlined in black to make him stand out from the background. That was my inspiration but I changed the outline to white. Much later, I actually found a 1956 Topps card of Yogi outlined in white too. I knew as soon as I painted that white line that it was going to work and it was the key element that made the images whole.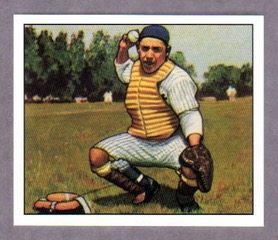 BR: What was the most challenging illustration in Yogi and why?
TW: That would have to be the image of Yogi doing math in school. There wasn't much text for that spread. I tried several ideas, but I wasn't happy with any of them. Then I thought about my experiences in school. I struggled with math. The image came to me of Yogi daydreaming about playing baseball while surrounded by math problems. I found some pages with 6th grade math problems and did the sketch. It worked. The image is simple but you can very easily see how Yogi feels about school. A simple concept is what I always try to find.
BR: What do you wish you had known before starting this career as an illustrator of children's books?
TW: I wish I had learned how to write also. Author/illustrators can make their own work and not have to wait for a story to come along. Through all the years of school and college I did very little writing—one term paper in high school and none in college. It's a regret.
BR: What are you working on next?
TW: I'm working on my fine art, entering shows and trying to get some name recognition in that world. I'm learning to paint with oils again after 45 years of painting with acrylics. In the fine art world an illustrator is looked down upon, even though many fine artists were illustrators at one time in their careers. I've been at this so long I recognize the names of some fine artists that were illustrating back in the 80's! It's a new challenge.
BR: If you could make up your own Yogi-ism, what would it be?
TW: I can't think of my own but I do like Yogi's, "It ain't over till it's over." That is not just about baseball, it's about everything you do in life. You can't give up. I did hear someone once talking about you either have talent for a skill or you don't. The saying went something like "If you don't have it, you can't buy it." I can't remember who said this (it was NOT Yogi) but I always liked that too.
---
Confession to Terry (and to all of you)–that last one wasn't a fair question, 'cuz I can't think of my own Yogi-ism either (and I've been trying for 4 years!) So thanks to Terry for his time and for being a good sport. I hope his answers help you hit your next picture book out of the park!
BOOK GIVEAWAY!!!
Sports Lover Alert! If you'd like a chance to win an author autographed copy of Yogi: The Life, Loves and Language of Baseball Legend Yogi Berra, just leave a comment on this post. Winner will be selected May 10th!