April is National Poetry Month! And just in time, a beautiful new book titled EXQUISITE (by Suzanne Slade, illustrated by Cozbi A. Cabrera) released this month to celebrate one of the most inspiring poets of all time — the incomparable Gwendolyn Brooks.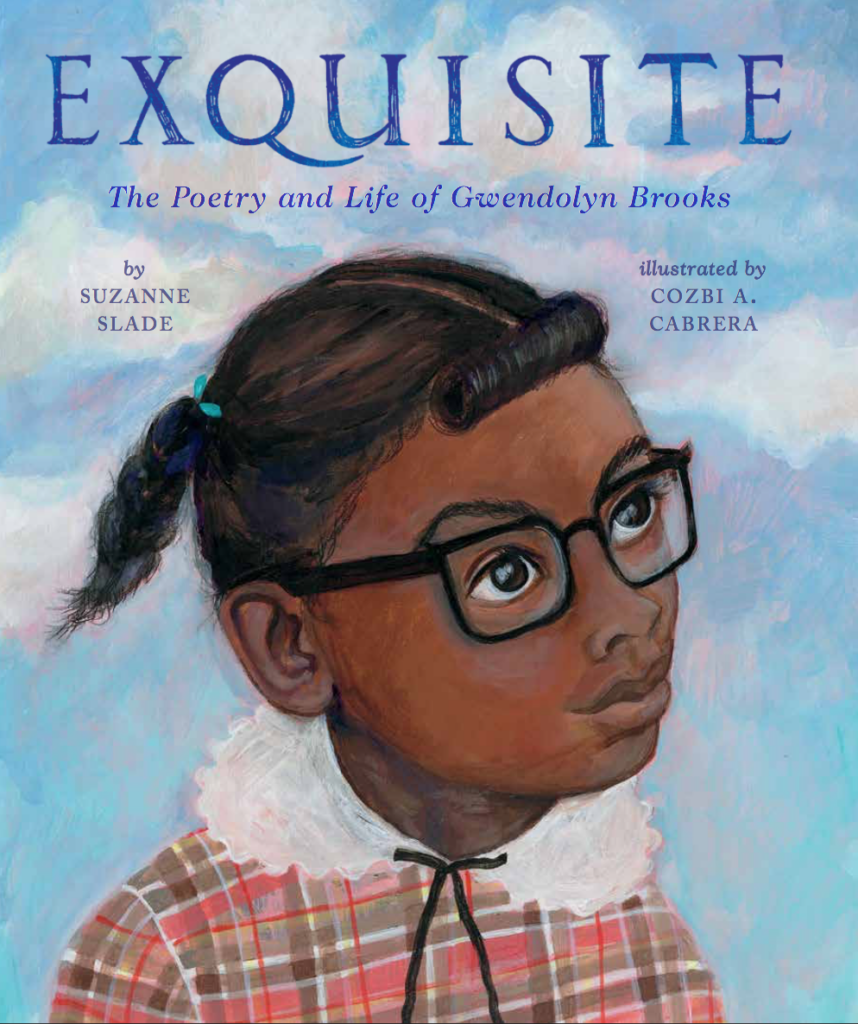 In fact, Gwendolyn Brooks' exquisite poetry earned her the Pulitzer Prize for Poetry in 1950, making her the first Black person to win a Pulitzer!
As most people know, it can take a long time to create a picture book. I began working on this story back in 2013 when I learned that the University of Illinois had acquired Ms. Brooks' papers, which included her precious, hand-written poetry journals.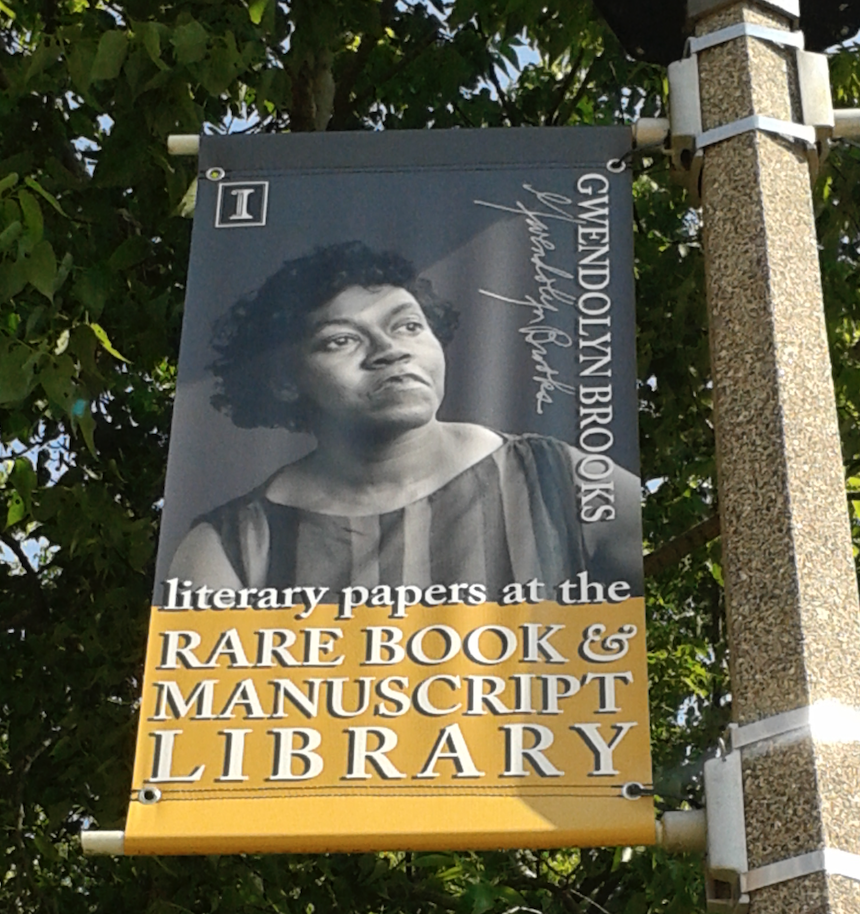 Unfortunately, it took several years to obtain permission to see her poetry journals because the library curator needed to organize and catalogue the collection first. (More about my research journey at The Nerdy Book Club.)
But when the collection was finally ready, it was worth the wait. In fact, it was one of the most *amazing* experiences of my writing career. Because while I was waiting for permission to view the collection, I discovered a quote by Gwendolyn in a 1968 Ebony magazine which provided the book's title, EXQUISITE, and theme, clouds.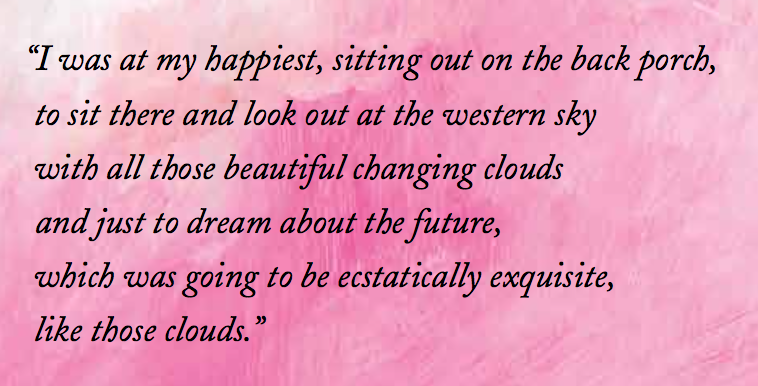 After finding that quote, I searched Gwendolyn's works for a poem about clouds. But couldn't find one. I asked the curator of the Brooks collection if she'd found a poem about clouds in any of Gwendolyn's journals. But she hadn't.
In fall of 2015, when I could finally visit the collection (here comes the *amazing* part) on the very first page of the first poetry journal I opened . . . was a poem titled Clouds!!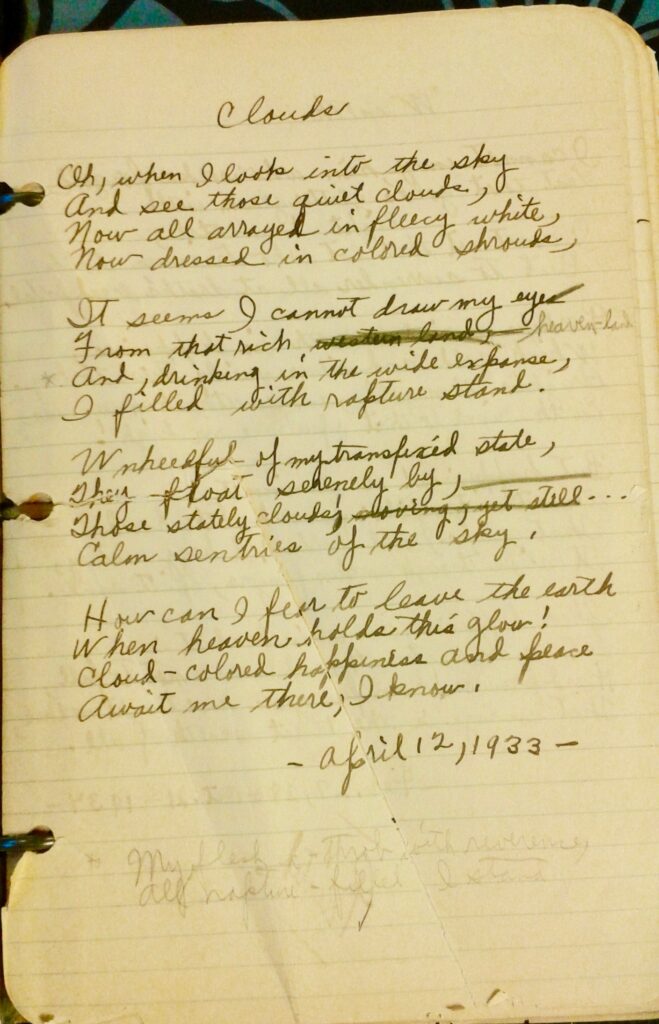 In time, we obtained permission from Brooks Permissions to include the previously unpublished "Clouds" poem in EXQUISITE.
Speaking of exquisite, the illustrations by Cozbi A. Cabrera are just that. I'm grateful Cozbi shared her talents with this book. (For more of her glorious illustrations, check out the book trailer.)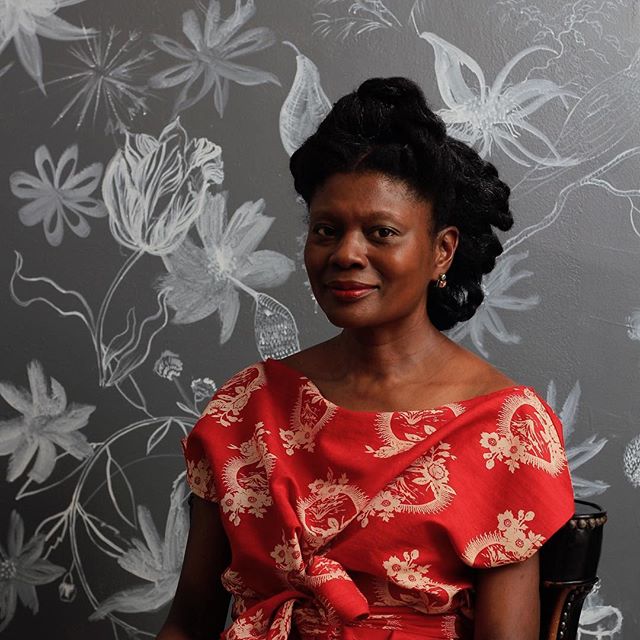 I learned a great deal about Cozbi's fascinating art process when we made our Behind-the-Scenes: Creating EXQUISITE video, but that also sparked more questions. So she kindly agreed to answer a few in this post. And here goes …
Question: You did a LOT of research to create your stunning, accurate illustrations in EXQUISITE. Can you briefly share what some of that entailed?
Answer: I found all of Ms. Brooks' papers at the U of I/Champaign. I also took a trip to her old house in Bronzeville, talked with the neighbors and circled the area there for several months, taking in the remaining limestones and feeling of the people there decades later.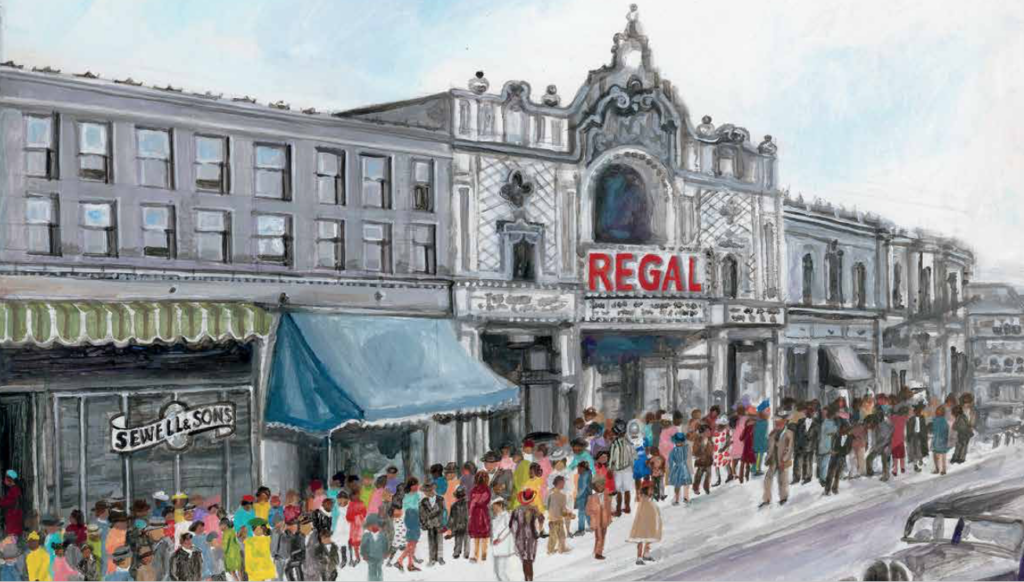 Question: EXQUISITE includes a cloud theme due to Gwendolyn's love of watching clouds as a child. The cloud scenes in the book are breathtaking. Did you research clouds too?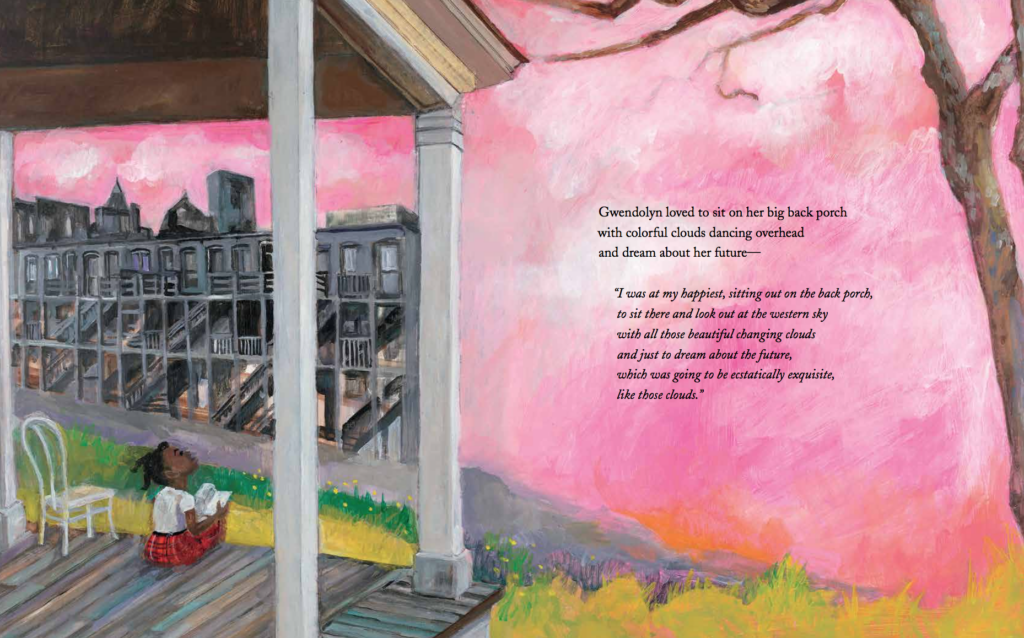 Answer: Everywhere I went I saw clouds and captured them when I could. They served as inspiration and a very real connection to Ms. Brooks. I took hundreds of cloud photos during various times of day, weather conditions, and in many states and countries (while traveling.)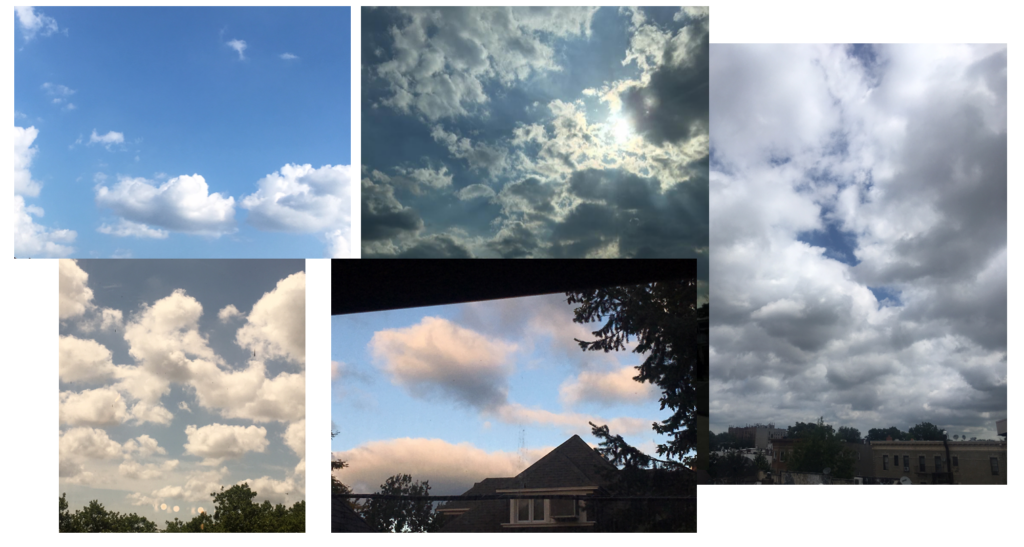 Question: How long did it take to complete the illustrations for EXQUISITE? Did you encounter any research challenges that slowed your progress?
Answer: It took longer than expected to complete the illustrations. For example: painting the scene with Mom and Gwendolyn by the piano I did a google search for Mom's !930's bedroom slippers to make certain all the clothing was in keeping with the period. Results? Zilch. After several days, I learned that in the 1930's those items were called house shoes.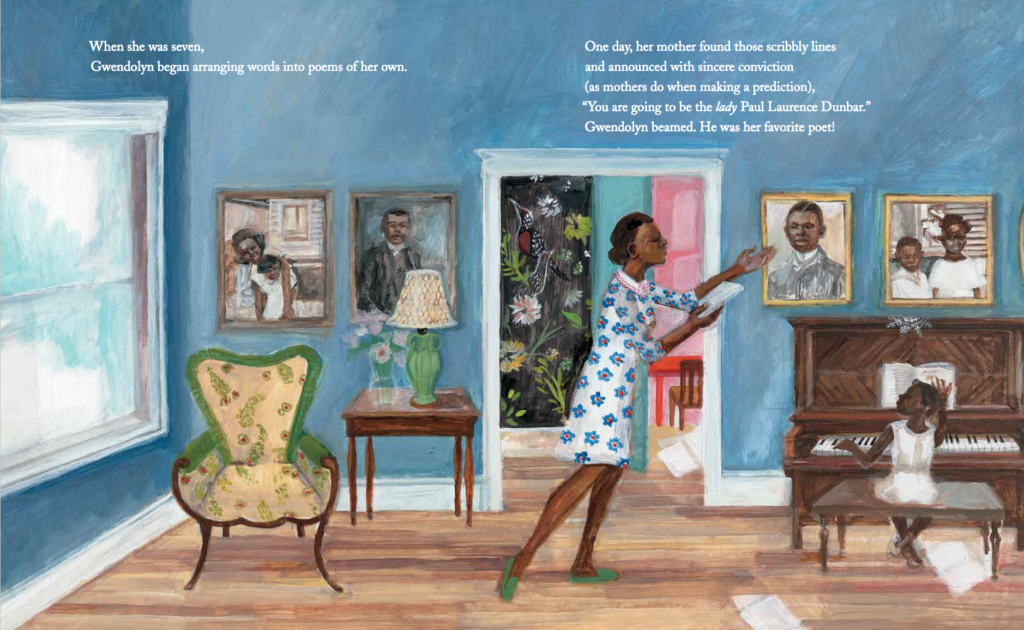 In another illustration I wanted to show an adult Gwendolyn mailing a letter. Simple, except mailboxes weren't freestanding in the 40's. They were attached to a street lamp or a truncated version of a lamp post. In other words, I couldn't assume anything. The process of painting was stymied by an unexpected trip into the rabbit hole! Total time 9 months!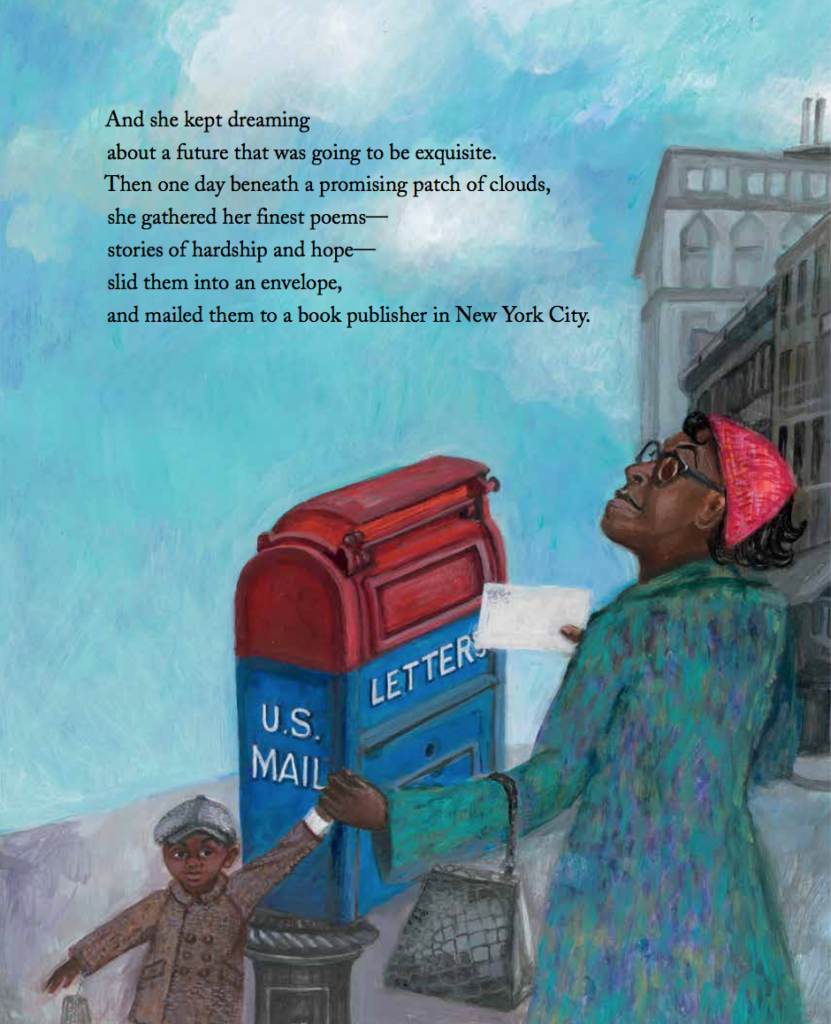 For the wedding scene, there were no photos of Ms. Brooks wedding that I could find. I found an arcane reference of the wedding where she mentioned that the wedding was at her parent's/childhood home. She found a red dress for $15. There was a beautiful high cake, lovely desserts and gorgeous flowers arranged by her stylish Aunts Gertrude and Beulah.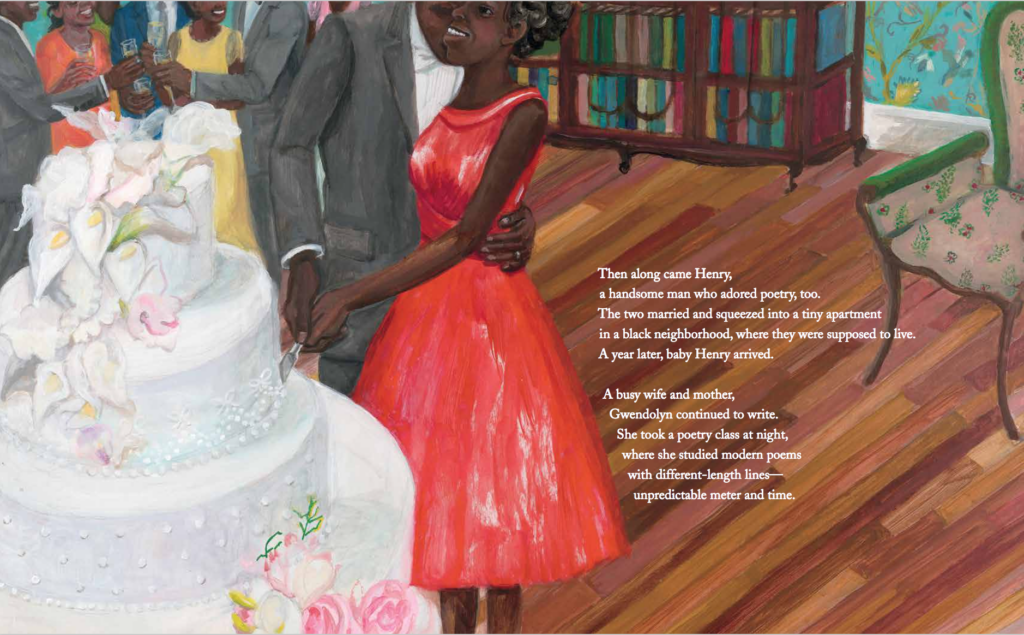 Question: I noticed a chair in Gwendolyn's childhood home covered in a gorgeous fabric similar to a chair in your home where you read EXQUISITE for a book reading video. Do you often reference personal items to help create illustrations?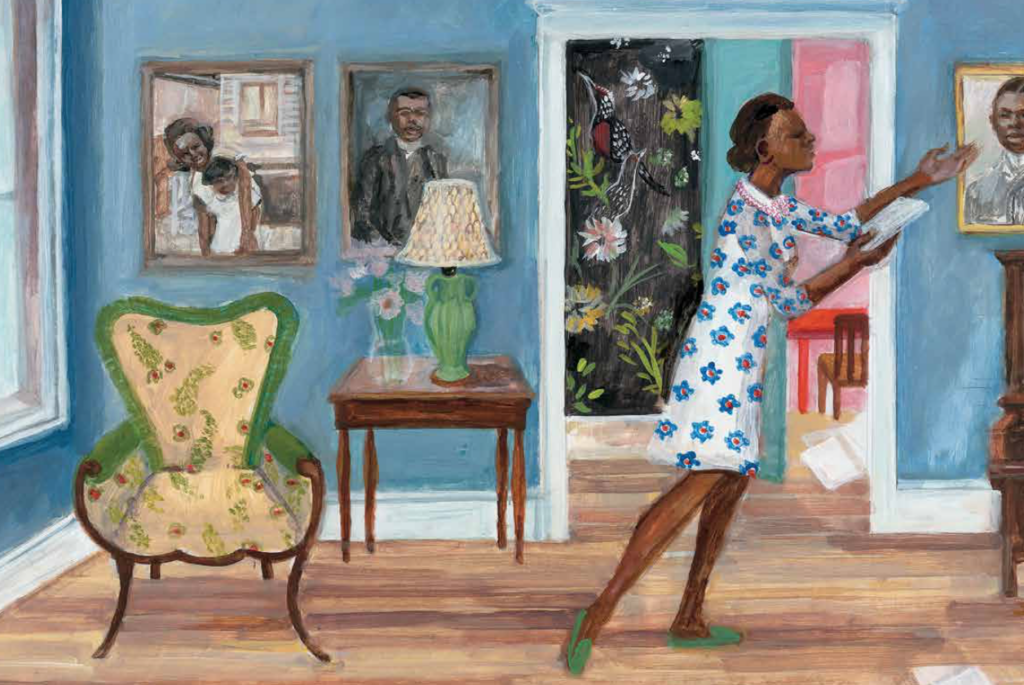 Answer: Yes, to answer the question of the chair. It's one of two French chairs from the 1930's — very much in keeping with the period. I believe creativity abounds in every dimension and it's just for the work we do at our desks. I love weaving it all together. Had a shop of hand-built clothing for a decade. It's not uncommon for me to search for a remnant in my scrap bin of fabric I've used to construct an article of clothing. I love to weave those textiles in when it's appropriate. They were chosen because they struck an emotional chord, as there is so much memory in fabric and I often borrow that sampling as if they're pieces loaded with language. That's the power of a visual.

Question: Your acknowledgment in the book is so heartfelt and moving – "Doing the research for the illustrations illuminated just how Gwendolyn Brooks overshadowed and transcended lack, limitation, oppression, and every established boundary line with the power of her discipline and the persistence of her love. Thank you, Gwendolyn Brooks. You speak still."
How did working on this project inspire you?
Answer: Gwendolyn arrived in Chicago as a little baby, unaware of the tremendous societal forces at work. She remained focused. I remember reading her list of what she planned for the room in anticipation of Baby Nora's arrival. As wife, mother, poet, daughter, niece — there was an intense dedication, a lack of scattering that created a power and momentum that outsmarted every known limitation. What an inspiration!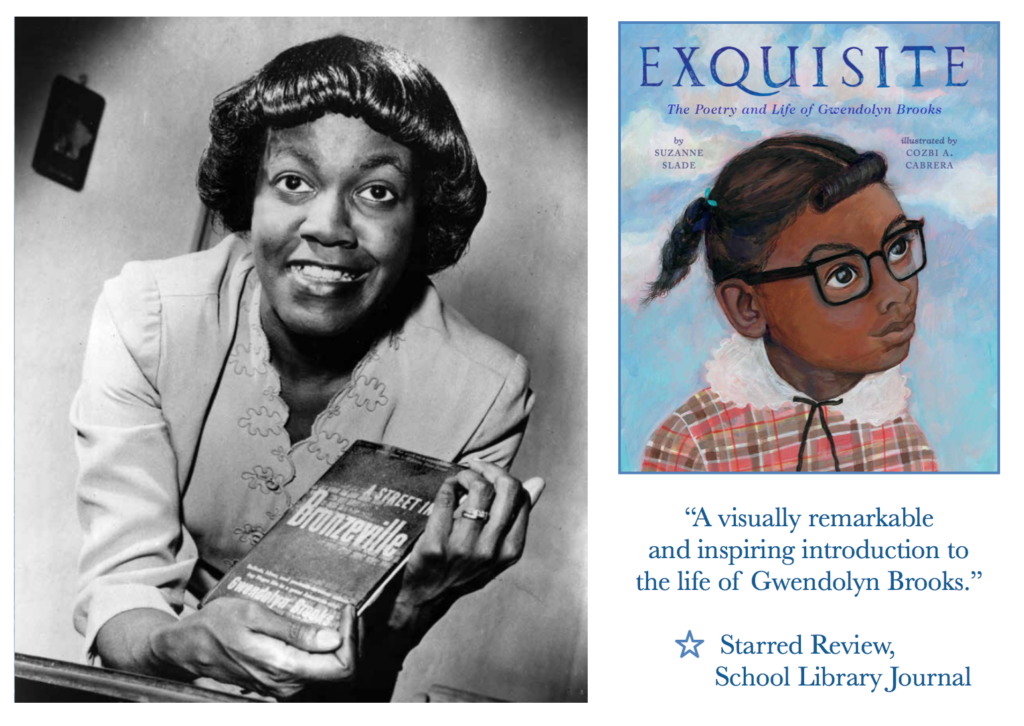 Thanks Cozbi!
* * * * If you'd like to enter to win a copy of EXQUISITE, leave a comment on this post! * * * *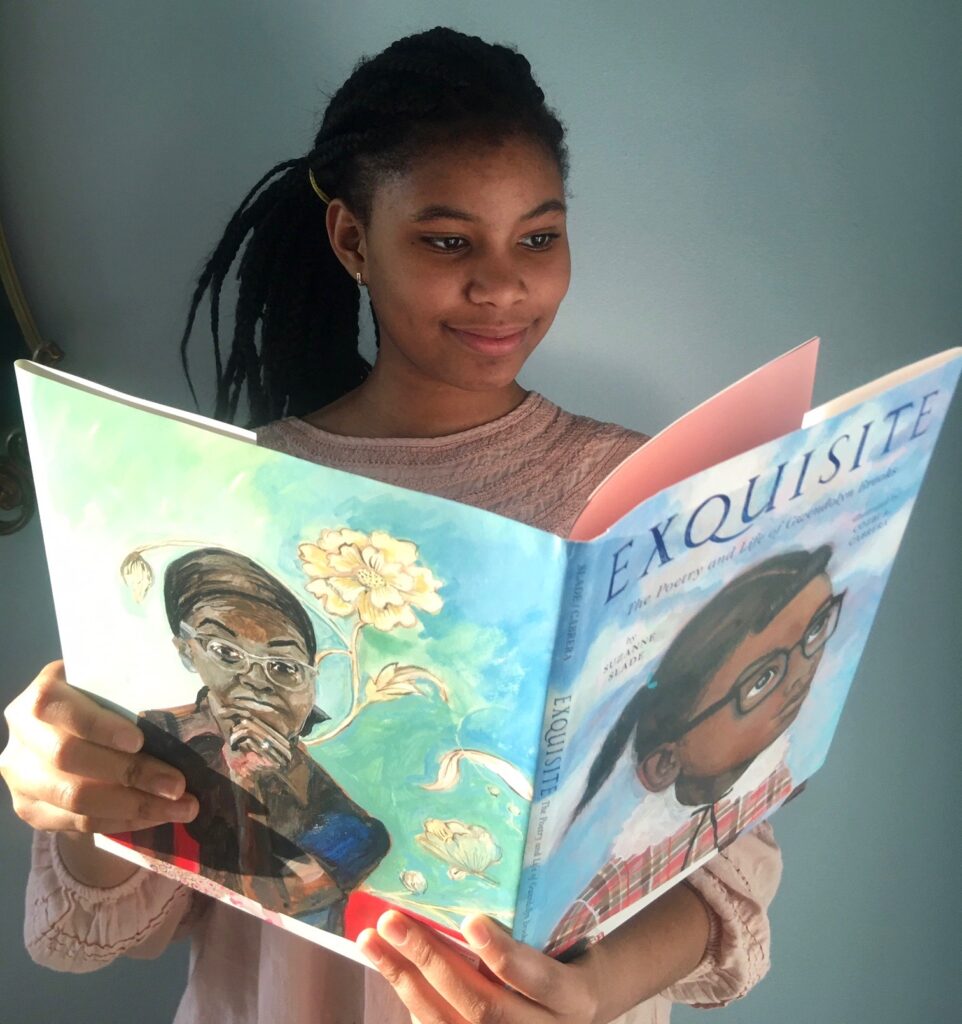 And if you are a teacher, or have teacher friends doing eLearning, please share these video links. Thanks!
Author/Illustrator Book Reading
Behind-the-Scenes: Creating Exquisite