One of my favorite things about storytelling is establishing a sense of cause and effect. This happened because this happened. Not just this happened, this happened, and this happened….
As storytellers, we get to use our creativity to make decisions about how we organize the events in our story, including how and when we reveal the reactions to various events.
THE SCRAMBLED STATES OF AMERICA is an example of superb cause and effect – with one event leading to the next for a smooth, natural flow. Written and illustrated by Laurie Keller, this book tells a well-crafted story and makes me love geography. I admire how Laurie ties the various plot points together; there is a sense of logic to the pattern of events even in an imaginative story.   
Let's take a look at THE SCRAMBLED STATES OF AMERICA!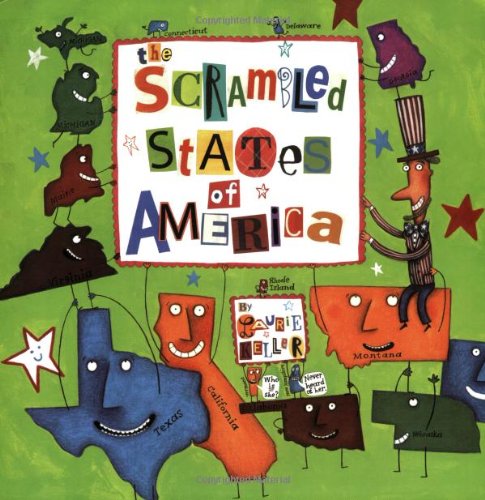 We first start out with all the countries waking up, enjoying coffee, reading the paper. All is well.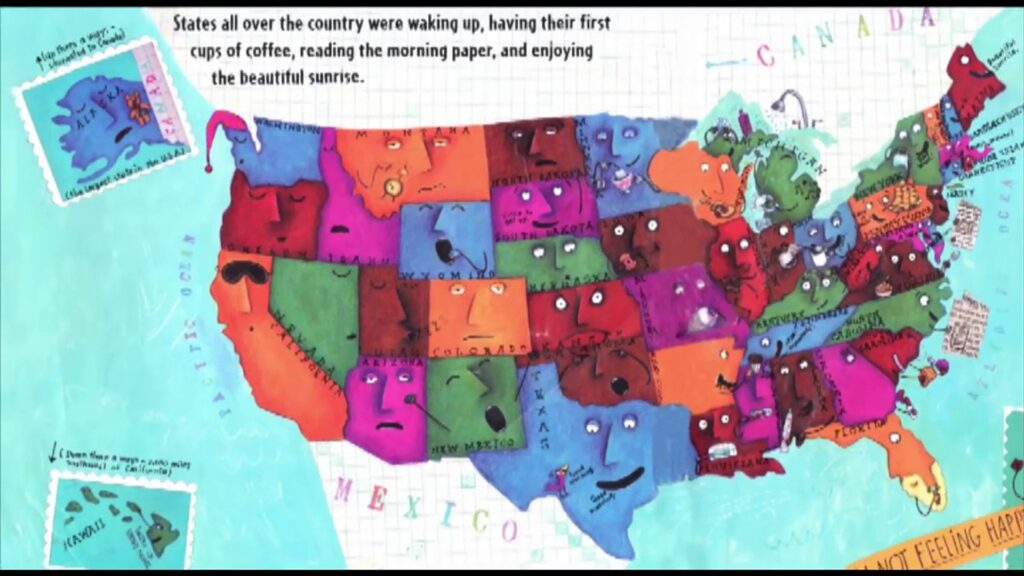 But the trouble is that Kansas is not happy at all, setting this playful story into motion.   
While other states are enjoying the sunrise, Kansas is giving his neighbor Nebraska an earful.
Kansas tells Nebraska that it's way too boring in the middle of the country. Kansas says, "We never Go anywhere. We never DO anything, and we NEVER meet any new states!"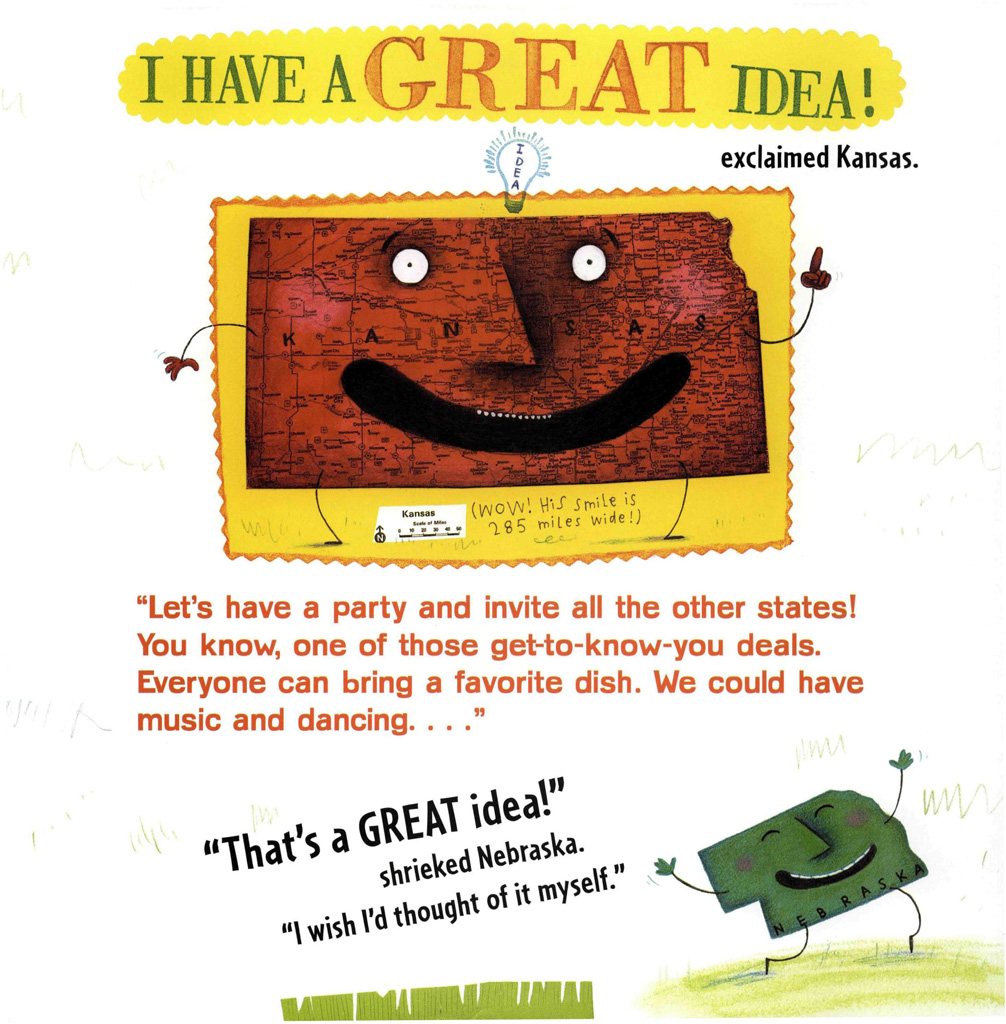 Kansas comes up with a brilliant idea to throw a party. Missouri and Iowa pitch in to help Kansas and Nebraska so the midwestern states are the party planners. And once you get all the states together for a party, all kinds of interesting things can happen.
Idaho and Virginia start chatting about how they might like to switch places, and maybe the other states would like to switch places too.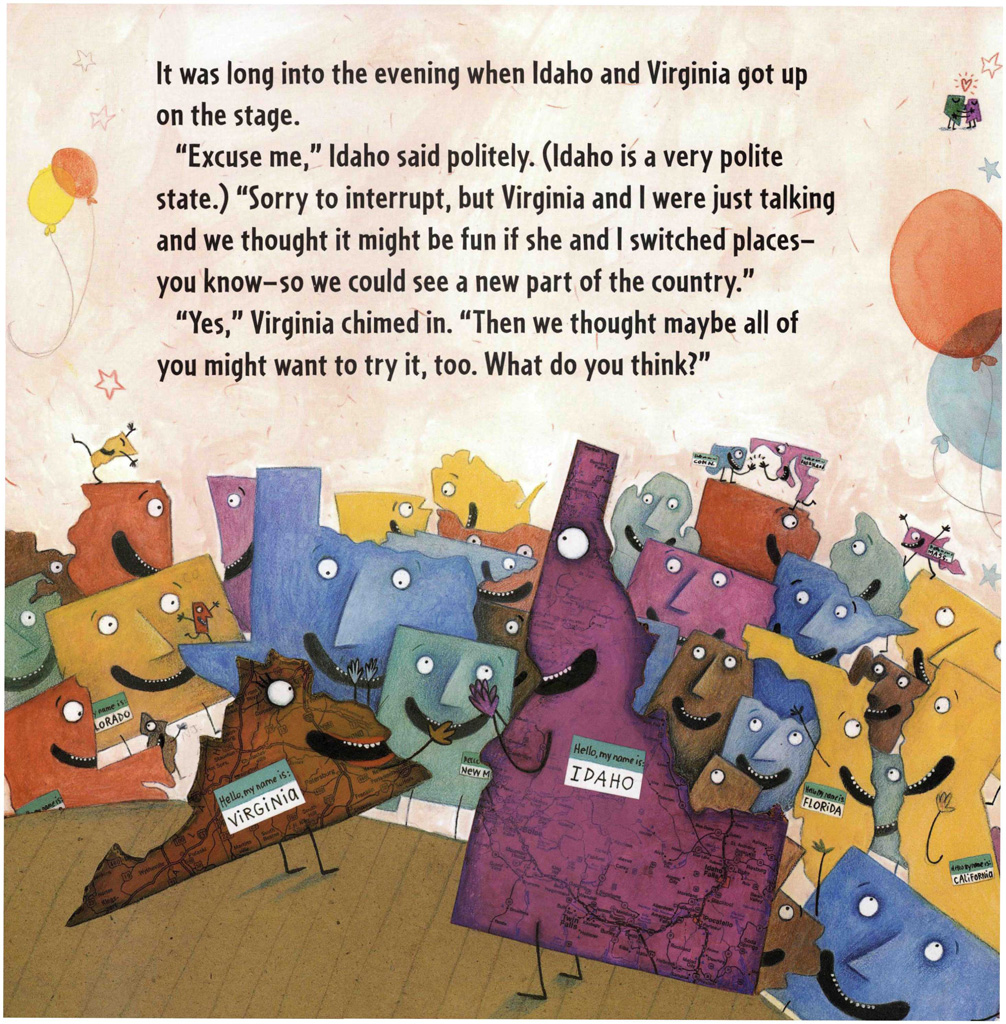 All the states love the idea. Excitement fills the air, and everybody packs and heads to their new places. This arrangement is much better now, right?!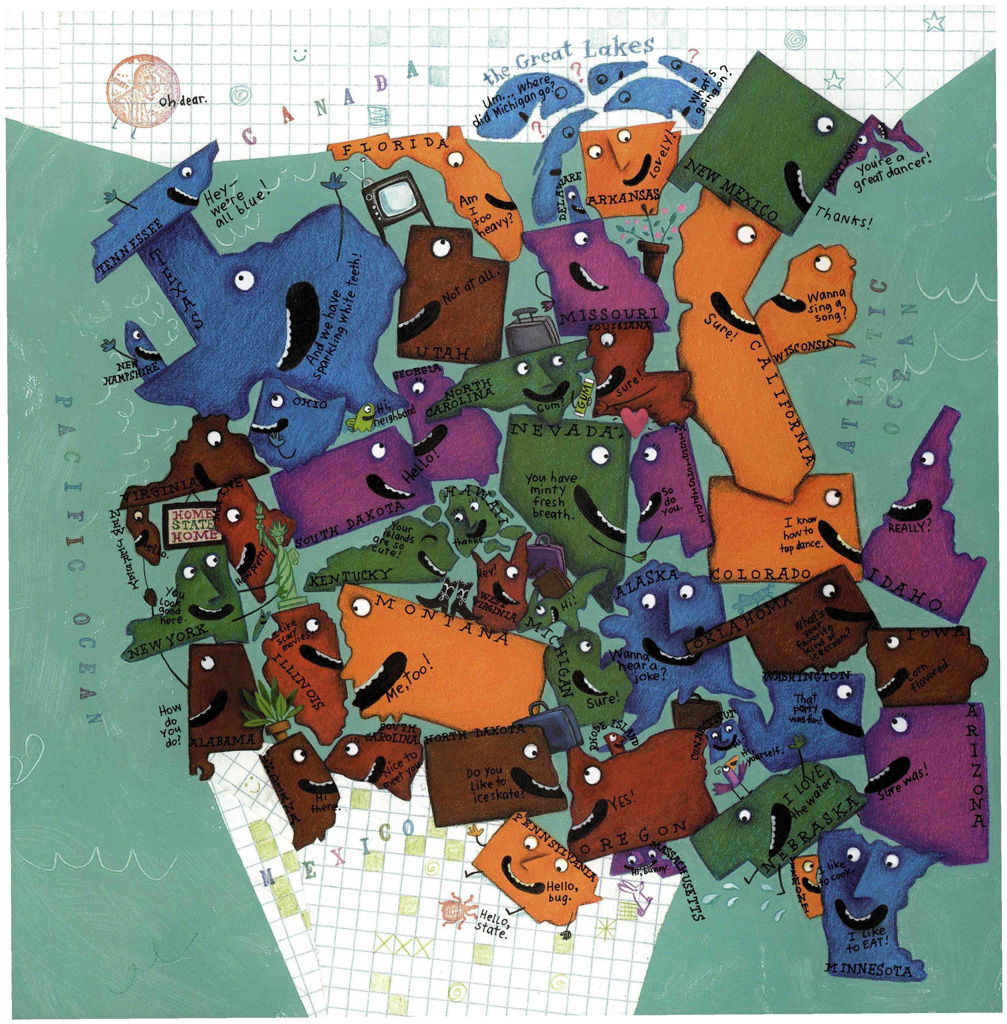 Kids love this wacky scene of the scrambled states. But we all know that thing that happens when a change seems so exciting at first and then the excitement wears off.
Among other challenges, Florida is now freezing in the north after switching places with Minnesota. Arizona had switched with South Carolina, but the ocean waves are now messing up Arizona's hair.
If you've never read this book, check it out for more fun details – and to see what happened to Kansas, the state that started it all.
Because of strong cause and effect, this happened because that happened. And kids become familiar with the shapes and positions of different states – especially as the states move back into their correct places.
Plus, don't you love it when a picture book is so clever and educational that somebody turns it into a game/puzzle?!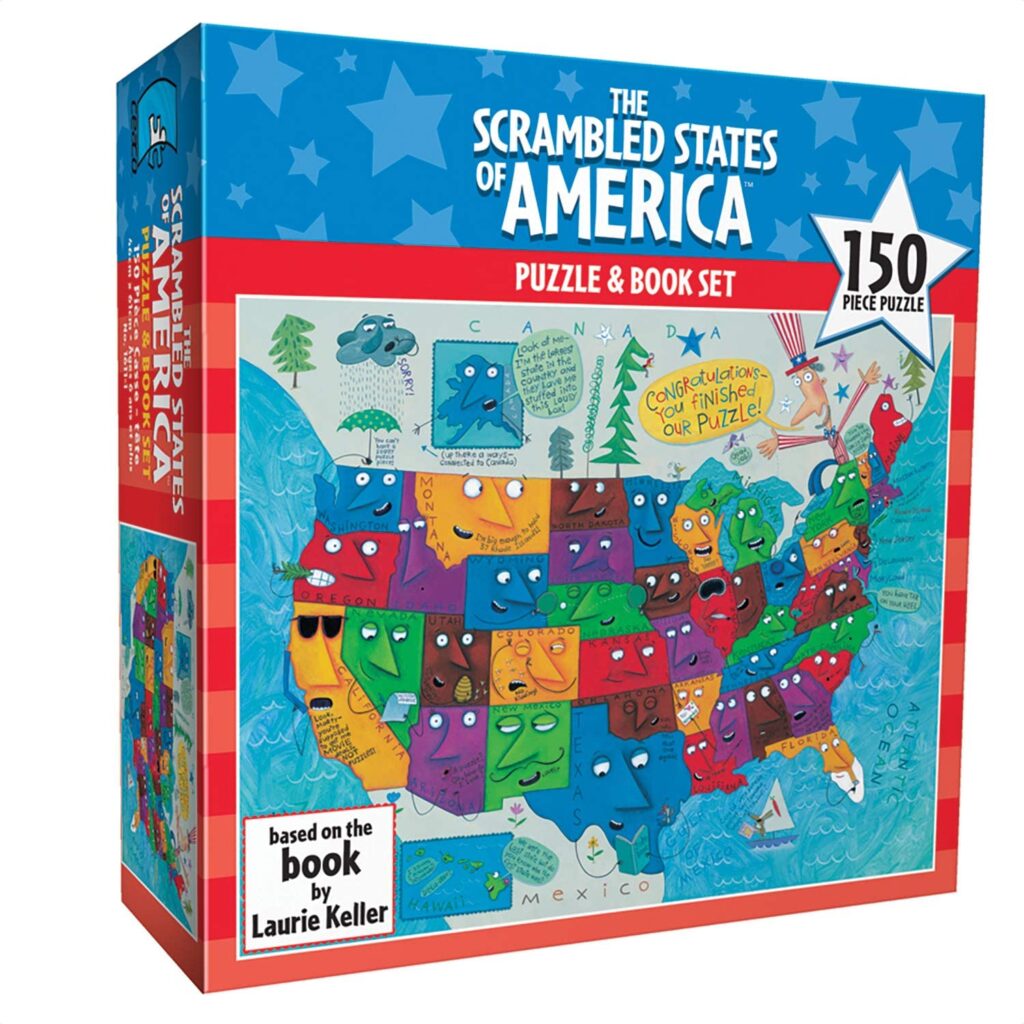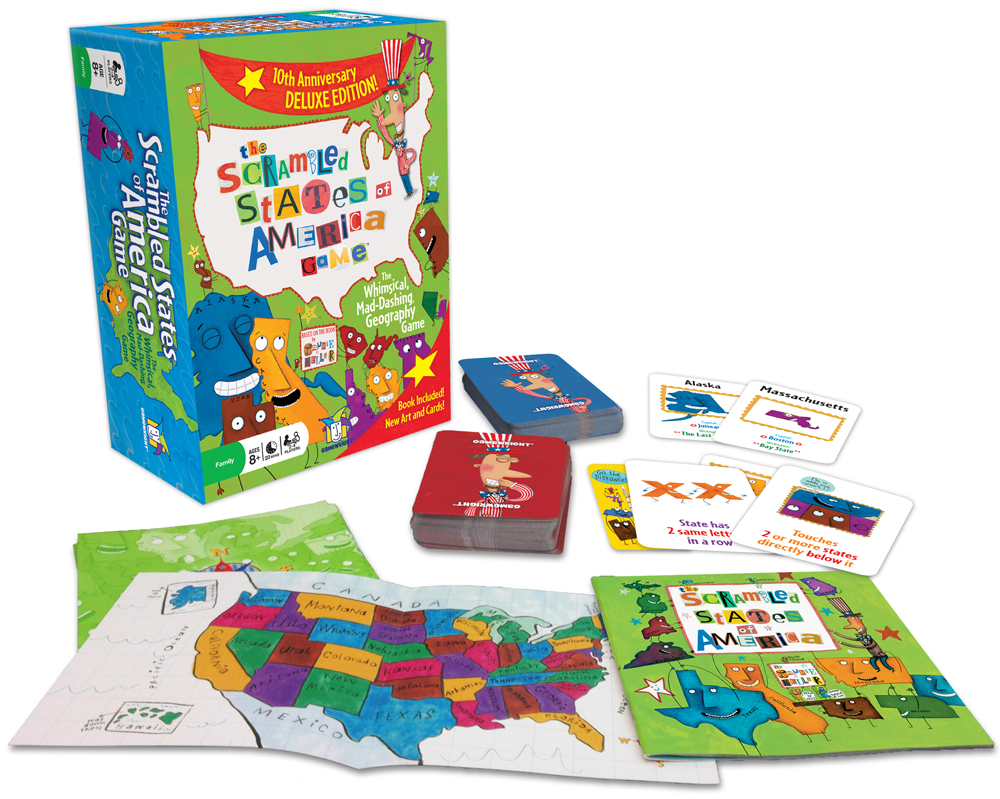 Thanks for reading & see you next time!
-Michelle