Lately, I've been reading picture books about "hidden history" as research for a manuscript that I've been struggling with. These books cover historical people and events that have been left out of school history books, often deliberately and usually because they involve people of color. Leah Henderson's moving A DAY FOR REMEMBERIN', illustrated by the amazing Floyd Cooper (who sadly passed away recently), really made an impression on me.
A DAY FOR REMEMBERIN' is about the events of the first Memorial Day, told from the point of view of Eli, a young African American boy. I was one of the many people who knew Memorial Day honored the people in the military who lost their lives while serving our country, but had no idea of the holiday's origins. The story recounts the actions of twenty-eight newly freed African American men who voluntarily created a beautiful cemetery out of the former Washington Race Course in Charleston, South Carolina. During the Civil War, the racecourse had been turned into a prison for thousands of Union soldiers, 257 of whom died on the grounds and were buried in a mass grave.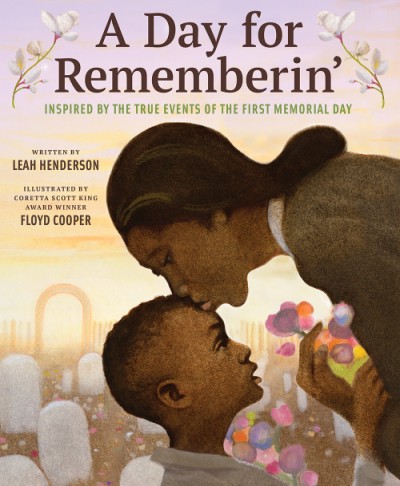 These twenty-eight former slaves wanted to honor those Union soldiers who had given their lives fighting for their freedom. They exhumed and reburied each soldier in individual plots with their own headstones and built a tall fence around the cemetery. There was an arch over the entrance gate that read "Martyrs of the Race Course."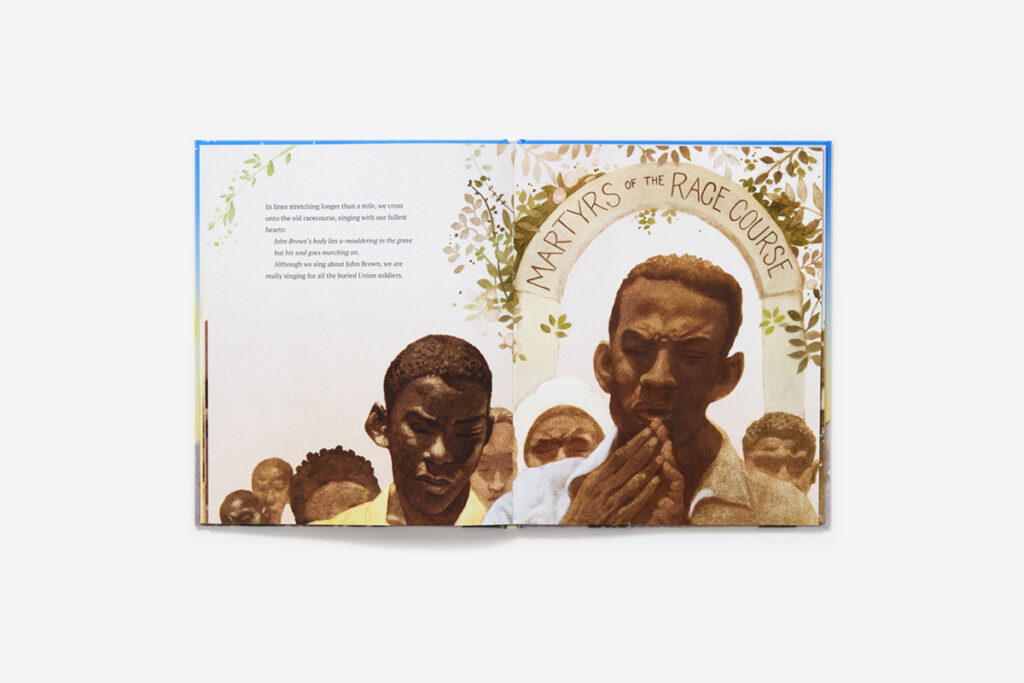 When the work was done, on May 1, 1865 (less than two months after the official end of the Civil War), ten thousand people marched through the streets of Charleston to the racecourse, carrying flowers and wreaths. In her author's note, Henderson states that the procession consisted mostly of "newly freed enslaved people," and they were "led by almost three thousand Black children." She envisions her main character, Eli, leading the entire parade, proudly carrying the Union flag.
When the people reached the cemetery, they sang songs, gave speeches, and scattered flowers over the graves. They paid their respects to the fallen soldiers and spread out picnics to give thanks and to celebrate that they were no longer slaves. They were free.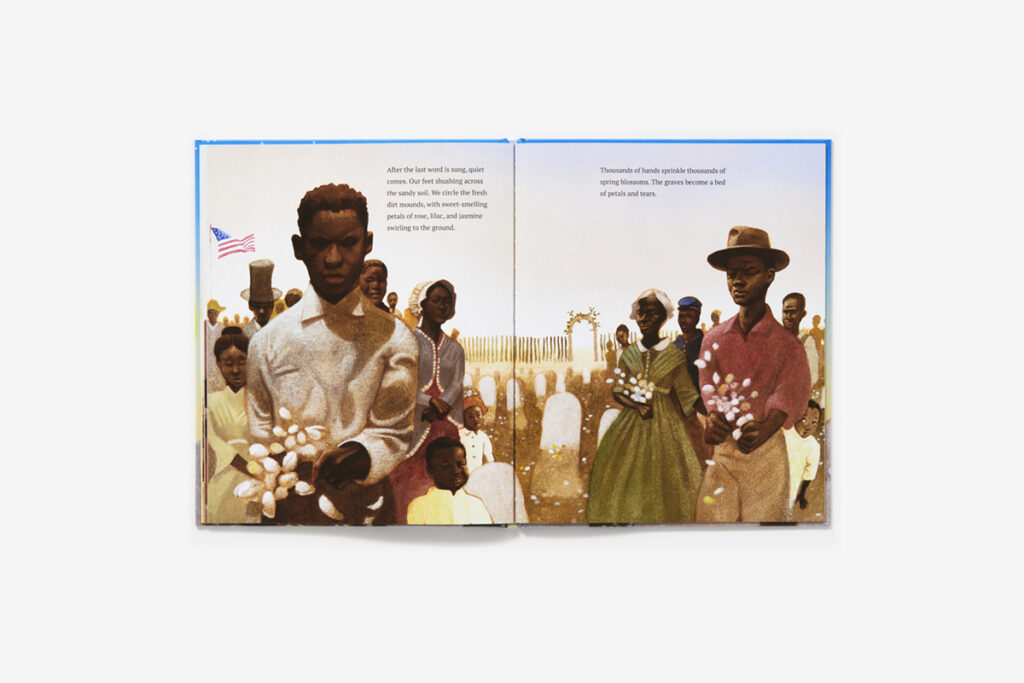 Through the eyes of Eli, the child narrator, we see his curiosity about what kind of work his father is doing. We learn that his parents value his "hard-earned right" to go to school. We feel Eli's worry about how, before the Emancipation Proclamation, his parents could have been "sold away" from him. And at the end of the book, we feel Eli's hope and gratitude for the future. Facts about the Civil War and details that evoke the time period are woven throughout the text, never feeling didactic because they're told in Eli's voice. Although the book is considered fiction because Eli wasn't a real person, he could have been. Out of three thousand children, there could very well have been one named Eli.
I'm grateful to Leah Henderson for bringing this fascinating and inspiring story to light, and to Floyd Cooper for his poignant, gorgeous illustrations. Next Memorial Day (and all the ones after), I'll be remembering, too.
If you'd like to find out more about what inspired Henderson to write A DAY FOR REMEMBERIN' and the research that she did, there is a video here and a longer recording of her book event here.
Leah Henderson is the author of the middle grade novels The Magic in Changing Your Stars, a SCBWI Golden Kite Award finalist and One Shadow on the Wall, a Children's Africana Book Award notable, and a Bank Street Best Book. Her picture books include Mamie on the Mound, Together We March, A Day for Rememberin', and the forthcoming Daddy Speaks Love and Your Voice, Your Vote. Her writing is also included in the anthologies Black Enough: Stories of Being Young and Black in America and The Gift, Spring '22. Leah holds an MFA in Writing and is on faculty in Spalding University's School of Creative and Professional Writing.
You can find her on Twitter @LeahsMark or at her website: leahhendersonbooks.com.