Sometimes, there's that person in your life who just gets you. Your BFF. Your bestie. Your boo. Maybe they're someone you've known forever. Maybe you've only just met. You might love them platonically. Or romantically. They might live close by. Or far away.
Eliza Wheeler and I — with some help from Little, Brown Books for Young Readers — have created a book celebrating that ride-or-die person who makes everything better. It comes out March 1, and today, Eliza is joining Picture Book Builders to talk about how she created the classic, yet contemporary art for this book. She even asks me some questions, too.
Hi Eliza, how did you get the idea for the wonderful art in WHEN I'M WITH YOU?
This being the third book I've illustrated of yours, I've learned that the best way to read a "Pat" manuscript is not to breeze over the doc attached to the email, but to print it out on paper to read it. That way, I can take it to a comfy chair and make notes with a red pen in the margins during my very first reading.
What I already know I love best about your writing is that you leave so much space for the visual story, and so I want to capture anything that comes to mind on the first (and freshest) read-through. I write notes in a stream of consciousness — artistic influences, questions, visual imagery that comes to mind, possible directions for the story.
I just noticed when re-reading my first batch of notes that I was trying to work out the "when and where" of the story while reading all the variety of topics from stanza to stanza, and was visualizing all these pairs of characters in haphazard locations. And then, mid-way through the reading, I had the idea of a shared sort of summer camp location (which I circled and starred, which means it was a "hell yes!" idea). That evolved a bit and became a shared backyard, but that helped me find the connecting thread visually –we're in a shared real world with all these pairs of kids, but then we launch into their imagined adventures, as pairs but also as a group of friends. It's kind of all there from the start, which is fun to see!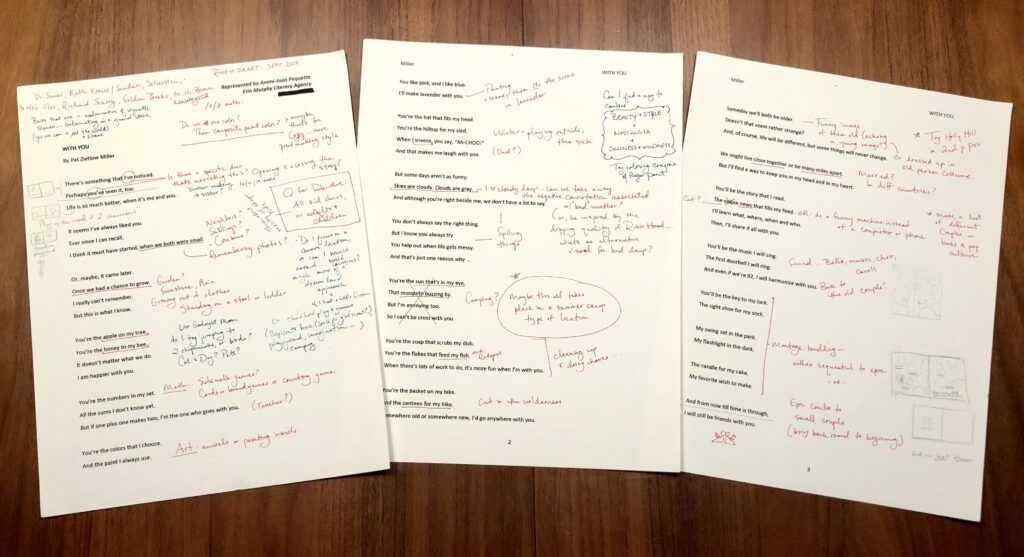 I'd love to throw this question back at you, Pat! I'm wondering about the origin of this text idea, and also, did you have more stanzas to choose from that you had to cut out, and if so, how did you know what to leave in and what to cut?
Like many good ideas, I got this one while I was taking a shower. I got pretty far along in my head before I got out, dried off and started typing. Then, over several months, I wrote a ton of stanzas about friendship. I definitely had too many, so then I spent a lot of time choosing the strongest ones and finding ways to connect them seamlessly. And, because this book rhymes, there was a lot of polishing and refining after I chose the stanzas I wanted to make sure the meter and rhymes were as creative and polished as I could make them.
Back to you, Eliza! What materials did you use to create the art? Did you do anything new and different with the art for this book?
I did do something new and different for this art. I knew that I wanted to let my process be more free and fun and experimental for this book, and I was also inspired by a lot of mid-century children's art, which was often created in color separations and combined during the printing process.
While I couldn't do that old technique, exactly, I decided to try painting and drawing all the pieces separately with acrylic and crayon on sheets of vellum, as well as watercolor washes on paper, and compiling and coloring them in digital layers. This new process brought in a lot of fun and flexibility, but, as it goes with most experiments, I underestimated the sheer amount of time it would take.
More than half of the way through the art deadline, I could see that I was never going to finish on time! So, I had to pivot and bring in more digital drawing and painting techniques than I've previously ever used. I ended up buying a Wacom Cintiq – which is essentially a large computer screen that you draw directly onto – to aid in the process, and it was a lifesaver.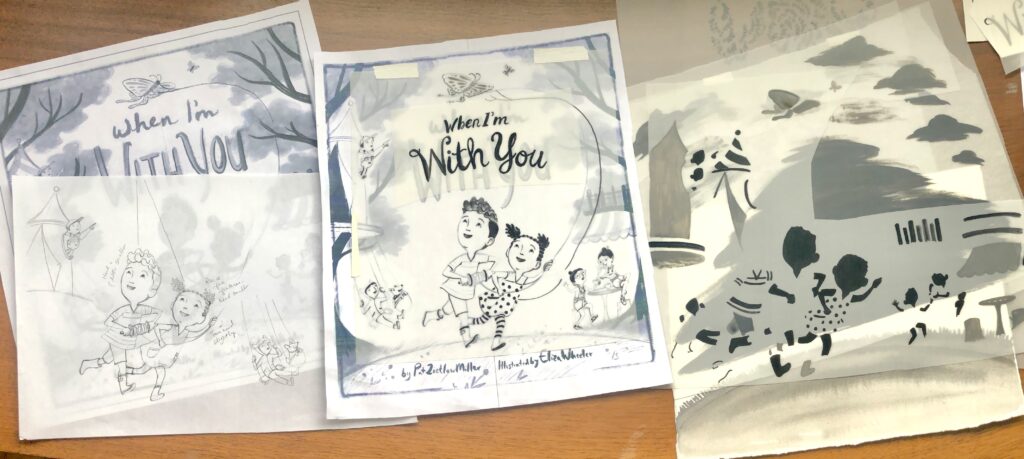 Which spreads are you most proud of? Which were the most challenging?
I would say I'm most proud of the connections and relationship between the spreads, vs. any particular spread on its own. This was probably the most challenging part of the book — figuring out how to weave everything together into a cohesive visual story.
For example, it took a lot of figuring out how to create a shared play space for the characters in the book while also giving them their own little unique areas of play. Sometimes, they're off in their pairs. Other times, they're all together as a group. I had to work a lot on continuity of the "set design," the backgrounds. We see their play trees from different angles in different scenes, and getting those to work across all compositions was a bit of a puzzle to work through.
You dedicated this book to "Maddelyn — Because all this started with you." Tell us more about that.
My niece Maddelyn was born when I was in college, and as a birth present, I made a little book about and for her. It was my first go at writing and illustrating a children's book, and so it has all the hallmarks of an amateur effort (lesson-based writing, not structured in 32 pages, derivative of other storytellers' works), but it was a sweet experience that planted the seed that I might try to learn more about illustrating books.
Tell us about a memorable moment with a friend that you had growing up.
I can't think of just one particular story, but my first friend memories would be with my cousin, Kristin. We were born several months apart and lived near each other, so she was my first playmate. She was more physically daring, while I was a more physically timid kid.
She ran down gravel roads barefoot and charged up trees while I followed her, sort of "ouching" along the way. I'm grateful I had her to pull me from my very small comfort zone. I love those memories of roaming free with my brothers and a gaggle of cousins  — climbing, swimming, exploring — these are the memories that fuel a lot of my work today, and I definitely got to channel a lot of that into the art for WHEN I'M WITH YOU!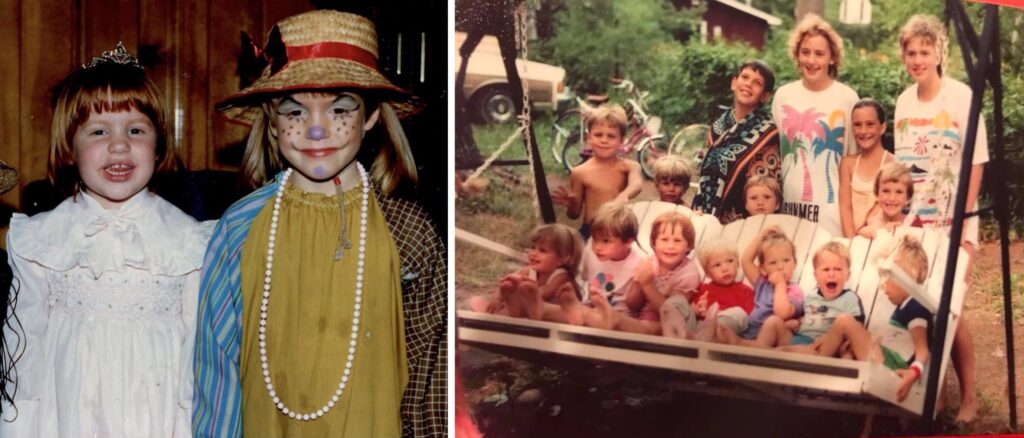 Pat, how about you? Can you share a childhood friend memory?
I grew up on a very short street that connected two busier streets. We didn't get much traffic, so the neighborhood kids used the street to play kickball and kick the can. We also set off a ton of fireworks in the street every July 4. The rule was, we could stay outside until the streetlights came on, and then we had to go home. I had a lot of fun with my brother and sister and the Weber and Gosz families on our block.
Eliza, each of your three books with me has a distinct color palette. Oranges and reds for WHEREVER YOU GO, blues and yellows for WHEN YOU ARE BRAVE, and greens and pinks for WHEN I'M WITH YOU. How much thought did you give to having similarities or a sense of connection between the three titles? Was it important to you that they look like they go together?
They do have distinct color palettes — I think for our first two books the colors were led more purely by the stories, and so for this third one, I wanted the book to have its own color identity too. I see them sort of as cousin books to each other; they're all journeys of their own sort.
WHEREVER YOU GO is a physical journey along the roads of the world, WHEN YOU ARE BRAVE is an emotional journey from timidity to bravery, and I see this book as a journey into the imagination of these friends. To keep them all connected, we chose the same trim size for all three, and the front cover designs all have similar placements of the curved horizon lines and main characters. I feel they have shared spirits!

Pat, when you wrote the books, did you ever see these stories as being connected? Or did that just happen organically in the coming together of the books?
I did not see them as being connected, but when I wrote them, I felt that each of them sounded like an "Eliza book." They had a spirit that seemed as if it fit well with your illustration style. And, I like that while they clearly go together, they also completely stand alone as individual titles.
Hey! Want to win a book?
If you'd like to be entered in a giveaway to win a copy of WHEN I'M WITH YOU, leave a comment on this post telling us something about a friend you have. And, if you want an extra entry, share a link to this post on Twitter using hashtag #whenimwithyou.
Want to pre-order a copy?
You can pre-order WHEN I'M WITH YOU from:
Mystery to Me: An Independent Bookstore. If you order from here, I'll sign the book! If you'd like it made out to someone in particular, add that info in the "Other Comments" box. They ship almost anywhere. Eliza and I will do a free, virtual event Thursday, March 3 with the store. Visit the Events page and scroll down for details.
Any other independent bookstore. If you want to find one near you, this link takes you to IndieBound. Eliza and I also are fond of The Red Balloon in St. Paul, Minnesota. We'll likely be doing a virtual story time with them in early March.
You also can request the book from your local public library.
CELEBRATION!
Special congratulations to Picture Book Builders' very own Andrea Wang and illustrator Jason Chin for WATERCRESS winning the Caldecott, a Newbery Honor, and the Asian/Pacific American Award for Literature. This book also earned a gorgeous handful of stars. Andrea and Jason — you're awesome, and so is the book you made.