I absolutely love introducing debut authors, and today I get to bring in not one, but TWO.
Co-authors Mark Ceilley and Rachel Smoka-Richardson, with the help of illustrator Stephanie Laberis, have brought to life a bright, snappy twist on the Cinderella story, CINDERELLIOT – A Scrumptious Fairytale (Running Press Kids). And TODAY is release day! In this take on the tale, Cinderelliot is a young man who loves to bake. And it's his irresistible chocolate cake that ultimately wins the prince's heart. Here's the appealing cover: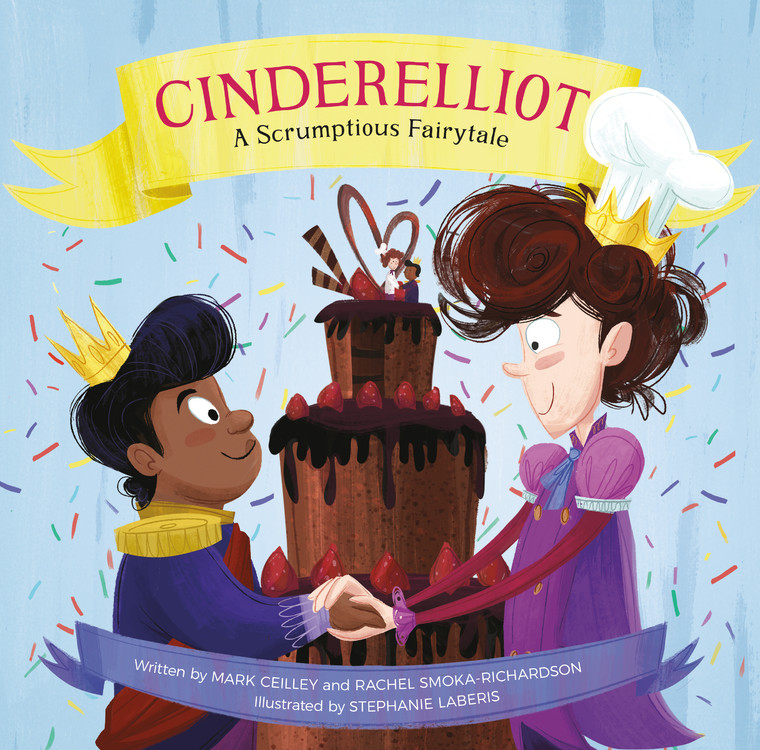 I've known Mark for years, and I know how hard he's worked to get to this day, so of course I was eager to have him and co-author Rachel drop in for an interview. I've sprinkled in a few spreads from the book so you can see Stephanie's cheery art, too.
Jill: Welcome, Mark & Rachel! First things first: Who had the initial idea for this story?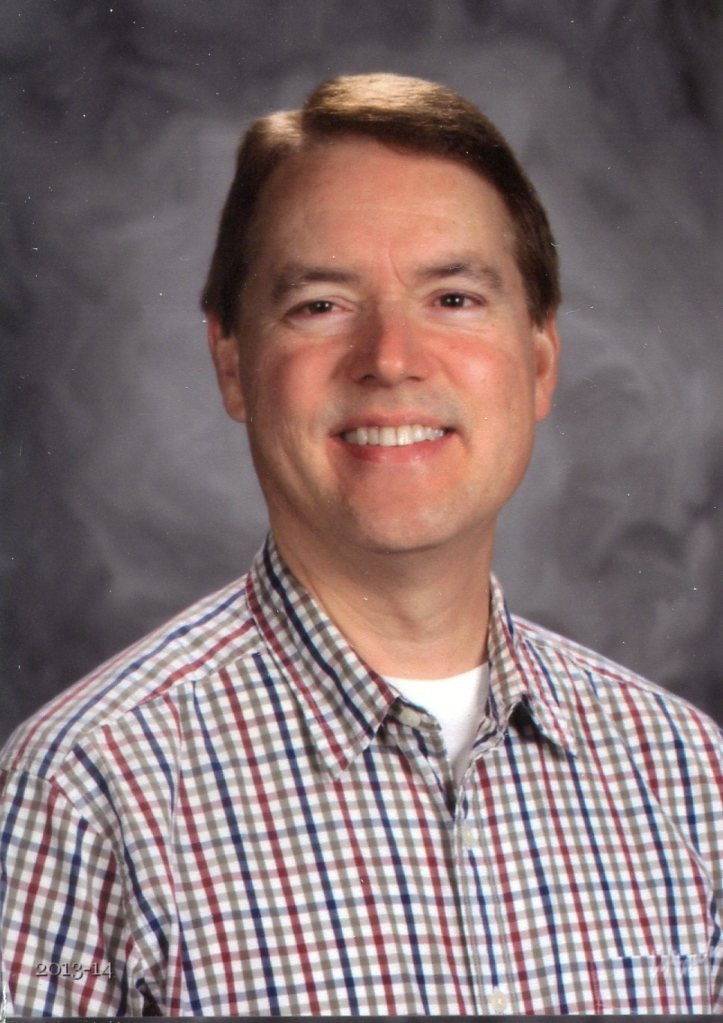 Mark: I came up with the idea after reading the book PRINCE & KNIGHT by Daniel Haack which was published on May 1, 2018. This is a picture book about a prince and knight who fall in love and get married. Soon after I read it, I thought about Cinderella and wondered what it would be like to write a gay version. I wrote the first draft in July 2018.
Rachel: Mark – he wrote the very first draft, and sent it to me in June 2018 with a request to help him edit it down, as it was around 900 words. Mark and I know each other through SCBWI, and had swapped manuscripts in the past.
Jill: What made you decide to co-write?
Mark: After writing the first few drafts of what was originally titled CINDERFELLA (the title was later changed to CINDERELLIOT when it was discovered that there was a 1960 Jerry Lewis movie with the same title. It was thought that readers might get confused with the movie and the book.), I sent it to Rachel for feedback, as we were friends and had met through volunteering at Minnesota SCBWI conferences. After another round of revision, she suggested the idea of collaborating. I said yes, as I thought it was a great idea.
Rachel: When I started to edit that first draft, I fell in love with the idea and saw a lot of possibilities in the manuscript. A month later I sent Mark a note that read, "Hey! So I edited the first page of Cinderfella. It's significantly shorter, but the tone is changing. I'm also fearful that I'm rewriting it in my style – which is OK if you're interested in co-writing it…but this is your story and I want to honor your interests and wishes.
"Let me know if you want to keep going or if my edits are helpful for you to move forward by yourself. I just love this story and concept, and think that it could be absurd and silly and contemporary and still stay true to the Cinderella style and fit into the 500 word structure."
I'm grateful that he liked my ideas and agreed to co-write with me!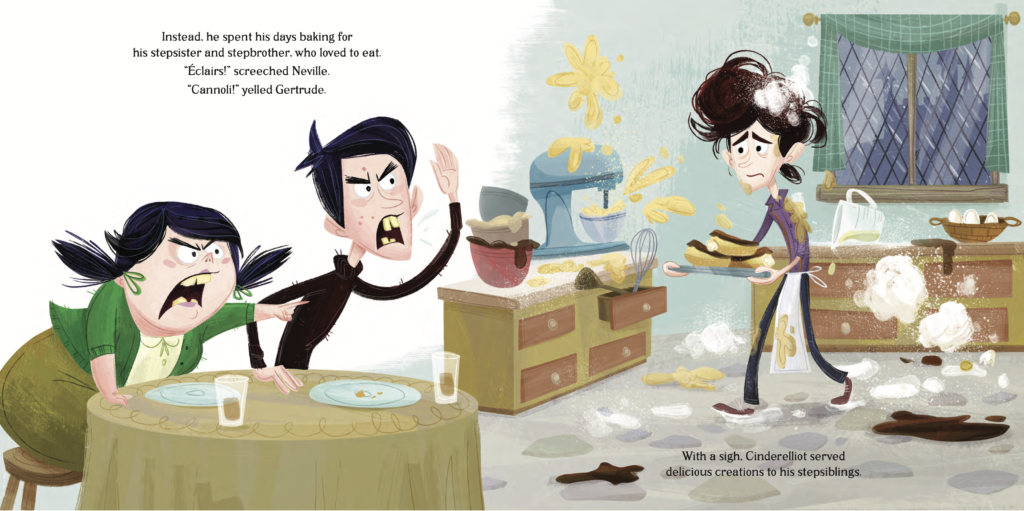 Jill: Tell us about that process. How did it actually work? Were there ever awkward pauses while you worked out plot disagreements? Or was it smooth sailing all the way? Did you brainstorm the entire thing first, or just start and see where it led?
Mark: The early drafts of CINDERELLIOT had him competing in a sporting competition. He had two stepbrothers where one hunted and the other swam. Cinderelliot did wood carving. I got stuck on the hunting aspect, as I knew it wouldn't go over very well in schools. Rachel came up with the idea to change the sporting theme to a baking competition. We decided early on to change the stepbrothers to one stepsister and one stepbrother. We also needed to think about reframing what Cinderelliot "wanted." Ideas were tossed back and forth through a few drafts sent through email. Once we had that first part of the story, his "want," then we kept working on drafts from July 2018-Spring 2019. Along the way, we got a professional critique by author Rob Sanders (author of PRIDE: THE STORY OF HARVEY MILK AND THE RAINBOW FLAG, TWO GROOMS ON A CAKE, and others.) Rob was very helpful. He encouraged us to use more baking vocabulary, further develop Cinderelliot' s character and develop some scenes a bit more.
Rachel: We passed the manuscript back and forth through email over the next year, with periodic phone calls or coffee meetings. Personally it's easier for me to write/edit while by myself so our process seemed to work well for the both of us. We did have some different ideas about the plot, and Rob Sanders' two critiques proved invaluable for us to make choices and move forward. His main suggestions included compressing the timeline, moving the skills competition to a baking competition (we presented him with both ideas), and tightening the entire manuscript.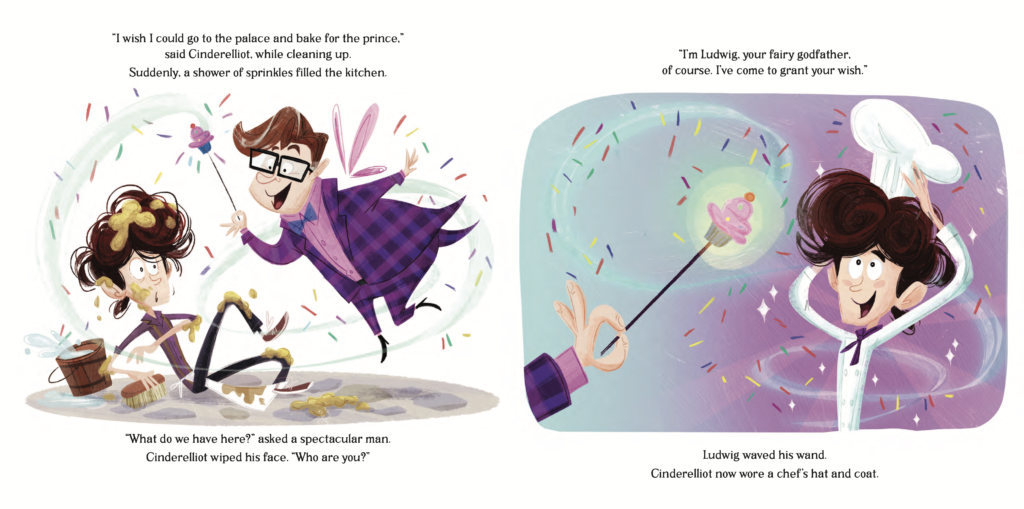 Jill: Why did you feel it was important to write this book?
Mark: For me, our book recognizes and affirms GLBTQ+ people, their relationships, and their families. I think it is affirming for kids, same sex couples, and straight allies. To me, the message is "love is love." It doesn't matter who you spend your life with. What matters is love. Not only was this theme important, but we also tried to add some humor with the stepsiblings and with Ludwig, the fairy godfather.
Jill: He is a hoot … I hear him as Nathan Lane.
Rachel: As advanced copies have made their way out into the world, adult readers (including our illustrator) have shared that CINDERELLIOT is the book missing from their own childhoods. Representation matters, and I'm thrilled to be part of a book that makes readers feel seen. Everyone should be able to fall in love and marry "their person," regardless of gender, race, or social status, just like Cinderelliot and Prince Samuel.
In addition, it was so much fun to write ridiculous characters like the bratty Neville and Gertrude, as well as the fabulous fairy godfather Ludwig. I feel we achieved a lovely balance of silly and sweet, and the illustrations are SO GOOD at capturing this. Kids need these types of books to help them fall in love with reading.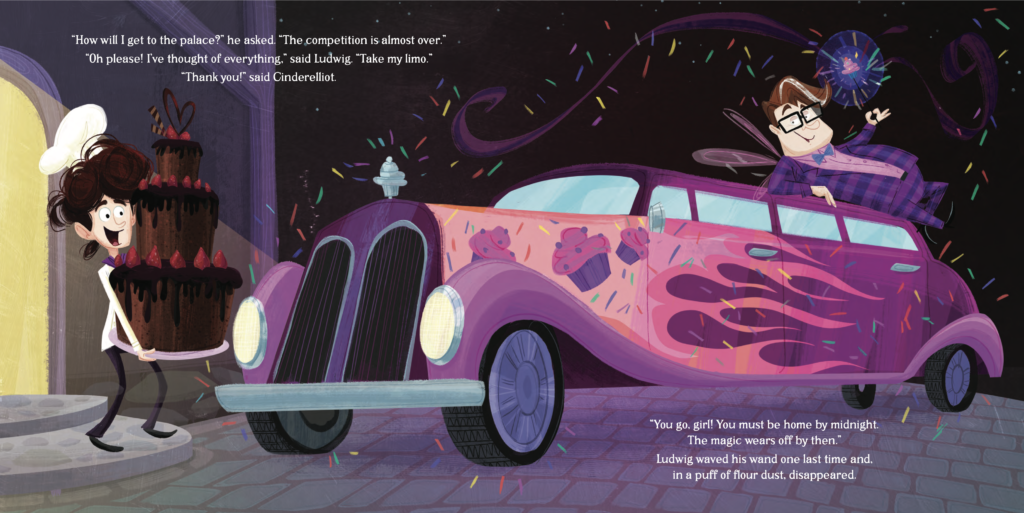 Jill: Since you're both DEBUT authors (Yay!), please tell us about each of your paths to publication. Quick and smooth, or long and rocky?
Mark: My writing journey began in 2005 when I saw an ad for a correspondence course, writing for children with The Institute of Children's Literature. I took that course and then another one the following year. My instructor for the second course was Connie Heckert, who at the time was the regional advisor for SCBWI-Iowa. She encouraged me to join SCBWI, which I did soon after finishing the writing course with her. Through her, I met you, Jill, and took your University of Iowa Summer Workshop-Writing Picture Books. Also, around this time, I took two children's writing courses at the Loft Literary Center in Minneapolis. In 2007, I received a letter from Spider Magazine saying they wanted to publish a story I had sent them the previous year. I was excited to get my first story published and work with an editor. The story came out in July/Aug 2009 and then reprinted in July/Aug 2020. As the years went on, I attended many Iowa and Minnesota SCBWI conferences.
I also attended the NY and LA conferences. I kept writing new stories, participating in two critique groups, and sent stories out to publishers. In 2009, I heard about the Hamline MFA program in Writing for Children and Young Adults program. After studying the program and the requirements needed to get admitted, I decided to apply. I began in January 2010 and graduated two years later. It was one of the best decisions I've ever made. The program helped me go to the next level in my writing. It validated me as a writer. I made many new connections with other classmates, faculty, and alumni. From 2012-2019, I continued writing new stories, and sending them to publishers who would accept unsolicited manuscripts. I have over 250 rejections. There were many times I wanted to give up, but I kept at it because I really wanted to get published. Along the way, I had several stories that editors asked for revisions or took my story to acquisitions. This gave me hope and encouraged me to keep moving forward. Unfortunately, those editors ended up passing on my stories. It has been a long and winding journey with high and low points. One recent high point, besides the wonderful publication of CINDERELLIOT is that I signed with agent Emily Keyes of the Keyes Agency earlier this year.
Jill: Signing with an agent IS a huge step, Mark! Congratulations!
Rachel: Oh, long and rocky…I've been reading and writing as long as I can remember – in fact, my mom just discovered some books I wrote and illustrated in the second grade! Though it wasn't until after I finished my master's degree in arts management that I decided to take my writing seriously. Originally I thought I would be the next David Sedaris, but after taking a year of classes at The Loft Literary Center in Minneapolis, I realized that I hated writing personal essays. That November I participated in National Novel Writing Month and wrote 20,000 words of a really, REALLY bad young adult novel. I announced to everyone that "I'm going to write books for kids!" And everyone said, "Of course you are – that's all you read!"
Jill: I have no trouble believing that humor is one of your sweet spots, Rachel!
Rachel: In 2009 Michelle Obama and Dr. Jill Biden announced a new scholarship for military spouses, which paid for my first semester at the Vermont College of Fine Arts and helped me achieve my goal of earning an MFA in Writing for Children and Young Adults. It was at VCFA that I fell in love with the picture book form. Fast forward ten years (and many, many rejections) – while Mark and I were working on CINDERELLIOT, I signed with Dawn Frederick at Red Sofa Literary and she agreed to represent the book. And during the 2 1/2 years it took CINDERELLIOT to move from contract to publication, I wrote and published one biography and two middle grade mystery novels with Capstone Press. When I look at hard copies of my four books, I can hardly believe that I've finally achieved my dream of being a published author.
Jill: Congrats to you, too, Rachel! Sounds like you're on your way! THANKS, Mark & Rachel, for hanging out with us today! Readers, if you'd like the chance to win a copy of CINDERELLIOT, you can enter by leaving a comment for Mark and Rachel! Learn more about Mark and/or Rachel on their websites:
Speaking of WINNERS, the winner of my new book, JACK KNIGHT'S BRAVE FLIGHT, offered in my post last month, is Donna Weidner! Congrats, Donna!