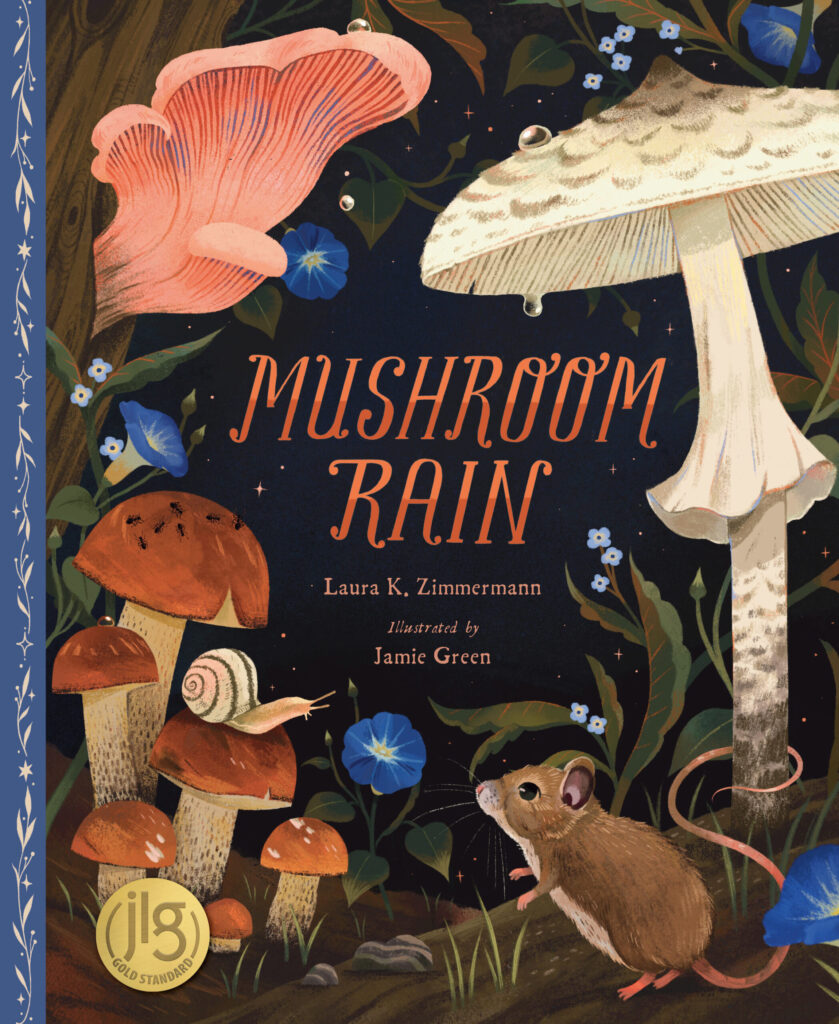 A dozen years ago, my neighborhood improved vastly when the town stretched a footbridge across the nearby marsh and built Windsor Castle Park, which includes miles of woodland and riverside trails. I love finding mushrooms along the trail. They seem to come in hundreds of colors. I was drawn to the cover of MUSHROOM RAIN when I spotted it on Instagram. This gorgeous book by Laura K. Zimmermann and illustrated by Jamie Green was published in March by Sleeping Bear Press. In a starred review, School Library Journal raved: "This showstopper of a picture book will wake kids up to the wonders of the botanical underpinnings and incredible aspects of the science of mushrooms…Pictures and words fizz with the magic that surrounds the quiet work of mushrooms and should send kids looking to learn more."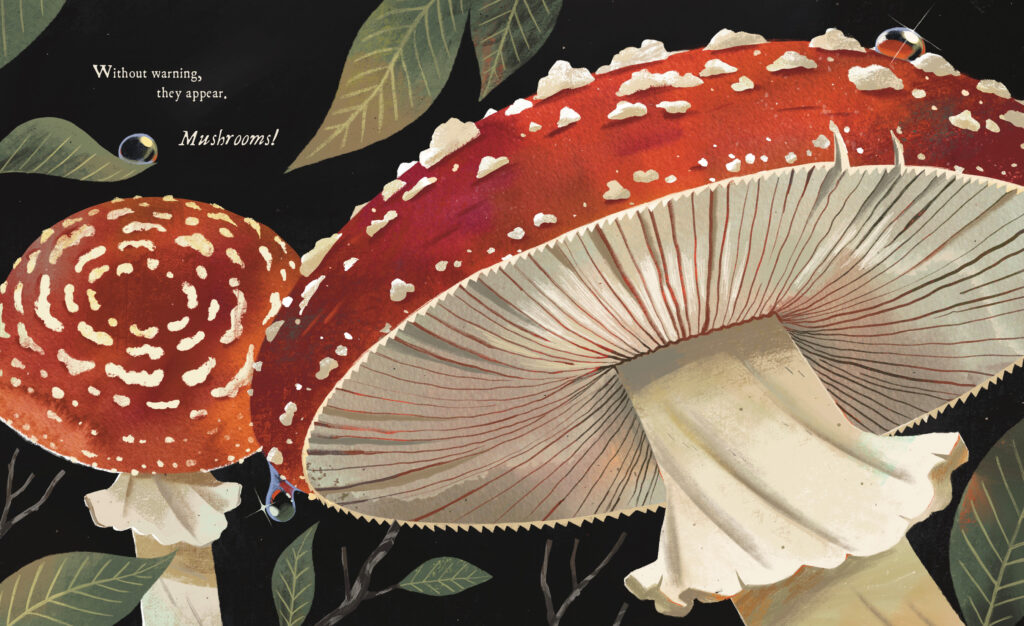 Congratulations, Laura! This is such a beautiful book! I'm so happy I spotted the cover on Instagram. I'm fascinated by mushrooms. I think one of the reasons your cover attracted me was because just an hour before I'd been revising a manuscript that mentioned fairy rings, those enchanting mushroom circles that pop up after damp weather.
Thank you, and thank you so much for having me!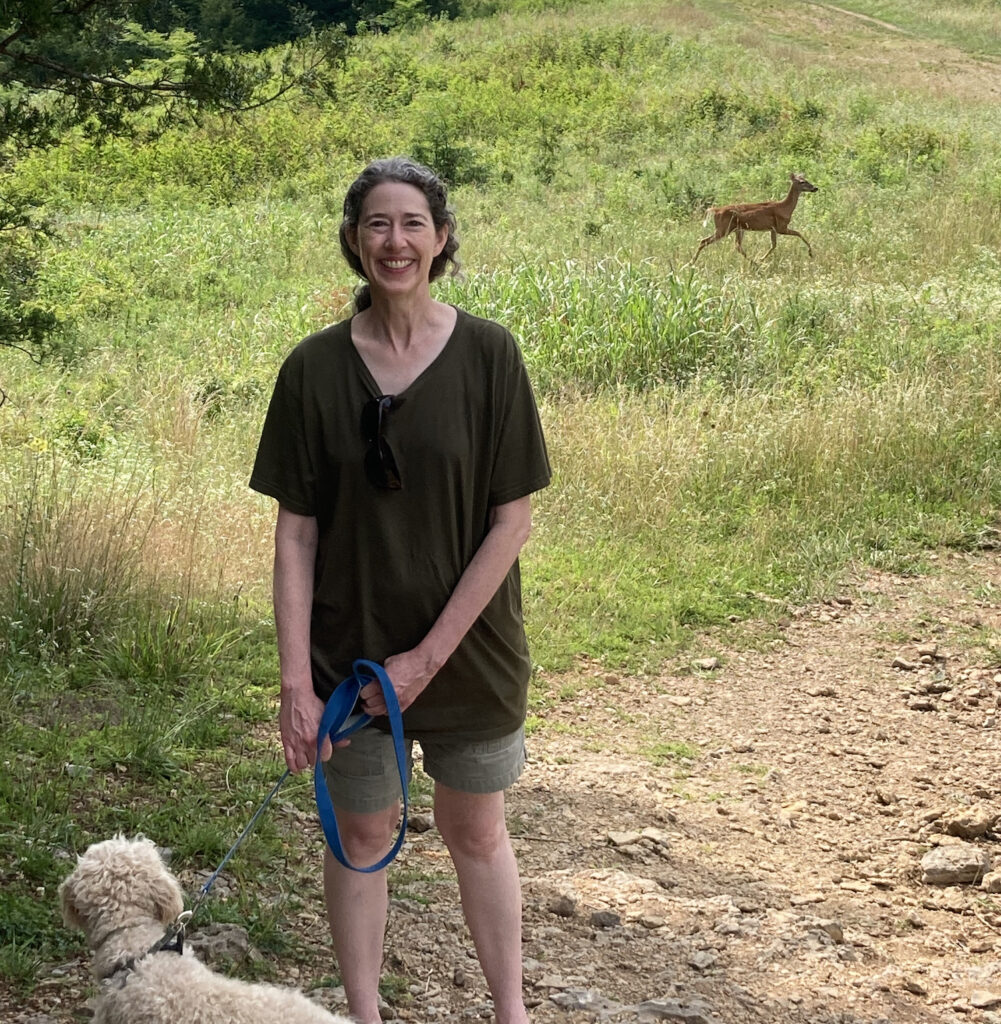 I think if I had the choice now, I'd have gravitated more towards a science than an arts career. Tell us a bit about your multi-faceted career.
There are so many cool things in the world, I have never been particularly good at just sticking with one. Being a scientist, teacher, and children's author allows me to discover and travel down all sorts of marvelous rabbit holes. Although the various topics can be quite different from each other, they share common threads—research, curiosity, and kids, in one way or another.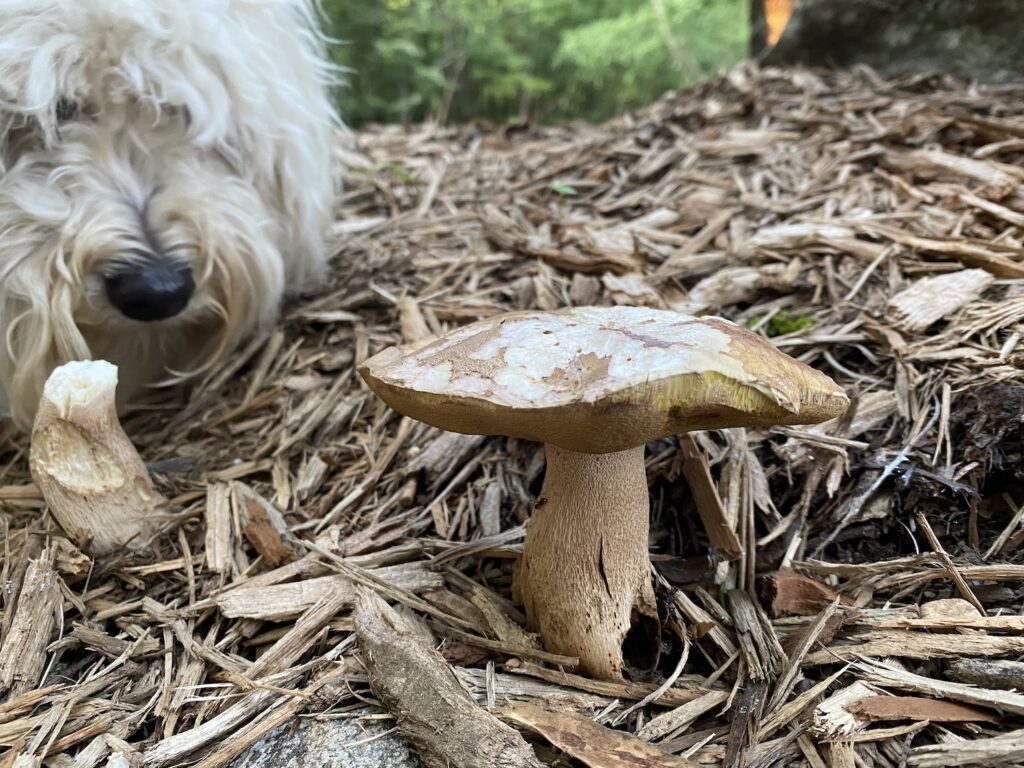 Your prose in this book is lovely. I'm impressed, because I know academic papers are not quite so lyrically written. As it happens, this week my younger son has taken a short working vacation to write his dissertation prospectus (organic chemistry.) When I first tried writing anything that wasn't assigned, I remember finding it hard freeing myself of the academic style that had been a requirement for school work. It's such a stubborn habit! I suppose he needs that style now, but can you offer my son any advice on how to throw off that academic voice for non-dissertationy projects?
Thank you. The lyrical prose in Mushroom Rain is certainly different from my academic writing. I teach APA style in my research classes and early on students often struggle to shift their voice to conform. But what I have discovered, and what I tell them, is that writing of any sort will help improve their writing in others. Learning to write in a lyrical voice has helped my academic writing dramatically, and my background in academics has influenced my kidlit style. However, that doesn't stop me from falling into technical writing ruts. When I get lost in academic writing, the easiest way to find my way back is to grab a big pile of kidlit and start reading.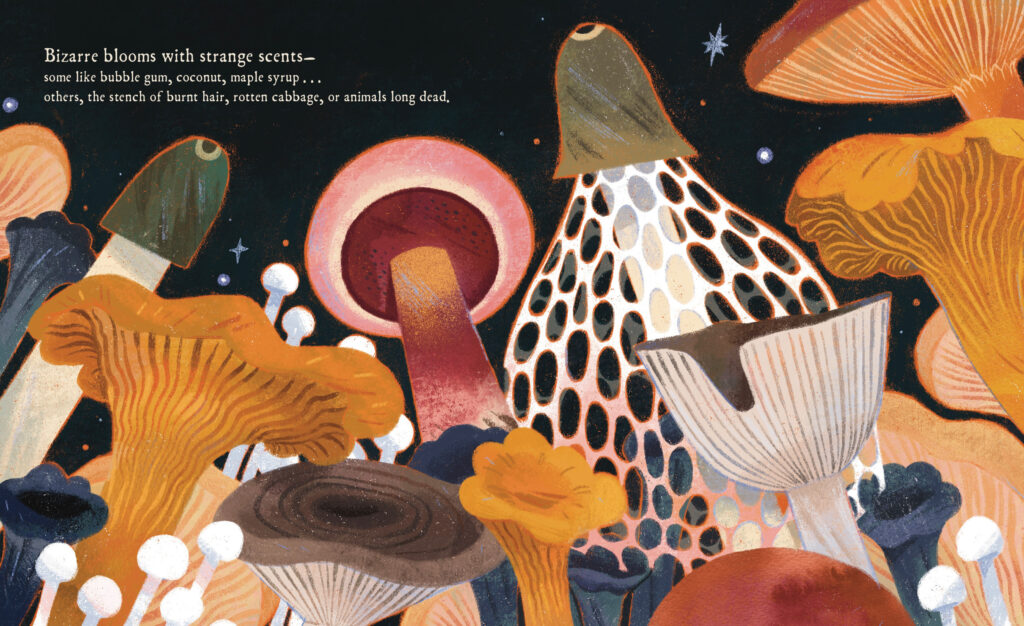 What wonderful advice! Now on to the subject of the book! Did you learn anything that surprised you? Anything that led you in a new direction?
Everything about mushroom-producing fungi surprises me. I knew very little about them until I studied Beatrix Potter's research and then delved even further into their world for Mushroom Rain. Their tie to rain was based on an article I stumbled upon—that was the article that took me up to the sky and back again.
Jamie Green's illustrations are stunning! Every single spread could easily be an art poster I'd hang on my walls. Since this was your first picture book, tell us about any revelations along the way to holding that first author copy in your hands.
Jamie did such a beautiful job on the book. Their illustrations built on my words to create a magical world. Although Jamie and I had no direct contact while we were working on the book—my communications went to my editor, Jamie's to the art director—I did get to see the art at different stages which I loved. It was so interesting to see the book evolve—my words shaping Jamie's illustrations and their art shifting my words was a truly amazing process. Add to that the contributions of the many wonderful folks at Sleeping Bear and you get the book living in the world today. And even though I knew what the final book looked like digitally; the physical version is even more lovely.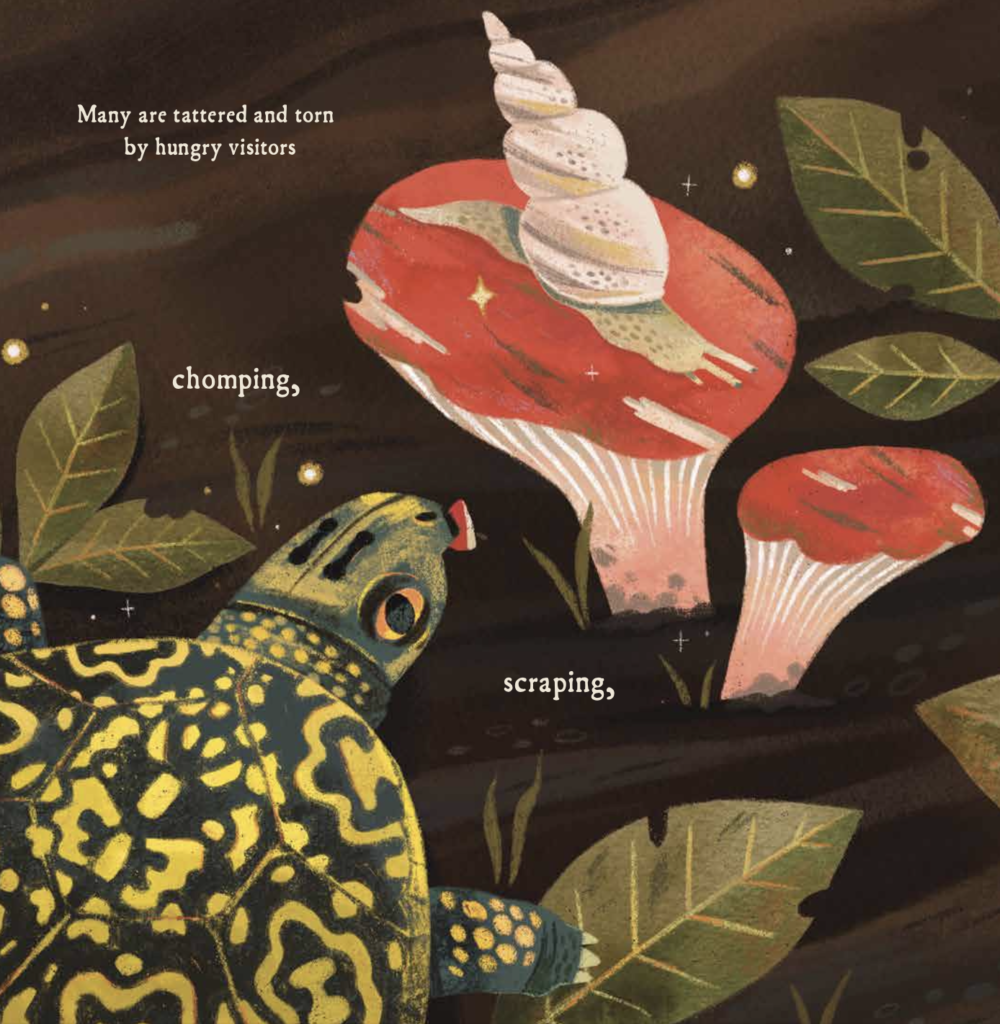 What is your favorite thing that kids have said about your book?
Of course, choosing just one is hard, but since we began with my multifaceted career… At one of my school visits a class wanted to know what I did when I wasn't writing and I told them I studied early childhood. One child's response, "That's creepy!" I did try to explain why it wasn't, but I don't think they believed me. I am hoping we can get that class connected with one of mine in the spring so they can evaluate it for themselves. I will make sure to choose one of my less creepy days. (Imagine a grinning emoji here since the blog doesn't seem to allow for that.)
Thanks so much for stopping by, Laura. Readers, Sleeping Bear is offering one free copy of MUSHROOM RAIN! (US residents only, please, and no P.O. boxes since they ship UPS.) Enter for the random drawing by commenting below by September 10th, 2022. Maybe tell us: What's your favorite woodland find?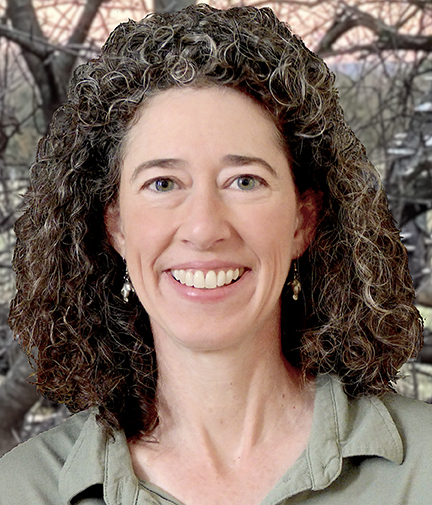 Laura K. Zimmermann is a college professor by day and children's writer by night. She has a PhD in developmental psychology and has published numerous academic articles as well as nonfiction stories in children's magazines. MUSHROOM RAIN is her first picture book. When she's not writing, Laura can be found teaching and conducting research at Shenandoah University or wandering through nature with her Goldendoodle, Tivy. She is represented by Kaitlyn Leann Sanchez at Context Literary.
Find Laura at these links:
Social Media: Twitter, Instagram, Pinterest
And explore her website — full of wonderful supplemental materials — here: https://laurakzimmermann.com/