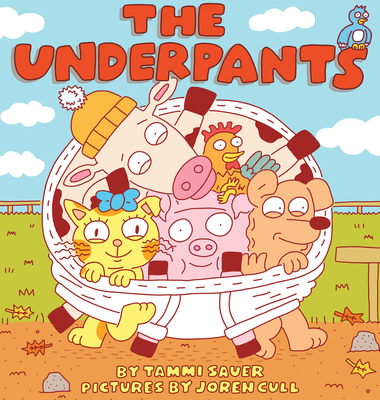 Oh, people. I am ridiculously excited about this book.
Let's take a moment to read these fine words:
"Cull's illustrations resemble a kooky comic strip, perfect for Sauer's goofy humor… Sure to elicit laughter."
— Kirkus Reviews
"Riotous… the participants seem deeply satisfied by this unadulterated silliness — and readers should be, too."
— Publishers Weekly
How happy am I to be associated with "kooky," "goofy," "riotous," and "unadulterated silliness?" Answer: very.
To introduce you to The Underpants, I hereby give you 10 behind-the-scenes facts:
In the spring of 2020, my editor at Scholastic, Ken Geist, suggested I try writing a book that was a take on The Mitten and call it The Underpants.
This might have been the best suggestion I have ever received in my entire life.
The word "underpants" is comic gold.
Sometimes, it seems to take forever to hammer out the characters, plot, setting, humor, voice, and feel of a book to get it juuuuuuust right. This was not one of those books. I knew exactly what I wanted to do and how I wanted to do it the moment I had this gift of an idea in my hot, little hands.
Back in the mid-nineties, I was a library media specialist. I loved sharing Jan Brett's version of The Mitten with my pre-k kids. I would read it. Then we would act it out with each kid playing the role of an animal and a big blanket playing the role of the mitten.
At the end of The Underpants, I included an author's note that shares some history about The Mitten. Not only was it written by Jan Brett, but an earlier version was written by Alvin Tresselt. Upon further research, I discovered even MORE versions. These books (and mine) are based on an old Ukrainian folktale. The original author is unknown.
This is Joren Cull's first(!!!) picture book.
Joren Cull is my hero.
The Underpants is dedicated to teachers everywhere–especially these ladies: Miss Rome, Mrs. Werner, Mrs. Zellmer, Mrs. Piatt, and Mrs. Colwell. Yes, I am almost 50 years old. Yes, I am still unable to call my teachers by their first names. 🙂
One of the best lines I have ever written occurs in this book when Cow joins Kitty, Dog, Pig, and Rooster. That line is as follows: "It was a tighty-whitey fit."
GIVEAWAY: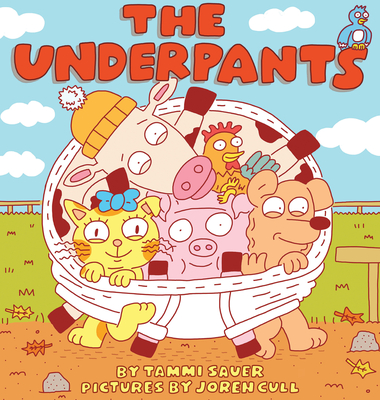 For a chance to win a copy of The Underpants, please comment on this post and/or share the post on Twitter. Be sure to tag @SauerTammi.
For an EXTRA chance at winning, simply follow Picture Book Builders on Instagram and like the post for The Underpants.
WINNER: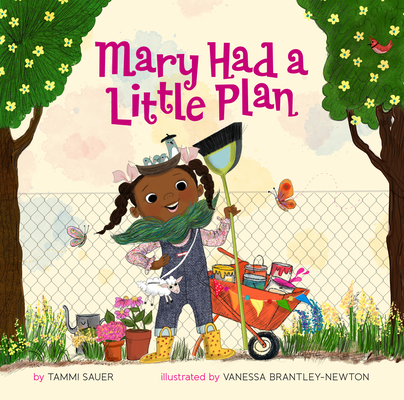 Congratulations, Kimberly Beek! You won a copy of Mary Had a Little Plan.