I'm always happy for the opportunity to catch up with one of my former editors, now an author herself many times over, Alli Brydon. Her new book with Two Lions, BRIGHT WINTER NIGHT, is a stunner.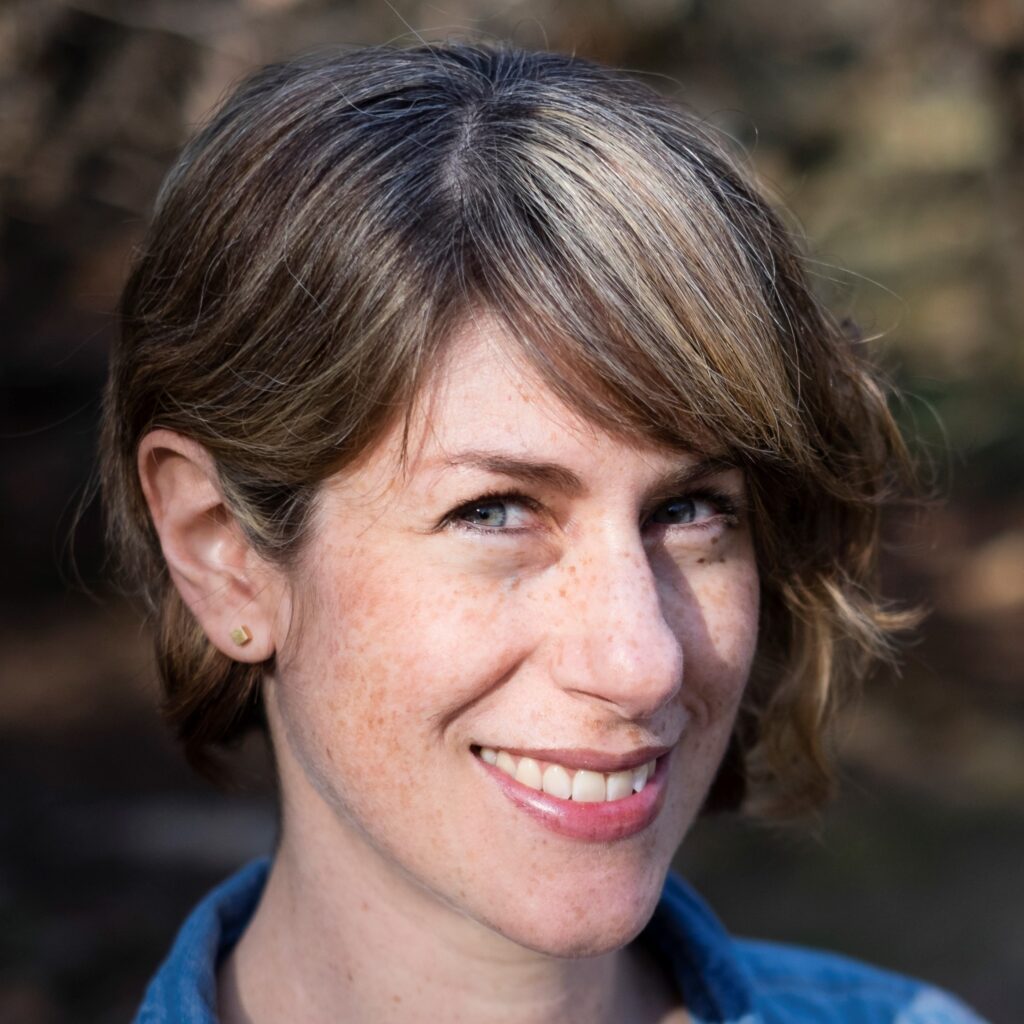 The story features Alli's lovely poem detailing how a group of forest friends work together to build a sleigh on which they'll travel to see the northern lights…if they can get there on time, and in one piece. One of the things that makes this book such a fun read aloud is that, sprinkled among lyrical lines of beautiful imagery are clever, humorous insertions that make you smile. Like this one, as the animals are each contributing building materials …
Falcon's built-for-zooming wings/work fast while wrapping silken strings.
Wren flutters while she chirps and jigs,/determined as she lays down twigs.
Beaver's got 'em so he lends/some solid, hefty boughs to friends.
Somehow, illustrator Ashling Lindsay has made this wintry setting dreamily inviting and lusciously warm. Each spread is lush with multiple layers of blue, but then she inserts pops of pinky-orange tones that feel friendly, somehow — perfect for a friendship story, yes?
JE: This feels like a very personal project, Alli. Tell us what inspired it.
Alli: It is a personal project for the fact that its core theme is friendship. The forest creatures in Bright Winter Night come together as friends to work toward a common goal: building a sleigh to race off and see the Northern Lights all together.
I value my friendships so highly, and I love and respect my friends both old and new. I'd also love to go see the Northern Lights with a group of them one day!
The inspiration for this story came from a friend, actually. She challenged me to write a rhyming picture book set in a woodland, with lots of adorable creatures. Bright Winter Night was built upon the bones of that idea.
JE: How interesting to provide a story challenge to writer friends! I've never done that, but now … hmm. The cool color palette, scattered with shots of deep pinks, creates the perfect winter feel: cold, but warm with friendship. Given your editorial and agenting experiences with text and art, did your editor seek your input on illustrators?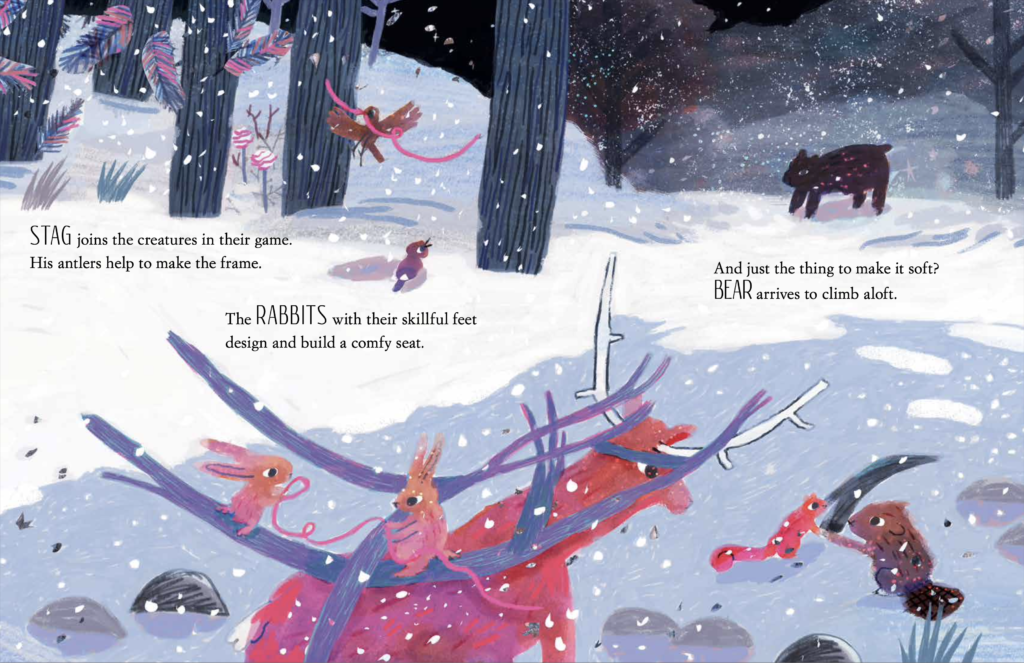 Alli: First of all, isn't Ashling Lindsay's artwork completely stunning? I am constantly in awe of the scenes she created for this book, just like I am in awe of nature. The cool color palette does create the perfect winter feel, but it's also warm as you say. How the heck does she do that? And those darn critters are so freaking cute.
My editor, Marilyn Brigham, did not seek specific requests or recommendations from me on illustrators, but she did run choices by me. And I would choose Ashling again, every single time.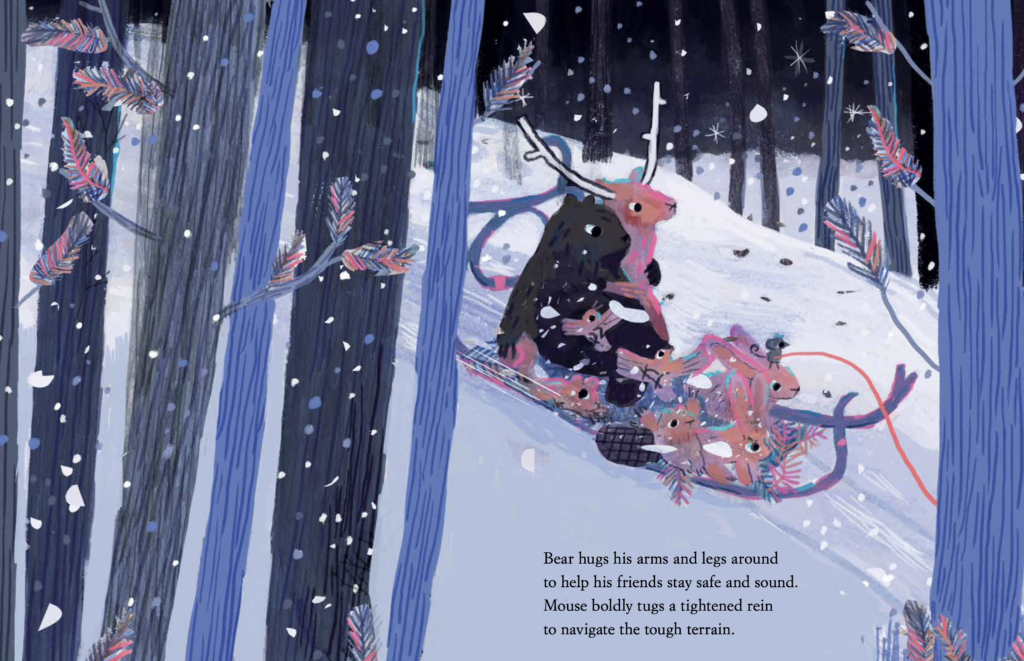 JE: Agreed. They're pretty adorable. How has your move to England affected your writing and your career?
Alli: What an interesting question! My move to England (from New York, in 2018) has affected my life in numerous ways, so I suppose it has also affected my writing and career. One thing I've noticed is that being in England has made me a bit more chill. The pace where we live (in a little market town in the southeast called Farnham) is slower. And the British savor certain things that feel sacred and take time: a steaming cup of tea, the bluebells in spring, classic children's books, a slow walk in nature. British people walk just for the sake of walking. I love that, and our family has adopted that practice. Thankfully, we have tons of beautiful, green, rolling countryside at our doorstep. The move to England has definitely made me slow down and take notice of the natural wonders around us, and it would seem I've brought that to my writing!
JE: What can we look forward to next?
Alli: Next up is another installment in National Geographic Kids' series Little Kids First Nature Guide, a book called Explore the Beach. It's a nonfiction field guide for preschoolers about the beach as a habitat, publishing in May 2023. This is a book from my heart because I am from a beach town on Long Island and constantly feel the pull of the ocean waves and the sand in my toes. I've even dedicated the book to my entire high school graduating class!
Later in 2023, my nonfiction book for middle graders The Great Big ME Experiment publishes. The book contains 75 activities—from sweet to silly to serious—that will help the reader discover important things about their body, brain, feelings, and world. For this one, I got to write about boogers and farts, but also empathy, feelings, and hopes for the future. It's the kind of book I wish was around when I was a pre-teen, to help me realize I wasn't a total weirdo.
JE: Sounds awesome! Thanks for stopping by, Alli.
Bio: Author Alli Brydon is inspired by natural wonders and what they can teach us, and she strives to bring that magic to the books she writes for children. Recent picture books include Bright Winter Night, illustrated by Ashling Lindsay, Lobstah Gahden, illustrated by EG Keller, and Love Around the World, illustrated by Wazza Pink. She also writes nonfiction about creatures, from insects to lemurs to humans. Alli is a children's book editor and a New Yorker who now lives in England with her family. Learn more at www.allibrydoncreative.com
——————————————————–
Readers, YOU have a chance to win a copy of BRIGHT WINTER NIGHT! Simply leave a comment below, and you're in the running!