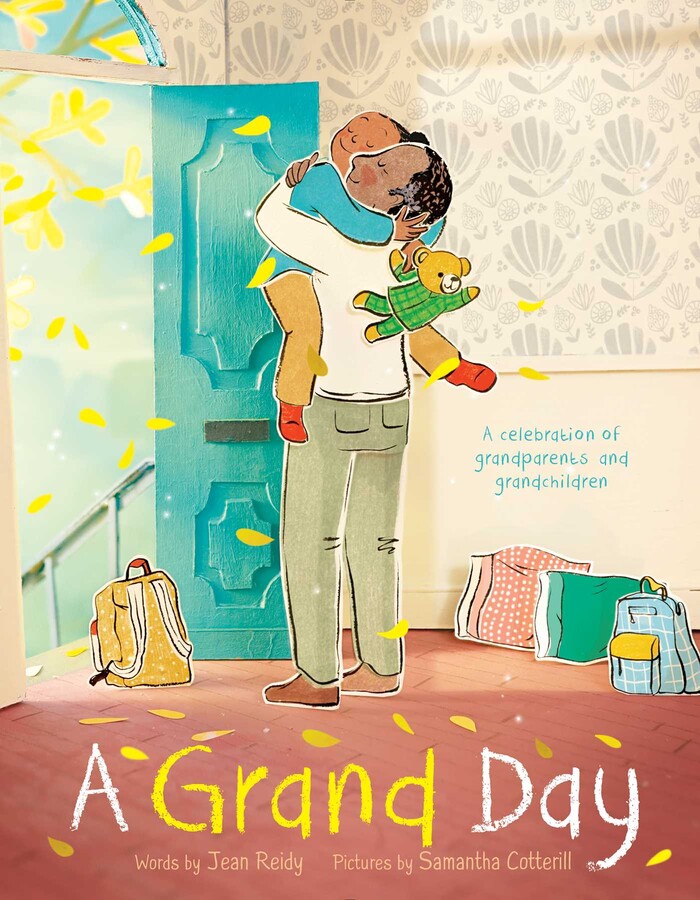 A million kisses!
Hugs! Hooray!
Our grand day begins this way.
Whether planting a garden, having a picnic, or baking, any day spent together is sure to be GRAND. This rhyming, warmhearted picture book celebrates the unique bond between grandparents and grandchildren in every kind of family.

~ A Grand Day flap copy
I hope everyone is doing well and enjoying these last days of 2022. I hope, too, that you were able to see friends and family this year (chosen family counts!) I was lucky to grow up visiting my maternal grandparents pretty often. Although we didn't really speak the same language, we shared a language of the heart. So I'm delighted to interview my friend Jean Reidy, whose new book, A GRAND DAY, is all about the love between grandparents and grandchildren.
Andrea: Welcome back to Picture Book Builders, Jean! In your interview with Jill last year about GROUP HUG, you said, "For me, writing a picture book starts with a spark." What was the spark that eventually became A GRAND DAY?
Jean: Hi Andrea! It's so great to be back. I love and learn so much from Picture Book Builders. And it's always such an honor to be a guest interviewee.
Ah, yes. The spark.
I always say that a "spark" is an idea that takes up residence in both my head and my heart. And I've found that being a grandparent does just that. It's been this beautiful extension of the love that I feel for my children combined with a more seasoned perspective. And while I never stop worrying, that perspective translates into a new-found freedom, an experienced ease and a devotion to time spent with my grandkids. I can't get enough.
So, as a doting "Nonnie" and children's author, I seemed destined to write a book on the subject.
But, as much as I cherish my grandkids and adored my own grandparents, I was always intimidated by the prospect of writing that book. I didn't have the words, or maybe more importantly, the frame in which to tell this very personal, yet universal, story. 
Then one day, I received an email from my agent with a single piece of art from the amazing Samantha Cotterill. (Oh gosh, how I adore her work! Have you read Thankful by Elaine Vickers and illustrated by Samantha?) The piece was a 3-D illustration of an older character (a grandparent) dancing with a younger character. And it was captioned A GRAND DAY. Bingo!!! There was the framework. What might a special day between a grandparent and grandchild look like? I could write that book.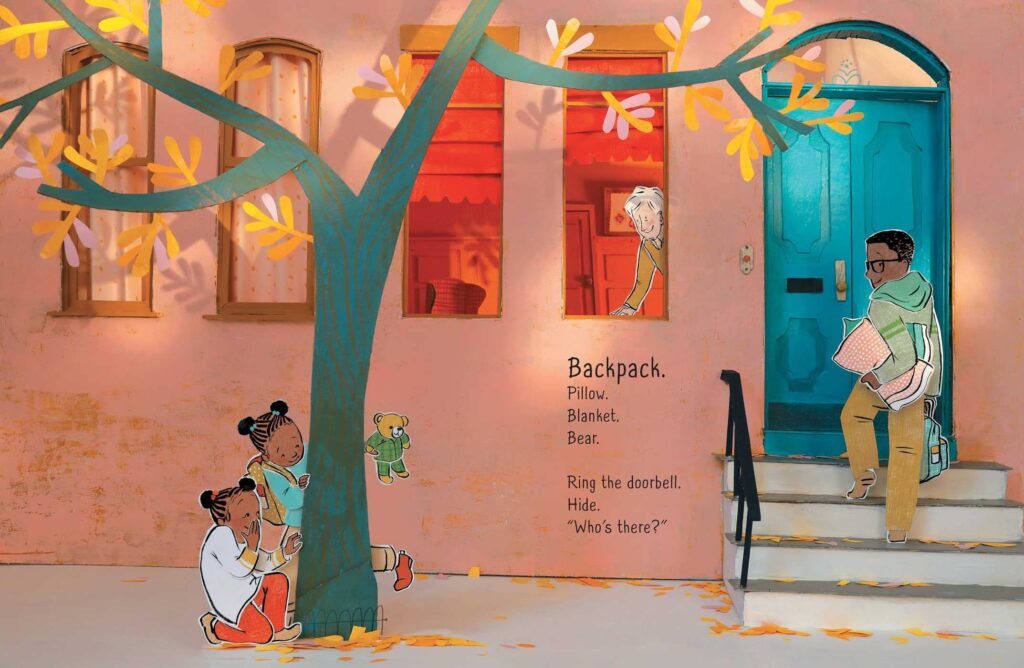 Andrea: I love that! It's a great reminder that looking at a work of art can be a wonderful writing prompt. And yes, THANKFUL is an amazing book! The subtitle to A GRAND DAY is "A celebration of grandparents and grandchildren," which got me thinking about how many of your books celebrate concepts such as love, kindness, bravery, and friendship. Each one is such a joyful affirmation. Can you talk about what draws you to write these types of stories?
Jean: I'm so happy that readers find joyful affirmation in my books. But I don't intentionally seek out stories with particular themes. So it must be that, somehow, these are the stories that are finding me. They make me smile. And I hope they make a young reader or listener smile too.
Andrea: Absolutely! Smile, and laugh, and in my case, shed a sentimental tear or two. You've published fifteen picture books–three of which were released this year alone! Has your approach to or process of writing picture books changed since your first book was published, and if so, in what way?
Jean: Certainly, after fifteen books, my well of writing, publishing and creative experiences is a little fuller. I've written more stories – published, rejected, in-progress and resting in a drawer.  I've presented at and attended more workshops. I've received more critiques and editorial letters and have had more enlightening conversations with my agent, editors and writing buddies. I've gotten to know more and more young readers and listeners. And I've read more books. 
And I'm so grateful for all of it.
But with that well so full, the process has become more … humbling. Hah! I sometimes think it was easier when I didn't know what I didn't know. And information overload can induce creative paralysis for me.
So, I've had to become more intentional about giving myself time and space to play, to journal, to write poetry, to brainstorm. Without judgement. Turning off my internal critic. Trusting the process. And challenging my story to be better, while remembering that I can't control all the variables in publishing. I've become a big fan of setting a timer and working on a piece using only a pen and paper. Try it. It's amazingly liberating. Although I'm still looking for my perfect little "pomodoro"! 😊.
But one thing never changes – I love working at my craft and bringing my readers and listeners the best story I can write.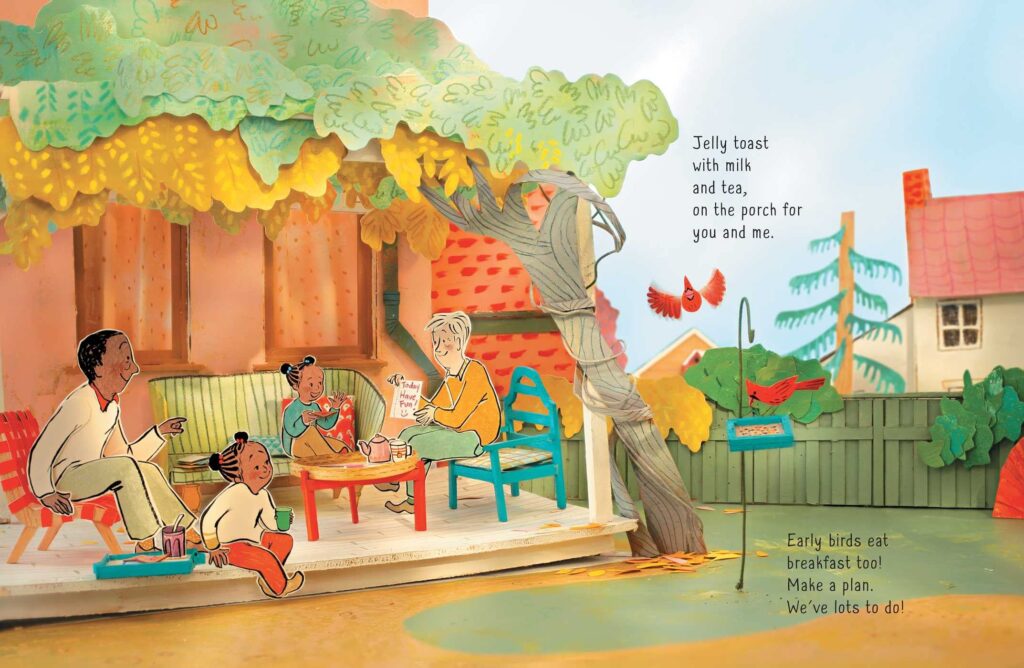 Andrea: I can't tell you how much I needed to hear that. I've been feeling a little creatively paralyzed myself, and allowing myself to play and daydream sounds like the way to go. (I think this will be my resolution for 2023!)
The 3-D art by Samantha Cotterill in A GRAND DAY is absolutely amazing. I particularly love how the different sets of grandparents/grandkids are of varying ethnicities and abilities. I know that typically authors and illustrators are kept apart. Did you and Samantha have any discussions about the characters and settings during the illustrating process? Or did you include art notes in your manuscript?
Jean: Editor Sylvie Frank and I discussed our hopes and dreams for this book, which focused on featuring many different kinds of families. Then I incorporated those thoughts into a brief art note at the beginning of the text. Sam was fully onboard with the vision, and her art went beyond our wildest dreams. I still get all warm and a little weepy (in a good way) every time I flip through the pages and see her gorgeous dioramas and heartfelt characters.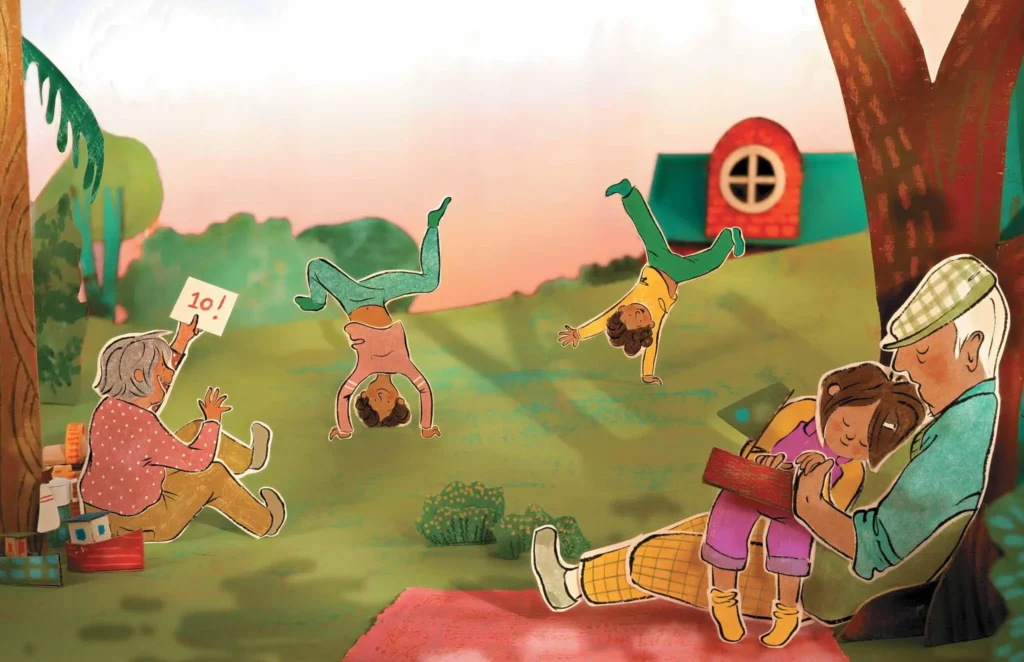 Andrea: A GRAND DAY is currently a stand-alone book. Are there any plans for a companion title? If not, what's next for you, book-wise? 
Jean: Ooooh!!! A companion title!!! I'd love to work with Sam and the team at Paula Wiseman/Simon & Schuster again. Now you've got my brain buzzing. 
But in the meantime, I have the third book in the WHAT WOULD YOU DO IN A BOOK ABOUT YOU? series with Joey Chou coming out from HarperCollins in June of 2023. It's called A BOOK ABOUT YOU AND ALL THE WORLD TOO. Plus, I have a few new picture books – that shall not be named quite yet (I'm very superstitious about that) – in progress. I'll be sure to keep you posted on any further news.
Andrea: I can't wait to hear all about them! And finally, what does your favorite Grand Day with your grandchildren look like?
Jean: Oh, gosh! Not too unlike the scenes in the story. But truly, any day with my grands is a "grand day" for sure. ❤️
Hugs to you, Andrea, and thanks so much for the fun, FUN interview!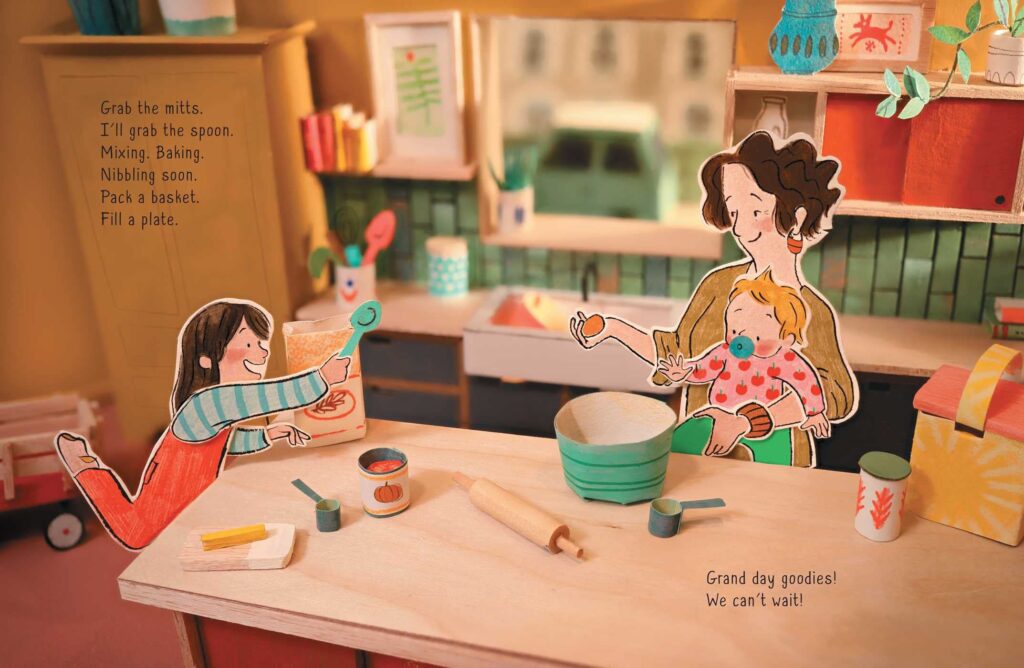 Andrea: Thank you so much for chatting with me, Jean! And to all our readers, I hope you have a Grand New Year! See you in 2023!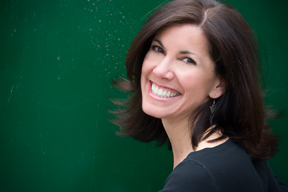 Jean Reidy is an adoring grandma and the author of many bestselling and award-winning picture books, including Sylvie and Truman, both illustrated by Lucy Ruth Cummins; What Would You Do in a Book About You?, illustrated by Joey Chou; and All Through My Town, illustrated by Leo Timmers. She writes from her home in Chicago where she lives just a short walk from her neighborhood library…which she visits nearly every day. Visit her online at jeanreidy.com.