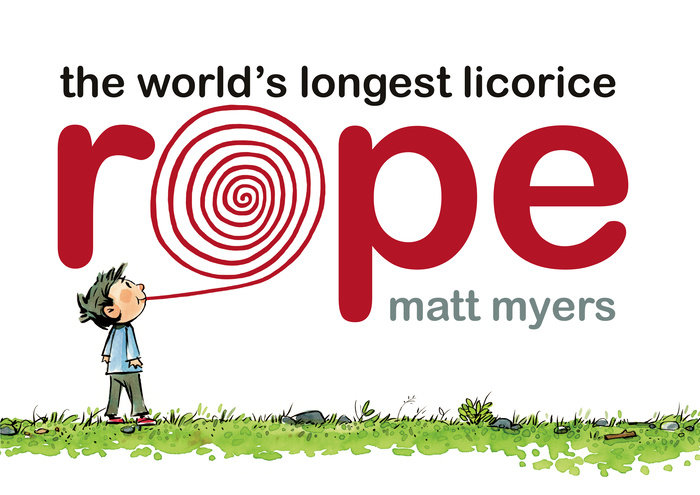 Hello, picture book people.
Let me introduce Matt Myers' The Longest Licorice Rope to you by way of the publisher's description:
When Ben buys a bag of licorice for just one nickel, he gets more than just a sweet treat. His search for the end of this long, long licorice rope takes him around the world. Ben is trailed by the enterprising candy seller who always shows up just in time to offer Ben help in overcoming the latest obstacle. For a mere nickel, Ben can have a hot air balloon to cross the ocean, snowshoes to plod through a snowstorm, a camel to scale a pyramid, or anything else he might need. But when Ben meets a friend at the other end of the rope, the two remind their sly prankster that friends are always free.
While I enjoy my fair share of licorice, a bit of adventure, and the celebration of friendship, this book stands out to me for a different reason. This book has a big and wonderful dose of absurdity.
Oh, how I love it when a book takes me by surprise with just the right moments of ridiculousness.
Early in the book, Ben finds nickels. Ben earns nickels. Ben ends up with a bag of nickels.
Ben takes these nickels to the neighborhood treat fair. Some of the options he sees are as follows:
Instant Soup–3 nickels–water included
World's Best Day-Old Pizza–12 nickels
Locally Sourced Mud Pies–no artificial ingredients–7 nickels
Then he sees a sign for the world's longest licorice rope and the price? ONE NICKEL! What?!
Sold!
Ben begins his journey to find the end of this very long licorice rope.
He encounters all sorts of challenges along the way.

Lucky for Ben, however, the girl who originally sold him that licorice is always available to sell him whatever he needs when he encounters an obstacle.
Ben needs to cross a river. The girl offers a boat rental for a nickel.
Ben gets stuck in quicksand. The girl offers a rescue service for a nickel.
Ben finds himself face to face with a lion. The girl rents him a carrot suit. Cost? You guessed it. A nickel.
Then we come up to these delightful lines:
"Lions are carnivorous," she said. "They would never eat a vegetable. Or licorice."
"I hope this works," Ben said in his best carrot accent.
Good gravy, people! The idea of Ben using his best carrot accent almost made me weep with joy. It was so perfectly absurd in this already absurd book!
Now go to your local bookstore or library, get this book, and discover what wonderful surprise is at the end of this licorice rope. It won't even cost you a nickel.