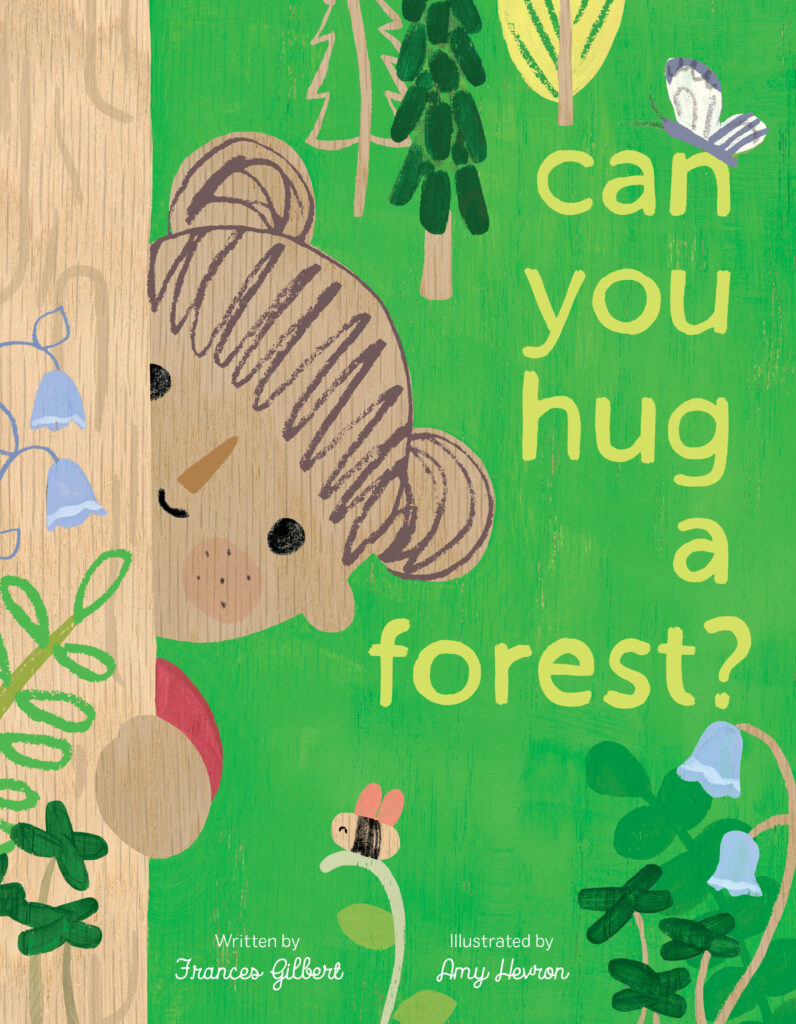 Andrea: It's my favorite kind of birthday–a book birthday! Today on PBB we're celebrating Frances Gilbert and her latest wonderful picture book, Can You Hug a Forest? Hi and happy book birthday, Frances! It's great to have you back on Picture Book Builders! Can you tell us about Can You Hug a Forest?
Frances: Thank you so much for having me back! It's an exciting day.
Can You Hug a Forest? is an invitation for children to think about nature—and forests in particular—with a sense of love and kindness. The phrase "tree hugger" has always had a negative tone to it, but I'm taking it back in this book. I'm encouraging readers to give all the elements of a forest—trees, leaves, flowers, ferns, bugs, and even paths and streams—a big, grateful squeeze to say, "I am glad you are here."
Andrea: I grew up in a small town and your book brought back so many warm memories of wandering through a local nature preserve. What was the, uh, "root" of your inspiration for this book?
Frances: I also grew up in a small town and spent a lot of time in nature preserves. My mom was a big hiker, and also a great finder of free things for our family to do, so we went tromping through forests most weekends. Later, when I was a student at the University of Toronto, I spent my summers working in the forestry industry in northern Ontario as a tree-planter. It's a terrifically hard job, physically and mentally, but it made me appreciate forests more than ever. I've dedicated the book to all the tree-planters.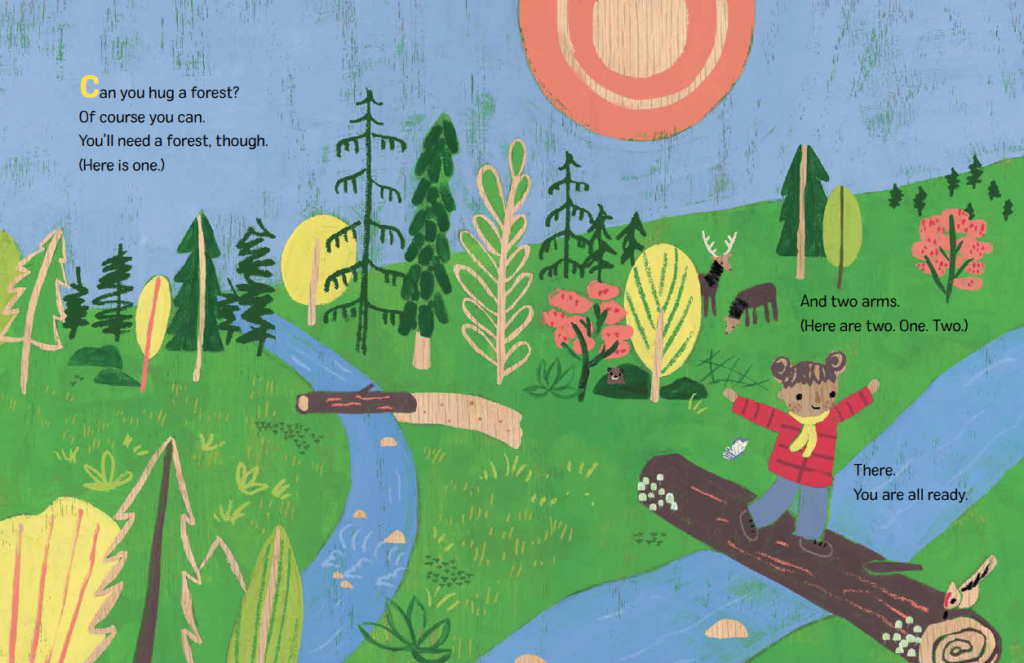 Andrea: Yay for tree-planters! And for tree huggers! You interpret the verb "hug" in many different ways in the book. What led you to use this device and was it hard to get away from the arms-wrapped-around-something definition of a hug?
Frances: When I decided to write this book, I told myself to put on a sort of "hat", to take on a personality that would set the tone for the writing. I thought of all the hippie-ish books I loved as a child of the '70s, such as Rain Makes Applesauce, and told myself to write it as if I were one of those authors.
That's what brought me to the idea of hugging and spreading love, and I decided to free myself and think of hugging metaphorically, as in sending warmth out into the universe. The very act of being in a forest and appreciating its beauty is like you are hugging it. Sure, you can't physically hug a path, but you can thank the path with each footstep for seeing you safely along on your journey.
So, in that way, it wasn't hard to get away from the literal definition of "hug", because I told myself before I started that I would write this book as a free spirit. I loved the process of channeling a specific kind of voice. It was liberating and I enjoyed inhabiting it.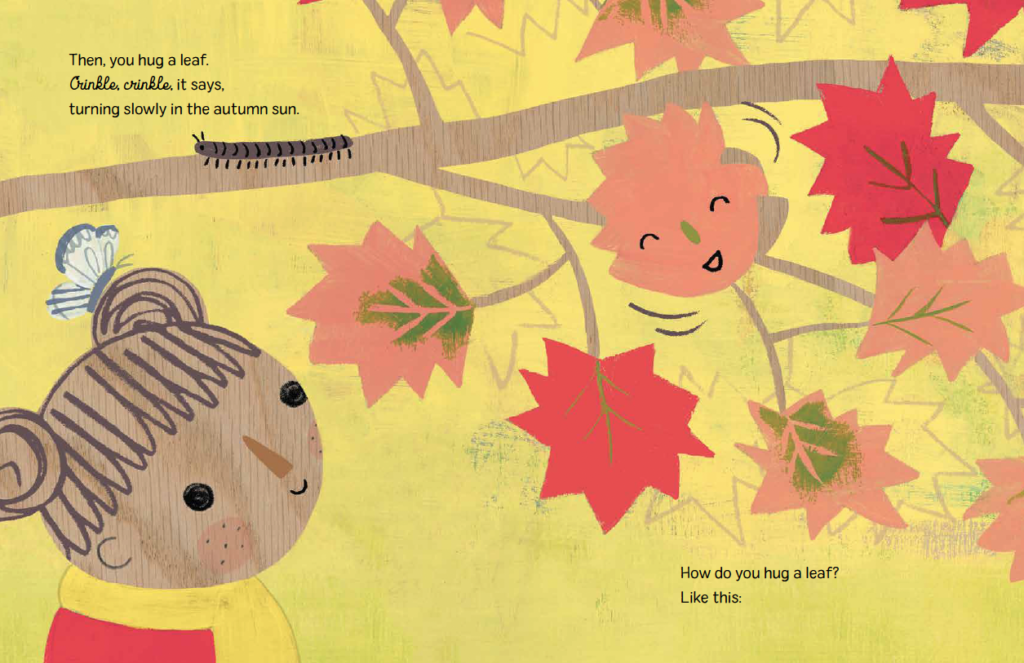 Andrea: I love what you say about "channeling a specific kind of voice," in this case, a free spirit who directly addresses the reader. I've been seeing more picture books written in 2nd person POV. How do you decide which POV to use for a story? 
Frances: I enjoy writing in the 2nd person, because it feels like the reader is sitting right in front of you. It has a very immediate quality, very engaged. I want each child to feel like this story was written for them, and the 2nd person helps accomplish that closeness.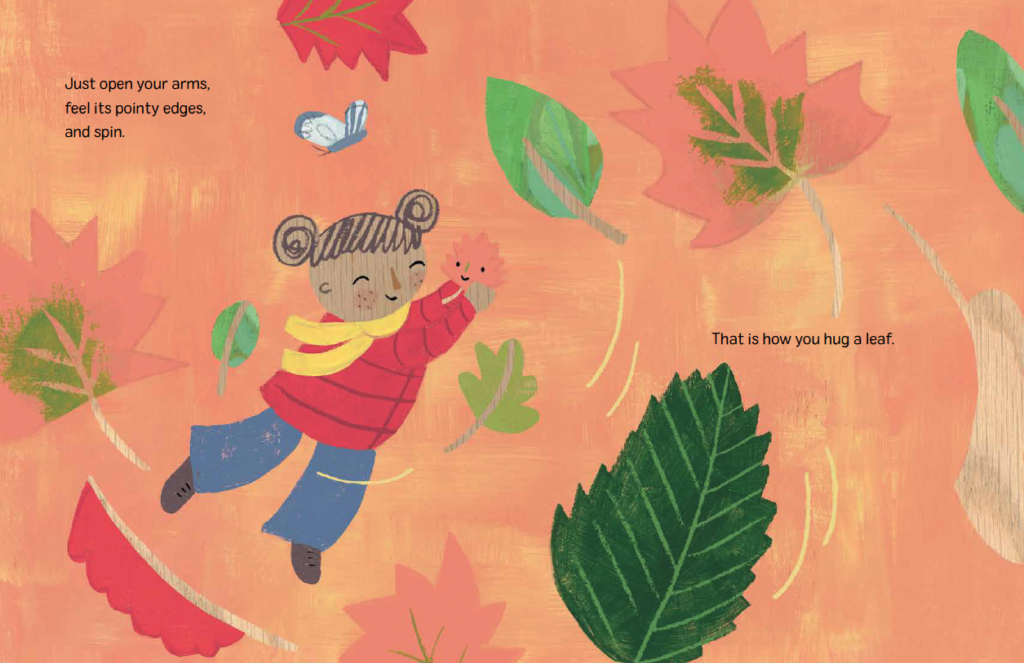 Andrea: Your book definitely draws the reader in while also encouraging them to interact with the forest. While Can You Hug a Forest? could be described as a quieter book than Go, Girls, Go! or Too Much Slime!, it's by no means silent. You're so great at inventing and including onomatopoeia in all your books! Could you share a little about your thoughts and process for including sound words? 
Frances: I included onomatopoeia in Go, Girls, Go! because it's a book full of vehicles and it felt right for it to be noisy. And in the beginning of Too Much Slime!, there's a scene where the slime has to knock on the door of a house, and it occurred to me that slime wouldn't be capable of making a knocking noise, so I had to invent all kids of gooey, thwacking noises instead, and I got really carried away! I don't know if I deliberately set out to add noisy words to Can You Hug a Forest?, but forests are full of noise—rustling leaves, babbling brooks, buzzing bees, crackling twigs—so as I started writing, it felt right to add them. I guess it's becoming my thing!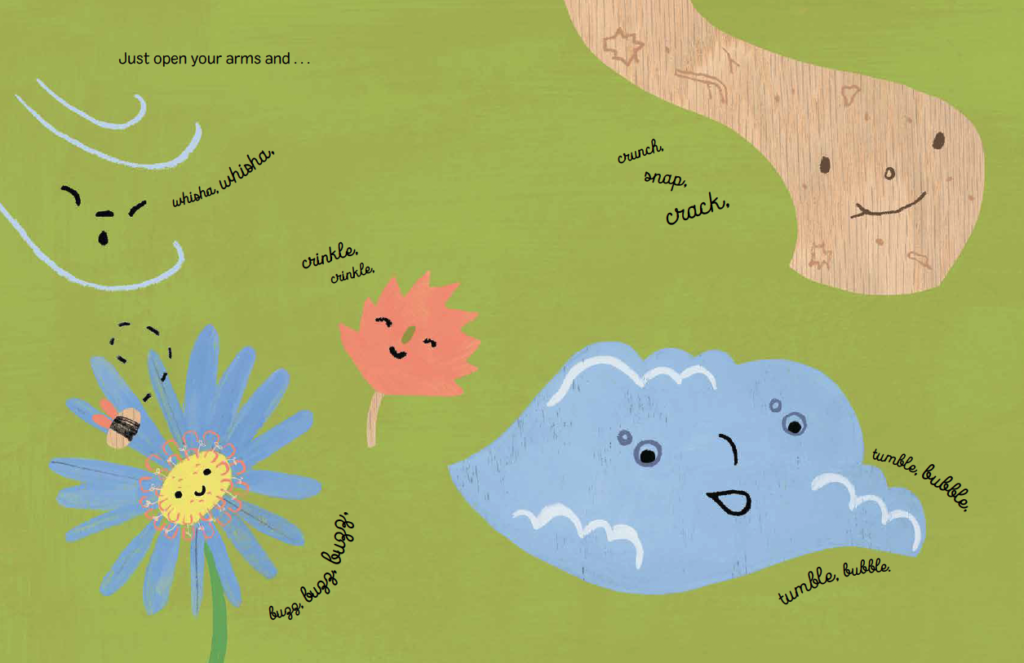 Andrea: To me, your book is not just about being mindful and enjoying nature, but also about environmental stewardship – to "hug" or otherwise take care of a forest. Was that your intent? What are you hoping young readers will take away from the book?
Frances: Yes, exactly. I want readers to feel a kinship with forests, one that makes them feel eager to look after them. There's a song on my favorite Christmas album, John Denver and the Muppets: A Christmas Together, called "Alfie the Christmas Tree", which has a beautiful line: "Say a prayer for the wind, and the water, and the wood—and those who live there too." That sense of loving nature and being its protector is what I'd like this book to impart.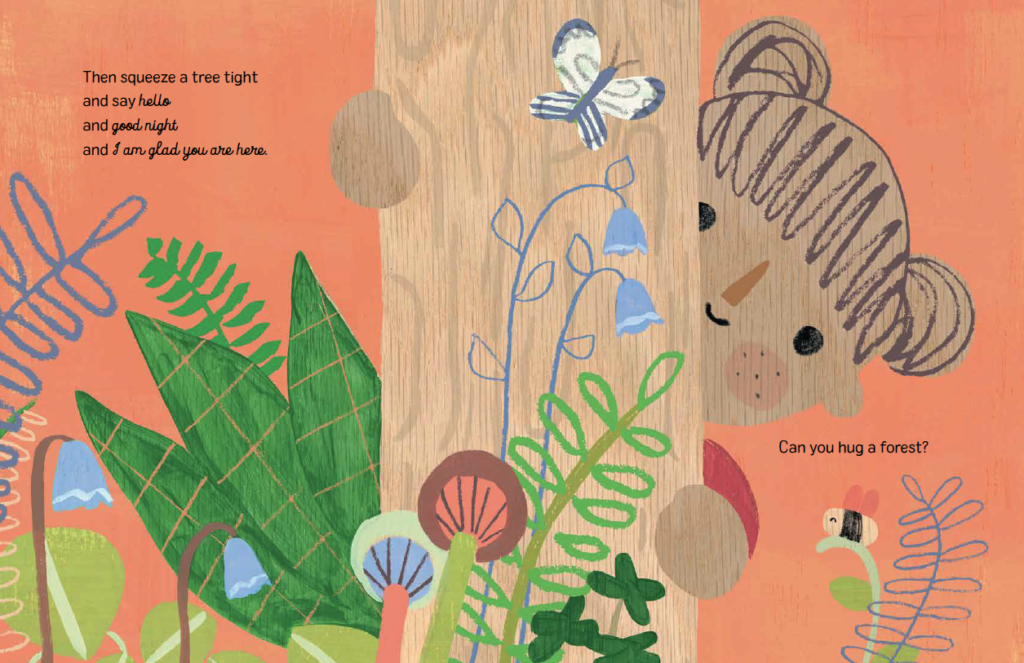 Andrea: I think you've perfectly captured that sentiment in such a gentle and delightful way! Talk to us about the art. When I opened the book, I was struck how Amy Hevron made the backgrounds of the illustrations look like wood grain, instead of plain white. Then I saw in the tiny print on the copyright page that, "The illustrations for this book were rendered with acrylic paint and pencil on wood and digitally collaged." How awesome is that?!
Frances: Isn't the art incredible!? It was so smart of Amy to paint on wood, so that even the little girl's skin is wood-toned and wood-textured. It gives a sense of the child in the book being an organic part of the entire ecosystem. I've loved Amy's work for some time and can't believe how lucky I am that she was chosen as the illustrator.
Andrea: What's next for you, author-wise? 
Frances: Ack, I wish I had an answer! I have yet to come up with another idea. For me, the writing actually comes easily and quickly; it's getting a fresh idea that takes me forever. It always comes out of the blue. However, I'm spending a few weeks this summer in the French countryside so it would be nice to free my mind while I'm there to conjure up my next book! 
Andrea: Your trip sounds lovely and restorative! One last question, just for fun. Do you have a favorite tree species? (I have two – the ginkgo and the tulip tree.) 😊
Frances: Yes, the jack pine. When I was a tree-planter, they were my favorite saplings to plant, as their needles are long and pliable and didn't poke you. They're sort of ungainly and rangy looking and stand out in a big, piney landscape. The jack pine was also a favorite of both Tom Thomson and the Group of Seven, a group of beloved Canadian modernist painters. Thomson's "The Jack Pine" is about as iconic a Canadian painting as you'll find. When I look at it, I feel it run though my veins.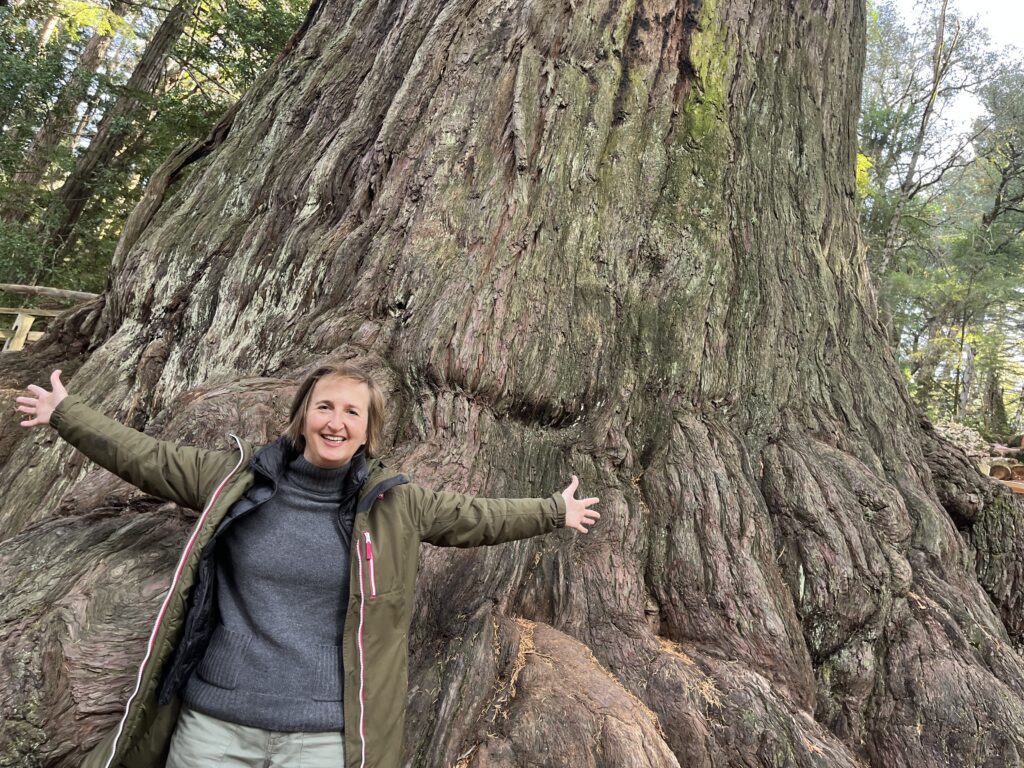 Andrea: Wow, that is an amazing painting! Thank you so much for sharing about your new book with us, Frances! Readers, if you'd like to buy a copy of Can You Hug a Forest? for yourself or the young nature-lover in your life, here's a handy link. And if you want to know more about the famous giant Methuselah redwood, click here. And then let's all go hug a forest!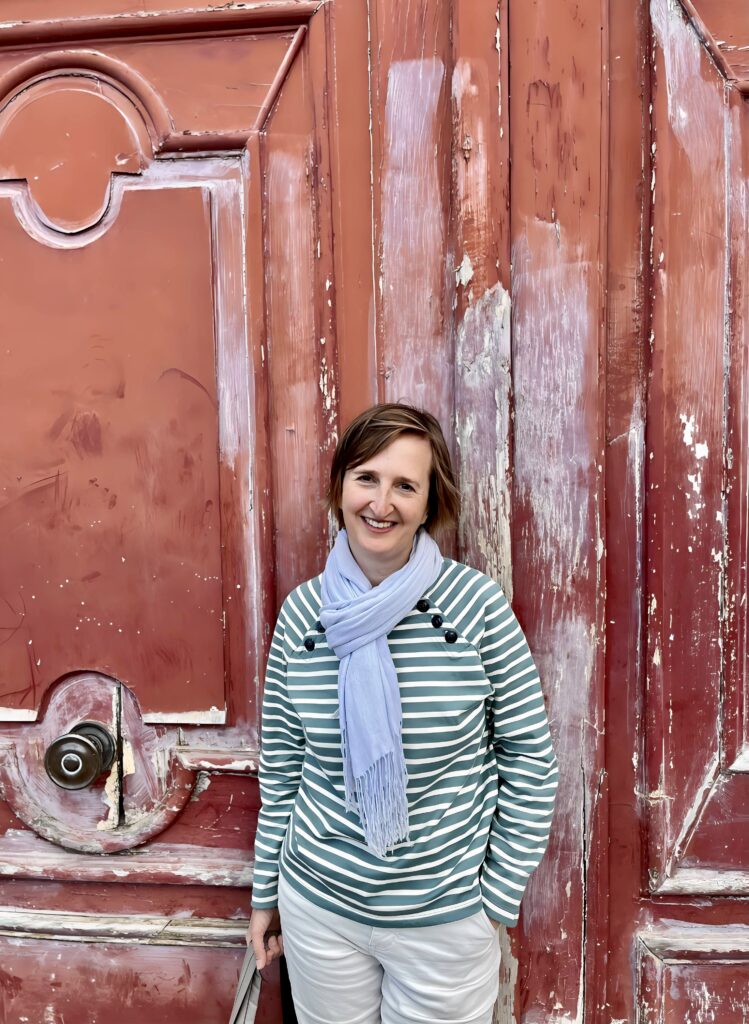 FRANCES GILBERT started her career in children's books when she was still a child, working in the children's department of her town library throughout high school. After graduating from university with an M.A. in English, Frances's first job in publishing was as a Book Club Editor at Scholastic Canada in Toronto. She moved to New York in 2000 to set up a children's editorial division at Sterling Publishing, where she stayed till 2012. Frances then moved to Random House Children's Books, where she is VP, Editor-in-Chief of Doubleday Books for Young Readers. Titles she has acquired and edited include the New York Times bestseller The Purloining of Prince Oleomargarine by Mark Twain, Philip Stead, and Erin Stead; I Don't Want to Be a Frog by Dev Petty and Mike Boldt; the Happy Hair series by Mechal Renee Roe; Bunny's Book Club by Annie Silvestro and Tatjana Mai-Wyss; and Wordy Birdy by Tammi Sauer and Dave Mottram.
In addition to editing children's books, Frances also writes them: She is the author of the picture books Can You Hug a Forest?, Go, Girls, Go!, Too Much Slime!, and I Will Always Be Your Bunny and the Step Into Reading titles I Love Pink!, I Love My Tutu!, I Love My Grandma!, I Love Cake!, and I Love My Teacher!
You can follow Frances on Twitter at @GoGirlsGoBooks, where she posts about children's writing and editing.