As a lifelong Wisconsinite, I grew up surrounded by information about the dairy industry. In my state, fourth-graders spend a lot of time learning about cow breeds and how milk can become butter and cheese. I was a full-grown adult before I realized that kids in other states don't learn about Jerseys, Guernseys and Holsteins as part of their regular curriculum.
So, when a fellow native Wisconsinite and current New Hampshire resident Cathy Stefanec Ogren, released a nonfiction picture book about a 1,400-pound wheel of cheese, I needed to know more.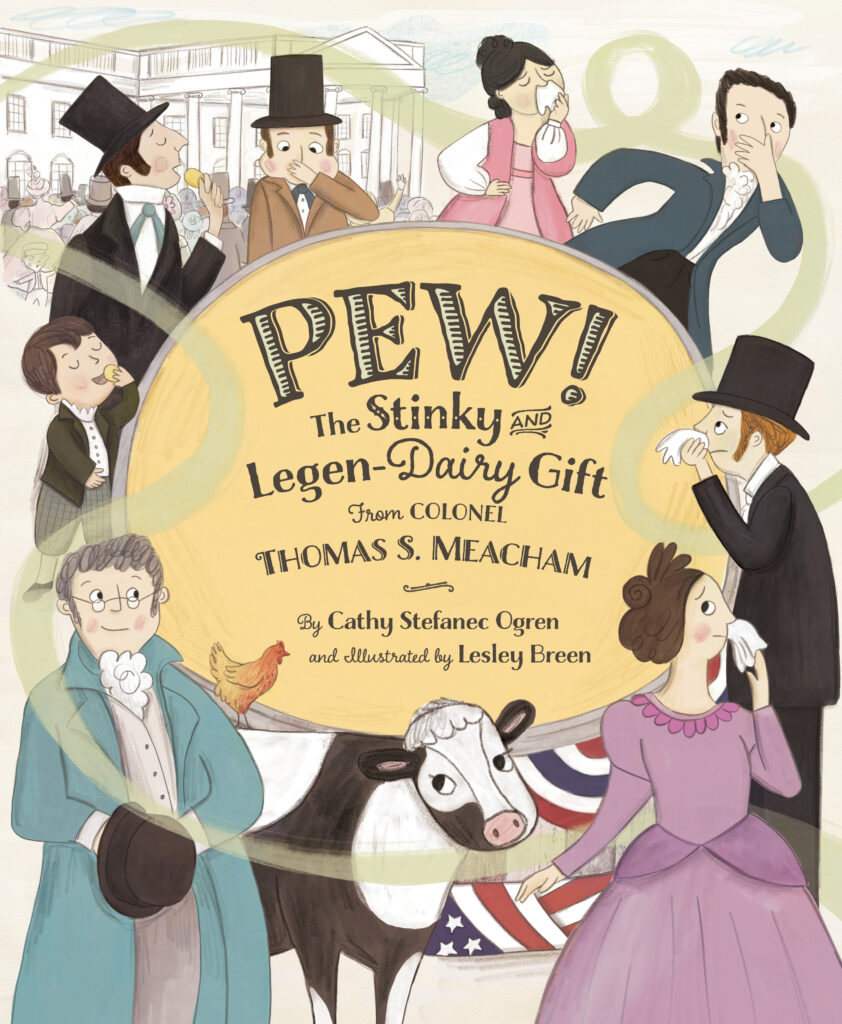 The book is PEW! THE STINKY AND LEGEN-DAIRY GIFT FROM COLONEL THOMAS S. MEACHAM (Sleeping Bear Press, 2023) Cathy wrote the words, and Lesley Breen created the illustrations. Cathy was kind enough to join Picture Book Builders to tell us more about the book.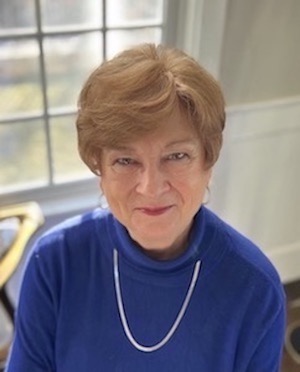 This story is such a fun piece of American history. Where did you first hear about it, and what made you think, "This could be a picture book"?
When I heard the word cheese mentioned on the History Channel, it immediately caught my attention. I learned that Colonel Thomas S. Meacham made a 1,400-pound cheese for the president of the United States in 1835. My first thought was that this was a unique piece of American history. My second thought was that this would make an appealing picture book. Kudos to the History Channel for including such a tasty idea in their programing.
You have Wisconsin roots. How much did the fact that the story was about cheese – and not, say, tofu or asparagus – impact your desire to write it?
There is absolutely nothing wrong with tofu and asparagus. They are a part of my diet, but nothing can compare to CHEESE, GLORIOUS CHEESE! I was born in America's Dairyland – the home of milk and cheese. When given the opportunity to whey my options to write about bean curd or cheese curd, cheese will always win.
What sort of research did you do? How long did it take?
After I made sure there weren't any other picture books written on the topic, I began my research in 2020 during the COVID lockdowns. Library access was limited. The internet became my close friend. I searched blogs, archived books and newspaper articles, and websites. I contacted the Sandy Creek History Center and the Half-Shire Historical Society near Sandy Creek for more information. Even after I signed the contract for my book, I continued to do research for specific questions my editor requested. In September of 2022, my research ended when the text and illustrations were finalized. Phew! (Or should I say, PEW?)
What was your process from first draft to final product? How much revision did you do?
I originally wrote a punny fiction version of the cheese event that included a mouse narrator and historical facts. When that didn't work out, I changed my focus and drafted a nonfiction version. I included facts about Andrew Jackson who was in office at that time. After receiving comments from editors who passed on it, I revised it. I took out references to Andrew Jackson and made the cheese the focus of the story. With my agent's input, I tweaked and revised it until I was offered a contract with Sleeping Bear Press. My editor and I worked on minor revisions until Colonel Thomas S. Meacham's mammoth wheel of cheese was ready to stand alone.
Did you learn any fun facts that didn't fit into your book?
There was so much information that I loved that didn't make it into the book. Below are a few.
The enormous wooden cheese frame had twenty-four wooden planks made from a hickory tree. Hickory wood was used because Andrew Jackson's nickname was "Old Hickory." The twenty-four planks stood for the number of states in the Union at that time.
These are two cheesy facts that were cut because of space.
In some states, waste from mozzarella cheese is used on icy roads. The high salt content helps melt the ice.
Cheese made from donkey milk is the world's most expensive cheese. Hee-haw, haw, haw!
What are your favorite things to make with cheese? Do you have a favorite type?
Our refrigerator always has a variety of cheeses stored in the cheese drawer. Cheese is a very versatile food. Think of all the things you can make with it – cheese and crackers, grilled cheese, mac and cheese, cheesy soup, cheese souffle… One of my favorite dinner recipes is Chicken Parmesan. It's quick and easy – boneless chicken breasts topped with Italian sauce, Parmesan, and mozzarella cheese, and served with pasta.
I have great reverence for all cheeses, but my favorite cheese is extra-sharp white cheddar. It's not only delicious. It's nutritious and can help prevent tooth decay and protect tooth enamel. Say cheese and smile!
What else are you working on?
I'm waiting for edits from my editor for my new picture book coming out in the fall of 2024. The title is LITTLE RED CHAIR, and I'm hoping everyone will fall in love with this sweet, tufted chair.
In the meantime, I'm researching another nonfiction picture book and mulling over an idea for a beachy book. I'll see what happens.
Thank you, Cathy! This is great information about a great book! If you want to hear more from Cathy, you can find her on Twitter, Facebook and Instagram.