Rebecca Van Slyke's new book, THE POWER OF YETI, illustrated by G. Brian Karas, is a nice reminder for us that we are not done learning, not done getting better at things.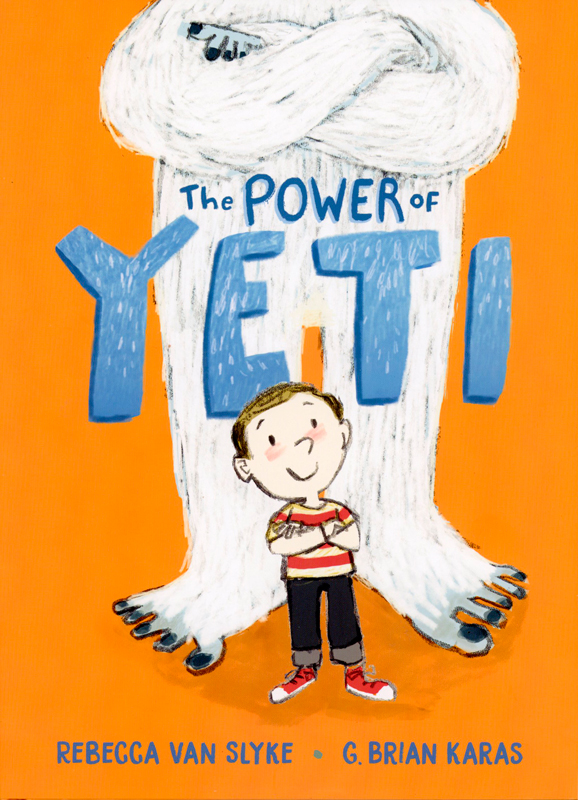 The story's protagonist is a young boy who is not as strong or as fast as his friends. They are better at soccer and basketball and they read bigger books. But he tries to keep up.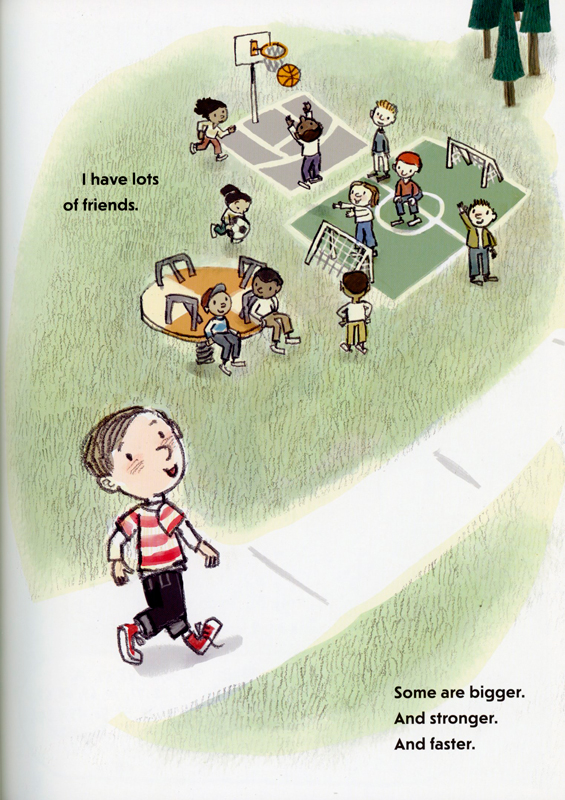 When he has trouble with something—tying his shoes, for instance—he gets frustrated, throws his hands in the air and says "I can't do this!" It is obviously hopeless. He'll probably never be able to tie his shoes, kick a goal, sink a basket.
Enter the Yeti and his loosely related relatives, Bigfoot, Sasquatch, and the Abominable Snowman. The boy marvels at their size and muscles and wishes he was like them.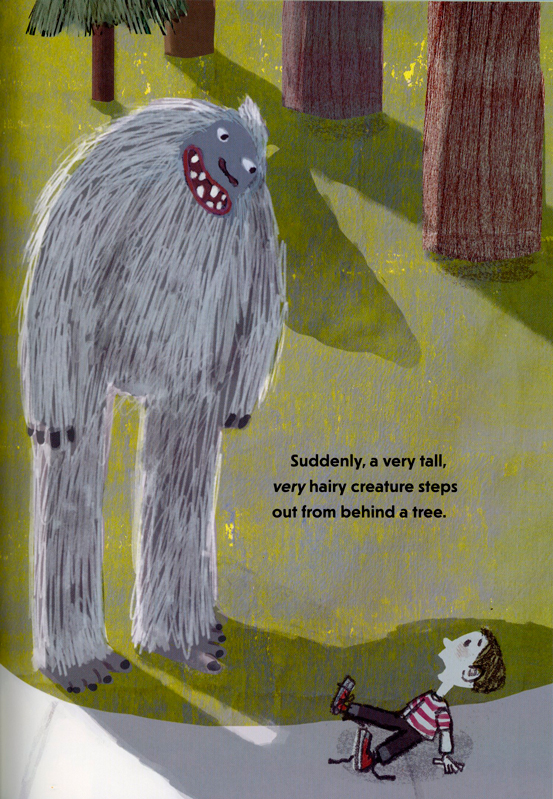 Yeti quietly lets the boy in on the power of his name—Yeti.
Instead of saying, "I can't tie my shoes," the boy should say, "I can't tie my shoes…YETi."
Instead of saying, "I can't make the goal." say "I can't make the goal…YETi!"
Can't reach the hoop? That should be, can't reach the hoop, YETi!
Not very good at something? You mean not very good at something YETi!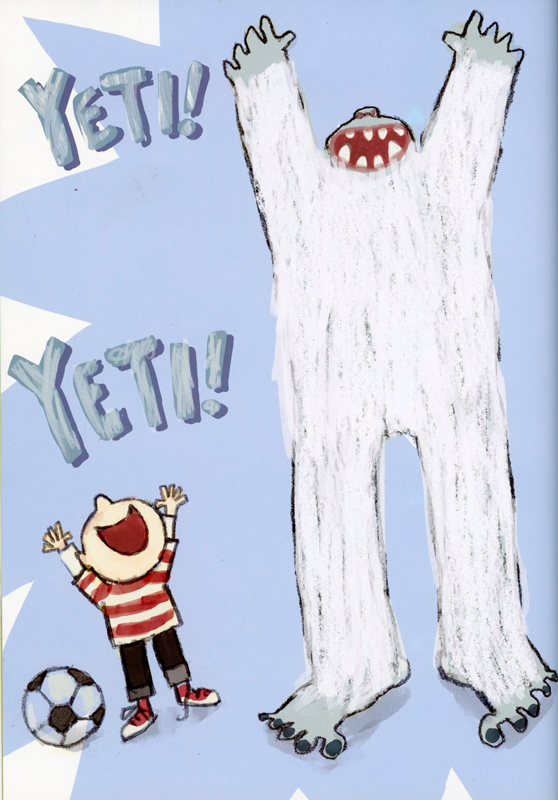 Van Slyke's story tells us it's about not being trapped in a moment, but thinking about and working towards a future where you can do most anything. It's about learning and practicing and growing. And all told through the genius of some fantastic cryptids.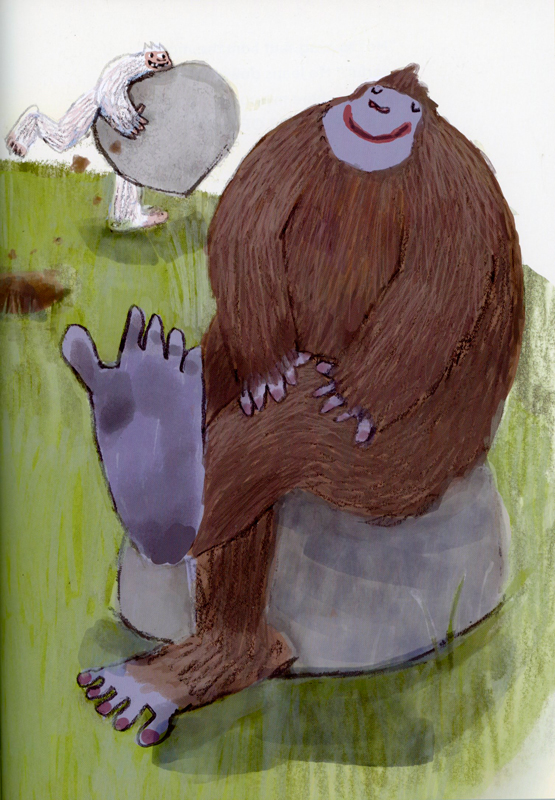 Speaking of which, Karas has given these cryptids wonderful and active personalities. Their enormity and enthusiasm and sweetness are a dandy contrast to the feeling of failure and frustration we initially feel from the boy. Though the Yeti is the cryptid that shares the Power with the boy, the other three are entertaining us in the background, bringing peripheral joy and levity to the story.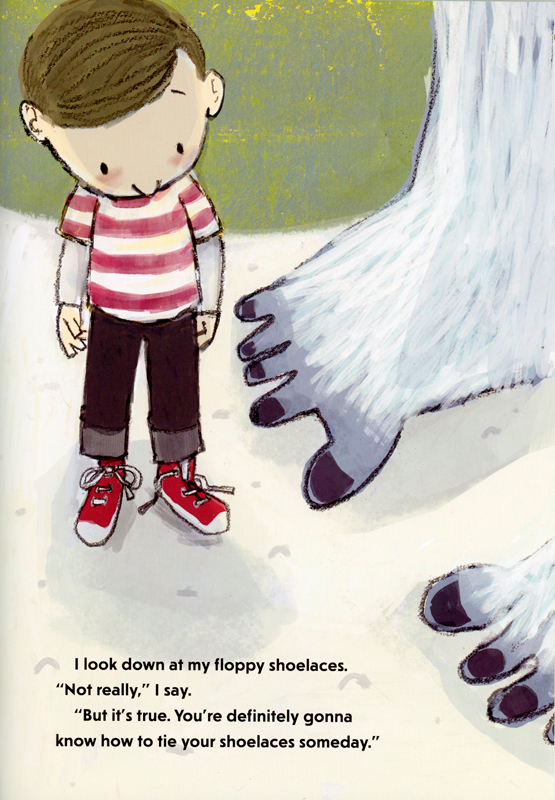 The art was created in pencil gouache and digital color.
I've been a big fan of Karas' art for decades. And that fandom continues with this book.
Growing up, there were always things we wished we could do, or wished we could have done better. It was easy to feel inadequate. Or even defeated. (This, alas, holds true as adults, too.)
Unshakeable confidence is one thing, some are blessed with it. But working towards improvement or new abilities and knowing that you'll get there YETi, is a whole 'nother thing!