In Tammi Sauer's last post, she mentioned that "The Watermelon Seed" made her want to be a better writer. Reading that simple statement led me to know immediately what I had to write about next. Don't you love it when inspiration strikes like that? (Thanks, Tammi!)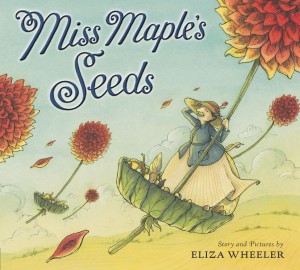 My first book, MISS MAPLE'S SEEDS, came like this post, in lightning strikes of inspiration. I wrote the first full draft in a few hours. First it was this little idea kernel, and then it was just there. My next book, well . . . the truth is, I've been trying to write my next picture book for . . . I was going to say two years, but looking at my first draft from 2012 . . . THREE years now. While I have been busy illustrating and concepting other book projects in those three years (one coming out next month with fellow Picture Book blogger, Pat Zietlow Miller!), all the while this Elusive Book #2 has been on my mind in countless ongoing drafts.
The story I'm writing is based on my grandma's childhood and centers around the years she lived in a shack in the woods with her single mom and seven siblings. I feel magnetically drawn to this time and place. Part of the reason this book has been hard to write is because of how much information there is – so many family stories, so many options, so many angles. And I've tried MANY. Yet something at the heart of each telling always feels missing.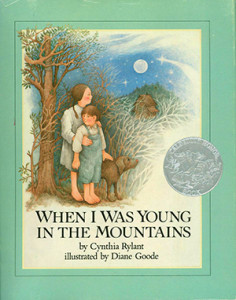 But I've realized that the bigger part – the real part—that keeps me from capturing this story's heartbeat and voice is my own doubt. Thoughts that creep in like pesky little bugs; what if this story is irrelevant? Hasn't this been done enough? Will anyone really be interested in this? My grandma is not famous. She's a quiet homebody who's lived in Northern Wisconsin all her life.
Thankfully, there are books that I keep nearby that remind me not to give up. Books that give me courage. The main one is the picture book WHEN I WAS YOUNG IN THE MOUNTAINS by Cynthia Rylant and Diane Goode, about Rylant's childhood in the Appalachian Mountains. It's simple, sweet, tender, and personal. Each time those nagging doubts creep in, I pick up this story and let it tell me what I need to hear. No one's story is irrelevant.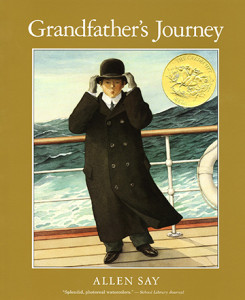 Another encouraging picture book is GRANDFATHER'S JOURNEY, by Allen Say. The book description says it best:
At once deeply personal yet expressing universally held emotions, this tale of one man's love for two countries and his constant desire to be in both places captured readers' attention and hearts. Winner of the 1994 Caldecott Medal, it remains as historically relevant and emotionally engaging as ever.
Those words deeply personal yet expressing universally held emotions, I think, are the key to those writers of personal stories. That also describes other classic novels that I love; A TREE GROWS IN BROOKLYN, LITTLE WOMEN, and the LITTLE HOUSE books; all highlighting characters and their families in a specific time and place.
At present, my big dose of courage comes from the new novel by Jacqueline Woodson, BROWN GIRL DREAMING, which captures her own childhood as an African American girl growing up in the 60's and 70's. The entire story is told in verse, and so, while not a picture book, it feels especially relevant to the rhythm that's often captured in picture book writing. And it is intensely personal — yet, infused with universally held emotions . . . her South Carolina is my Northern Wisconsin. Her family's cornbread is my family's lefse. Our homesicknesses are the same.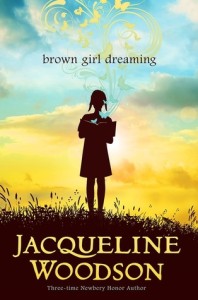 For the past month, I've been getting up in the morning and reading BROWN GIRL DREAMING half a dozen pages at a time, savoring it. It puts me in the headspace to write, and piece by piece, my story is coming into focus for me. And as of last week, I hope – I believe– that I have found its heart.  To make BROWN GIRL DREAMING feel extra special to me, its editor and publisher, Nancy Paulsen, is also my editor. Nancy has been extremely supportive and patient with the process of finding my grandma's story – loving the idea and gently encouraging it along the way. At this point there's still no knowing whether it will happen or not. But I have all the right pieces waiting to be put together – minus the doubt.
Plus the courage.
————
If you have more examples of great, personal stories to share, please do so in the comments below!