Okay, so what are the odds?
I post once a month on Picture Book Builders, and this month my turn fell on September 8, the release date of my newest book, The Inventor's Secret: What Thomas Edison Told Henry Ford.  (By the way, my son calculated the odds of this happening: 1 in 105, which is less than 1%!)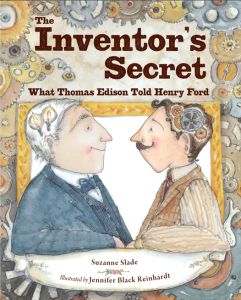 [The Inventor's Secret "extras" – Book Trailer,  Activity Guide, ILA post (w/ "Inventor Project")]
Since this statistically improbable, yet serendipitous, event did occur, I took it as a sign to share a bit about The Inventor's Secret — the true story of the frustrations, successes, and friendship of two famous inventors, Ford and Edison.
Research was a significant part of the writing process for this nonfiction piece, so I thought it might be helpful to share how I tracked down several crucial, yet elusive, facts.
One of my early research adventures began when I was trying to find out when and where Henry Ford first met Thomas Edison and finally discovered his "secret" to success. (Background – Henry had worked on a gas car for years, but couldn't get it to work properly. Meanwhile Thomas was creating many amazing inventions such as his electric pen, phonograph, and light bulb. As time went on, Henry became so frustrated he just had to find out Thomas's secret!)
Edison's electric pen  …                                      tin foil phonograph …                 &  light bulb
Initially I turned to a primary source, My Life and Work by Henry Ford, which stated the two first met in Atlantic City in 1887. But then I discovered Ford supplied a different date and place, New York in 1896, in his other autobiography, My Friend Mr. Edison, which he co-wrote with Samuel Crowther. Two primary sources with conflicting information–what's an author to do? Dig deeper. So I did, and found three sources which corroborated with New York, 1896 (and more details about Henry's employment which confirmed the NY place and time.)
[Research Tip: Primary sources (such as an autobiographies) aren't always 100% accurate. Always double check with multiple sources if possible.]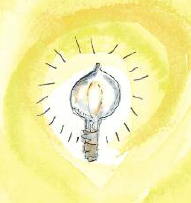 Then there was the challenge of figuring out when Thomas Edison invented his incandescent light bulb. I thought I could simply look through Edison's patents to find out. But he has 1,093 U. S. patents, and 424 of those pertain to "Electric Power and Light!" How was I going to determine which one was considered the official, final design?
Fortunately, Dr. Carlat from The Edison Papers Project at Rutgers University came to the rescue and kindly explained patent #223, 898, with its long lasting carbon filament, was Edison's breakthrough on the light bulb (though it wasn't available for use until about two years later.)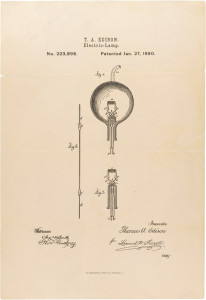 [Research Tip: If possible, consult with experts to help solve those sticky questions which books and other sources can't answer.]
In my opinion, the best part of research is a field trip. So I had a great time visiting the Edison & Ford Winter Estates Museum in Fort Myers, Florida and checking out early light bulbs, examining car designs, and talking with the Curator, Alison Gieson. 
[Research Tip: Visit museums, key locations, meet with Curators, etc. to discover more details for your story.]
The Inventor's Secret also included research I unknowingly did back when I was back in high school and took driver's ed. At the time, I was very curious to learn how cars worked. Then one day I read a chapter in my driver's ed book which explained how a car turns gasoline into motion, and I literally got goosebumps.  That information about four stroke cylinders and spark plugs was so fascinating (and surprisingly easy to understand) I wanted to share it with young readers in this book. Fortunately, the editor, art director, and illustrator agreed, so a clever illustration explains how a car turns gas into power.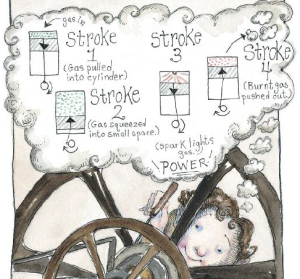 In all, I spent about four and a half years doing research (off and on, but mostly on) for The Inventor's Secret. In addition to the expert/curator I mentioned above, I was very fortunate to receive help from Leonard DeGraaf at the Thomas Edison National Historical Park, researchers at the Benson Ford Research Center, Mike Cosden (who at the time was the Asst. Curator at the Edison & Ford Winter Estates Museum, and is now the Curator) and others. I also know Jennifer was knee-deep into research of her own, and she went on some cool field trips, etc.
All those months of researching inventions got me to thinking about how certain ones have changed lives through the years.  For example, my great-grandfather, Dr. Charles Thomas, began his medical career as a "horse and buggy doc" in 1900 in rural Indiana. "Doc Thomas," as he was fondly called, drove his horse and buggy to patients' homes when they were sick, injured, needed a tooth pulled, or ready to give birth. But his horse was not always speedy, or reliable! So in 1907 Doc "went modern" and bought Ford's Model-R car (two models prior to his famous Model-T.) Ford's trusty, newfangled vehicle allowed Doc to arrive in time to deliver over one thousand babies!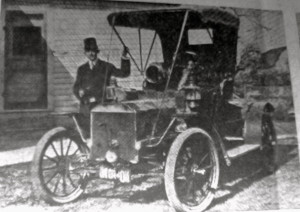 Doc Thomas and his Model-R car
Well, thanks for stopping by and letting me share a bit about my research for The Inventor's Secret. I'd love to hear about your research tips and experiences too!
Suzanne
Give Away Details
The fabulous illustrator of The Inventor's Secret, Jennifer Black Reinhardt, plans to give  a copy of this book on her upcoming post, so I thought I'd do something a bit different and give away a Skype visit. It can either be an author Q & A class visit OR a picture book manuscript critique via Skype. Winner's choice! I'll randomly pick one winner from those who leave comments by Sept. 16th.
Last Week's Winner Announcement
The winner of Jill Esbaum's Elwood Bigfoot giveaway from her August 25 post is Wendy Greenley. Wendy, please contact Jill through her website (www.jillesbaum.com) to claim your prize. Thanks!